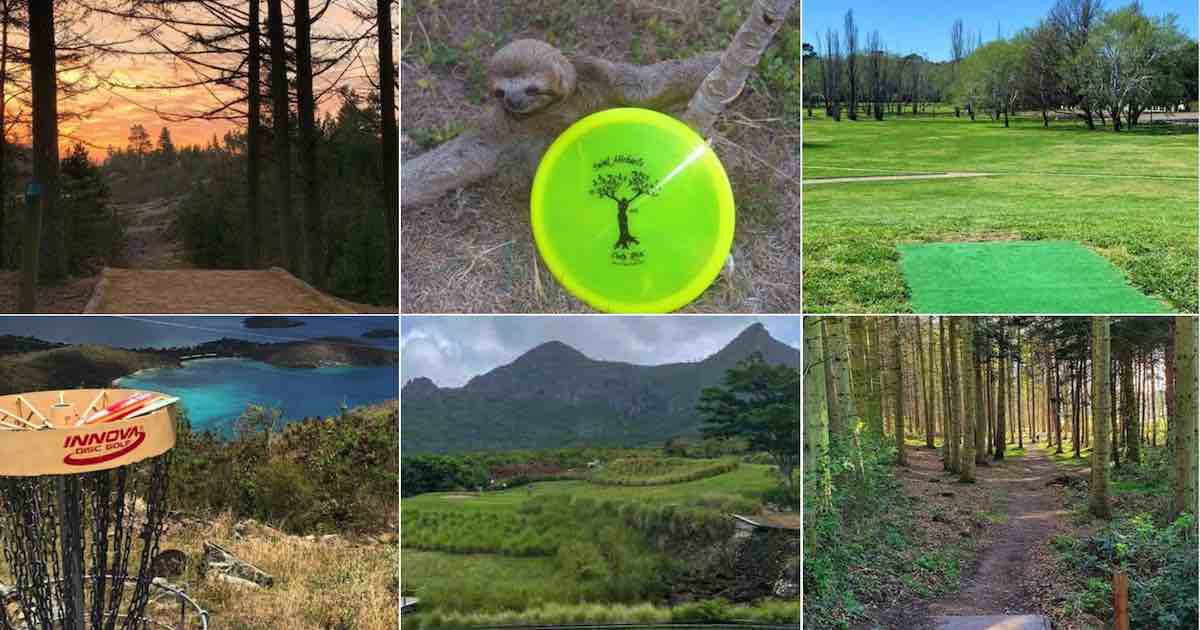 Whether you're curious about the best disc golf courses in your homeland or looking for vacation destinations with great places to throw plastic, you've come to the right place. Here you can see what the top disc golf courses are in every single country that has at least one permanent course outfitted with baskets.
There are over 60 countries that fit the bill. We were able to identify them thanks to the huge number of disc golfers who've added to UDisc's disc golf course directory, which lets you explore over 13,000 courses for free on the web and in the UDisc disc golf app. Disc golfers with UDisc also generated the ratings that made ranking each nation's courses possible.
In order, this is what you'll find in the rest of this post:
Some interesting and fun stats we learned while putting this together
Brief overview of how the rankings worked
Good things to know before reading the rankings
Tables of each country's best disc golf courses. Countries are listed alphabetically.
Also, if you love learning about the best places for disc golf on the planet, we recommend giving "World's Best Disc Golf Courses 2022: #1-#100" a read.
How Many Countries on Each Continent Have Disc Golf?
| | | |
| --- | --- | --- |
| Continent | # of Countries with a Disc Golf Course | Total Countries on Continent |
| Africa | 5 | 54 |
| Asia | 12 | 48 |
| Australia/Oceania | 3 | 23 |
| Europe | 29 | 45 |
| North America | 8 | 23 |
| South America | 3 | 12 |
And though you won't see the course in the tables at the end of this post, there's also disc golf on Antarctica! Learn all about it in "Extraordinary Courses: Ross Island, Antarctica."
The 5 Countries with the Strongest Top 5 Disc Golf Courses
If you rank countries by the average scores of their top five courses, here's who comes out on top:
| | | |
| --- | --- | --- |
| Rank | Country | Average Score of Top 5 Disc Golf Courses |
| 1 | United States | 97.2 |
| 2 | Canada | 96 |
| 3 | Norway | 94 |
| 4 | Finland | 93.8 |
| 5 | Sweden | 92.6 |
None of the countries in the top five are particularly surprising. They're all places that were in the world's top 10 in disc golf rounds per capita.

Two things that might raise some eyebrows, though, are 1) Canada coming in ahead of Scandinavian countries and 2) Norway edging out Finland since the latter is more well-known for its love of disc golf. But remember that this is just an average of the countries' top five courses' scores.
The table is mostly just a fun exercise with the stats you'll find later and not a definitive measure of course quality in these nations.
Ranking the Five Best Disc Golf Courses in Every Country: 2022
If you're curious about some of the details behind the rankings, here are the basics:
How did you find all the courses?
Thanks to disc golfers across the world, UDisc Courses is the most comprehensive and frequently updated disc golf course directory in existence. A course had to be in the UDisc directory to be in this post.
Were any kinds of courses ineligible?
Courses with less than a 3-star rating in the UDisc disc golf course directory were not included. Additionally, object courses (ones that use trees, posts, etc. for targets), pop-up courses (ones where baskets are brought in for a short time), and courses that weren't available for play at least 120 days of the year were not included.

If you'd like to see whether a country has these sorts of courses, you can tap or click on the link to the country's Disc Golf Places page that you'll find linked below every country's table and course photo.
Why don't all countries have five courses listed?
Many countries don't have five courses with permanent, non-object targets. A country just had to have one eligible course for us to include it.
How did you create the rankings?
The rankings are based on a scoring system that converted the course ratings of disc golfers with UDisc from a 0 to 5 star scale to a 0 to 100 point scale. However, the conversion isn't just simply multiplying a course's rating by 20.

For one, we gave recent course ratings by disc golfers with UDisc more weight than older ones. Additionally, we took into account how harshly or easily different nations tend to rate courses and made adjustments to even out those differences. Finally, courses with low numbers of ratings received penalties.

All courses were subject to the same metrics, and no course was moved up or down the rankings based on the preferences of UDisc staff.
Why are some courses that have lower average ratings on UDisc Courses ranked above courses with higher average ratings?
The answers to "How did you create the rankings?" explain how this could happen.
What to Know Before Reading the Rankings
Mobile and tablet users can swipe left/right on any table to see all columns.
Each course's name is linked to its UDisc Courses page. There you can see photos, reviews, availability, and more of any course in the table.
The stats for these tables were collected after those used in "World's Best Disc Golf Courses 2022: #1-#100," and some courses moved up and down in ranking relative to each other in the months since that post was released.
The rankings in this list may differ from what appears on Disc Golf Places pages for these countries. We used slightly different calculations to create these tables than what you'll find on Disc Golf Places. Additionally, rankings on Disc Golf Places will change throughout the year as disc golfers experience and rate courses.
The 5 Best Disc Golf Courses In Every Country: 2022
Below are the best disc golf courses or course for every country with a permanent disc golf course. The countries are listed alphabetically.
Andorra's Best Disc Golf Courses
The nine-hole Coll de la Botella is Andorra's only disc golf course at the moment.
Australia's Best Disc Golf Courses
Austria's Best Disc Golf Courses