One of the most visually stunning ads in rotation in disc golf media this year has been for Double G Jerky, the jerky made and marketed by pro player Garrett Gurthie. In the ad, Gurthie throws a disc, and a camera follows every twist, turn, up, and down of its flight.

You can take a glimpse at the ad below in a clip from Central Coast Disc Golf's recent coverage of the Mid-America Open:



The drone work in the Double G Jerky ad is that of Carlton Rinehart, alias Skyote FPV. Along with Gurthie, he's worked with other individual pros and the GK Pro media team this year to give us mesmerizing views of discs in flight. We spoke with Rinehart to learn how he's become the go-to for racing drone shots in disc golf and what he believes the future holds for his endeavors in the area.
Crashing Makes Perfect
Based out of disc golf hot spot Fayetteville, Arkansas, Rinehart got heavily into filming with racing drones long before he started playing disc golf. What made him really fall in love was setting up a system that fed video from a camera attached to a drone directly into a headset. This meant filming each drone flight was like entering a virtual reality scenario filled with speed and adrenaline.

This sort of system is called first-person view, which his where the "FPV" in his Skyote FPV moniker comes from.
"I started flying with a friend's DJI Phantom photography drone that I attached FPV gear to," Rinehart explained. "Unbeknownst to my friend, I crashed and repaired that several times. I then decided to purchase some FPV racing drone parts and go down the path of building my own. After hundreds of crashes, I began to find my confidence and hone my repair skills."
Rinehart took to the FPV experience with a fervor many disc golfers will find relatable.
"Since getting into FPV, I've spent almost every waking hour flying, repairing, editing videos, and flying in simulators," said Rinehart. "I've logged well over 1,000 hours on simulators alone." 
The notion to mix drones and disc golf didn't come instantly. Rinehart credited coworker Alex Newby, an avid disc golfer, for turning him on to the idea.
"We had conversations about chasing discs but those ideas didn't come to fruition at that time," Rinehart said. "About a year later, I went out with my friend Tom and practiced chasing discs for the first time. I had limited success that time, but I could see the potential. That video sparked a chain of events and posts that got some attention online, leading to more opportunities."
Homemade Hardware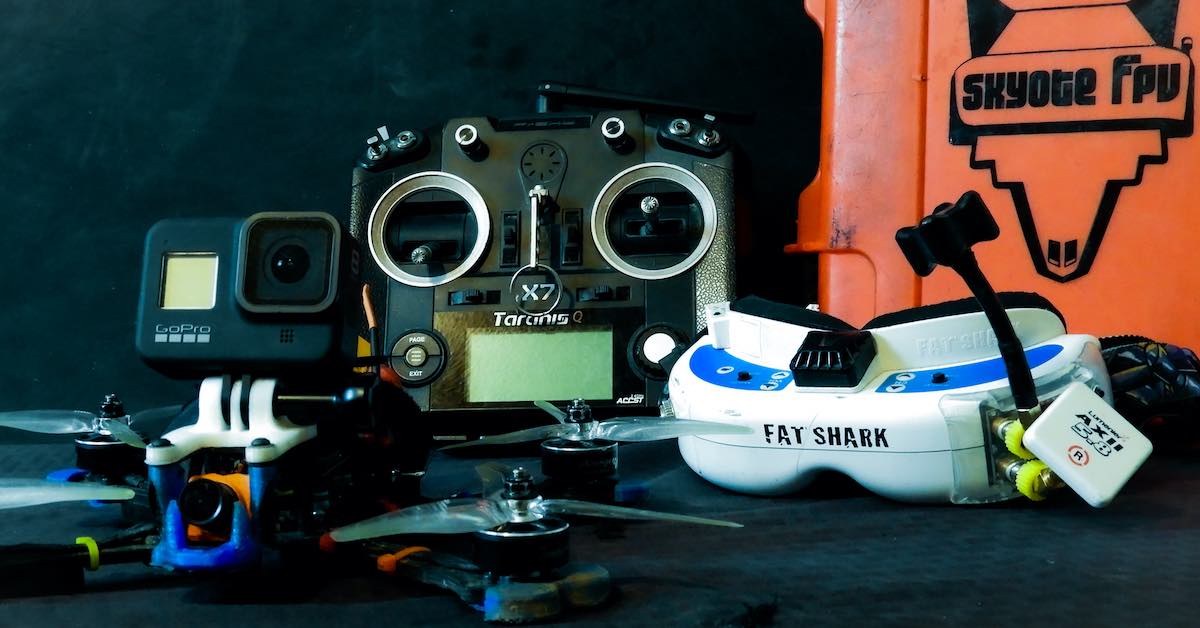 Although there are many affordable entry-level drones available on the market today, the kind of high-speed, high-quality flight and recording Rinehart is after requires a lot of custom work.
"I build my own drones from various parts that I mainly purchase from Race Day Quads," Rinehart said. "Depending on the drone's weight and build, its top speeds range from 80 to 100 miles per hour [129 to 161 kilometers per hour]. I can reach top speed in just a couple of seconds."
To attain such speeds, Rinehart has to keep his drones quite lightweight, typically between 600 and 850 grams (hold about four discs in your hands if you'd like an idea of how heavy that is). As for power, he carries between 12 and 15 batteries with him during a shoot, which each last about three minutes – sometimes less if the thrower really pushes the distance. That gives him between eight and 10 chases per battery, depending on the battery condition.
In regards to piloting the drone, Rinehart has a headset (Fat Shark Dominator V3 Goggles, for those interested) to get that first-person view necessary for this type of flight. How the video signal gets to his headset is a bit technical, but in essence his goggles are like an old TV with an antenna, and he's made his drone into a miniature, highly mobile live broadcasting station that can send signals to them.
Sometimes this setup has issues at longer ranges. When he needs to film a disc that's traveled far away, Rinehart's view can fill with static or fuzz due to a weak signal. Luckily, though, his video feed is separate from the high-quality footage recorded by the GoPro he's mounted atop the drone.
Because of the quality of shots drones are able to capture, you might wonder why their adoption hasn't been even more rapid. Noise is one big reason. Drones can be very loud, especially during their initial acceleration. However, recently enacted Federal Aviation Administration rules have made it so that drones weighing under 250 grams are far less regulated than those over that weight, so Rinehart is hopeful that tech for lighter, quieter drones will soon be in greater demand and companies will create the supply to meet it.
"I have built a prototype three-inch racing drone which comes in at about half the weight of my full-size builds," Rinehart explained. "This drone also includes a stripped-down GoPro that weighs 30 grams instead of 125 grams and still maintains full functionality."
A Growing Reputation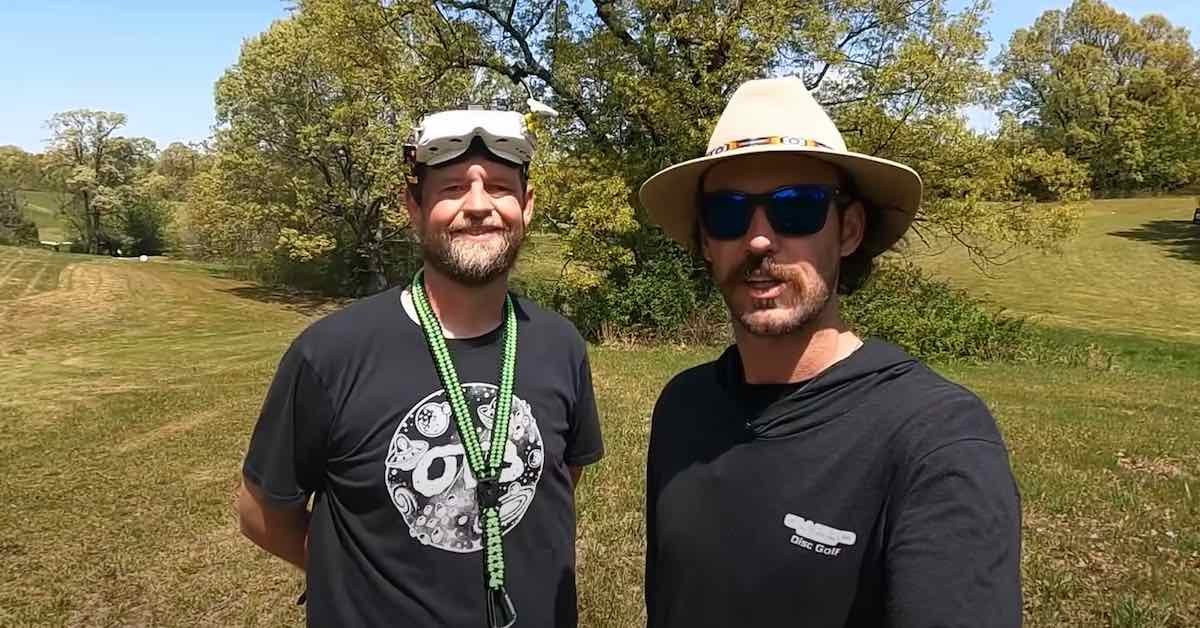 Along with Rinehart's own Skyote FPV YouTube page, quite a few channels show off the drone pilot's disc-chasing chops. Two different OTB Skins matches have featured his racing drone. These skins matches are a popular series sponsored by online disc golf retailer OTB Discs and filmed by the GK Pro media team. They feature top players bantering and trading jibes throughout a round as they try to win individual holes for cash.

The first skins match Rinehart filmed at had players taking on Arkansas' Persimmon Ridge course in December of last year. 
"I reached out to GK Pro directly on Facebook," recalled Rinehart. "They took a big chance by including me on that first skins match, and I can't thank them enough for the opportunities that have arisen as a result of my inclusion in that. Filming at Persimmon Ridge was exciting and a bit nerve-wracking at the same time. Managing timing and avoiding the gallery was a bit difficult at times. I would like to include a drone lane for future shoots to ensure maximum comfort and safety for everyone involved."

Comments on the Persimmon Ridge skins match were extremely positive and included praise like "that chase-cam is lit btw" and "OMG those drone shots are full-on EPIC." GK Pro recently brought Rinehart back for another Arkansas skins match at Disc Side of Heaven, and the round has already garnered over 100,000 views.

For a particularly fun example from that match, check out how Rinehart's camerawork turns a huge shank into a visual adventure:



Rinehart also told us more about how he came to film the Dougle G Jerky commercial that's been ubiquitous on filmed disc golf media this year.

"Garrett's business partner found me through social media and started the conversation about shooting a commercial," said Rinehart. "They flew me out to Stockton, California, which was actually my first time ever flying in a plane. I flew through about 20 [battery] packs following Garrett over the course of two days. The shot from the commercial was one of three that Garrett threw into that same gap. It's crazy how accurate his long-distance shots are."
Rinehart had nothing but positive things to say about Gurthie.
"Garrett is one of the nicest guys I've ever met, and I hope we have a long working relationship ahead of us," Rinehart said. "I had done a small amount of commercial work prior to the Double G commercial, but it is the biggest project I've worked on to date."
He also noted Gurthie's generosity with doling out dried beef snacks. 
The Sky's the Limit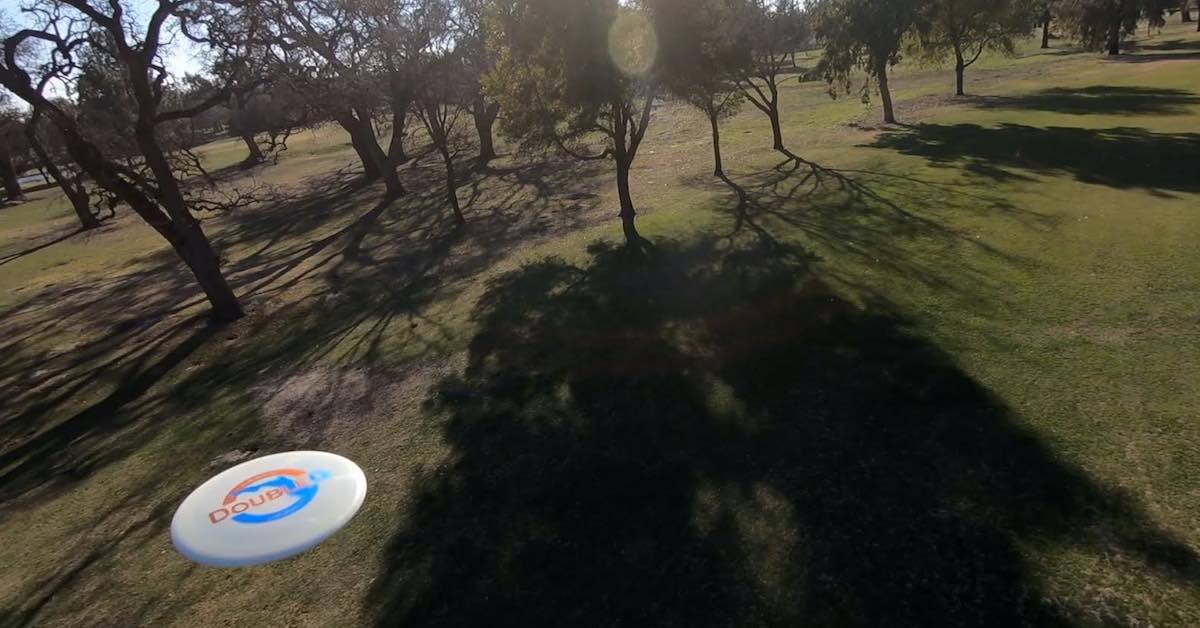 Though Rinehart wasn't the first to combine disc golf and racing drones, he's quickly recognized the widespread appeal the mixture has and credits recent advancements in drone tech for making his current work possible.
"As far as a community goes, I am aware of Nitsudo FPV, who was featured on Gatekeeper Media around the same time as I began my journey," said Rinehart. "We have shared a laugh about people claiming that our work is CGI. There are some videos of FPV disc chases on YouTube from as far back as four years ago. Drone and camera technology has advanced in the last year or so, allowing us to capture more detailed shots."

He also plans to keep innovating to make his work as compelling as possible.
"I want to build a smaller drone for quietness and a larger drone for carrying cinematic cameras that weigh a lot more," Rinehart said. "I would love to be on the cutting edge of disc golf coverage. I think the main goal for that will be to reduce the noise (a fan of mine did make the point that Michael Jordan still made great shots while in an arena full of screaming fans). It is just not possible to view the flight of the disc in real-time with any other format."
If you're interested in working with Rinehart, you can find his contact information at SkyoteFPV.com.