Ask Ben Askren anything, and you're going to get a pretty honest answer. The former Olympic wrestler and recently retired UFC fighter isn't shy about sharing what he's passionate about, so when interviewers asked about his interests outside the Cage, disc golf came up early and often. Just watch this clip below from an interview with Askren on ESPN MMA (mixed martial arts) for an example:


And if you watched the clip, you'll have heard that Askren has some real skill. He placed second at the 2011 United States Amateur Disc Golf Championship before shifting his focus to the ring.  
UDisc caught up with Askren to talk about, among other things, his retirement, his backyard disc golf course (known as Funky Farms), and what it was like playing his course with 5-time World Champion Paul McBeth.  
This interview has been edited for clarity and length. Also, Askren swore in some of his answers. These words exist in unredacted form in the interview below.
UDisc: How much more disc golf have you been able to play now that you're retired? 
Ben Askren: The answer to that is unfortunately none. It is Wisconsin, it is very cold, there has been snow on the ground. I retired in November, but once spring comes around, I'll hopefully have a little more time.
UDisc: What's it been like designing your very own backyard course? 
BA: I've been waiting to do this for many, many years. It's kinda always been...I don't want to say a lifetime goal, but that I was going to buy a bunch of property and have a disc golf course. Disc golf has been one of my passions. I used to play in a whole bunch of tournaments. I've traveled. I played 750 disc golf courses before I was 30, so, through that, I had built up a good idea of what I liked and what I didn't like when having a fair and balanced course. I tried to buy a property that had everything that I needed. The only thing I didn't get was water. So I got hills, I got some open space. I got some woods. I got a little everything here, so it's been great.
UDisc: How did you design the course? Were you looking to create a challenge for yourself, or did you want to design an elite championship course where you could maybe host top-rated pros?  
BA: The way I created it actually was for the front nine to be not easy, but easier. And then the back nine, that is where the challenge comes in. Essentially, it's two loops. At hole number eight, if you'd like to play the full course, you can hop onto the the back nine, which is more difficult. If you don't want a tougher course, you just play number nine and go back to where you started.
So, the whole thing is not an elite championship course. I'm hoping that the back nine becomes so tough that people would consider it to be an elite course.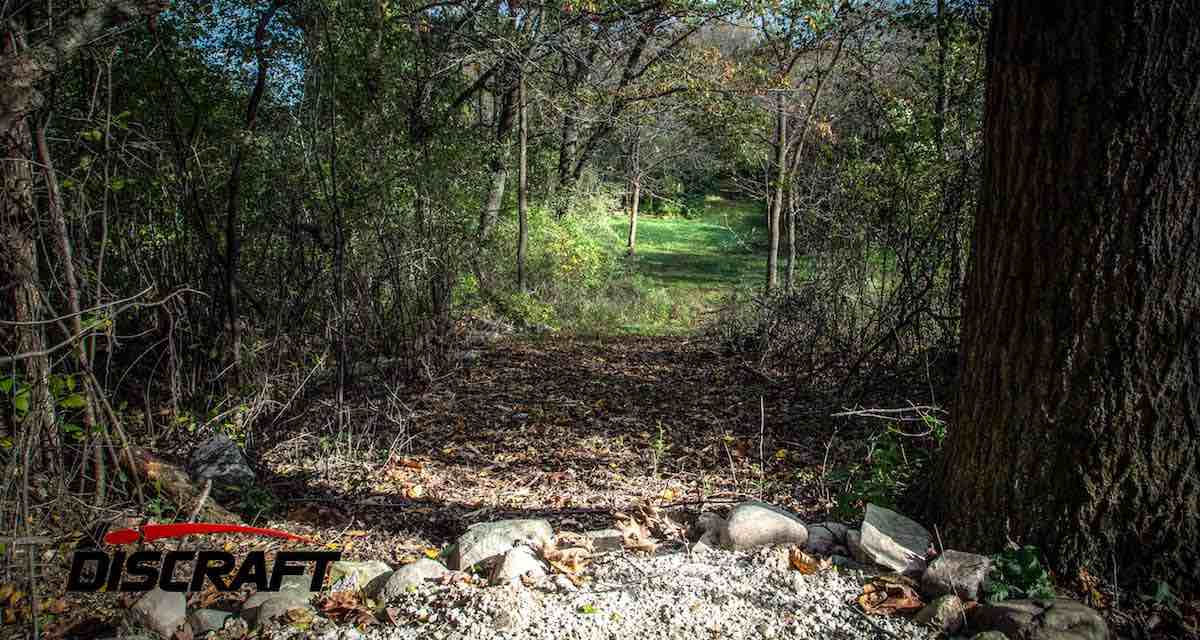 UDisc: What advice would you give to someone else trying to design their own course?  
BA: It's a blast. Just go out there and start cutting shit down. Designing stuff, I've had a blast at it.
UDisc: When you were designing the course, did you ask for any input?  
BA: When Paul McBeth visited me, obviously I'd be foolish not to ask for his input. He did not have a huge amount of things to say. I mean, listen, he's busy, I don't want to steal too much of his time. He gave me one pointer on one of my holes that I think made it way better. And when he said it, it was like, "Duh, why didn't I think about that? It makes so much sense." I have not talked to Terry Miller about it; maybe I'll invite him out some time to play.
UDisc: I spoke with [MMA journalist] Ariel Helwani, and he said you're known as the "Disc Golf Guy" on the MMA circuit. Have you introduced any other fighters to the game?  
BA: I've made a lot of my friends—most of the guys I train with here in Milwaukee—play with me. I think the one who came closest to becoming a regular player is a guy named Rick Glenn; he still fights in UFC. He played fairly regularly for a while when he was here in Milwaukee. I don't know if he really does anymore though.  
UDisc: What traits do disc golf and wrestling have in common with one another? What skills are transferable from disc golf to wrestling and vice versa?  
BA: I would say not a whole lot. For me the obvious one is that it's problem solving, right? It's how do I get this disc from this tee box to that basket, and the more tools you have in your bag the better. If you can throw all kinds of tricky shots…

I feel like playing 750 courses, I came upon just about everything and so I do a lot of problem solving. When I see a new hole when I go to a tournament, it's nothing shocking.

And it's the same thing with wrestling. When you wrestle a match or with fights. It's like, okay, how do I beat this person? And if you have a few more weapons in your arsenal, it's obviously much, much better. 
UDisc: You've been very outspoken about your love of disc golf. Are you ever worried that your fellow wrestlers might take you less seriously because you're playing this counterculture sport?
BA: I don't give a damn what they think! Come on man, that's me. I don't care.
UDisc: What was it like playing with Paul McBeth? I know Paul is a pretty big UFC fan. Did you guys talk mostly golf, UFC, or neither?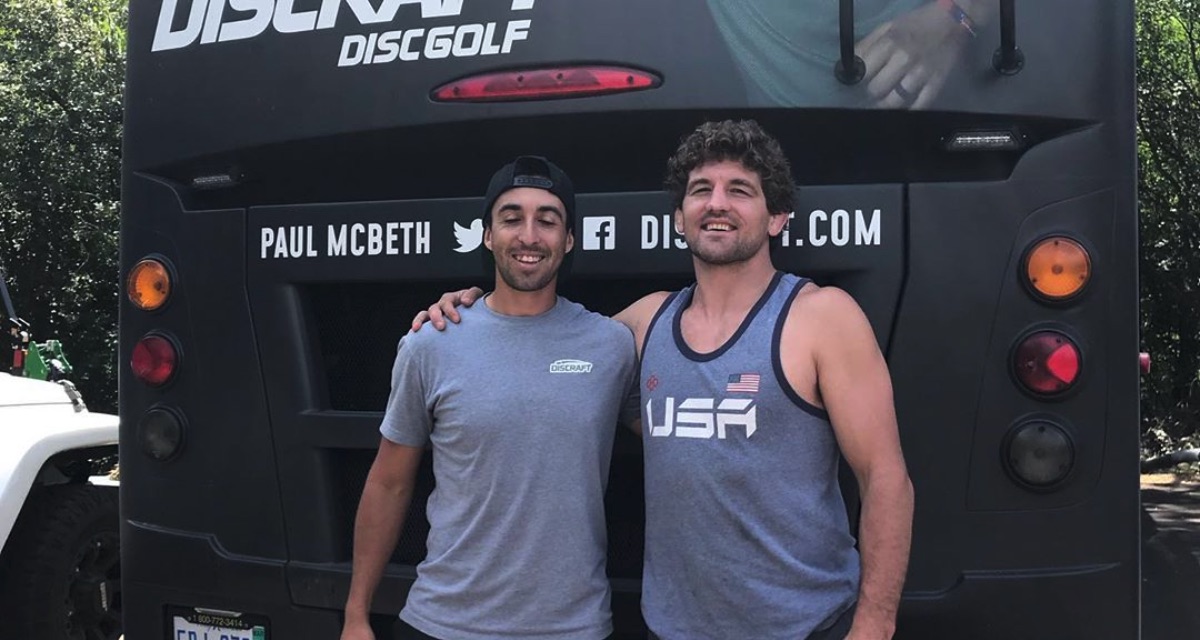 BA: I would say that we talked a little bit of everything. I think we hit it off pretty well. He and his wife were super nice. We had a lot of fun when they stayed in my house. Obviously, I love talking about disc golf so I kind of picked his brain on that. He likes UFC, so he picked my brain on that. I would say it was a fairly even split. 
UDisc: UFC is a relatively small sport that has grown at a massive rate over the past decade. What can organizations like the Disc Golf Pro Tour and professional disc golf generally do to emulate that growth?
BA: It's all about personalities. You need to create personalities. People like to follow personalities. People who do not necessarily follow the sport will follow personalities. Create personalities.
UDisc: So, how did the UFC go about creating personalities successfully, and how can disc golf build up the personalities in our sport?
BA: You need rewards for something besides performances, and then personalities will be unleashed. Until that happens people won't put any effort into it.
UDisc: What do you mean by that? What's an example of something that UFC did to encourage personalities to be unleashed?
BA: Personalities get paid way more. Looks at my salary compared to Leon Edwards or someone. Look what Conor [McGregor] got paid. Payments are not directly tied to performance, and athletes understand this.
UDisc: You're very outgoing on social media. Has that ever gotten you into trouble with sponsors or fans?  
BA: Nope, and one of the things that I think that I loved about the character that I've created is: I don't give a shit. And because I don't give a shit, when I say anything, people are generally willing to go with it. They're not shocked when I say something fairly risky.
UDisc: Any predictions for the 2020 Disc Golf Season?  
BA: (laughs) No, I'm not smart enough about disc golf to make any predictions.
I appreciate the interview. I love disc golf.  And I look forward to talking to you guys in the future. Peace!