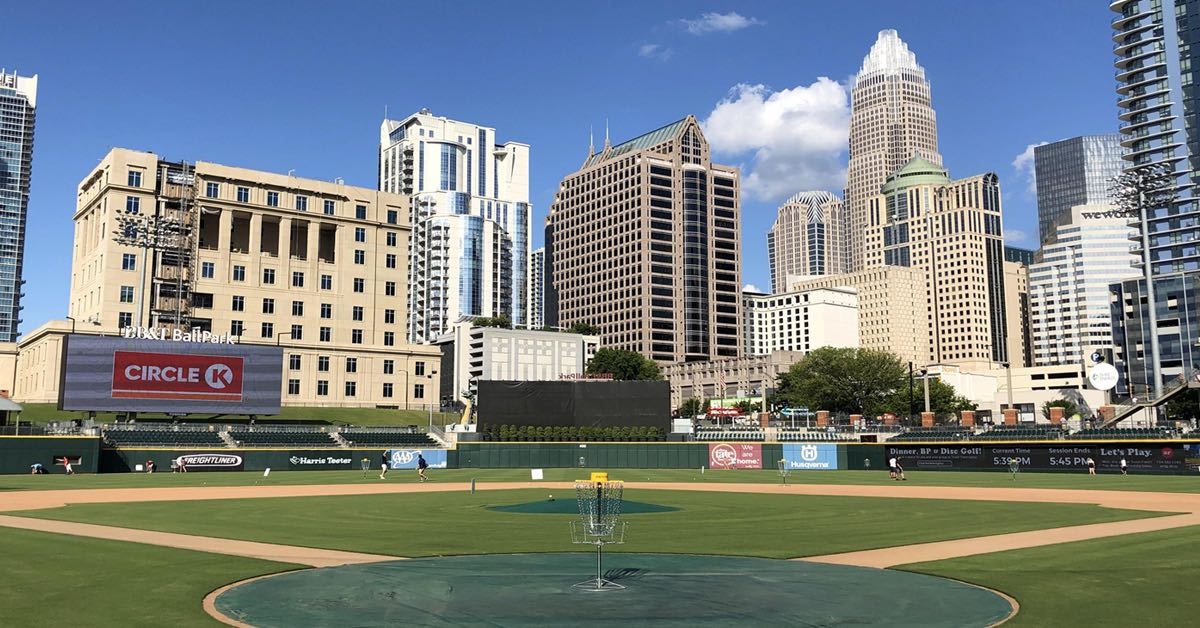 Throwing discs on a baseball field is a disc golf pastime—practicing players need a large open space, and baseball diamonds often sit unused at local parks. But playing a real round on the perfectly-manicured natural grass of a $50 million dollar stadium? That feels a little different. 
The Charlotte Knights, one of the most popular minor league baseball teams in the United States, partnered with bustling local shop Another Round Disc Golf to give visitors a chance to have that experience in North Carolina's largest city. The 12-hole course on Truist Field in a ballpark with a capacity for 10,200 has been available to play for the last two weekends and will be again the last weekend in June.
Designing a Disc Golf Course on a Baseball Field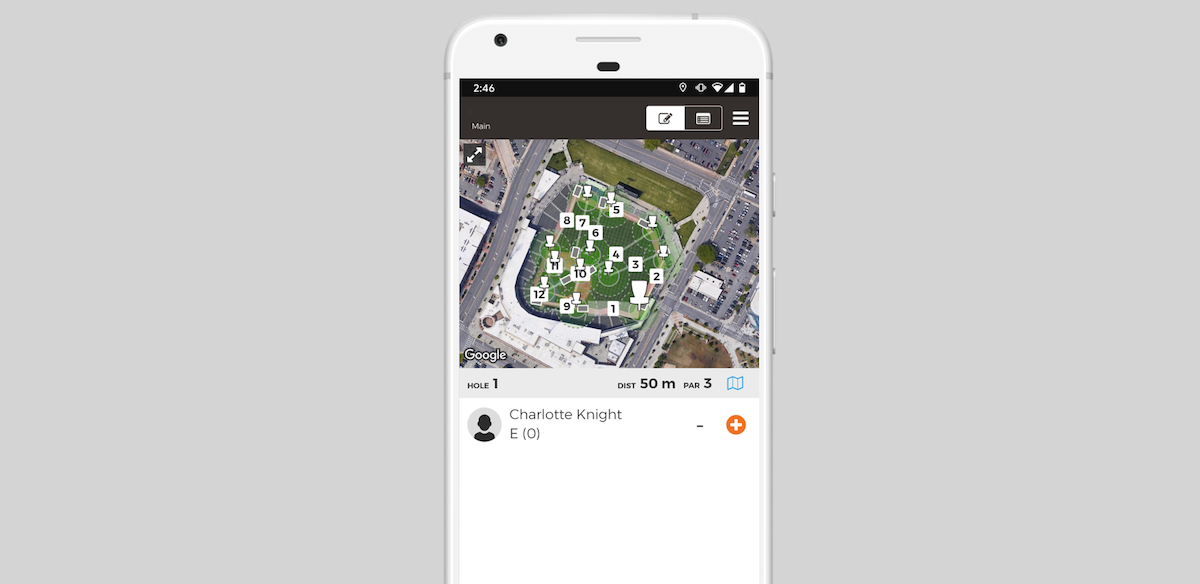 "The Knights actually reached out to us," Kyle Deck, co-owner of Another Round Disc Golf, said. "They were looking for ways to do something on the field that was COVID-regulation friendly, and someone within their organization had seen disc golf in another minor league stadium."

Deck is referring to events like the one pro ball-golfer Bubba Watson ran in the Blue Wahoos stadium in Pensacola, Florida, as well as disc golf events held by the Clearwater Threshers.
"COVID was a big part of it," said Tommy Viola, Vice President of Communications for the Knights. "We aren't able to hold games right now, so we wanted something that would allow people to come out to the ballpark in a safe way."
Social distancing at the event was practiced, and all staff wore masks. There were attendance limits as well, with a maximum of three players per party per hole. With those state regulations in place, the event quickly sold out both days of the first weekend. 
Each hole had a sponsor, bringing big names into the realm of disc golf: Kellogg's, grocery chain Harris Teeter, Chick-Fil-A, Great Clips, Freightliner, OrthoCarolina, Sunbelt Rentals, NTB, Duncan Parnell, and Truist Bank (the latter being the namesake of the field). Corporate sponsors of this magnitude are sure to raise the eyebrows of many event organizers in the disc golf community.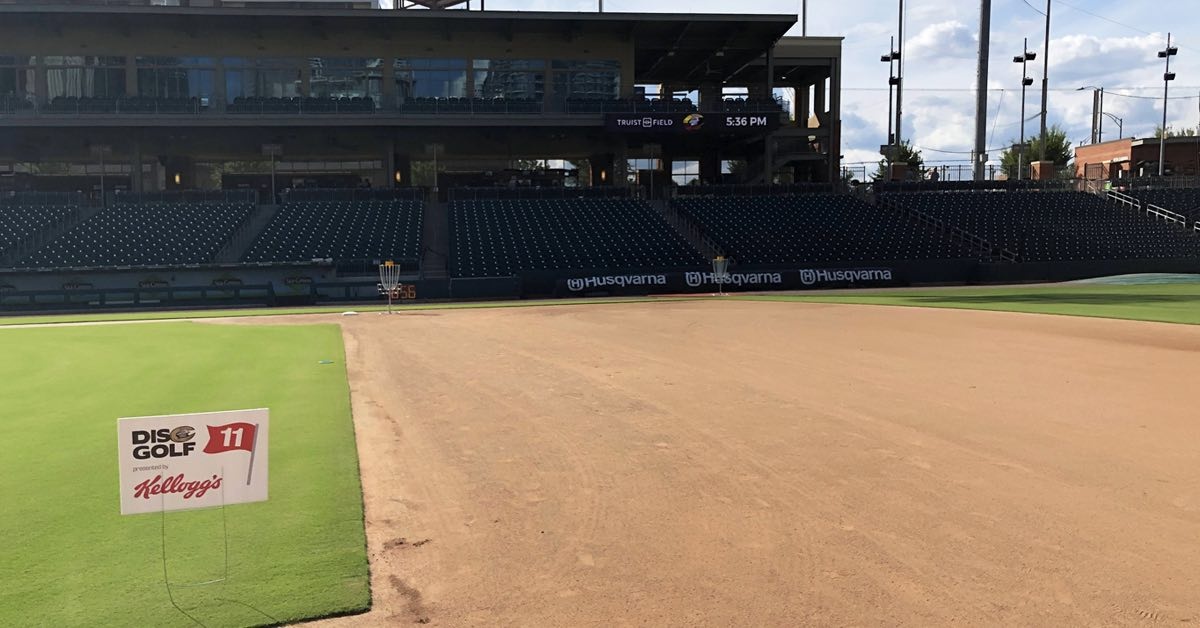 "Joseph [Phillips] and I went out one afternoon and worked with the Knight's head groundskeeper, Matt [Parrott], to plan out the course," Deck explained. "We knew that the course would be short but we wanted to try to find some unique shots and make sure that we used the space really well." 
Matt Parrott, International League Sports Turf Manager of the Year three years in a row, was new to disc golf, but found the partnership quite amicable.
"The people I have met who are part of the disc golf community have been some of the coolest, most genuine groups of people," said Parrott. "It's been a real pleasure to interact with them." 
In all, the course ended up as a par-36, with most holes requiring no more than a putter or a mid-range. For new players, each reservation came with a disc emblazoned with the Charlotte Knights logo. 
"I cannot say enough about the work that Dynamic Discs did getting those discs to us," Deck said. "I called Jamie Rusco [Dynamic Discs National Sales Director] as soon as I left my first meeting with the Knights, told him about the opportunity, and asked if I could get 125 base plastic putters in five days. The team in the Dynamic hot stamp department did amazing work and got everything to us with time to spare."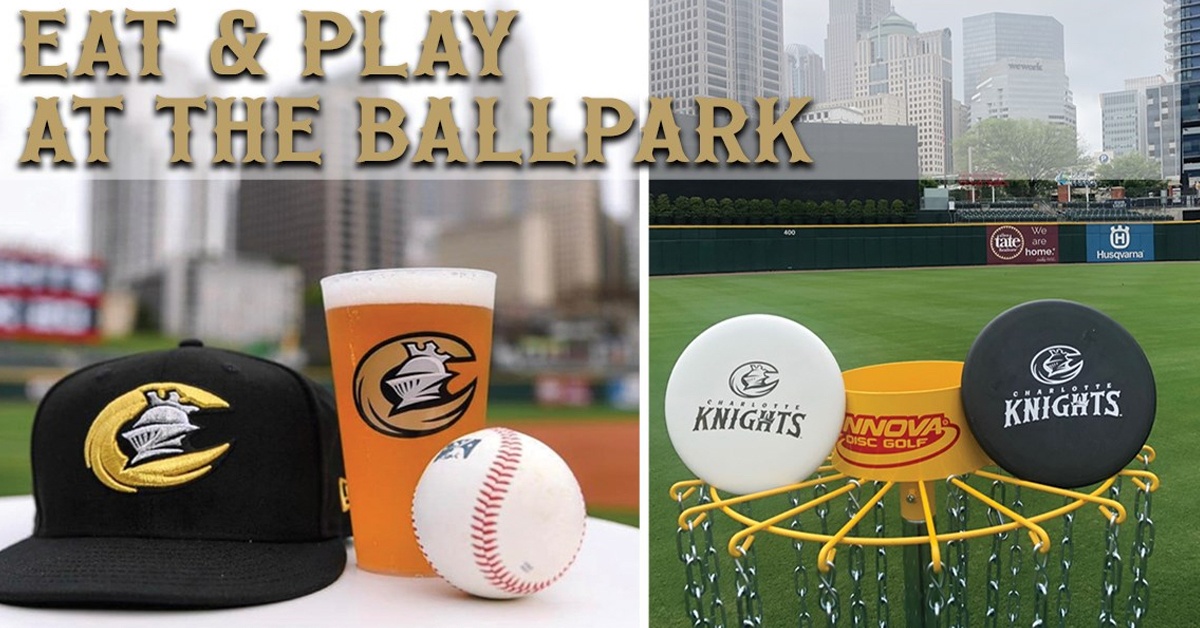 Deck's enthusiasm for disc golf equipment manufacturer Dynamic Discs' work was similar to how the Knights feel about their partnership with Another Round.

"As far as partnering with Another Round, I can tell you our partnership with them has been great," said Viola. "They have been very accommodating and so great to work with throughout this whole process. I know Corey Bass [Charlotte Knights Business Development Executive] has worked closely with them."
A Look At The Course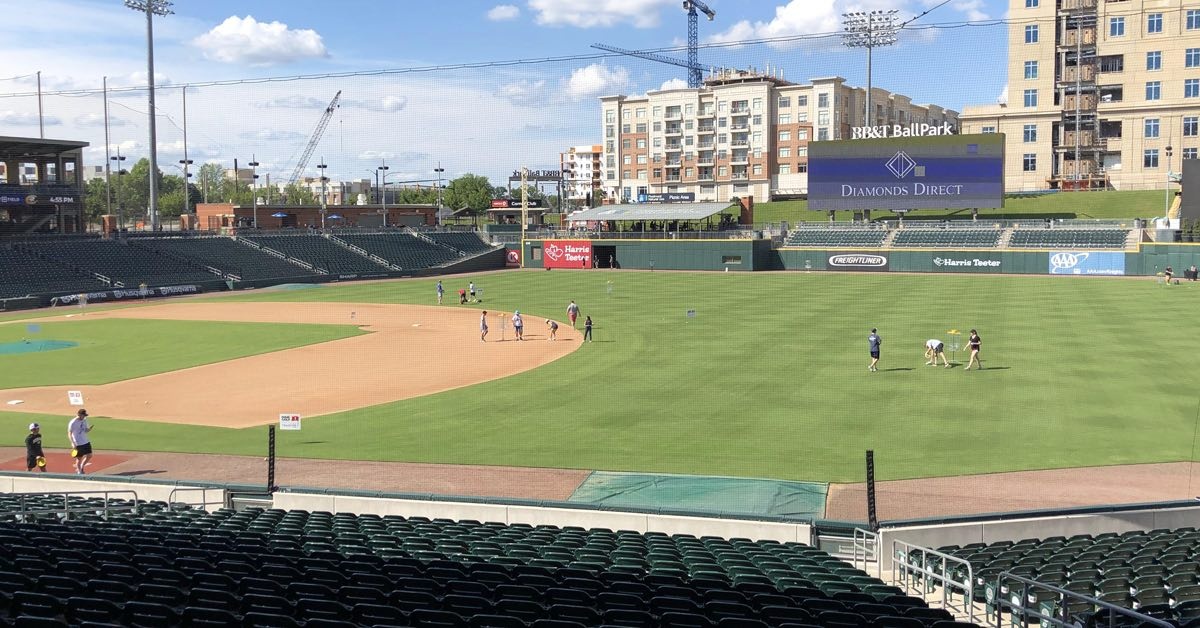 After coming down a stairway, you play hole 1 starting by first base near the edge of the infield and continuing down the foul line to the right corner of the outfield. This begins a zigzagging path you'll take as you tackle the course.

The majority of shots are 150 to 200 feet/46 to 61 meters, and you're always aiming at a brand-new Innova DISCatcher Sport 24 basket.
"Another Round purchased the baskets for the Knights directly from Innova," Deck said, referring to disc golf equipment manufacturer Innova East that's based out of nearby Rock Hill, SC. "They always take care of us."
Most holes on the course are straight shots though the walls and netting of the field sometimes force some slight shot-shaping.

There are also several holes that run along the outfield edge in an area called the "Warning Track"—so named because the change in terrain warns outfielders that they are near the stadium wall. The gravel there, termed "crushed brick" by Matt Parrott, provided a surprising amount of grip and was an ideal surface for tee shots.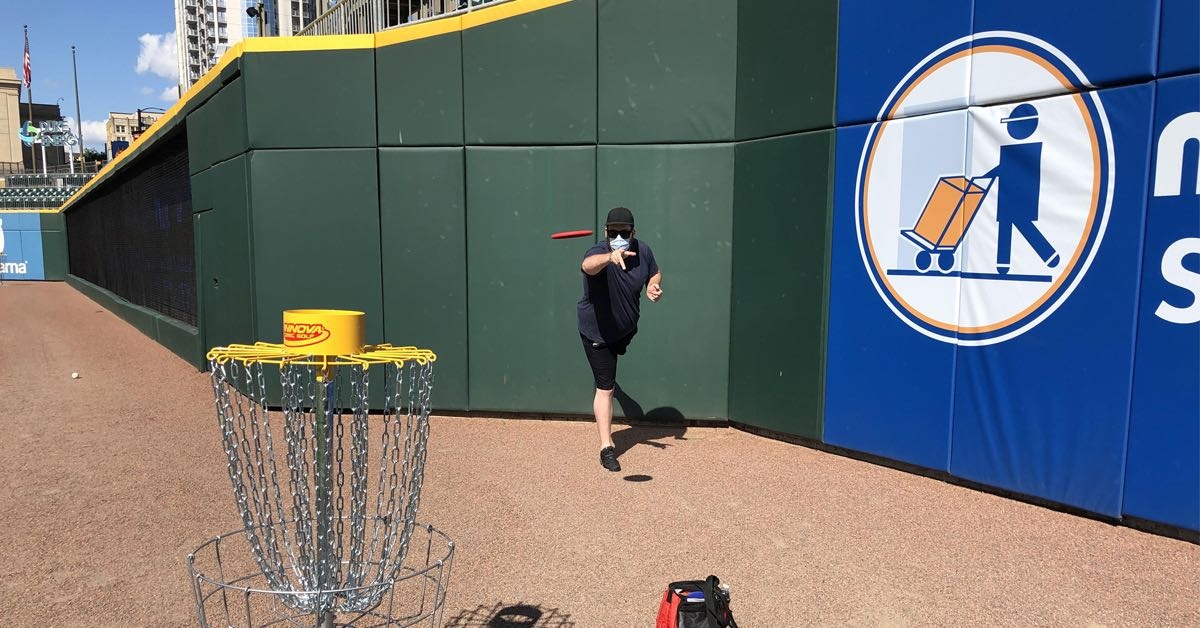 Tee pads were aptly marked by baseballs pegged into the ground. And though the immaculate checkerboard-cut grass allowed for smooth, controlled disc skips, a lot of players were going for aces in the air.
"I know of at least one on the first day," said Yogi Brewington, Director of Group Sales. "We had been open for about ten minutes and a young kid hit the basket from the pitching mound."
Despite being relatively short, three infield holes ending the course will be the most memorable for many. For example, on hole 12 players crest the raised mound and face down a disc golf basket at home plate. It's a distance of just 60.5 feet/18 meters, but getting to imagine what professional baseball players must feel while standing there in the heat of the moment creates an exhilarating and unique experience.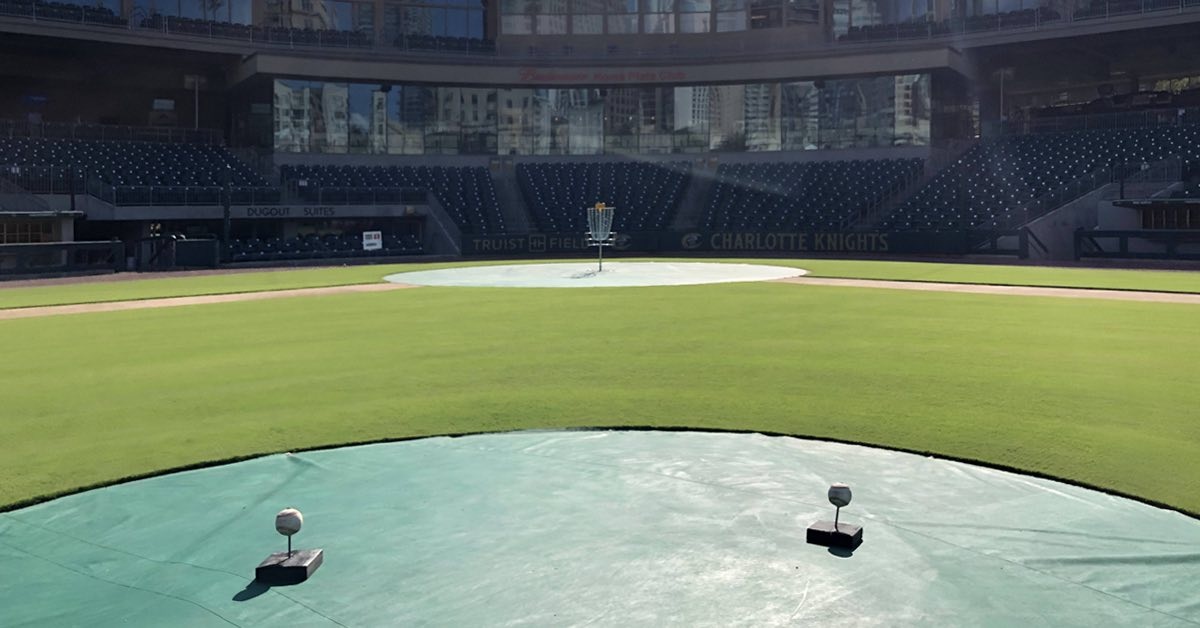 For anyone in the Charlotte area who's consider trying the course out, know that these infield holes are only available providing it doesn't rain.
"Because of our rain policy, we still want to be able to operate, but when we get heavy rains, it just turns to mud," explained Parrott. "But we've been fortunate and it hasn't rained, so everyone's had a 12-hole course."
Crowd Consensus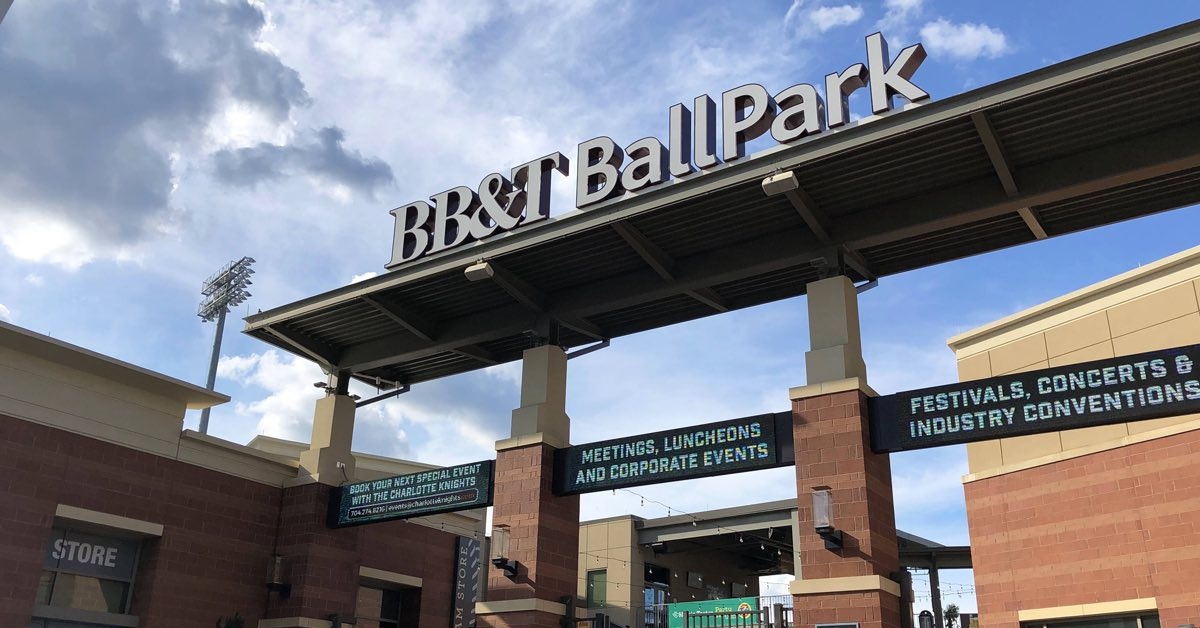 Talking with visitors to the event, it seems that satisfaction with the experience is high.
"I thought it was a really unique experience," said Will Koster. "The course was a little short, but mid-range play was a lot of fun. On a semi-pro stadium, it's very cool."
"All in all, it took about 40 minutes, and we got to play through a couple extra holes at the end," said Zac Zielinski and Hannah Montgomery, who play together often. "We had a great time."
One group included a disc golfer with 40 years of experience in the sport.  
"I played at the Rose Bowl in the 70s," said disc golfer Tim Martin, attending with his son Kyle. "When my kids were babies, I would carry them on my bag at tournaments. Now, the Knights are doing disc golf in downtown Charlotte. We wanted to honor the sport and to support and give something back to it."
The course also seems to be exposing many new people to disc golf.
"Conservatively, I would say at least 50% of players were playing disc golf for the very first time," Deck said. "I was absolutely blown away by the number of new players that were out there. It was a really neat opportunity to get to bring disc golf to hundreds of people who had never seen it before."
The staff of the Charlotte Knights saw a similar trend.
"During the earlier session, there were more families and younger children," said Grace Eng, Director of Special Events, assisting with concessions at hole 4. "At the later session, the more serious disc golfers with backpacks and bags were coming out."
"It's great because you're getting the disc golf enthusiasts, but you're also getting the fan that just wants to check it out," said Viola. 
With all spots sold out in the initial run—over 200 players—the feedback has been quite positive, both to Another Round and the Charlotte Knights.
"A big thank you to the Knights organization," Deck said. "It was really special to get to be a part of bringing this event to Charlotte. Joseph and I count ourselves very lucky to get to own a disc golf store in the best disc golf city in the country[1], and this was really a neat way to get to grow the sport."
"After a successful opening weekend, we are excited to continue with disc golf on the field moving forward," said Viola. 
The final chance to play in this run of disc golf events at the home of the Knights is Sunday, June 28th, and you can sign up for your spot here.


1. Charlotte truly is one of the best disc golf cities in the United States. See our article about its disc golf scene here and/or check out our full list of Best Disc Golf Cities—USA.