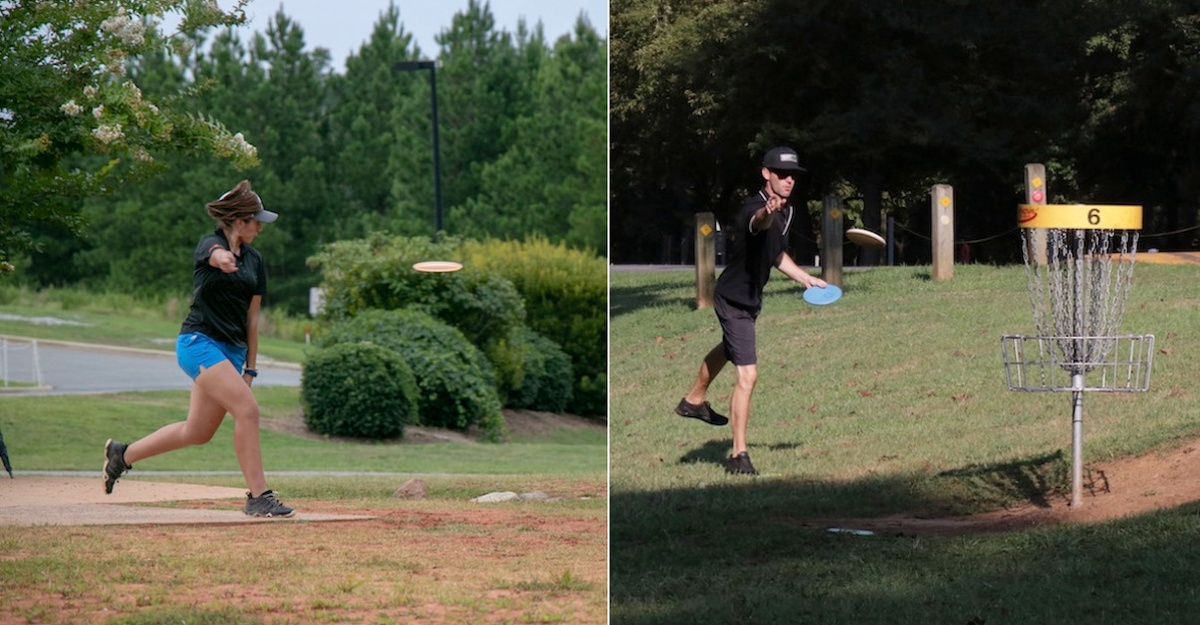 Maybe you're here because you saw some people throwing frisbees into a weird contraption in your local park and wanted to know more. Maybe you saw disc golf in the local newspaper or even caught a highlight on ESPN. Maybe it's something a friend or family member has said you have to try.

Whatever the reason, welcome! 

In this article, we go over all the information you'll need to be ready for your first round of disc golf. You'll learn the basic rules and throws, where to find discs, and how to find courses near you.
WHAT'S UDISC?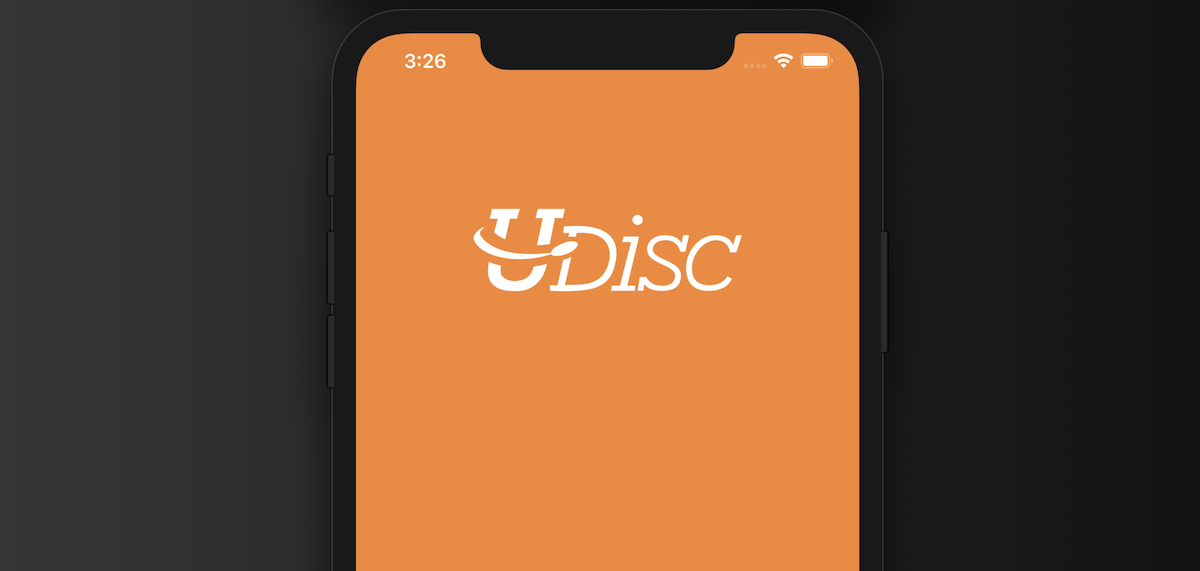 Allow us to introduce ourselves. Release Point is the official blog of the UDisc app. UDisc began as a course-finding app specifically for Minnesota but has grown into the #1 disc golf app worldwide. It's now a tool that helps people find and see the quality of over 10,000 courses across the earth, keep their scores and stats during rounds, practice their game off the course, and much more.

We mention some ways the UDisc app can be helpful for taking on your first rounds and beyond in the sections below.
HOW TO PLAY & BASIC RULES
In this section we get you familiar with how to play a round of disc golf by answering questions people new to the sport often have.
What's the Goal?
If you've ever played traditional golf or mini-golf, you already know the basics of how disc golf works. Just as the goal of those sports is to get your ball in a course's holes in as few shots as possible, the goal of disc golf is to get a disc in a course's baskets in as few throws as possible.
How Should I Throw My Discs?
There are two primary ways to throw a disc. One them is called a "backhand," which you can see in the video below from JomezPro:


Though it's sometimes difficult for newer players, you can also run up before throwing a backhand. That looks like this:


The second common throw in disc golf goes by many names, with forehand, sidearm, and flick being the most common. Below is an example of that throw in a video from SpinTV:


Again, though more tricky, a forehand can be done with a run-up, too:


While most people get more power out of backhand shots, that's not always the case in the beginning. When you're starting out, just throw whichever shot feels most comfortable.
How Will I Know Where to Start and Where to Throw?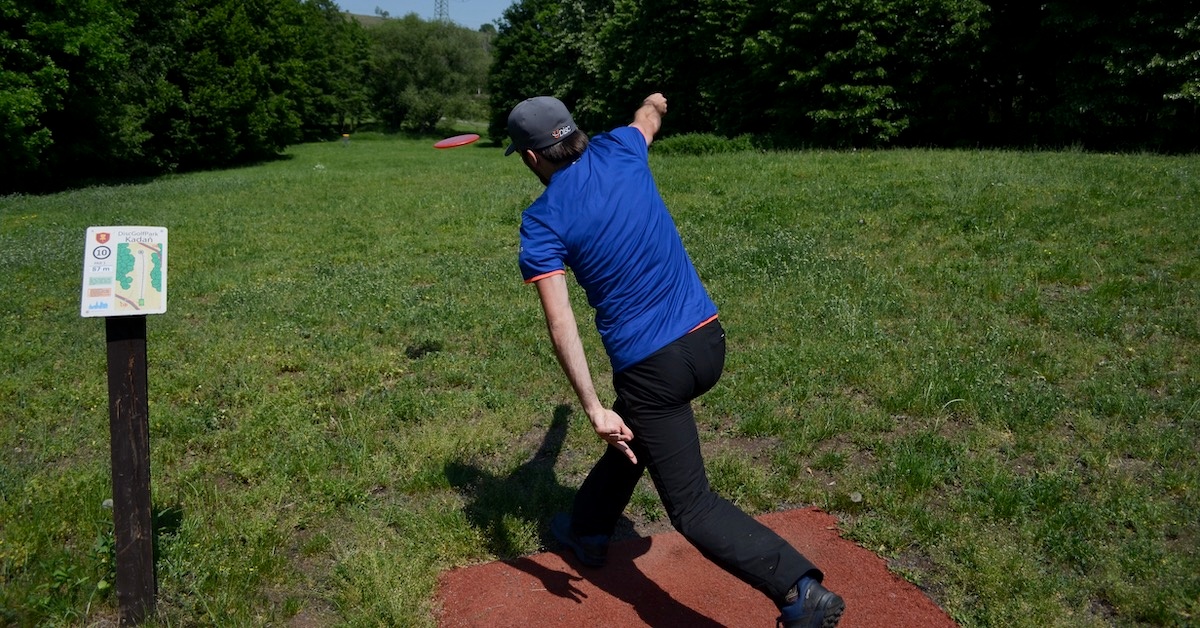 Though there are baskets, disc golfers still use the word "hole," as in, "This is an 18-hole course" or "I got a hole-in-one on hole 6."

When you play a hole, you begin at a designated tee or tee pad and then throw to that hole's basket. Often, there will be tee signs showing the location of each hole's basket and how far away it is. Keep in mind that the basket you're throwing to may be around a corner, behind a hill, or in another location that makes it unable to be seen from the tee.

Also, tees come in various forms. Some are concrete or brick while others are artificial turf or even just designated areas on normal ground.

Occasionally, courses don't have signs. However, many courses have been mapped in the UDisc app by disc golfers. If you keep score with UDisc and play a course that's been mapped, you'll be able to see where each hole starts and ends (and your current location relative to those points) whether there are signs or not.
How Does Play Continue After I'm Off the Tee?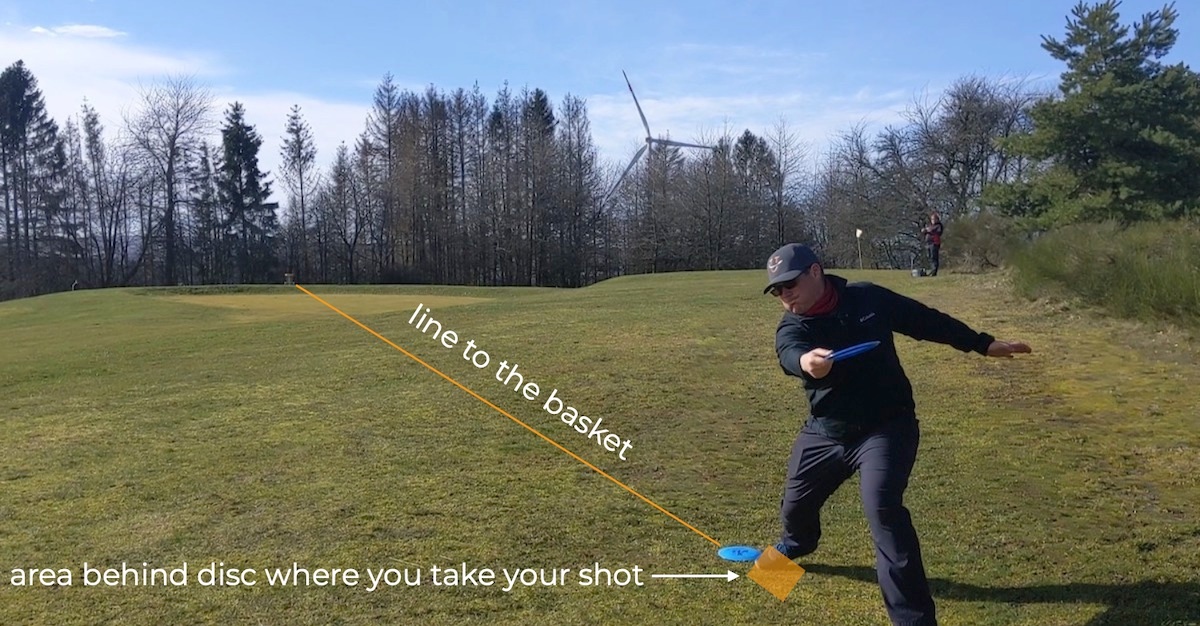 Once you've completed your first throw from the tee, you take your next one standing just behind where your disc landed, like you see the player doing in the image above. The front of your disc is the point of its rim that's closest to the basket. Neither foot should touch the ground in front of your disc until after your next throw leaves your hand.

Continue throwing from behind where your disc lands until it's securely in the hole's basket.

What if you just have one disc or want to throw the same disc again?

In this case, you should place a marker at the front edge of your disc (this is the opposite of ball golf, where the back of a ball is marked). Once that marker is down, you can pick up your disc and throw it from behind the marker.

Most players have minis they use as markers. Minis are small discs specifically used for marking where your disc has landed. You can see one below in the image on the right: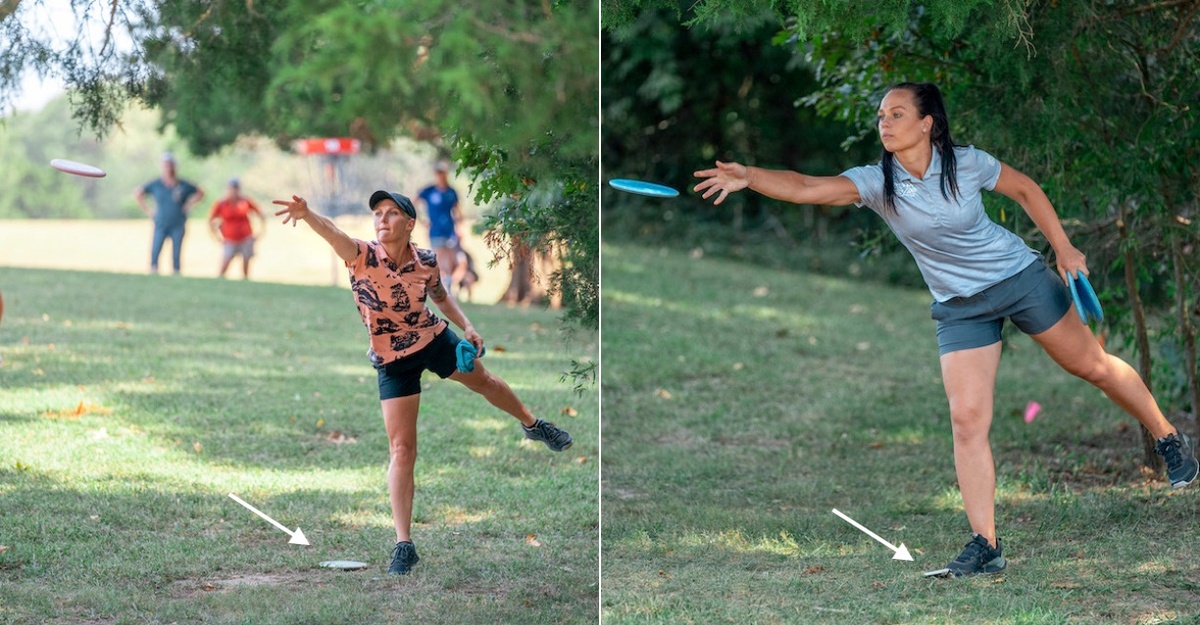 When you're starting out, just about anything could be a marker: a stick, a water bottle, etcetera. However, minis are the standard and inexpensive. If you think you might want to play in an official event someday, it would be a good idea to pick one up.

It's also important to know that you can use a marker for any shot and not just when you need to use the disc you threw on your last shot.
I'm in a Group. What Order Do We Throw In?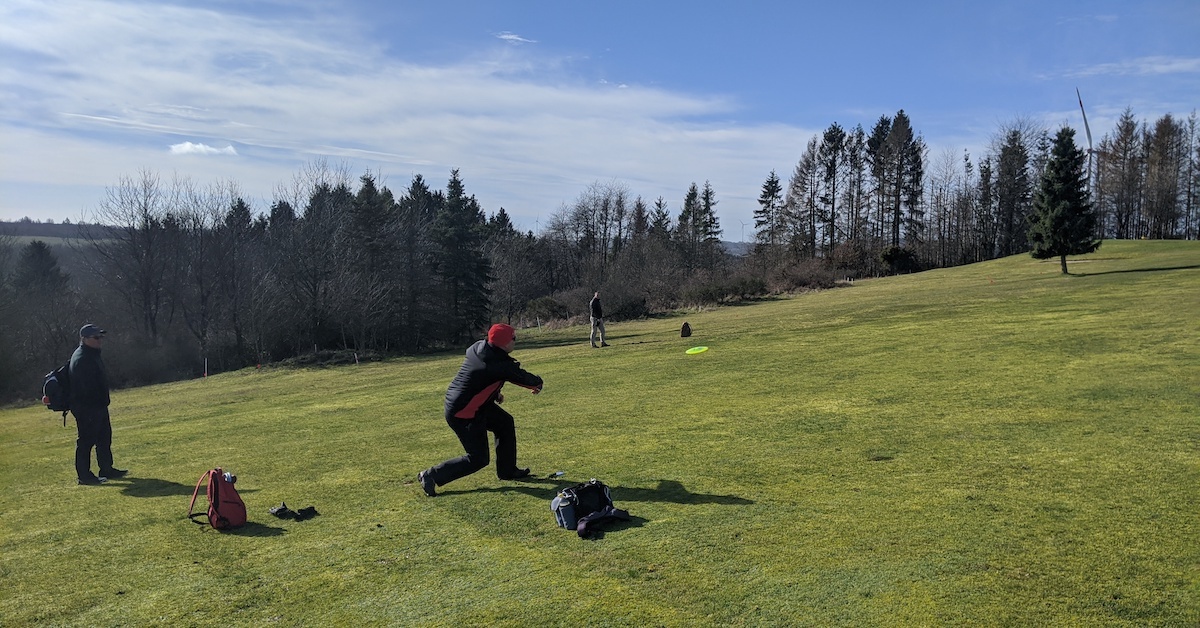 When you start a round, it doesn't matter who throws first. After everyone has thrown from hole 1's tee, the player farthest away from the basket is the next person to throw. This rule continues until everyone has finished the hole.

Though it may seem strange at first, this rule does mean that sometimes one player will need to throw multiple times in a row before they are closer to the basket than someone else.

Once a hole is finished, the order on the next one is determined by who needed the fewest throws to complete the last hole. For example, if Ted finishes a hole in four throws, Rachel in three, and Lily in two, the order on the next tee will be Lily, Rachel, and then Ted.

If players have the same score on a hole, the person who threw first on the last hole is the first person to throw on the next. For example, if Tim throws before Ashley on hole 1 and they both finish hole 1 in four throws, Tim will throw before Ashley on hole 2.

If you keep score with UDisc, the app automatically organizes the players into the correct throwing order once you move on to a new hole.

See more of our articles for beginners here!
GETTING DISCS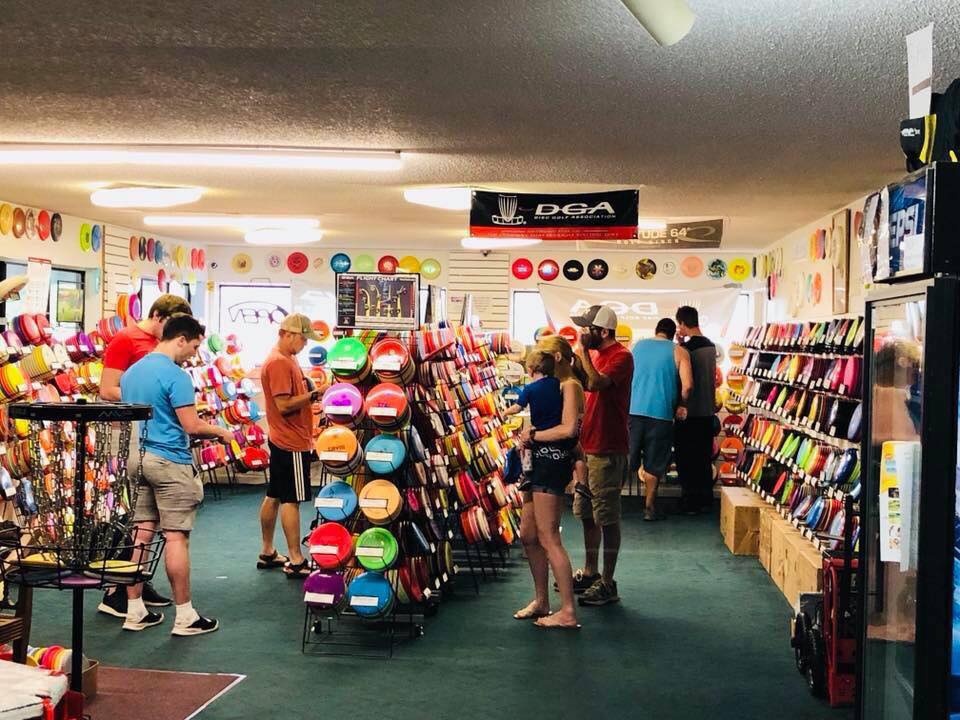 Like most everything, discs can be purchased at either physical stores or online.

For physical stores, you can search the UDisc directory of disc golf stores online at udisc.com/stores or by tapping Disc Golf Stores in the More tab of the UDisc app. We highly recommend visiting local, dedicated disc golf stores if possible because the staffs there can offer advice it'll be hard to find elsewhere.

If there are no dedicated disc golf stores near you, sporting goods stores or stores with large sporting goods sections often have discs and might not have been added to our directory. For example, some Wal-Marts carry disc golf "starter packs" that include three discs suitable for beginners.

For online disc sellers, simply search "buy disc golf discs online" in a search engine and you'll find numerous options. All these retailers have a huge number of disc choices. If you want a little guidance on what to look for as you shop, give our guide on what to think about when buying your first discs a read.
FIND COURSES NEAR YOU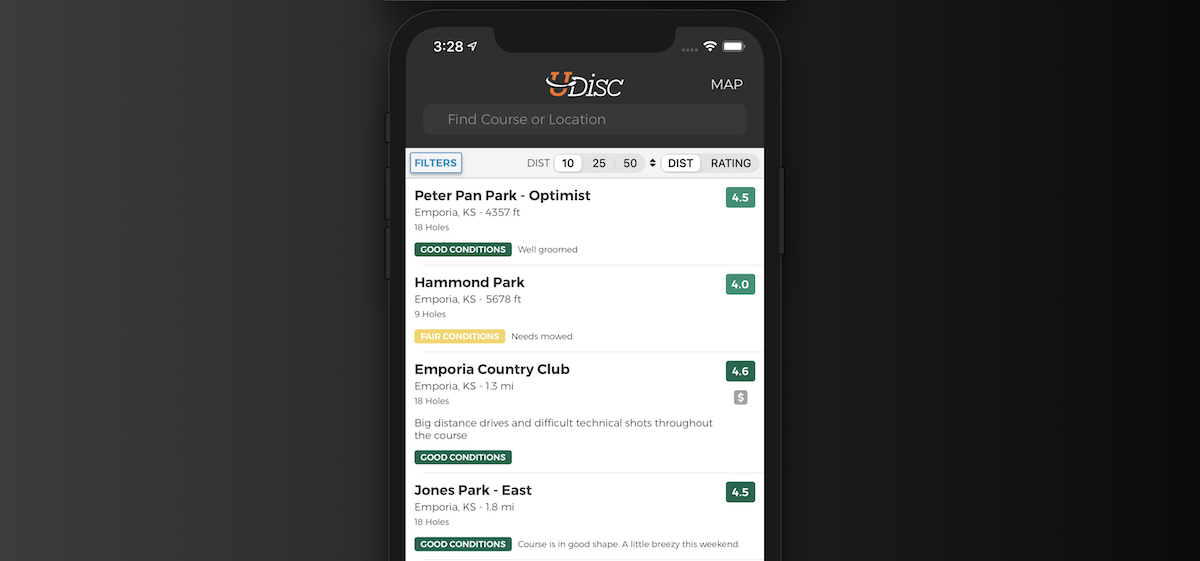 Now you know how to play and have discs to play with. But where's your nearest course?

The UDisc app helps you learn what courses are closest to you. Open the app, tap the Courses tab at the bottom, and you'll see courses listed by their distance from your current location.

To search for courses in other places, simply tap "Location" in the Courses tab search bar and type in a city or town name. You'll then see a list of courses near that location. 
The numbers in the far right corner beside each name indicate a course's rating out of five possible points. This indicates how good players who have completed rounds on UDisc thought the course was. If you tap a course, you'll be able to learn more about it.

You can also tap Map in the top right corner to see a map view of which courses are near the location you've entered.

Should you decide to play one of the courses you find, there's often no need to find its address to put in your phone's navigation system. Just tap "Get Directions" on that course's information page and your navigation system of choice will show you the way.
HAVE FUN AND KEEP LEARNING!
We hope this information helps you feel ready to dive into disc golf. Enjoy getting some exercise outdoors and happy throwing!

If you want to learn more about the sport or how to improve your game, this blog offers a wealth of articles to help you and posts more every passing week. We haven't covered a topic you'd like to know more about? Feel free to send an e-mail to our editor, Alex Williamson, at alex@udisc.com with suggestions.

You can download the UDisc app in the Google Play or Apple App store.