So far there have been 96 disc golf Majors with an Open division (also called MPO, which stands for Mixed Professional Open) and 31 different players have claimed victories at one or more of them.

If you want to know who any of those competitors are and what event(s) they won, you've come to the right place. We've also got interesting stats related to Majors as well as insights into the history and development of this elite event tier.
Here's what you'll find – in order – in the rest of this post: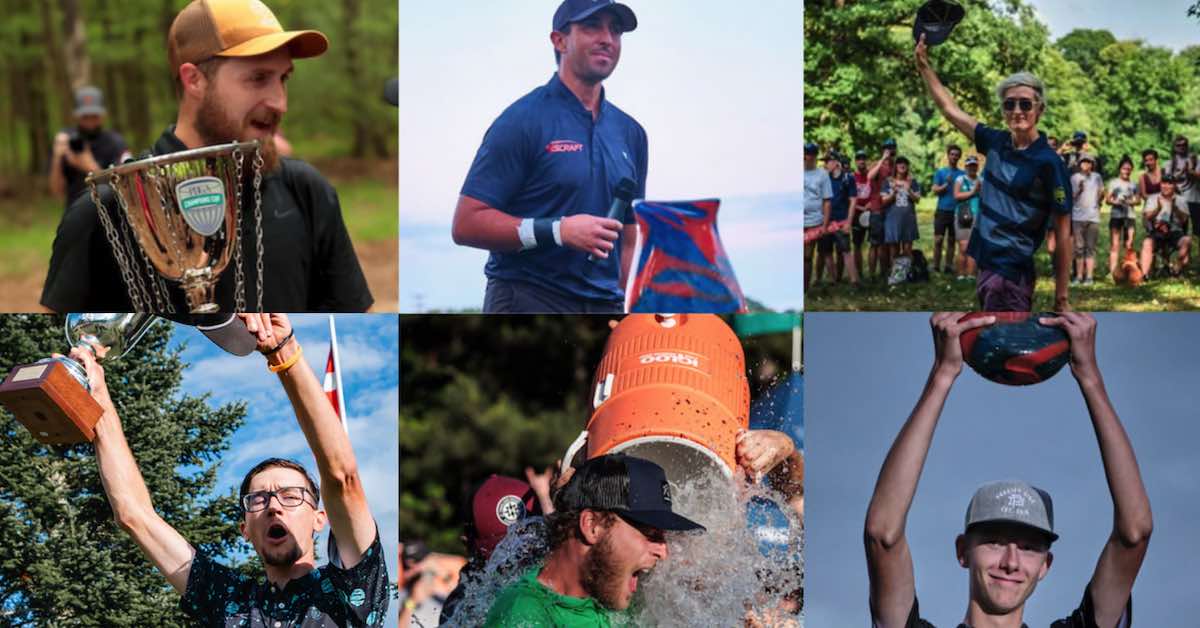 Disc Golf Majors: All Winners (MPO)
Who's Won the Most Disc Golf Majors?
Ken Climo, who no longer tours, won 18 PDGA Major tournaments in MPO, which is the most of any player in the sport's history. Paul McBeth has 17 PDGA Major titles in MPO and is the closest active player to Climo's mark.

For a look at how many titles every Major winner has, see the table below (on mobile, swipe left/right to see all columns):
NUMBER OF DISC GOLF MAJOR WINS IN OPEN DIVISION

10+

5-9

4

3

2

1

Ken Climo (18)

Paul McBeth (17)
David Feldberg (7)

Ricky Wysocki (6)

Barry Schultz (5)



Nate Doss

Will Schusterick



Avery Jenkins



James Conrad

Chris Dickerson

Harold Duvall

Nikko Locastro

Jesper Lundmark

Eric McCabe

Eagle McMahon

Steve Rico

Isaac Robinson

John Ahart

Gregg Barsby

Steve Brinster

Gannon Buhr

Corey Ellis

Sam Ferrans

Gregg Hosfeld

Jeremy Koling

Ron Russell

Nate Sexton

Johnny Sias

Cam Todd

Jeff Watson

Steve Wisecup

MPO Winner Earnings at Disc Golf Majors
These are some of the most interesting facts about what competitors have earned for winning Open at Majors:
Total payout to MPO winners at Majors
Collectively, MPO winners have taken home $667,721 from all Majors. The inflation-adjusted buying power of those winnings is about $909,794.
Average payout for MPO winners at Majors
Over 96 events, MPO champions have earned on average $6,955 for a Major win. All totals adjusted for inflation, the number goes to about $9,477.
Which MPO competitor has earned the most from winning Majors?
Paul McBeth's $127,895 in payouts for winning Majors is the most in history. Adjusted for inflation, McBeth's $153,742 in modern buying power is more than Climo's inflation-adjusted $147,258 ($84,995 unadjusted).
How Many Different Events Have Been Pro Disc Golf Majors?
Events of 13 different names have been Majors with an MPO division. Below you can find each of them in order of the frequency they've occurred as Major competitions (number of iterations in parentheses):
PDGA Disc Golf World Championships (41)
U.S. Disc Golf Championship (23)
European Open (10)
Japan Open (6)
The Player's Cup (3)
Scandinavian Open (3)
Aussie Open (2)
European Masters (2)
PDGA Champions Cup (2)
Copenhagen Open (1)
Konopiste Open (1)
PDGA Championship (1)
Stockholm Open (1)
Note that some events (e.g., pre-1999 Japan Opens) have taken place without being classified as Majors. Those iterations aren't included in the above totals.
Where Can I Find Disc Golf Major Stats for FPO?
Head on over to our post "All Open Women Disc Golf Major Winners."
What Is a Disc Golf Major?
The highest of the Professional Disc Golf Association's event tiers, Majors are competitions that, as current PDGA Events Manager Michael Downes told us, "punctuate the history of the sport, elevate a player's legacy, and settle debates about which golfers are better than others in the all-time conversations."

But how did Majors become such milestones in disc golf? In the sections below we explore the development of the Professional Major tier and the evolution of its meaning.
Origins of Disc Golf Event Tiers
According to Brian Hoeniger, the PDGA formalized and began classifying events as – listed respectively in order of importance – A, B, and C tiers in 1994 when he was the board member entrusted with this task. At that point, events that had been called SuperTours since the late 1980s became A tiers. Hoeniger is the organization's current International Director but has also served as Executive Director and Administrator during his over quarter-century with disc golf's governing body.
The year 1994 is significant because it was the first time results of PDGA-sanctioned disc golf competitions were recorded with computers.
"Prior to that everything was handwritten and there was a monthly or bi-monthly newsletter [with tournament results]," Hoeniger explained. "There was no database or anything."
The tiers helped organize the newly digitally recorded tournament information, but there didn't seem to be a need for anything more than the ABC tier set. The only event that clearly stood out over A tiers was the PDGA Disc Golf World Championships (often called simply "Worlds") for which players qualified on the basis of tour points. But as disc golf competition advanced and other standout tournaments emerged, the need for a higher tier became apparent.

That tier emerged in 2002.

"2002 was an important year when volunteers at the time, Steve Ganz and Jason Haas, were coding the online event calendar and tournament results displays for the PDGA website," wrote Chuck Kennedy, co-inventor of the PDGA ratings system, in a comment to a request for information about the history of Majors in the Disc Golf History Facebook group. "They asked for guidance on the codes that should be applied to indicate which events were at a certain sanctioning tier. Theo Pozzy, Roger Smith, and I had just gotten Board approval in early 2002 under Pat Govang and Brian Hoeniger's leadership to implement the rating system as a PDGA benefit. So all these things converged during 2002 when the M code was used to indicate Majors."
Hoeniger verified Kennedy's statement, and Pat Govang, PDGA Commisioner 2000-2003, provided a visual from "the 2002 summit/board meeting where the Majors (along with NTs [National Tour events]) were formally recognized as a tier of events."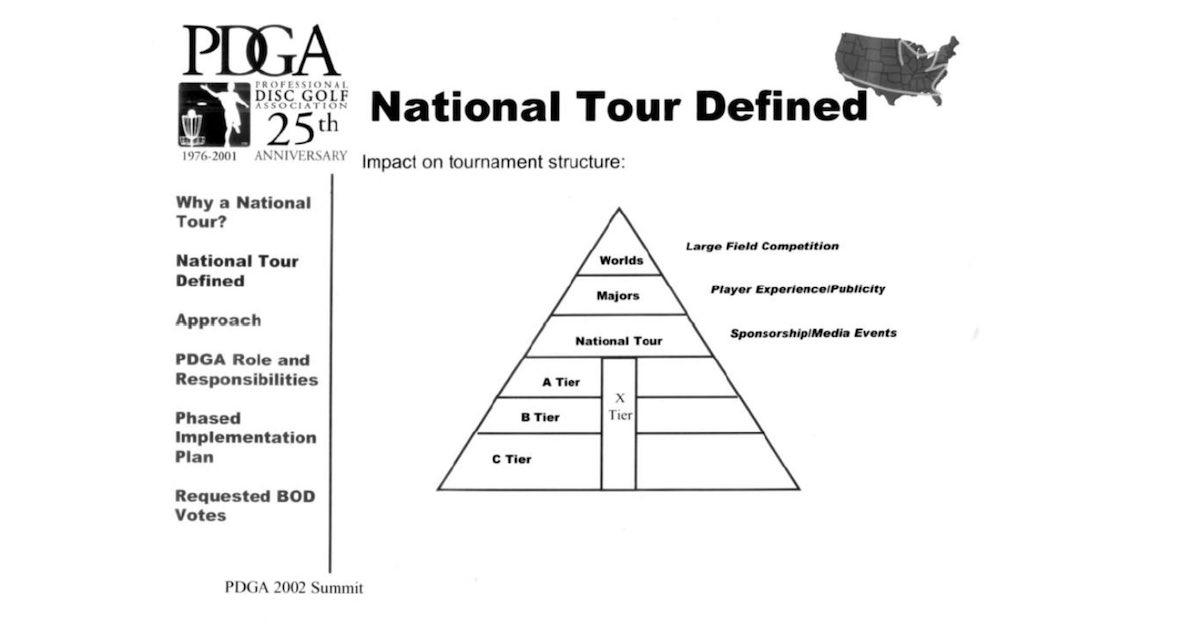 Two tiers you can see in the pyramid above no longer exist: Worlds and National Tour. Worlds is now classified simply as a Major and the National Tour ended its run at the end of 2021 after the Disc Golf Pro Tour and PDGA struck a deal to work together closely on professional events.
What Makes a Disc Golf Major a Major?
Like a lot of disc golf vocabulary, "Major" is a term associated with traditional golf. The four most prestigious traditional golf events – the Masters, PGA Championship, U.S. Open, and Open Championship – are called Majors. Comments from Kennedy suggest that select competitions became pro disc golf Majors when the PDGA saw it as logical or prudent to give them elite standing.

"In terms of a standard for future events becoming Majors, it happened organically when new events were suggested or planned that the PDGA Admin and Competition Committee agreed should get Major status even if they weren't going to start out as Major-like events in terms of field size or purse," Kennedy wrote.

Kennedy pointed to the U.S. Women's Disc Golf Championship (USWDGC) as an event that was awarded Major status before its attendance or payout levels were particularly overwhelming. Though Kennedy didn't say it outright, the logical inference here is that the PDGA wanted to show its support of this event by naming it a Major, hoping the designation would help draw big fields and top competitors. The USWDGC was first held in 2001 and saw its 21st iteration in 2022.

Those looking for exact standards for Majors will be disappointed. The most concrete thing that defines them currently is the requirement that purses total a minimum 125% of net entry fees. Other than that, the PDGA states that "length, purse, number of holes, and many other elements of these prestigious events are handled on a case-by-case basis" while also making it clear that only teams with extensive experience putting on large sporting events can host one.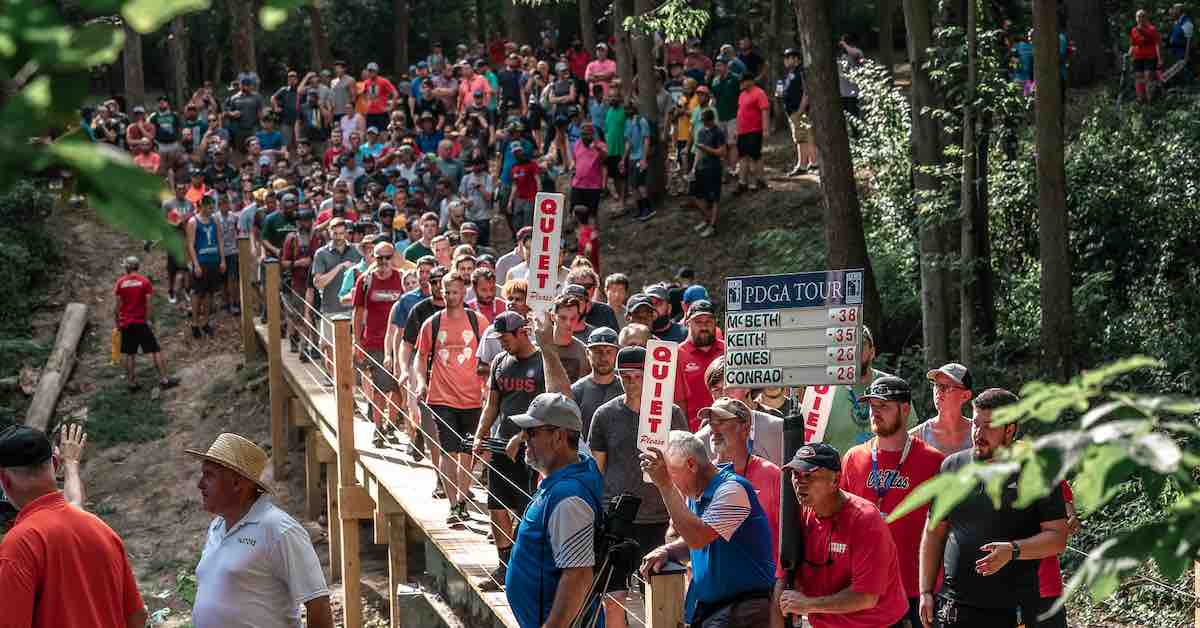 This fluid idea of what events can be Majors is evident in how the number of Major events has fluctuated year to year. Since the tier was first adopted in 2002, there have never been three consecutive years during which the same number of professional Majors occurred. The number of Majors staying consistent over two consecutive years has only happened three times since 2002.

Mostly, it seems, what defines Majors is a social contract among those in the disc golf community – administrators, players, fans, and media – to treat them as the sport's premier events.

What Are the Purposes of Disc Golf Majors?
Majors serve a variety of purposes in pro disc golf. 
Downes told us that Majors should "bring together the best disc golfers in the world in competition and fellowship" and provide players the opportunity for "vast media exposure." He also said that winning a Major should give a competitor an "overwhelming sense of pride, joy and accomplishment knowing they just beat the best players in the world."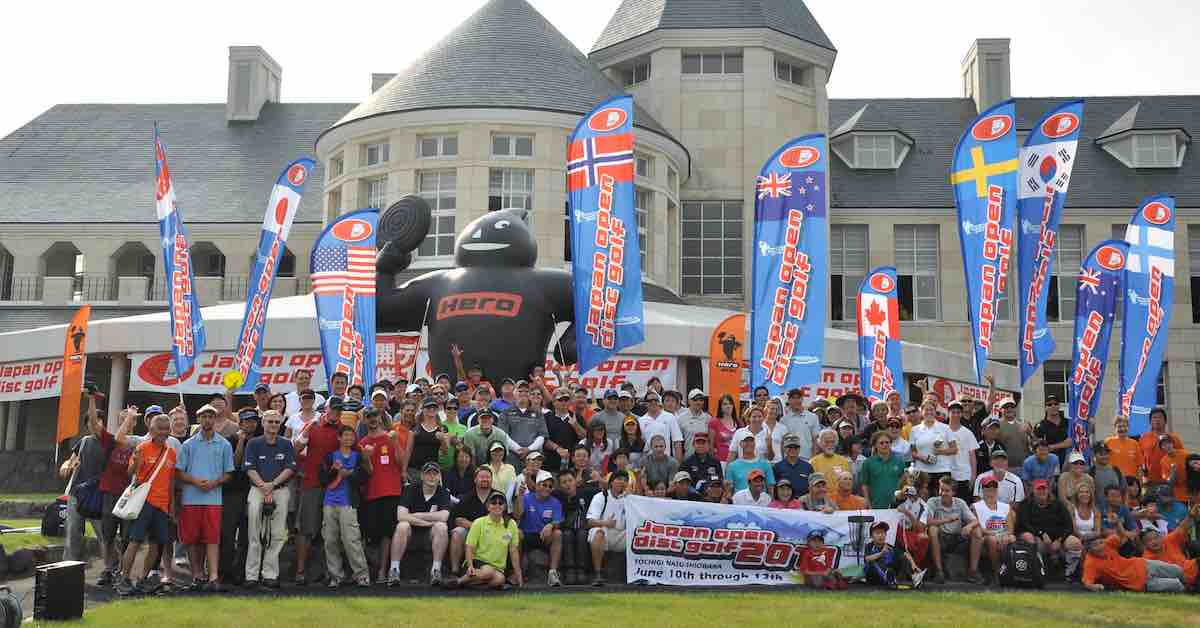 Along with offering participants a special experience and chances for career-defining and career-launching performances, Downes indicated that professional Majors should demonstrate in a big way the positive impacts hosting competitive disc golf can have on communities. Host cities and towns see an immediate economic impact from players, spectators, and media booking hotels, dining in local restaurants, shopping, and so on. With the recent rise in pro disc golf viewership via online outlets, it's also now to be expected that hosting a pro Major will bring an uptick in disc golf tourism following an event as people get interested in playing the courses they've watched their favorite pros take on.

Finally, Downes sees Majors as a way to help disc golf grow worldwide.

"PDGA Majors offer an opportunity to increase disc golf's exposure and development throughout the world while allowing new generations of disc golfers to experience a premier competition experience," Downes said. "We have recently seen an increased interest to host Pro Worlds outside of the U.S., and we expect to receive proposals for such in the very near future."
The Future of Disc Golf Majors
Current PDGA leadership – including Nate Heinold, the chair of its Major and Elite Series Committee – has indicated they'd like for the number of pro Majors in disc golf to be consistent year to year. The number they're planning on? Four – just like traditional golf.

The three events where both Open and Open Women will compete will be Worlds, the newly-created Champions Cup, and the European Open. For Open competitors, the fourth Major will be the U.S. Disc Golf Championship (USDGC) and for Open Women the USWDGC.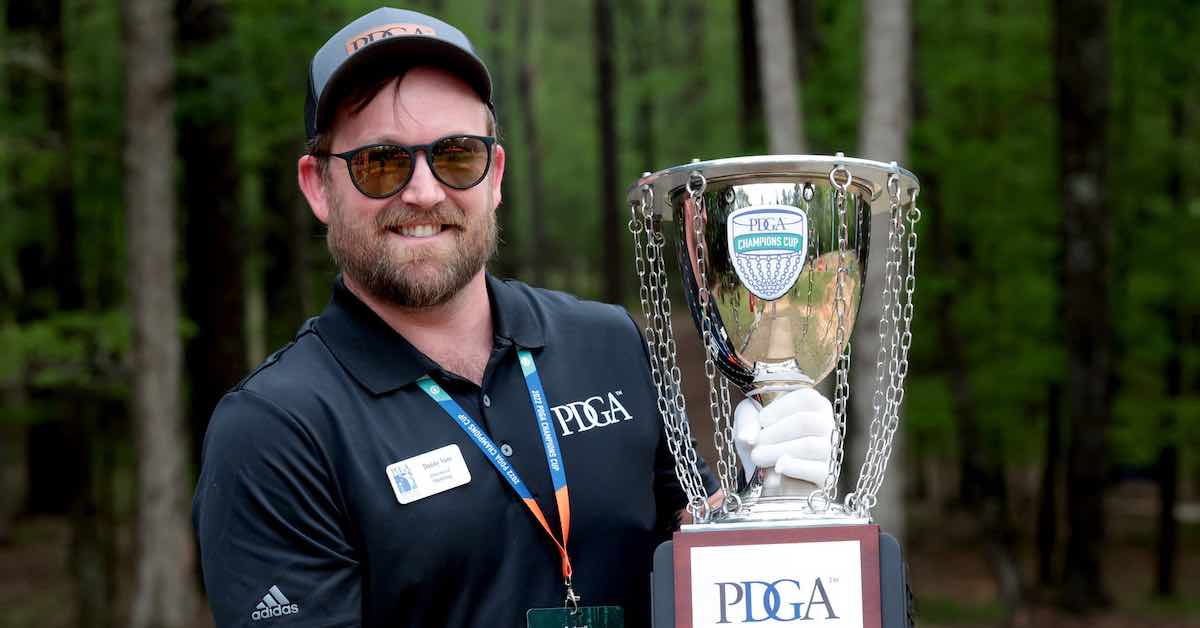 Worlds, Champions Cup, and USWDGC are all roving Majors and potential hosts will try to win the events in a bidding process. The European Open has always been held in Nokia, Finland, and the USDGC at Winthrop University in Rock Hill, South Carolina.
Downes told us that the PDGA recently added to its Event Operations and Logistics team specifically to offer more support for Major events and the organization "is always looking to build upon the previous successes of these great events and is constantly exploring new ideas and opportunities."
Disc Golf Tournaments Retroactively Named Majors
Though the Major tier was only invented in 2002, the PDGA has opted to retroactively classify some events as Majors. Those that had pro divisions include:

All PDGA Disc Golf World Championships prior to 2002

All USDGCs prior to 2002 (1999, 2000, and 2001)

The 1999 Women's National Championship

The 2000 Women's National Disc Golf Championship

The 2001 USWDGC
Nerd Out Even More About Disc Golf's Biggest Events
If you enjoyed this post, we have similar ones devoted to the two longest-running pro Majors. Check out the winners, runners-up, and who has the most top 10s at both Worlds and the USDGC.
Don't want to miss it when we put out more content like this? Subscribe to our 'Release Point' newsletter.


Note: Publication date reflects the last update to this post following the most recent Major.