IMPORTANT: As of 2023, Chateau Hostačov is under new ownership. Its disc golf course is still available, but it is not currently functioning as an overnight accommodation or restaurant.
Disc Golf Travel Guide Czechia was produced through a partnership between proDiscgolf.cz and UDisc.
Welcome to Czechia!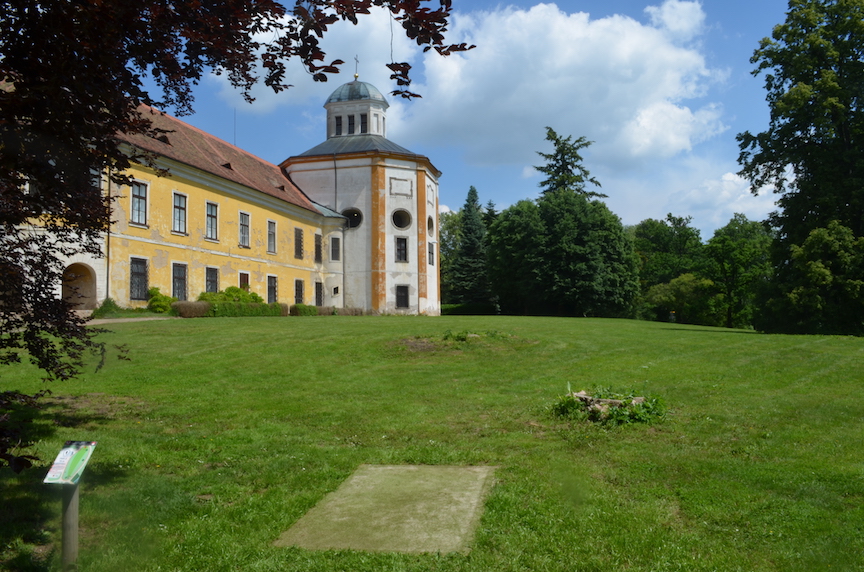 In this second part of our four-part guide to a disc golf vacation in Czechia, we fill you in on how disc golfers and anyone they're traveling with can enjoy the beautiful Chateau Hostačov—a hotel and restaurant that also has an 18-hole course on-site and is a great base for day trips that combine disc golf and sightseeing.

Interested in learning how to fit disc golf into a trip to Prague? Read Disc Golf Travel Guide Czechia—Part 1: Prague.

Note: Chateau Hostačov is offering a 10% discount on room bookings to readers of this guide! You can find the discount code in the "More About the Chateau" section under "Rooms."

Chateau Hostačov (Skryje, Czechia)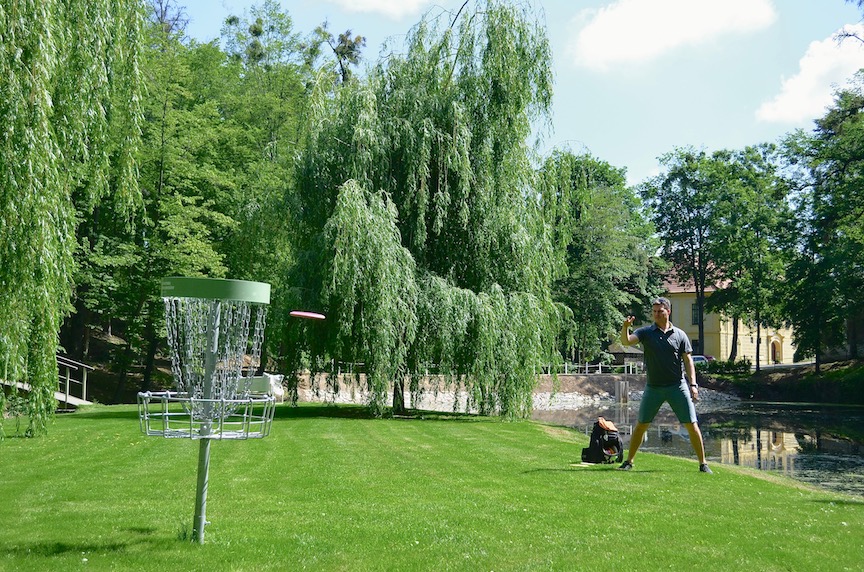 The Flyover
For anyone who enjoys relaxing in a beautiful rural setting, great dining, and spending time in a gorgeously restored building with over 700 years of history behind it, Chateau Hostačov is a dream.
The kicker? The first tee of one of the best 18-hole courses in Czechia is about a 30-second walk (if you take your time) from the reception desk. The course was designed by DiscGolfPark and is privately owned and meticulously maintained by Chateau Hostačov. The property was so special that DiscGolfPark CEO Jussi Meresmaa came personally to help during the planning process.  

To make things even better, the hotel and restaurant is just an hour and a half from Prague by car and about the same by train. It's also near plenty of historical landmarks and other courses that are well worth a visit. While it's possible to just take a day trip from Prague to play the course, using Chateau Hostačov as a base for at least 2-3 days worth of playing and/or sightseeing is something we can highly recommend. 

Below, we explore the chateau's amenities in further detail and also suggest two day trips you could take from it that combine great courses and sightseeing opportunities.

More About the Chateau: The Course, Dining, and Rooms
Find out everything you need to know to decide if Chateau Hostačov is the place for your next disc golf vacation.
Course
A few years ago, the owner of Chateau Hostačov, Vojta Háša, had something of a problem. He had a huge piece of property, and he wanted to do something with it to attract guests, but he couldn't figure out exactly what.
During the time frame Háša was mulling over this dilemma, course designer and Konopiště Open tournament director Přemysl Novák, who had recently visited the chateau scoping out places to get married, decided to give Háša a call to propose building a disc golf course on his land. Háša loved the idea of adding something out-of-the-ordinary to attract people to his little corner of Czechia. It didn't take long to convince him that a disc golf course was the perfect solution to his problem.

Much like how its rooms and food are top quality at extremely affordable prices, the chateau's course is excellent while being forgiving enough to be fun for players at a wide range of skill levels. With the freedom of having expansive private grounds that include woods, open fields, elevation, and even a little water, the designers of this course—Meresmaa and Novák—were able to give players a chance to throw a huge variety of shots over a wide range of terrains.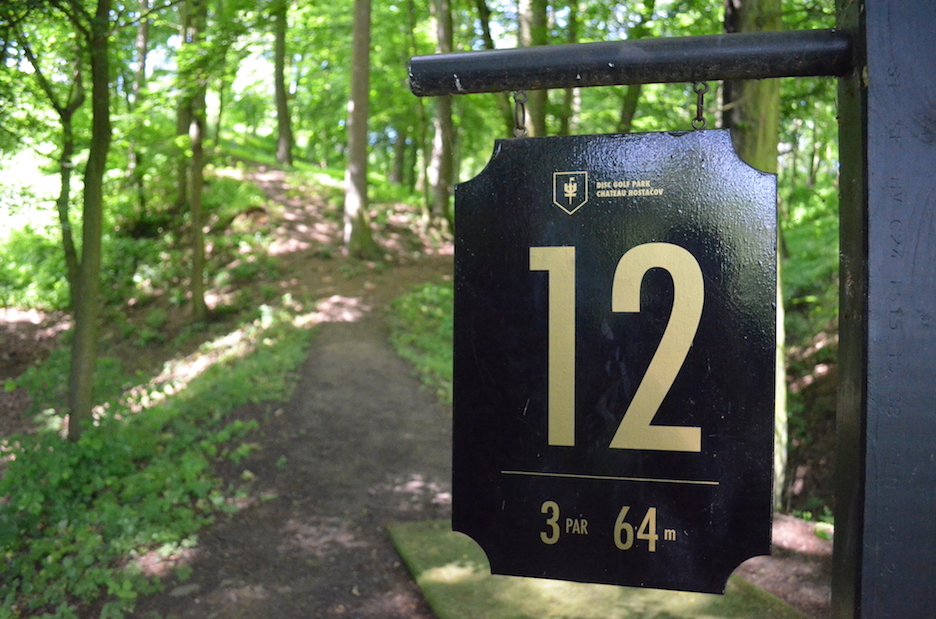 While there isn't a bad hole on the course, there are certainly some standouts:
Hole 3 is a very technical 102-meter (335-foot) shot through a tight tunnel of mature trees where one kick can mean instant bogey or worse.
Hole 9 is a 224-meter (735-foot) par 4 with an island green only the bravest of players would go for in two.
Holes 10-12 take you through woods next to a gurgling stream before you emerge to play what is likely the toughest hole on the course—a 248-meter (814-foot) par 4.
The course ends on an 87-meter (285-foot) downhill shot that will make you want to empty your bag to attempt to grab the ace. That could be a dangerous proposition, though, because one hit of the numerous trees might send you flying down, down, down into the valley created by that gurgling stream from earlier.
For guests, the course is free. If you play the course without staying at the chateau, 18 holes costs 120 Czech crowns (€5/$5.60 USD) and a day pass is 150 Czech crowns (€6/$6.75 USD).
Dining

Chateau Hostačov's restaurant delivers food of excellent quality at very reasonable prices. This isn't a burgers and fries affair, though. Menu items may include dishes like tortellini with rabbit ragout (it's delicious; we know from experience) or steak with potato and truffle purée. But with prices for these dishes ranging around €12-20 ($14-23 USD), it shouldn't feel like you're breaking the bank to eat a meal that could easily cost you twice that (or more) in much of Europe.

There's also a great wine menu featuring wines from both Czechia and around the world, and, of course, cold beer on tap.
You can see further details about the menu here.
Rooms (Including Code for a 10% Discount)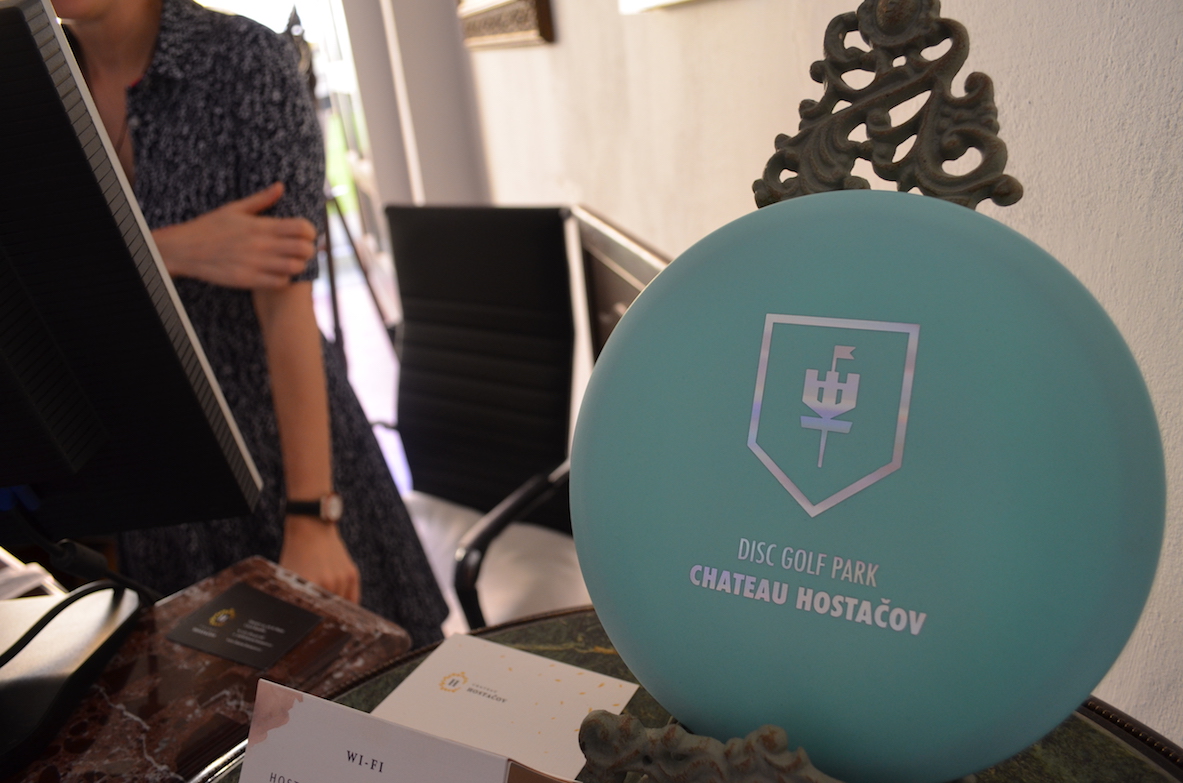 The rooms at Chateau Hostačov make you feel like what you are—a guest at a palace. They have high ceilings and antique charm, but also modern amenities, including WiFi. There are a variety of options depending on the sleeping arrangements you need on your trip. Small rooms start at around €66 ($75 USD) per night and all prices include an English-style breakfast buffet (eggs, bacon, sausage, fruits, cereal, bread, coffee, water, juice, and more).

It's also good to know to bring your swim trunks if you're there in warmer months because Chateau Hostačov has a pool, and there is a game room with pool, table tennis, and darts, too.

To look at room prices and to book, you can go here. For a 10% discount on your booking, click the "Enter code" option during your booking process and type "udisc." 

Day Trip Suggestions 
Below are two options for day trips from Chateau Hostačov that offer great disc golf and excellent places to visit for when you're done playing or if you have people with you who prefer to do other activities while you play. We also give you lunch spots to hit while you're out and about. 
DiscGolfPark Podhrad in Humpolec and Two Castles
About 45 minutes south of Chateau Hostačov is one of the newest courses in Czechia, DiscGolfPark Podhrad in the town of Humpolec (pronounced "hoomp-oh-lets"). Not far from the course are two castles (podhrad actually means "under the castle" in Czech), both of which can be toured during their opening hours.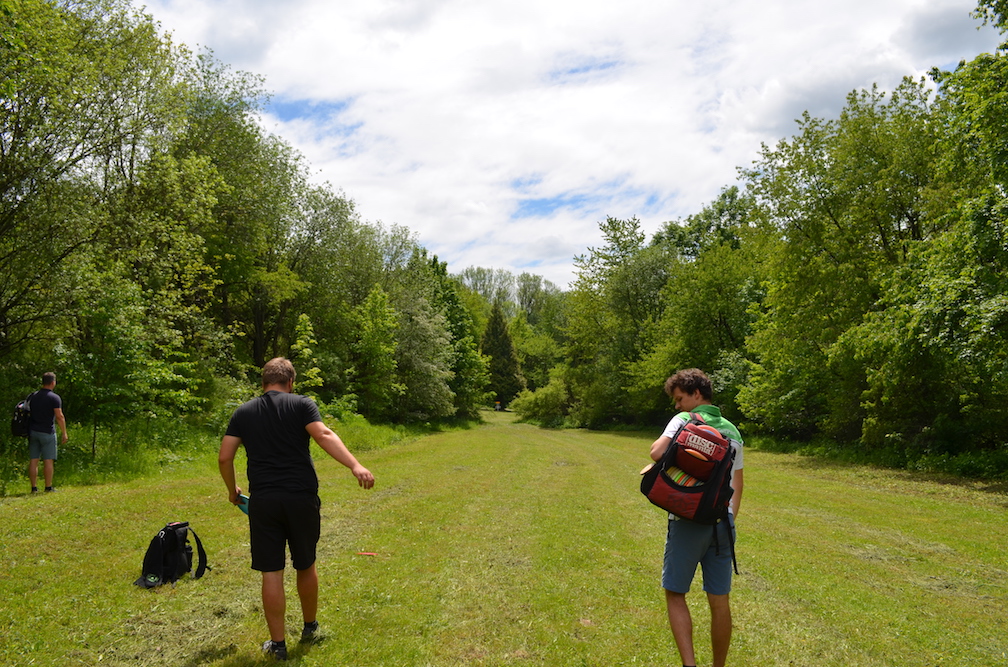 Course: DiscGolfPark Podhrad was Czechia's 99th course and officially opened on May 31, 2019. In places, its holes are reminiscent of sections of Czechia's best-known tournament, the Konopiště Open. Expect some holes with clear fairways defined by thick rough to deter errant shots, as well as technical lines through the woods. With three par 4s, you'll also get a chance to stretch your arm a bit. The course calls for a variety of shots, and you'll most likely be scrambling on at least one hole. Like many Czech courses, it's just nine holes, but they are nine holes you'll have no problem playing over again at least once.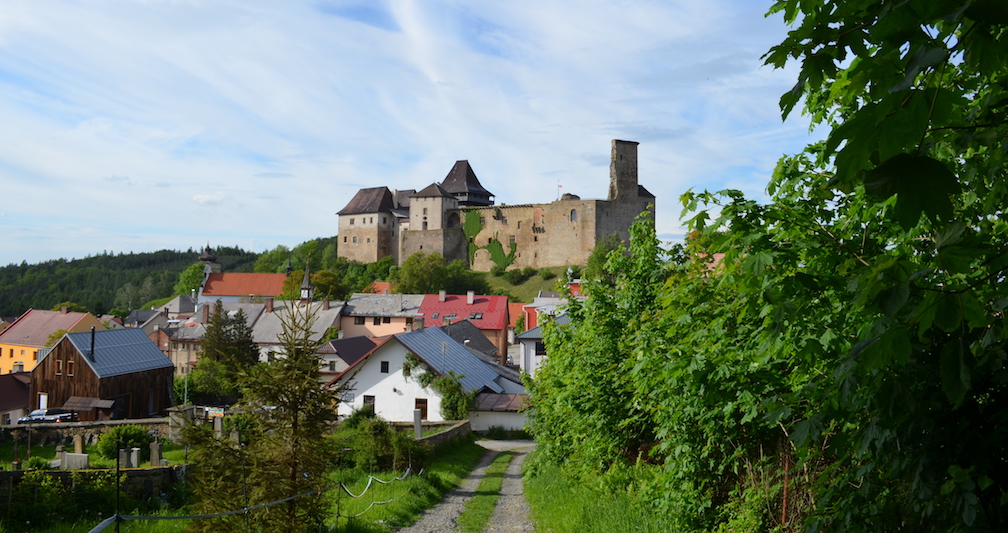 Castles: In Humpolec itself, sightseers can tour Orlík nad Humpolcem, ruins of a castle with remnants dating back as far as the 14th century. Just 15 minutes away from Humpolec in Lipnice nad Sázavou is Lipnice Castle, a fortress that's more intact than the ruins in Humpolec and offers stunning views of the surrounding area. Both castles have websites in English for those interested in learning more and checking opening hours: Orlík nad Humpolcem and Lipnice Castle.

Lunch: A good spot for lunch in Humpolec is the Fabrika Hotel and Restaurant. They offer some Czech specialties but also lighter fare in a modern but welcoming atmosphere. You can learn more (in English) on their website.

Beer: Humpolec is also home to Bernard Brewery, and they have a shop in town where you can stop by to purchase their beers fresh. 

Choltice
Choltice, Czechia is home to Zámek Choltice. Zámek is a Czech word that means castle, but specifically a castle built as a residence and not as a fortress. The closest translation in English is "palace." Along with its zámek, Choltice also has an excellent nine-hole disc golf course that is more than worth playing multiple rounds on. Read on to learn more about this great spot that's well off the normal tourist's radar and just a 30-minute drive north of Chateau Hostačov.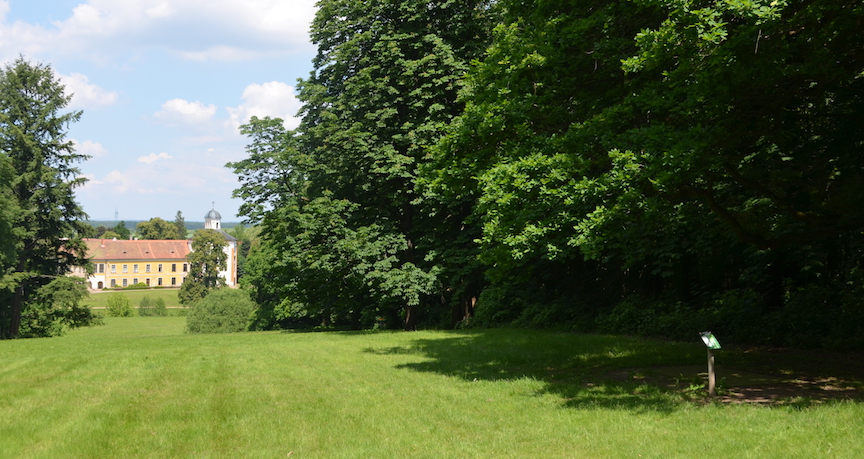 Course: The course in Choltice is on the former grounds of the palace and goes from open meadows, to woods, to downhill shots on open fairways lined by forest on either side. Its start couldn't be better, with a fairway lined immediately on the left by the palace. In the woods, be prepared for technical shots with tight lines as you climb the hill to reach the downhill shots on holes 7-9. Respectively, those holes make right-handed players first throw a blind backhand hyzer, then either a powerful forehand or sweeping anhyzer, and then give them a chance to sail a driver down into a meadow, again with the palace as a backdrop. The holes are a ton of fun to play; varied enough to make most players use putters, mids, and drivers off the tees; and their scenery is definitely hard to beat.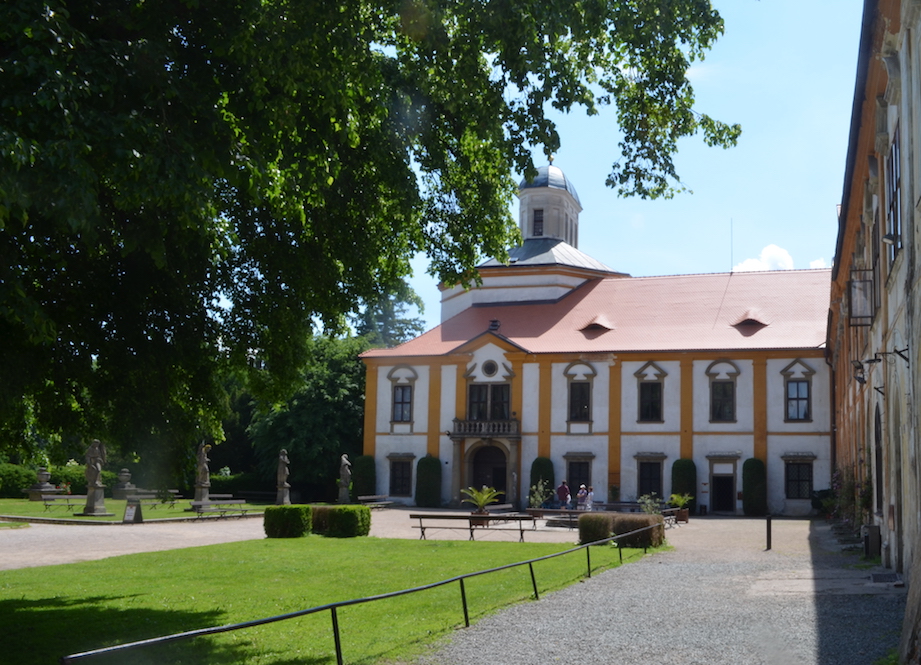 Sights to see: Along with the chance to take a tour of the palace during opening hours, you can wander its extensive former gardens that have been turned into a nature preserve. There are also ruins of a 14th-century fortress just a 5-minute drive away in Svojšice. For more information about Zámek Choltice and the surrounding area, visit its website (make sure you use a browser with the option to translate the page).

Lunch: Zámek Choltice has a restaurant you can't fail to see as you tee off from hole 1. Its menu is simple, typical Czech cuisine, and the prices will seem rock-bottom to most Westerners. There are no English menus, so get out those smart phones for translation.
Arriving and Getting Around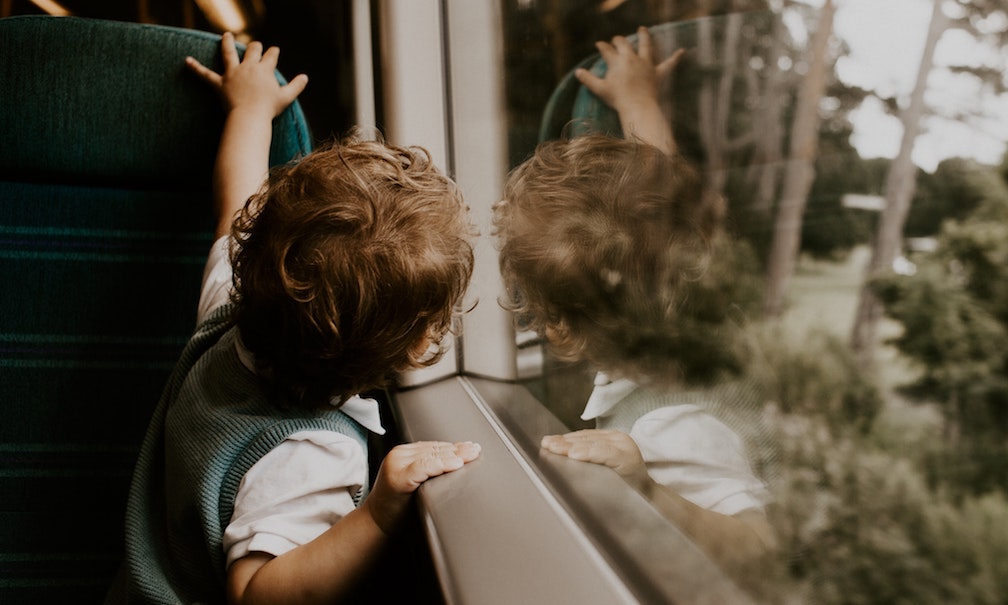 If you're hoping to go car-free during your time in Czechia, you can make it to Chateau Hostačov without a personal vehicle. Here's how:
Take a train to the town Golčův Jeníkov. You can find connections on the website of the Czech train network České dráhy. From Prague's main station, a connection to Golčův Jeníkov costs a little under €6 ($7 USD) and takes about one and a half hours. 

When you know your arrival time, call Chateau Hostačov and let them know you're coming. The hotel will send a shuttle to pick you and your party up for a small fee (this is also possible for those going on day trips, but you will also have to pay a fee to play the course if you're not a guest).

Important: When you put "Golčův Jeníkov" as your destination on the České dráhy website, there are options for both "Golčův Jeníkov" and "Golčův Jeníkov město." Golčův Jeníkov is slightly closer to the course, but Golčův Jeníkov město has the option of direct connections (no transfers). The hotel can arrange pick-up from either, but you need to let them know which one you plan to arrive at.

If you've packed light and don't mind a hike, you could also take a 45-minute walk through the countryside to reach the hotel. 
For those looking to make Chateau Hostačov a base for further travel, having a car is a must. If you didn't know, all PDGA members are entitled to a 5% discount from the car rental company Enterprise (see this PDGA page for the discount code). Booked far enough in advance, multi-day car rental in Czechia could be as little as €30-40 ($34-45 USD) a day. 

Finally, anyone able to travel to Czechia with their own car should be aware that to drive on some highways there you have to purchase a "vignette" (a permit) to legally do so. You can find more information about that here. Any car rented in Czechia will already have this permit.

Disc Golf Travel Guide Czechia Continues
Looking for even more options in Czechia? We've got you covered:
Disc Golf Travel Guide Czechia—Part 1: Prague

Disc Golf Travel Guide Czechia—Part 3: Moravský Krumlov Near Brno
Disc Golf Travel Guide Czechia—Part 4: Eastern Czechia Near Ostrava