Disc Golf Travel Guide Czechia was produced through a partnership between proDiscgolf.cz and UDisc.
Welcome to Czechia!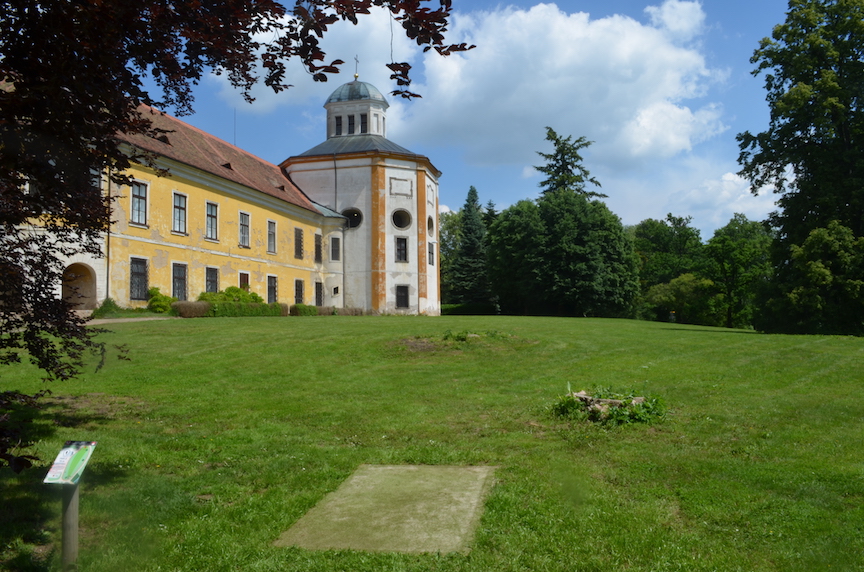 Just two hours southeast of Prague is Czechia's second-largest city, Brno. Brno has historical architecture including a cathedral and castle, but it is also known for its buildings done in experimental styles from the 20th century and vibrant nightlife. And all of this comes with far fewer tourists packing its streets than Prague.

But the real draw of the area for a traveler with disc golf on the mind is in the small town of Moravský Krumlov. There, a stately park on the grounds of former castle gardens is now home to 15 holes that are well worth the trip for any disc golfer in the area. The course is about a 40-minute drive from Brno. However, there is a hotel/restaurant combination very close to the course that has an amazing price-to-quality ratio, making it a great base for anyone looking to mix excellent disc golf and Brno sightseeing. Read on to learn more about the course and accommodation.

If you're interested in learning about disc golf tourism opportunities in other areas of Czechia, see Parts 1, 2, and 4 of Disc Golf Travel Guide Czechia:

Disc Golf Travel Guide Czechia—Part 1: Prague

Disc Golf Travel Guide Czechia—Part 2: Chateau Hostačov

Disc Golf Travel Guide Czechia—Part 4: Eastern Czechia Near Ostrava

Moravský Krumlov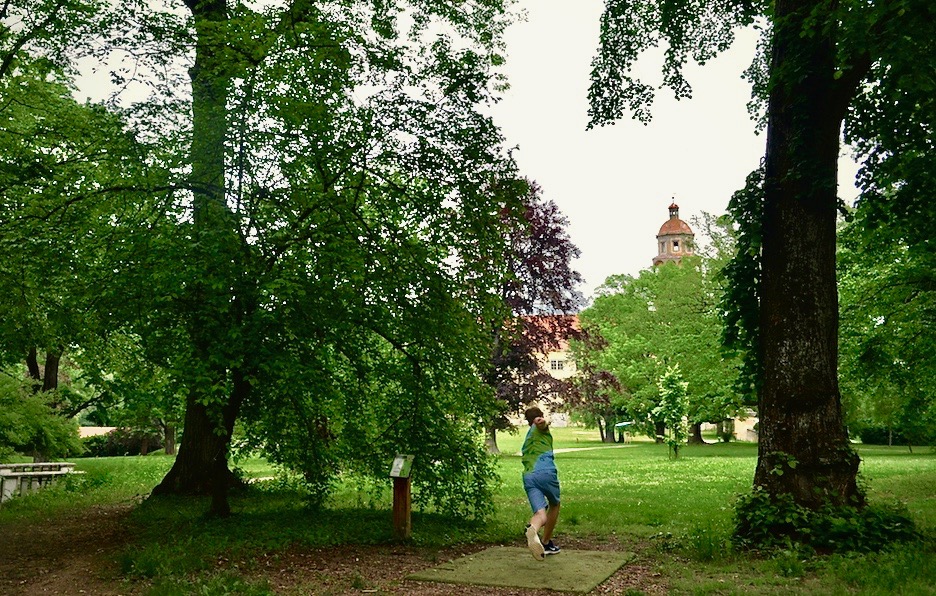 There is an interesting story about the town of Moravský Krumlov. From 1963-2012, it was home to a series of giant paintings by Czech artist Alphonse Mucha called The Slav Epic that showed the history and mythology of the Slavs. These paintings drew a steady stream of tourists and school groups to the small town, whose spending during their visits was the lifeblood of many of Moravský Krumlov's businesses. However, these paintings had only been on loan from the actual owner—the city of Prague. 

In 2012, Prague, saying that their more tourist-dense city would give the paintings better exposure, took the paintings and, with them, an important economic cornerstone of Moravský Krumlov. To add insult to injury, there is currently no room in Prague's crowded galleries for the paintings, so they are simply sitting in storage.

But though the paintings are gone, there is still a work of art on an even larger canvas in the town: Discgolfové hřiště Moravský Krumlov or, more simply, the Moravský Krumlov disc golf course. And the network of restaurants and hotels that once served those coming for the art give present-day disc golf tourists a wide range of options.

Also interesting is that in February 2019, the Mucha Foundation claimed that Prague is considering sending the paintings back to Moravský Krumlov, so it might be possible to visit the course and storied art work in the same trip in the very near future.
The Course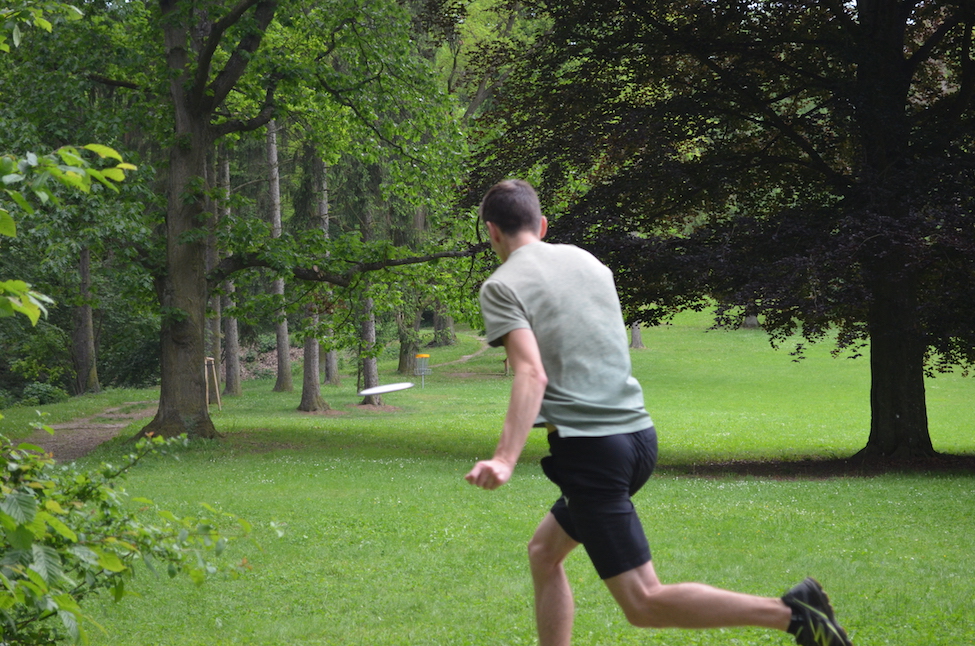 As its current 4.6 average rating by UDisc users suggests, the Moravský Krumlov course is a favorite among many Czech disc golfers. Playing it, it's not hard to see why. When you enter the park, you immediately see an old castle, which, though dilapidated, is easy to imagine in its former state of glory. The course then takes you through a park on what used to be the manicured grounds of the castle.

Often, fairways at Moravský Krumlov are designed to make the trunks and low-hanging branches of the many old trees that grow in the park formidable, picturesque obstacles. The course couldn't rightly be called "wooded" in most instances, but there are certainly enough trees to force specific lines and various shot types. Elevation changes are also common, and players should come prepared for throwing (and walking) both downhill and uphill.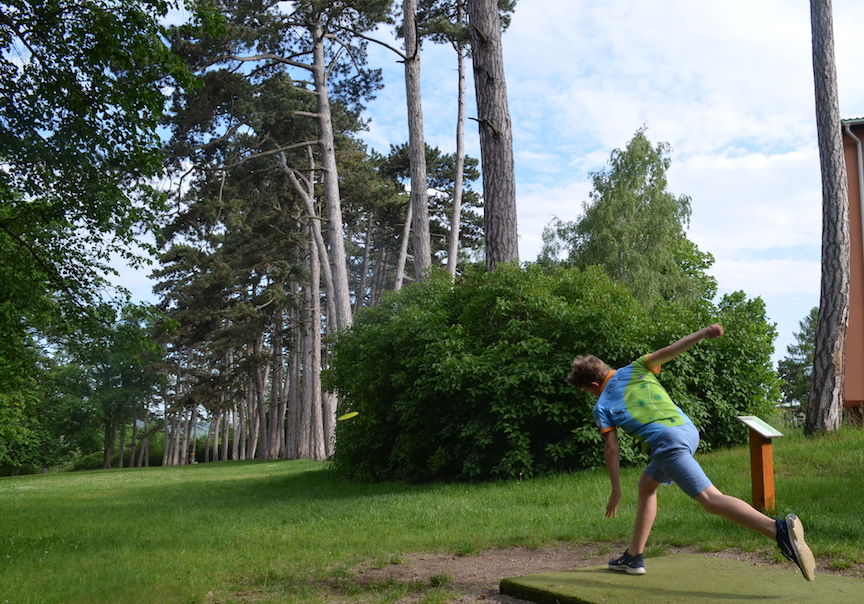 Along with all the qualities above, the course also has holes at distances reasonable enough that par should be the minimum expectation of most experienced players but long enough that birdies still feel like accomplishments. Ultimately, Moravský Krumlov provides all the ingredients for fun rounds in a stunning setting.
Lodging + Chow Down and Drink Up
There are multiple options for places to sleep near Moravský Krumlov, but our recommendation is Hotel Rokiten. With rooms starting around 1,050 Czech crowns for one person in a double room (€41/$46 USD) per night, it's already a great deal for extremely clean and modern accommodation. But included in that price is a warm breakfast buffet, and the hotel also has a great restaurant dedicated to using fresh, regional ingredients. It makes its own pasta, bakes its own bread, and takes its herbs right from its garden.
What's a dish of fresh, regional food cost at Hotel Rokiten's restaurant? Way less than you likely expect. To give you an idea, one of the pricier things on a recent menu was a beef rib confit with sides at 255 Czech crowns (€10/$11.30 USD).

If you weren't sold already, the hotel also owns a brewery—Krum—that is right next door and serves its fresh beers cheaply and by the liter. Moravský Krumlov is also in Moravia, Czechia's primary wine-growing region, and local wines are on the menu.

The hotel is a five minute drive (20-minute walk) from the course.
A Little About Brno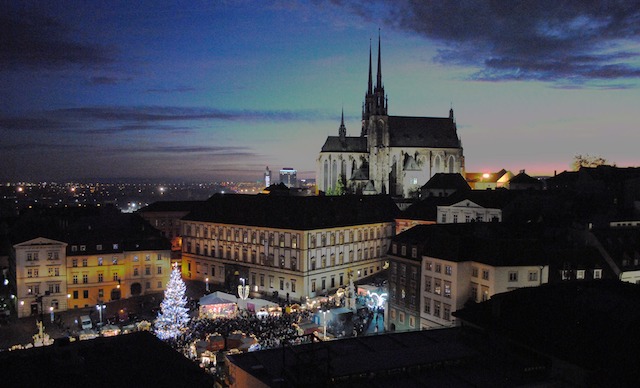 The biggest draw for those interested in seeing more than disc golf courses is the city of Brno, a 40-minute drive from Moravský Krumlov. It's a beautiful city where you can easily spend a day checking out sights from a cathedral dating back to the 1300s to a modernist house built in 1929 that's a UNESCO World Heritage Site. For those interested in combining a trip to Moravský Krumlov with a day in Brno, this article about how to spend a day in the city from Lonely Planet is a great place to get ideas.

Notably, Brno is also home to three 9-hole disc golf courses. These courses are all short and aimed primarily at beginners, with DiscGolfPark Milénova being the most technically demanding of the three. If you're looking to get some putter or mid practice in or up your course-count, take some plastic along with you on your trip to Brno.

Disc Golf Travel Guide Czechia Continues
You can find Parts 1, 2, and 4 of this guide by clicking the links below:

Disc Golf Travel Guide Czechia—Part 1: Prague

Disc Golf Travel Guide Czechia—Part 2: Chateau Hostačov

Disc Golf Travel Guide Czechia—Part 4: Eastern Czechia Near Ostrava