On an overcast December 1, 2022, Andrew Kavanagh tossed in a putt on the last hole of Marilyn Bell Park Disc Golf Course in Toronto, Canada. It wasn't a remarkable putt – just a short tap-in. But it was a special one.

When the disc hit the chains and settled in the basket, it concluded Kavanagh's thousandth round at the course since August 8, 2020. That's 1,000 rounds in 845 days. The feat is even more impressive when you know that Kavanagh couldn't play on 35 of those days because the province of Ontario shut down all disc golf courses for a period due to COVID-19.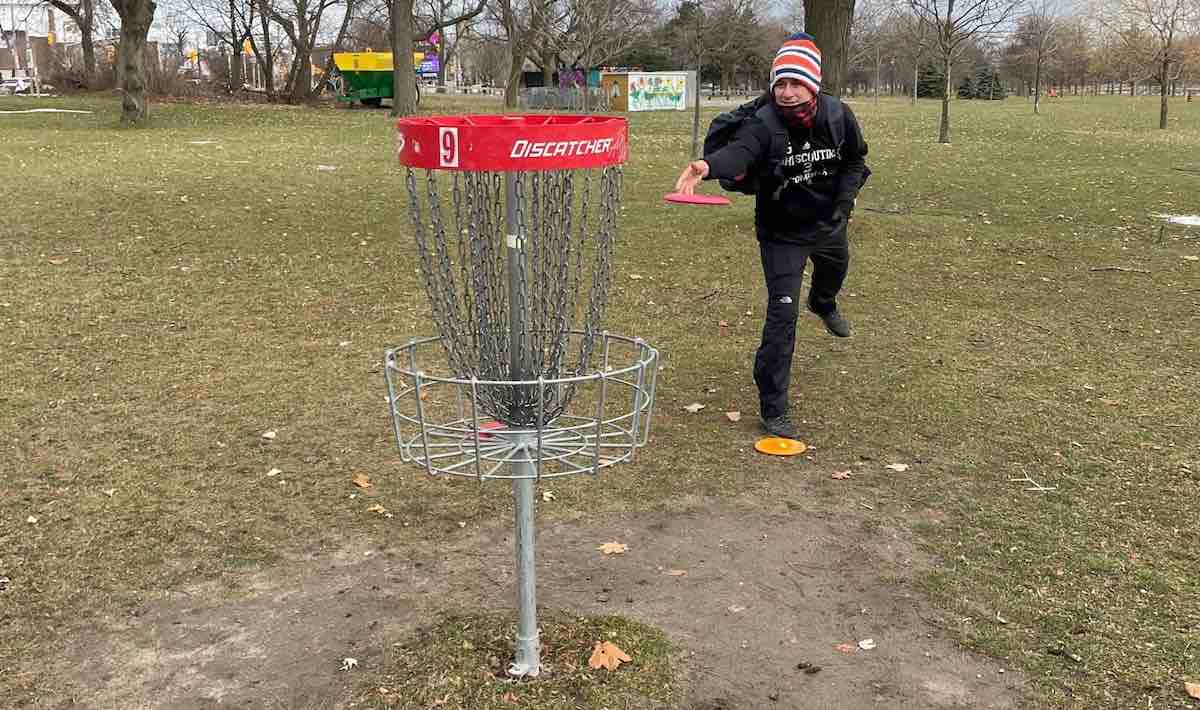 This isn't the first time a player has reached 1,000 UDisc rounds at a single course. There are 27 others with 1,000 rounds at one location, and the current record is nearly 4,500 rounds. Still, the speed with which Kavanagh got there is remarkable. In roughly two and a half years of even knowing there was a difference in a Frisbee and golf disc, Kavanagh has logged more rounds with UDisc than 99.9% of disc golfers who keep track of scores and stats with the app. He currently ranks 36th in UDisc rounds all-time.
Accessibility Drives Playability
One of many disc golfers who discovered the sport during the height of the COVID-19 pandemic, Kavanagh fell in love with multiple aspects of the game: the challenge, the community, and how easy it is to fit into his schedule and budget.

"I was working from home looking for things to do after work and on the weekend, and the accessibility of disc golf was really the hook for me," Kavanagh said. "The fact that you don't have to book a tee time, you just show up. It's less time than traditional golf and obviously less costly. If I was playing this number of [traditional golf] rounds, I'd be bankrupt."
Marilyn Bell is a beginner-friendly course along one of Toronto's urban bike trails. Since Kavanagh mostly uses a bike share system to get around and can cycle to the course from his home in less than 15 minutes, Marilyn Bell became his go-to for scratching the disc golf itch.
"I can pop over for a few rounds after work before it gets dark," Kavanagh said. "It's the course where I learned the sport and fell in love."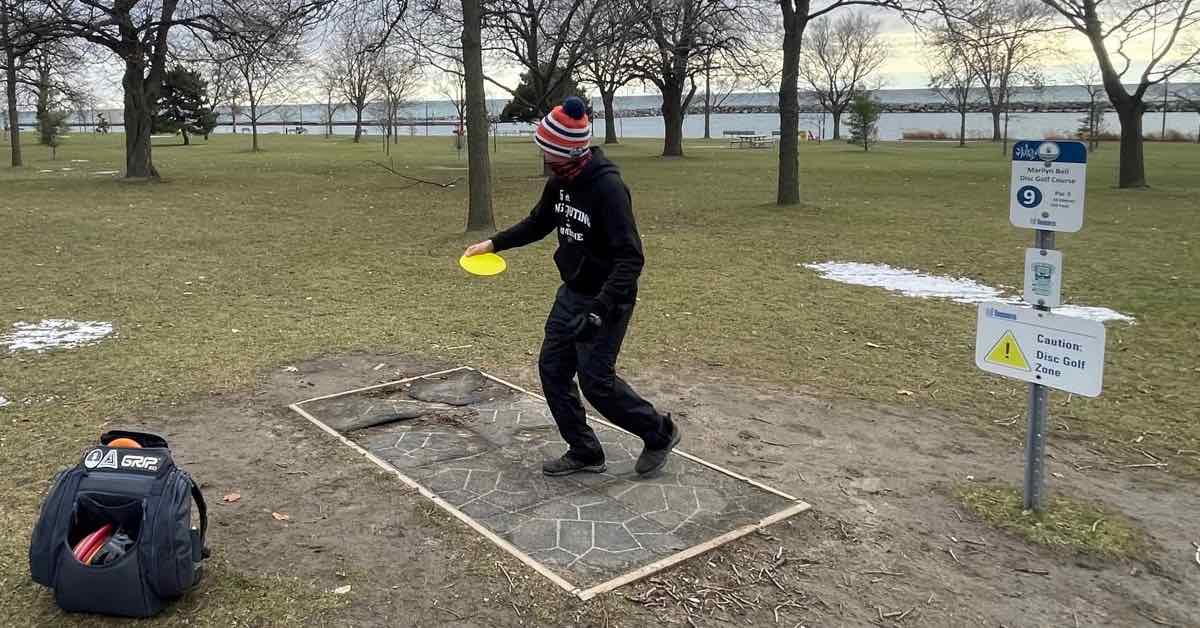 Of course, you're not likely to reach Kavanagh's number of rounds without intent. A self-described "competitive person by nature" for whom one round a day is "not enough," he keeps a close eye on the list of round count leaders in UDisc ('More' tab, 'Leaderboards,' 'Player Records,' 'Rounds') and is enjoying trying to move up the ranks as quickly as possible.

Despite his insanely high round tally at Marilyn Bell, Kavanagh plays elsewhere frequently. He's a budding course collector who has recorded rounds on over 100 different tracks. One of the world's best disc golf courses is his current favorite: Hillcrest Farm on Prince Edward Island.
Is 1,000 Rounds on a Nine-Hole Still 1,000 Rounds?
When elite pro Paul McBeth recorded "perfect" 18-under par rounds not with 18 straight birdies but with an eagle making up for a single par each time, some quibbled with the magnitude of his achievement. Similarly, Kavanagh's accomplishment is likely to receive a few cocked eyebrows since Marilyn Bell is a nine-hole rather than a standard 18.
We asked Kavanagh if he'd already thought out a response to critics, but it turns out he hasn't had to. Former pro disc golf world champion, prominent course designer, and avid course collector Avery Jenkins left a comment on a Facebook post celebrating the thousandth round that was all the rebuttal Kavanagh feels he'll ever need.

"As someone that knows the sacrifice, the time and the dedication that goes into collecting courses and scoring multiple rounds[,] this amount of rounds on one course regardless of the course length or number of holes is absolutely INSANE!" Jenkins wrote.
Growing the Sport, Not Just Round Counts
Often the people who play disc golf most frequently end up with the least time to help organize events for the community. Kavanagh is one of the rare few who is able to fit both into his schedule.
Cara Hovius and Jeff MacKeigan, who left the corporate world largely to focus on growing disc golf a few years ago, have been behind a building disc golf wave in Toronto. They said Kavanagh has helped them with their efforts in a big way.

"Andrew is truly a cornerstone of our local disc golf community," Hovius said. "He runs our weekly glow league and is a co-tournament director of our GLOW DOWN CUP where teams from local courses come together to compete over a couple of nights of glow-in-the-dark disc golf."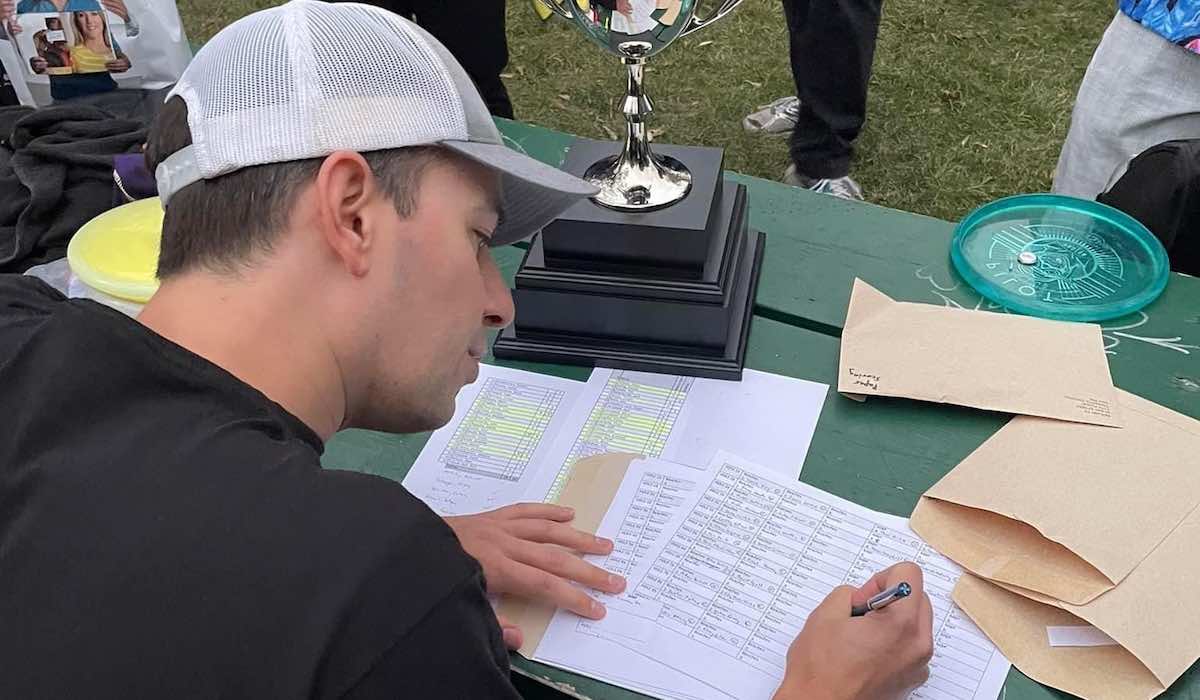 Along with helping Torontonians get their glow disc golf on, Kavanagh tries to grow the sport by introducing new players to it. He shows friends and has even played rounds with representatives from companies he works with in his role as a Director of Partnership Marketing for the National Hockey League.
The Rounds Will Keep Coming
Kavanagh doesn't foresee slowing down his round rate any time soon. Still, he'll be fine if the second thousand at Marilyn Bell takes a bit longer than his first...under the right conditions.

"I would expect that by late 2024 or early 2025 I'll be within striking distance of 2,000 rounds at Marilyn Bell Park," Kavanagh said. "I hope to be challenged on this timeline by the temptation of playing different, new disc golf courses in the city of Toronto. The sport continues to grow and gain traction in the city and we need to see more course infrastructure to keep up with the demand. "
Something he's less flexible about is continuing his steady march up the all-time round leaderboard on UDisc. For those in front of him, he has a message.

"I welcome the challenge of chasing down the 35 individuals globally that currently have more recorded UDisc rounds than me," Kavanagh said. "Hope you're all out there throwing today because chances are I'm out there recording rounds."