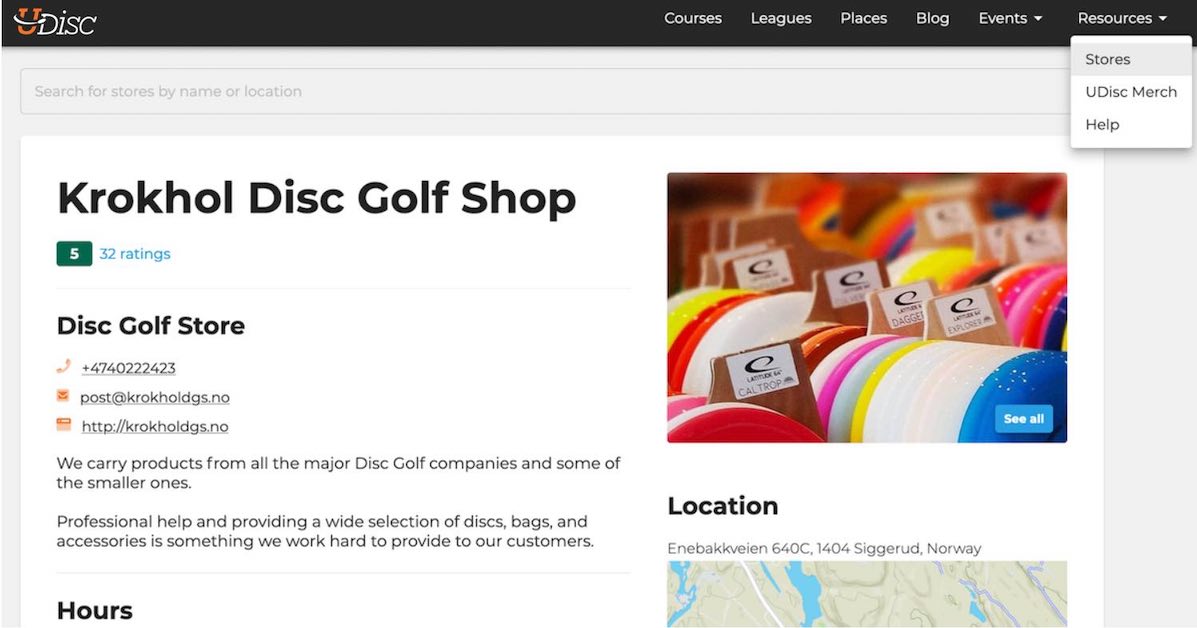 Whether you've thrown your favorite disc into a river, are a beginner needing advice on suitable discs, or just want to browse some plastic, disc golf stores are there for you. But what is it like to be the person whose livelihood depends on your business, and what made them believe taking the risk to open a store would be worth it?

We've been thinking a lot about questions like these as we've developed a huge addition to UDisc: Disc Golf Stores. 

To celebrate the release of Disc Golf Stores in the app and the accompanying web-based disc golf store finder udisc.com/stores, we reached out to disc golf store owners across the world to learn about their experiences and what it takes to make a living at disc golf retail. 

Below you'll find a few more details about Disc Golf Stores followed by the stories of the shop owners we spoke with.
How to Find Disc Golf Stores
You can find disc golf stores near you in the international disc golf store directory online at UDisc.com or in the UDisc app.
Here's how you can find Disc Golf Stores in the app:
Open the UDisc app.
Tap the More tab in the bottom right corner.
Find and tap Disc Golf Stores.
You'll see the stores nearest your current location. All search functions of Disc Golf Stores work exactly like they do for Courses.
Anyone with UDisc can add a store in the app, and once we review and approve the addition, it will be easy to find for the huge community of disc golfers who use the UDisc app. Additionally, those without the app can add a store online by going here or in the app by going to the More tab and tapping "Add Store."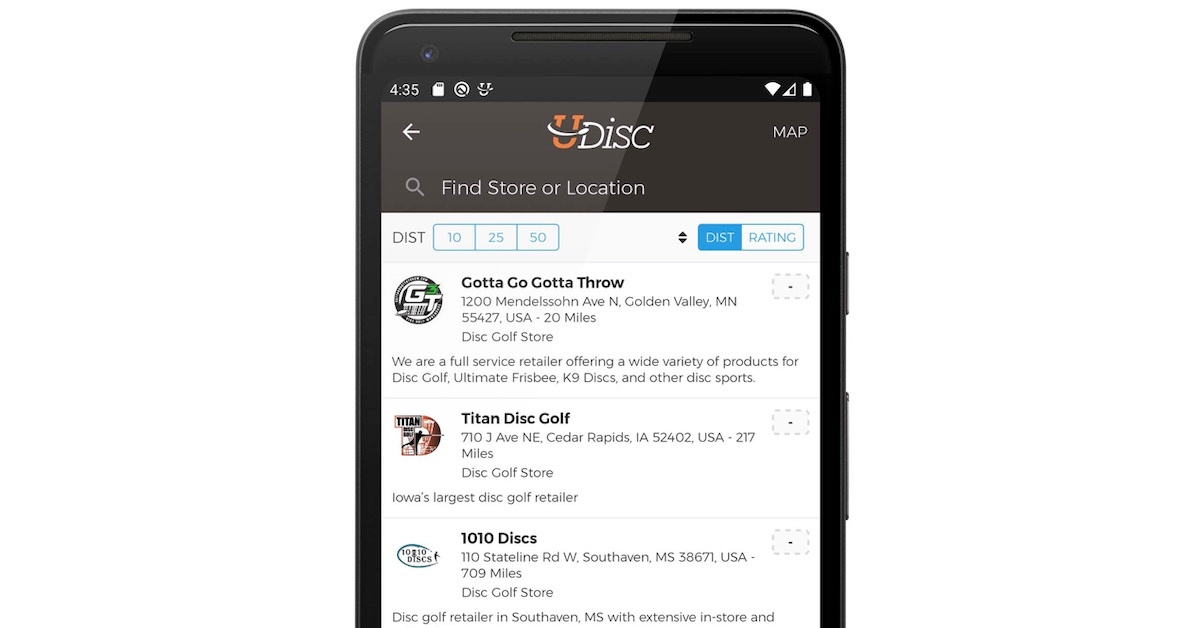 If you're a store owner looking for an easy way to attract new customers to your store, adding your business to a directory in the world's most popular disc golf app can't hurt. If you're a customer who thinks more people should know about your favorite spot to splurge on plastic, this is a great way to make that happen.

And now, on to the stories.
Who Did We Talk To?
Pasi Laukkanen of Powergrip, a shop with multiple locations in Finland: The largest disc golf equipment retailer in a country where disc golf might be growing more quickly than anywhere else.

Peter Ruby of Sabattus Disc Golf in Sabattus, Maine: Near the best disc golf city in the United States, Sabattus has a massive two-story disc golf store that serves as the pro shop to multiple, very highly-rated courses that are all part of Sabattus Disc Golf.

Matt Schlabach of Titan Disc Golf in Des Moines and Cedar Rapids, Iowa: The stores with the largest disc selections available in the state with more disc golf courses per capita than any other.

Lars Somby of Krokhol Disc Golf Shop in Siggerud, Norway (near Oslo): A recently-opened disc golf shop serving visitors to one of the top ten disc golf courses in the world. 
Getting in the Game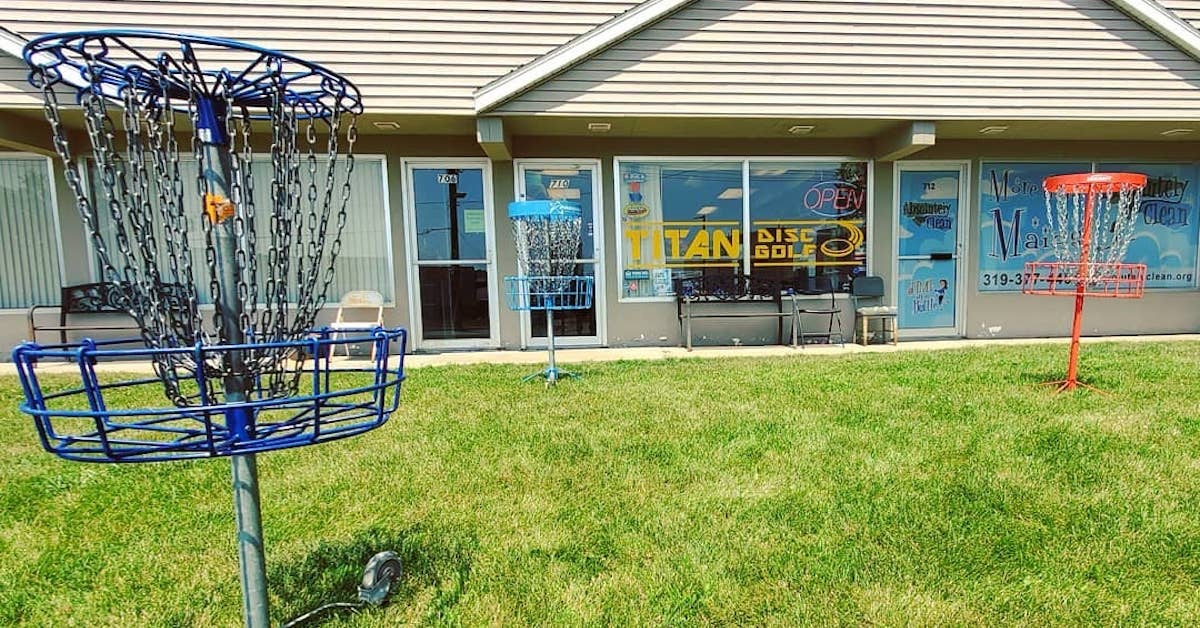 Every store we talked to had a distinct backstory. For instance, Sabattus' shop was part of a detailed plan to create a disc golf complex that was extremely professional and all-inclusive.

"The idea was to integrate ball golf amenities into disc golf," Ruby said. "This idea came from visiting a local pay to play disc golf course and then planning out a long-term strategy for a viable pay to play disc golf business."

Both Schlabach of Titan Disc Golf and Laukannen of Powergrip had slightly more spontaneous entries into the disc-selling world.
Schlabach said the previous owners of his store were looking to get out of the business and offered to sell him the shop. He found a business partner interested in investing, and they went for it.

Laukannen got in the plastic slinging business only because he and a group of friends wanted a way to support their interest in playing competitive disc golf internationally.

"There were five of us, and we actually watched the European Championships coverage on Finnish national TV in 2005 and found out about the sport," Laukannen recalled. "Then a few years later we were competing ourselves inside Europe and Finland and we thought we could sell some products to cover our costs. It's pretty normal that you have a hobby, and you might do some side business to cover the cost of the hobby."

But that side business grew quickly. Laukannen and his partners went from selling discs online and opening their "warehouse" (a garage) for a few hours two days a week to being big enough to need a real shop in a shopping center within just two years. They opened the original Powergrip shop in 2012.
For Somby, the opening of Krokhol Disc Golf Shop was a logical step given that he's poured much of his time over the last few years into the design, construction, and maintenance of Krokhol Disc Golf Course, a course located partially on land owned by a traditional golf course that's already gained a reputation as a must-play for international disc golfers.

Somby previously worked at another disc golf equipment retailer but decided to pursue something else when they began cutting staff last year. With Krokhol having a growing reputation and booming attendance, Somby thought offering Krokhol DGC visitors a dedicated disc golf shop could be a winning idea. He used the good rapport he has with the golf course's owner to secure a spot for his shop just above the course's cafe, and he opened only a few months ago.
What It Takes to Stand Out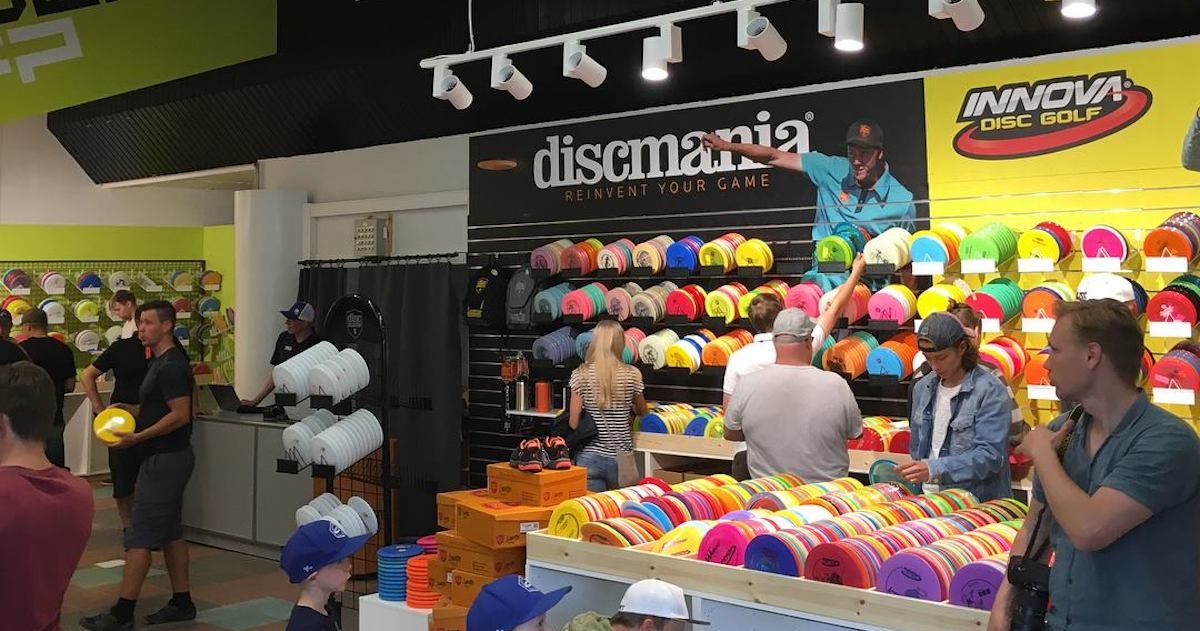 As with most any business, the key to making it is offering something customers can't easily find elsewhere. And one big thing brick-and-mortar disc golf shops offer that online shops can't is a friendly, knowledgable, real-life person to ask for guidance.

"People know that they can come in and ask me questions, and I'll answer to the best of my ability," said Schlabach. "I'm not going to just try to sell them a disc to sell the disc. I'm going to try and find the right disc for their game."

Laukannen, too, pointed to this sort of customer service as a key aspect of Powergrip's success. He said every time Powergrip has added staff at their stores, they have sought out employees who are good with people and can create a relaxed atmosphere where people feel free to come in and just talk about disc golf even if they're not planning to buy something that day.

Somby hopes to create a similar atmosphere in his shop at Krokhol to go along with the expert advice he can offer that isn't available at the many chain sporting goods retailers that also sell discs in Oslo.

"I've tried to make the Pro Shop a social hang out spot with seats where you can chill out, eat, talk, and watch disc golf on TV," Somby said.

But shops can't survive off of vibe alone. They need the right wares to bring in customers.

For both Laukannen and Schlabach, variety is the name of the game. Both try to offer as wide a range of desirable products as possible so that no matter what their customers might be seeking, they're likely to have it, ready to be seen and held by the potential buyers.

Sabattus' owners, on the other hand, believe there's value in setting a standard of only selling manufacturers whose business practices represent your own ideals. Here are ideas Ruby said he'd urge anyone thinking of starting a disc golf shop to think on:

"Really consider what disc manufactures you want to represent—ask yourself, 'Why them?'" Ruby said. "Who will best meet your long-term interests beyond just selling their discs, such as their company values and how they do business overall?"

As for Somby, he's had a bit of surprise in the inventory department. He thought with Krokhol being a championship-level course, he'd almost exclusively be selling discs designed for experienced players, but that hasn't been the case.

"I quickly found out that I needed some lighter stuff for women and young kids," Somby said. "It really surprised me that my customer base is so diverse."
Fondest Memories

Though Somby has a store so new that there hasn't been much time to create lasting memories beyond opening day, everyone else we talked to was able to point to an event or series of events that really stood out in the histories of their businesses.

At Sabattus, Ruby said 2016 was something to remember. That year they built a giant new pro shop while converting their old pro shop into a house all while getting ready to host the 2016 United States Women's Disc Golf Championship. You can see some of what that effort was like in the video clip below:


Schlabach is particularly happy that Titan Disc Golf has been able to organize successful events that bring many disc golfers together for fun, competition, and community. He said they've broken attendance records at them nearly every year. 

Up in Finland, Laukannen said his proudest moment came as a result of his company taking a big risk that paid off.

"On the business side, the most important thing would be in 2017 when we bought Frisbeepoint, the other [Finnish disc golf equipment] company that was as big as we were," Laukannen said. "That was a huge risk, and when we saw that it was going to work and things were proceeding as we planned, that was a big moment."

But it's not only business that's close to Laukannen's heart. Powergrip also sponsors many players, and he said one of his favorite things to do is follow their progress at big events, including staying up late into the night checking their progress at large U.S. events on UDisc Live.
There's More in Stores
Something Schlabach said in our talk with him really encapsulates one of our biggest reasons for creating Disc Golf Stores.

"It's important for people to support local disc golf stores as much as they can," Schlabach said. "A lot of disc golf stores work on very thin margins and I think there is an importance to being able to just go in somewhere and ask somebody questions, get advice, and be able to touch and feel a disc."

Disc golf stores often serve as a gateway for people new to the sport to find the equipment that will make the game more enjoyable for them to play and meet people who can help them learn how to become more involved in their disc golf communities. We hope that by creating an easier way for disc golfers to find the right store for them, we've done something that will catalyze the formation of these valuable relationships.

To help us with this effort, we ask you to add your local disc golf store to the app if it isn't already there: https://udisc.com/stores/add. Again, you can find what stores have already been added by finding Disc Golf Stores in the More tab in the app or visiting udisc.com/stores.

We'd like to sincerely thank all the store owners who talked to us for this piece and we wish them and their businesses all the best.