DiscGolfPark Mijas in the province of Málaga, Spain first opened its fairways to the public in January 2017. In the few short years between then and now, it has already attracted a huge amount of attention from the international disc golf community, especially within Europe.

For example, it has hosted players from over 19 countries, including high profile professionals such as the USA's Paige Pierce, Denmark's KJ Nybo, and Finland's Seppo Paju. Also, it was the site of the largest disc golf tournament ever held in Spain, 2018's Fuengirola Open.
With interest in this course running high, we set out to learn what was drawing so many people to it. What we discovered was something about as opposite from the first course we covered in this series—Antarctica's Ross Island—as possible, but nonetheless worthy of the designation "extraordinary."
Discovering Mijas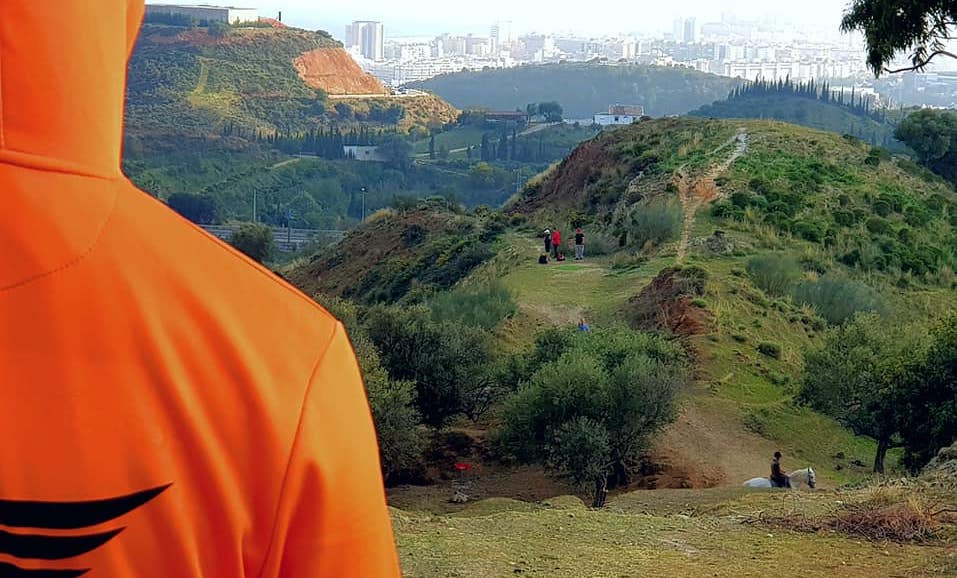 Old Man Winter and disc golfers have never been on the best of terms, and Ville Kostin of Finland desired nothing more than to end the relationship altogether.

"I wanted a place in Europe where you could throw year-round," he said.

And Kostin knew he wasn't alone. He had been a sales representative for disc golf apparel company Dude and also shot drone footage for prestigious events like the European Masters, European Open, and European Championships. In those roles, he'd had plenty of chances to hear disc golfers from all over Europe wishing for a comfortable place to play no matter what month the calendar was turned to. 
With confidence that if he built it, they would come, Kostin began scouring Europe for the right location for his course.
"First, I thought about Italy, but there it can be as cold as 5°C [41°F] and there can also be a lot of rain during some winter months," Kostin recounted. "Southern Spain was really the only place in Europe I found that has great weather the whole year."
But even after deciding on the region, Kostin still had plenty of work to do before he settled on a property.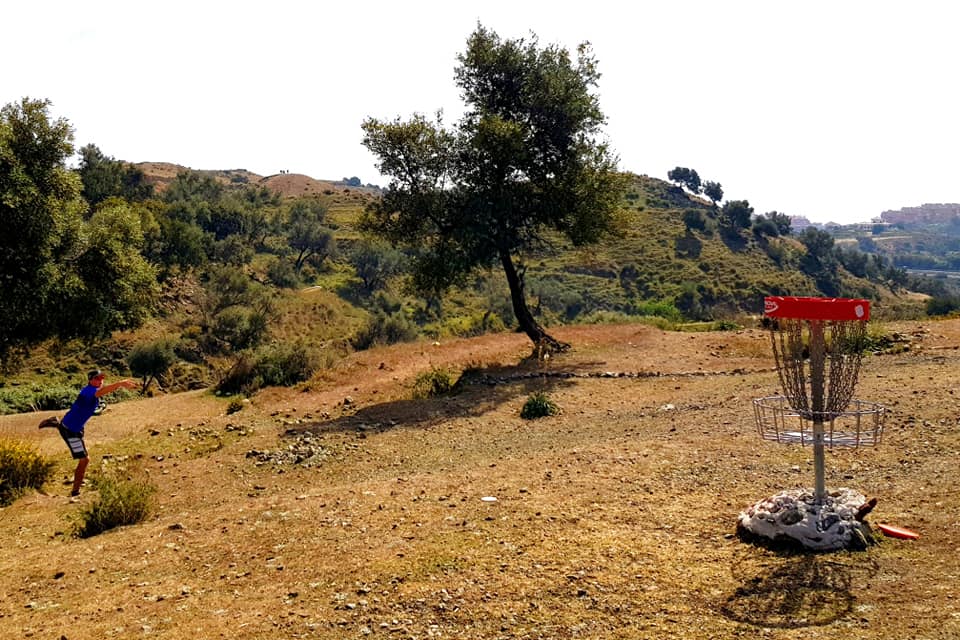 "I drove two or three thousand kilometers checking the areas, finding out who owned the land, and things like that," he said. "It was pretty complicated to find a good place to begin with and then I had to try and sort out if it was possible to build a course there."

Eventually, he settled on a property in Mijas, a beach town on the Costa del Sol (Coast of the Sun) that's just 15-30 minutes from the Málaga Airport.
Along with enough space for the course, the location would put visitors who took advantage of the relatively low-priced taxis or rental cars available in the area within easy reach of the sea and the Mijas Mountains (or Sierra de Mijas), both of which can be seen from the course. The average high in Mijas' coldest month of January? Around 15°C (60°F).
Building the Course and Local Response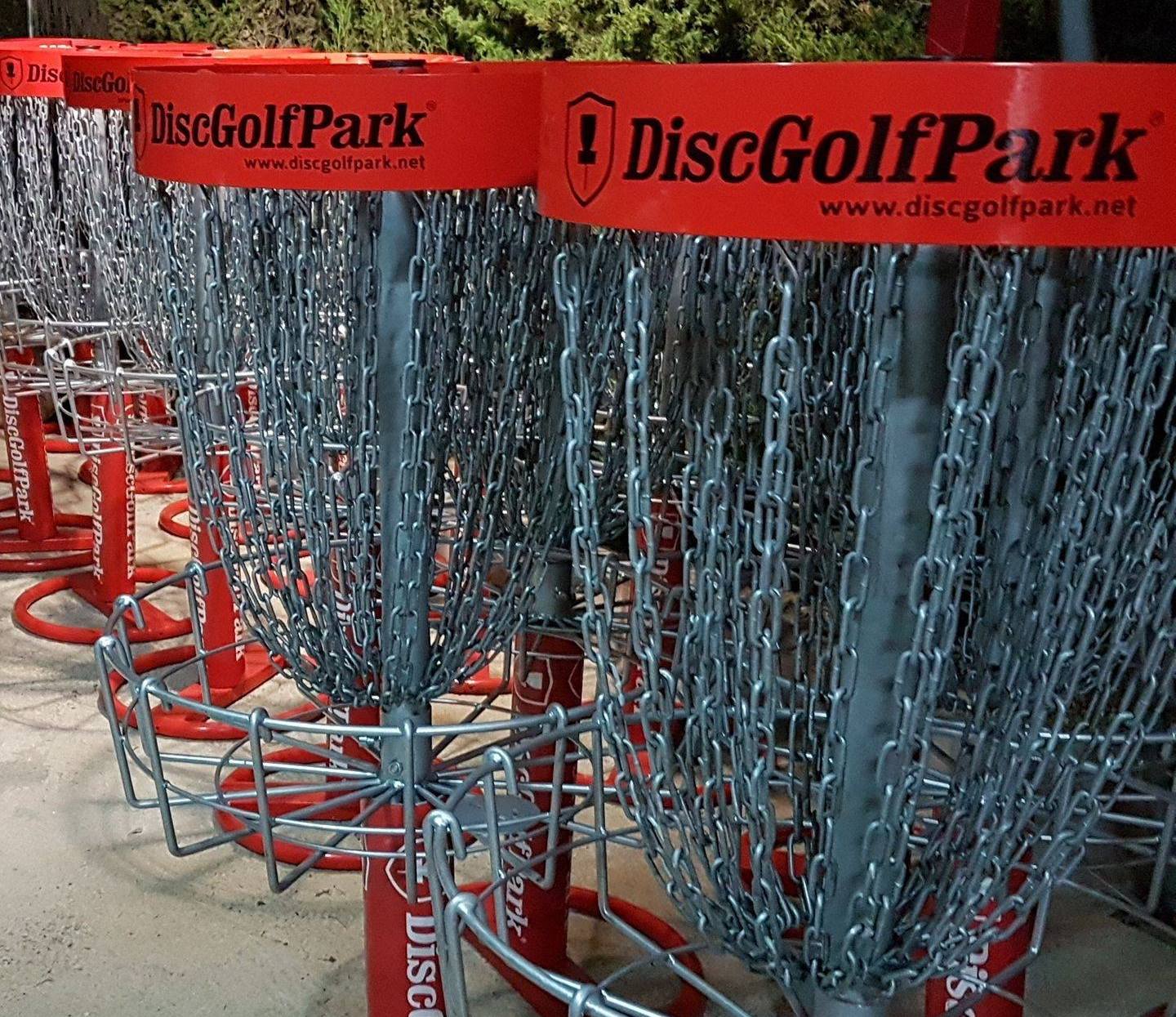 Before being able to build, Kostin had to go through the rigmarole course builders everywhere are familiar with.  

"It's not simple [to build a course in Spain]; I would say that," Kostin said. "Bureaucracy is obviously totally different in Spain than in Finland. People don't speak English here; I didn't speak any Spanish at first."

Still, when Kostin overcame the legal and lingual roadblocks, the actual building of the course went extremely quickly.

"I started building the course in early September and the course was playable by Christmas," said Kostin.

However, creating a course dedicated to a sport that most locals had absolutely no exposure to did lead to some misunderstandings.
"It took about one and a half years before I put in tee pads," Kostin said. "The first weeks I was building I had some problems with the locals taking the baskets. So I decided I wouldn't get the artificial turf tee pads because people might take them, too. But now the people have seen the sport and know that we use the baskets for it, and everything's been cool."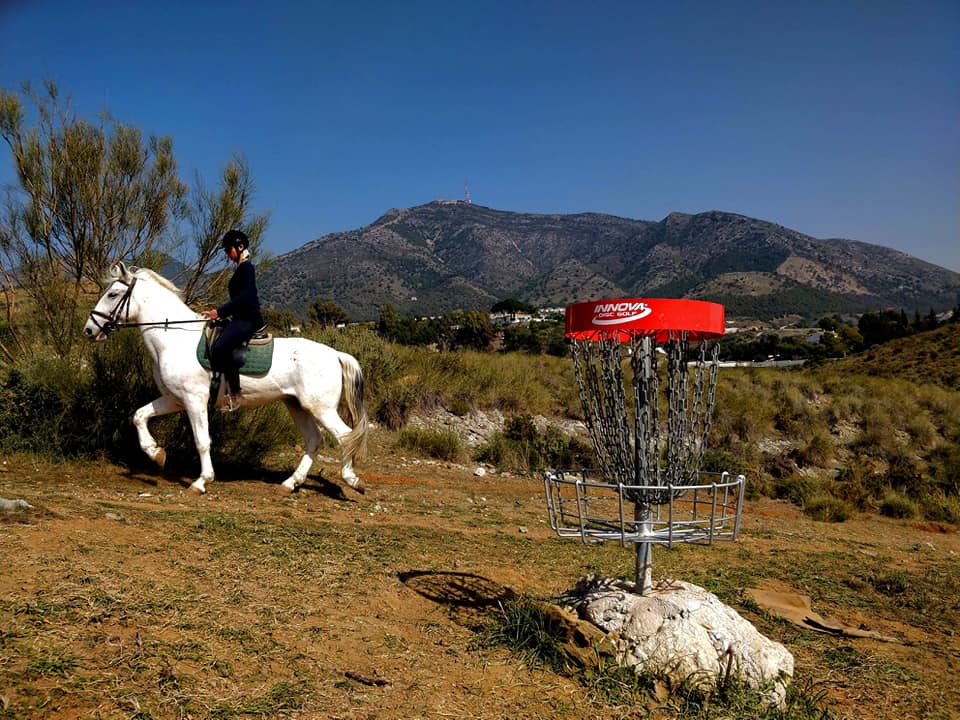 And though the local response to the course hasn't been overwhelming, Kostin has noticed some who know the sport introducing their friends to it.
"There are a few locals who play who have studied somewhere like Germany or the United States, for example, and who have tried the sport there," Kostin said. "Fortunately, they bring their local friends sometimes to try it even though the elevation and terrain make the course pretty challenging for beginners."
Response of International Visitors
To get a sense of what a visit to Mijas is like, we talked with four players who have made the trip. Two played in the Catch the Spirit in Mijas tournament that just took place at the end of February: Open Women champ Sigrid Sandum of Norway and Germany's Alessa Schwarz. The others are Germany's third-highest rated player, Dominik Stampfer, and the male 2018 PDGA Player of the Year Seppo Paju.

Sandum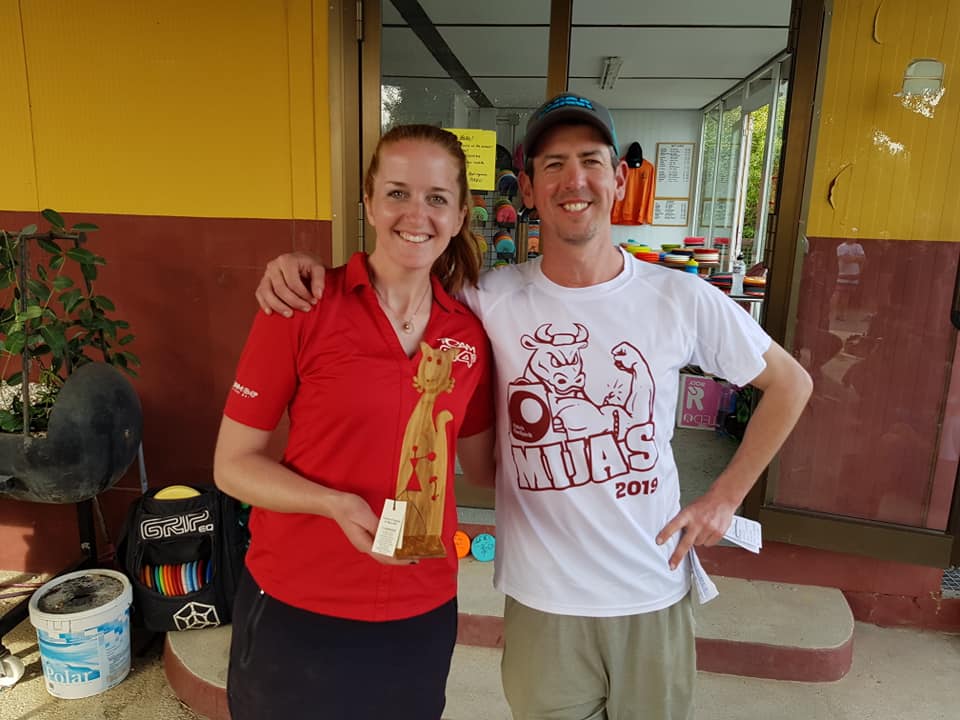 To start the season as early as February is almost unreal for someone like me who lives in the  middle of Norway. It's a bit of a challenge to get my mind on the game during Norway's frozen winters, so to have the opportunity to go to Mijas with comfortable weather and great spirit felt like a very good idea.
Even without OB the course forces you to play precisely and hit the lines to get good scores. When you do your job on this course, you get rewarded, but if you get greedy, you will be punished. The wind and elevation changes also added to the challenge.

The area was really nice, calm, and relaxed with lots of good food and nice people. Short distances to anything you need and a short drive to the town of Málaga. Also, I really loved the great spirit of both the crew and the other players. Many smiles, laughs, and good moments. A great way to start this season!

Schwarz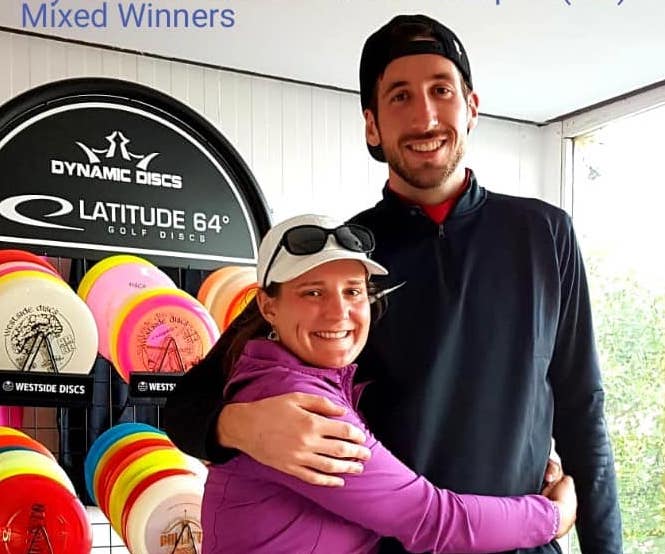 I had an amazing time—just loved the whole package. Seeing disc golfing friends from all over that I hadn't seen in a long time, the scenery, the weather, the beachfront nearby, everything being accessible. You can actually reach the course in 30 minutes by foot from the nearby town of Fuengirola and most accommodations there are also just a 10-15 minute walk to the beach.
The course actually reminded me of a mixture of places I've been in Arizona and New Zealand. Lots of elevation happening, views of the ocean and mountains, cactuses. I imagine that if you visited the course when everything was in bloom, it'd be really amazing. Also, though the pictures I saw before going there made me think the course might be a bit boring, one of my first thoughts while playing it was that the wind and elevation actually made you think, making the course really fun. None of the photos I saw before going had really done it any justice.
Stampfer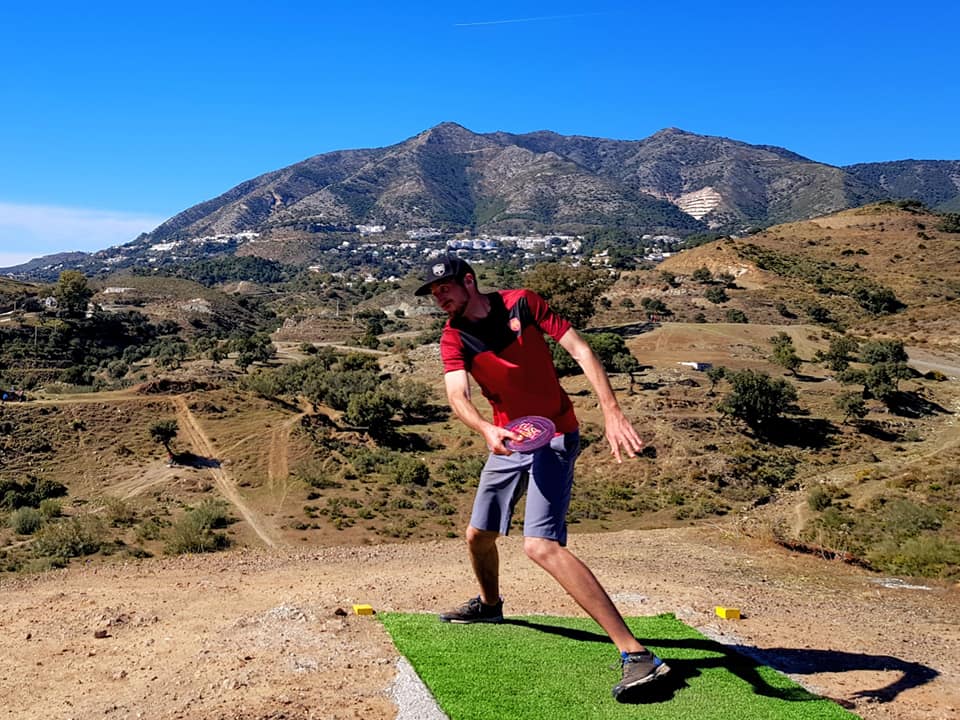 I made the trip because conditions in terms of weather are way better in Mijas than in Germany at the end of February. Lots of sun, daylight, and higher temperatures. It just seemed interesting for me to discover a new disc golf country and explore a new course, too. Also, I was interested in some non-disc-golf activites, as well, and Andalusia has great stuff to offer—the decision to go was really easy.

The course is fun to play with lots of elevation. I was surprised it even has a few par 4s, which is definitely a great thing. On a calm day, the course is kind of easy for a long thrower and you need to chase the birdies. For intermediate players it's a great practice course.

But for anyone, especially at the beginning of the season, it fills you with lots of smiles to throw discs in shorts together with people from all over Europe. That's actually the second fun part: meeting new players from other countries who want to escape the bad weather.

Paju
I think the place is a gift for European disc golfers, especially during the winter months. The weather in Fuengirola is always good, which makes practice possible. Fuengirola and the surrounding cities are nice and there's a lot of things to do: good food, shopping, beaches, sightseeing in Málaga, etc. The course isn't the best I've ever played, but it's a great challenge for intermediate players. It also feels amazing compared to cold and snow. I go there for the weather and disc golf baskets.
You can see the rest of the video above (and more from Mijas and Paju) on Paju's vlog.
Getting Ready for a Visit?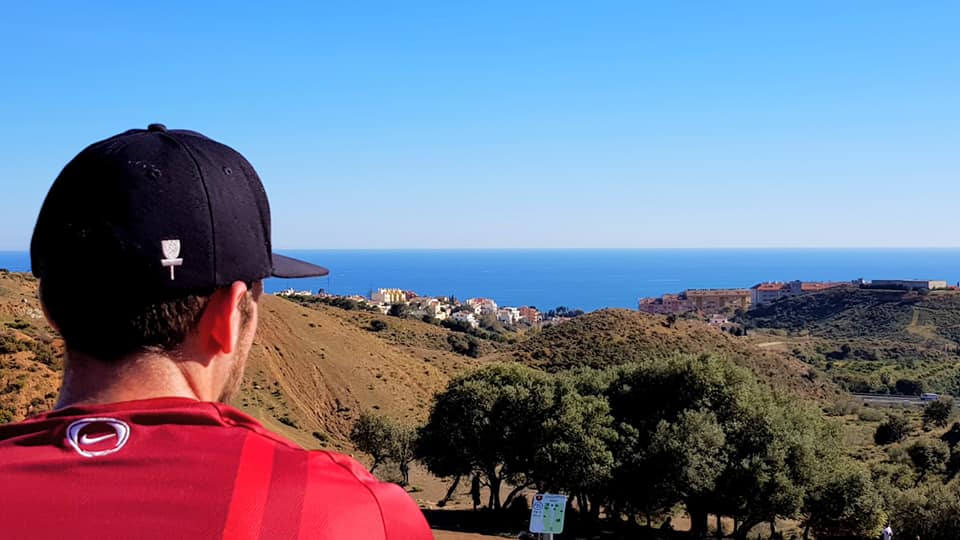 If the descriptions of this course and its surrounding area have you clambering to check ticket prices to Málaga, here are a few things to know:
The course is open 365 days a year, even on holidays like Christmas and Easter.
Opening hours are usually 11am-5pm, but at busier times it's playable from dawn to dusk.
The course has a pro shop where you can buy or rent discs.
The course fee is €10 a day.
Kostin recommends sunscreen and very sturdy shoes. Mijas has over 300 days of sun a year, and the terrain is rugged and full of elevation changes.
If you're looking to plan a trip around an event, Mijas' next big tournament is the PDGA B-tier Fuengirola Open from October 31-November 2, directed by Juha Kytö, the founder of Tyyni, Europe's largest disc golf tournament.


Have your own story of an extraordinary course? We'd love to hear about it! Contact alex@udisc.com.