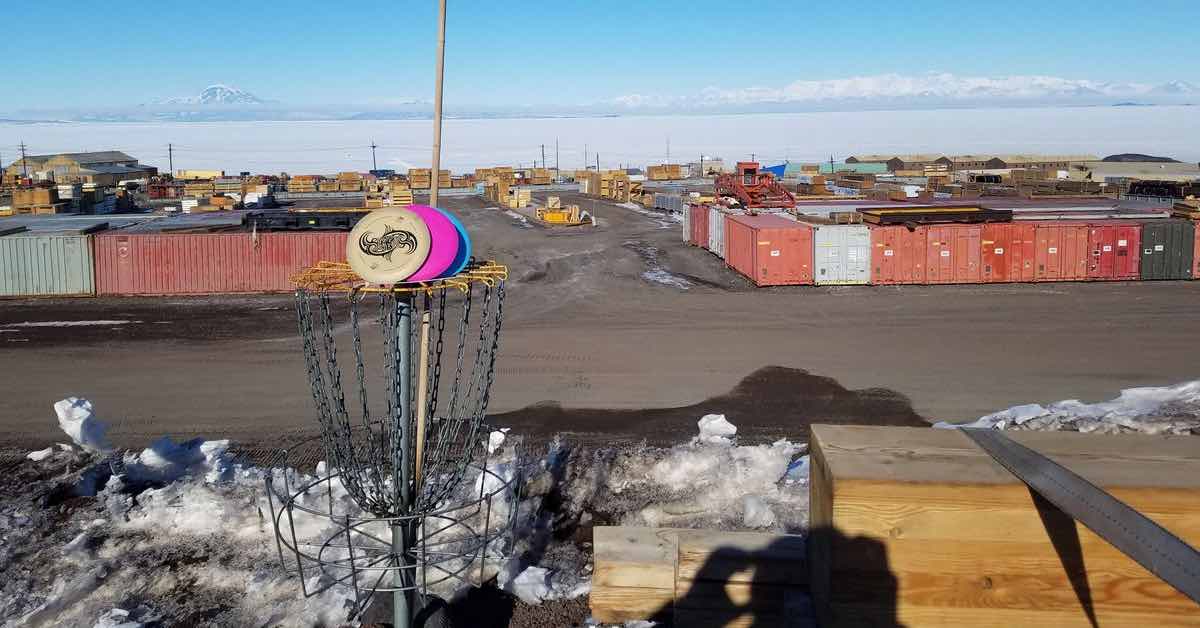 The McMurdo Station in Antarctica is built on "the bare volcanic rock of Hut Point Peninsula on Ross Island, the solid ground farthest south that is accessible by ship," according to the National Science Foundation (NSF). The average yearly temperature is 0°F/-18°C, with its coldest month averaging a teeth-chattering -18°F/-28°C.
The station is a place for researchers of astrophysics, climate science, and many other fields to experiment and study in a landscape of ice, sea, and mountains unlike anything else on Earth. It's also where the majority of logistics for various projects being conducted throughout the continent are organized and coordinated.
But, clearly, its true claim to fame is its standing as home to the southernmost disc golf course in the world: Ross Island.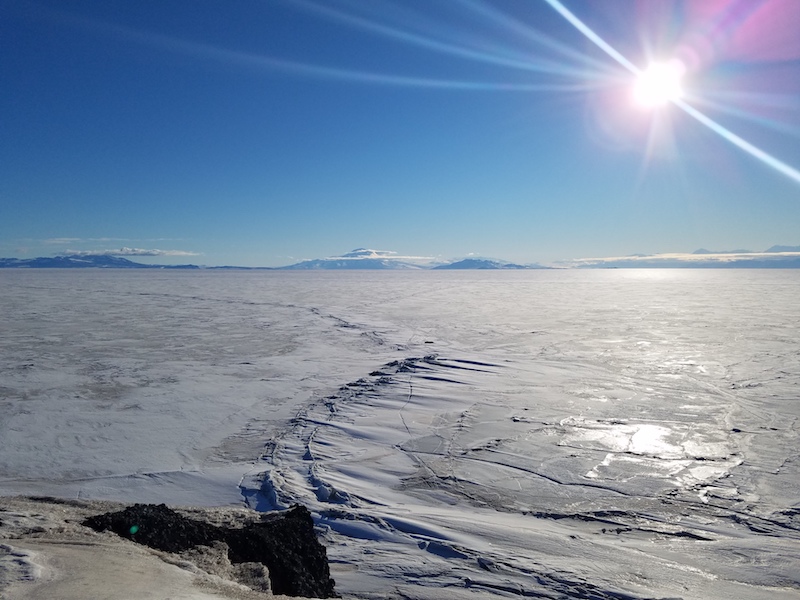 The existence of this course first came to UDisc's attention when Joshua Hague, a Technical Sergeant in the Air National Guard, added it to the app's directory in 2017. With the recent creation of our Release Point blog, we knew that his story of playing what he rightly called "the most exclusive disc golf course in the world" (only people who are on official business at the station are allowed there) was one we wanted to tell.

So, we caught up with him to find out the details.
How Do You End Up with Discs on the South Pole?
Hague works for Schenectady, New York's 109th Airlift Wing, which he says has a "mission to support the NSF by providing heavy airlift to remote polar regions including Antarctica and Greenland."
On such missions, the last stop before flying down to "the ice," is in Christchurch, New Zealand. And, while there in October of 2017, a friend asked Hague if he was planning to get in some rounds at McMurdo Station.

"To be honest, I thought he was out of his mind," Hague recalled. "The last place in the world I would ever expect to play disc golf was Antarctica."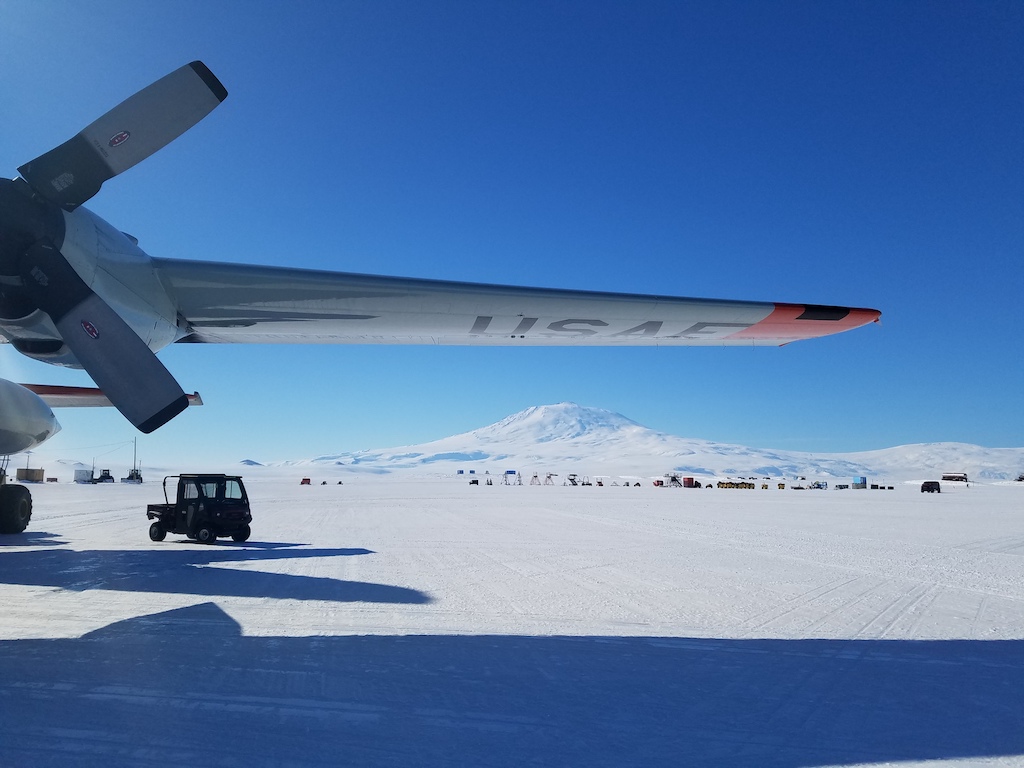 After some research, however, Hague found out his friend wasn't crazy at all; there was in fact a course at his next stop. Luckily, a sports store in Christchurch carried discs, and Hague was able to purchase a starter set of New Zealand-based RPM Discs. He also found a local course where he could get in a few practice rounds before heading south.
Hard To Find, Hard To Play
After arriving and taking some time to get used to the alien surroundings, Hague went looking for the course—an undertaking that wasn't simple.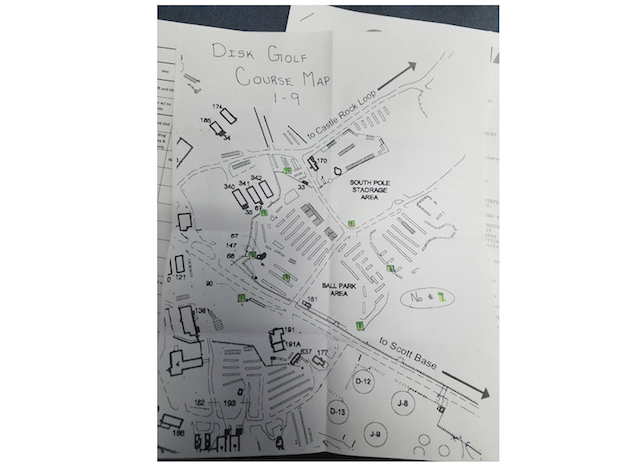 "It took some asking around before one of the NSF folks pointed me in the direction of the McMurdo recreation center," said Hague. "At the rec center, they have maps of the course and a random assortment of discs you can borrow….The thing about the course there is that it is not well developed, as you can imagine. They have nine baskets that are not permanent. They get set up in their respective locations by someone at the beginning of the season.  As a disc golfer, you may even find the rec center asking you for help setting them up if they haven't done so already."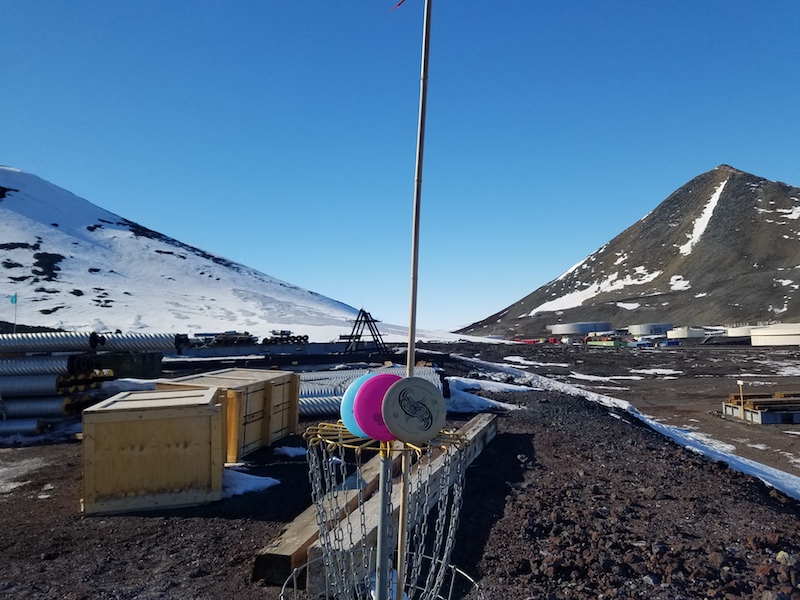 When Hague finally did find the course, he said he was met with "the most difficult [he had] ever played." And though he also mentioned that "many of the basket positions are set very close to really steep hills," he said the difficulty mostly stemmed from the extreme and unusual factors he had to deal with when playing.
For example, Hague said while he was there it was sometimes -30°F/-34°C not including wind chill, and he had to be on the lookout for the movements of giant cranes in the receiving yard where the course is set up to avoid being crushed.
There are also no tee pads, which might not sound so bad until you know that the ground is essentially all "uneven, frozen rock." That makes teeing off on holes like Hole 4 an even more daunting prospect.
"On hole 4, you are shooting from a semi-elevated 'tee' position," Hague said. "The basket is about 400 ft [122 meters] away set up on a manmade hill right next to steel structural beams and giant piping being stored on pallets. Because of the wind and snow, that hill has these long shelves of jagged ice that form off the side of the hill like terraces which you do not want to climb (yes, I tried—it was a bad decision)."
A Fond Memory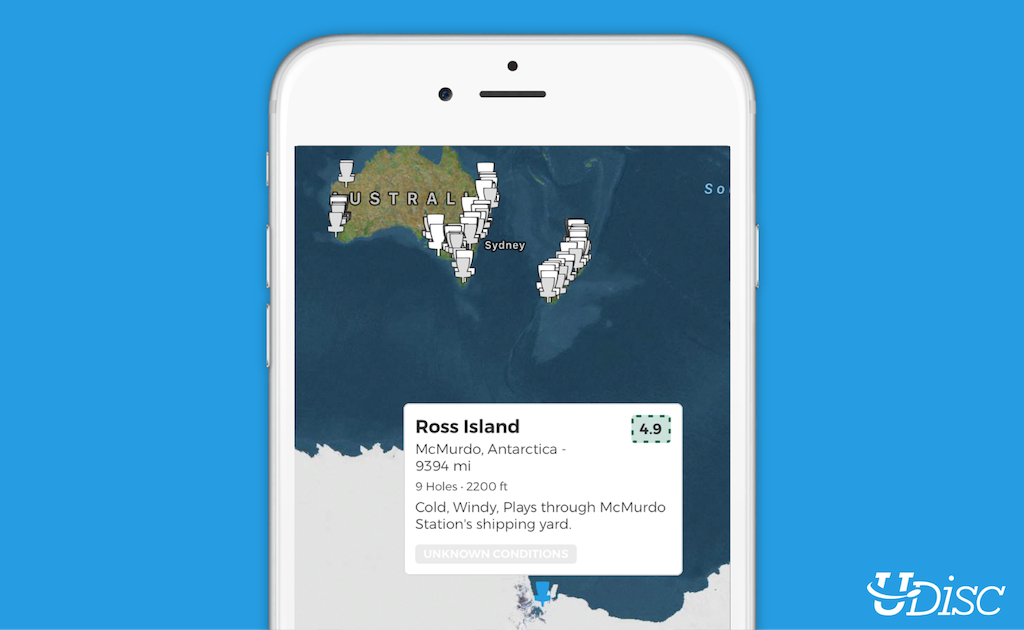 Despite the extraordinary elements, Hague thoroughly enjoyed his rounds (yes, he played more than one) at McMurdo Station. He even showed a friend the sport there, although he admitted it's probably "not the best course to play on your first go." He even keeps a reminder of the experience displayed prominently in his house.

"I have my RPM putter hung on the wall at home as memorabilia for my time playing disc golf at the bottom of the world," he said.


Have your own story of an extraordinary course? We'd love to hear about it! Contact alex@udisc.com.