Editor's note: The owner's of SKÖL Ranch at the time of this post's publication have put it up for sale. New owners may or may not continue to run the disc golf course on the property.
A memorable course, a personal touch, and views for days.
That's what awaits anyone who takes the mountain roads west of Colorado Springs to the private SKÖL Ranch Disc Golf Course. As you'd expect from a true mountain track, it's full of elevation. But along with the ups and downs, the owners do their best to make you feel like part of the family and, yes, have created a number of holes that are strong contestants for the "Best View in Disc Golf" title.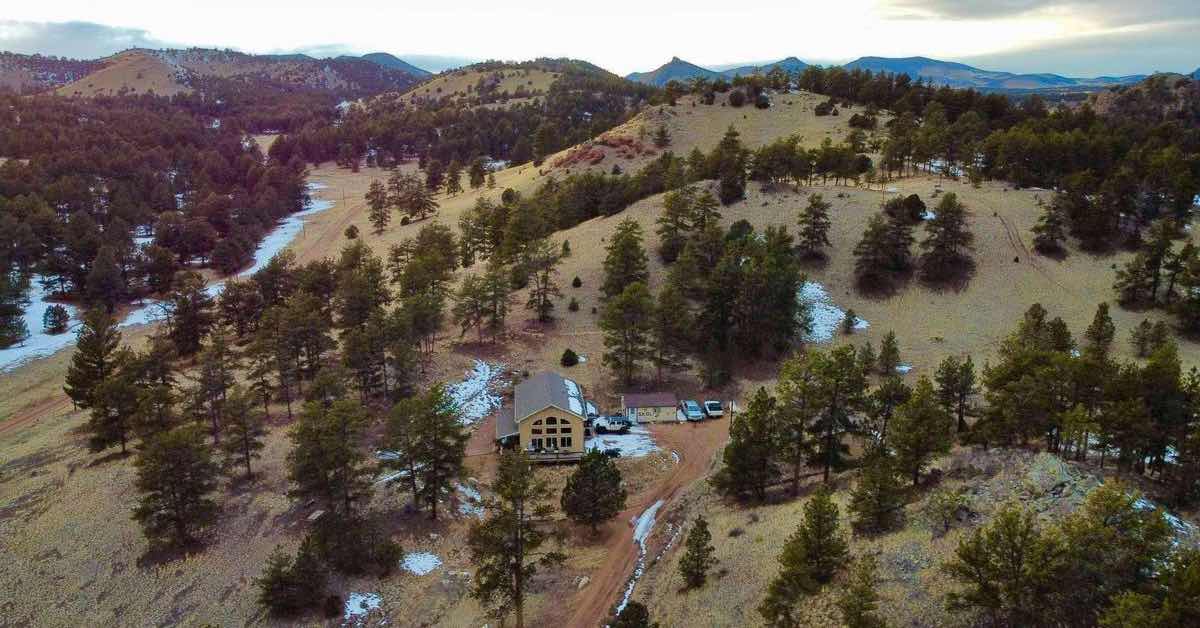 Learn why and how a Midwest transplant named Gary Etter molded his little corner of the Rockies into a disc golf getaway and how you can experience it yourself.
'Too Stunning Not to Share'
Gary and his wife, Kristina Etter, had lived in Iowa for decades but decided to leave for Colorado in 2016. 
"We had wanted to get out of Iowa our entire lives," Gary said.
They purchased a 20-acre/eight-hectare plot tucked in the southern portion of the Front Mountain Range about an hour west of Colorado Springs. When they saw their new property for the first time, they drove up the back ridge. As they crested it, a majestic view appeared to the east: Pikes Peak. The easternmost of the tall peaks in the Rocky Mountains and the highest in the southern Front Range, Pikes Peak reaches 14,115 feet/4,302 meters into the Colorado sky – and, for reference, is about 12,500 feet/3,810 meters taller than Iowa's highest point.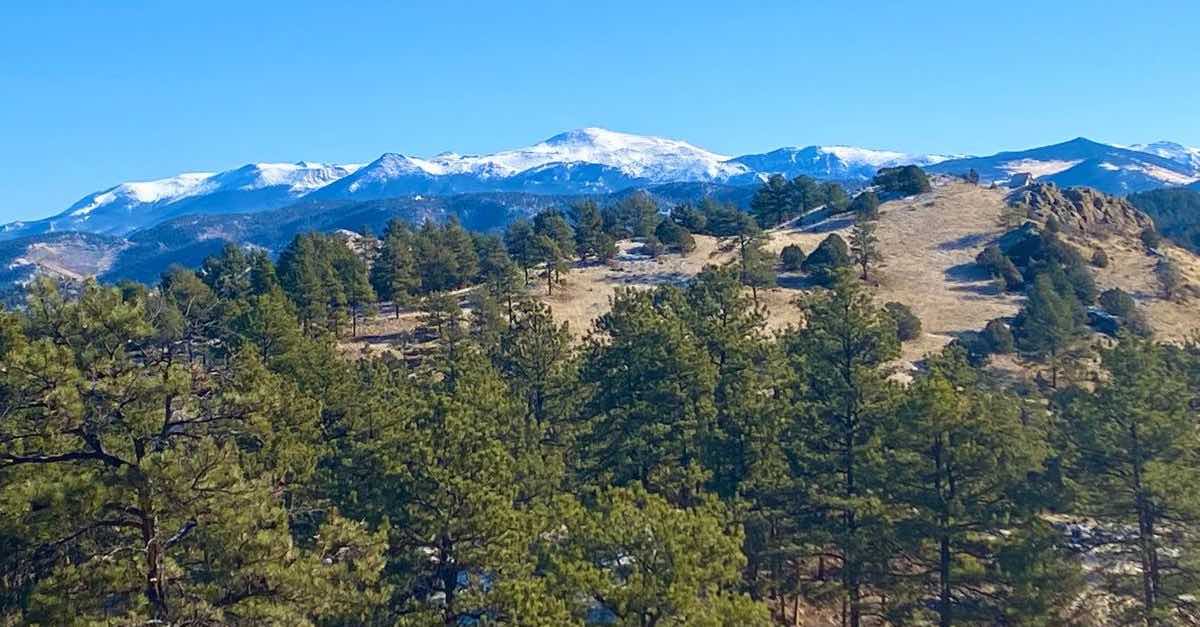 The Etters knew immediately that their new home had a magic they didn't want to keep to themselves.

"My wife turned to me and stated, 'Gary, this is absolutely too stunning not to share with people,'" Gary said.
Only a house and some outbuildings sat on the acreage, and the rest was an undeveloped piece of Rocky Mountain paradise. A recreational disc golfer since the 1990s, Gary quickly thought up a great way to let others experience their land.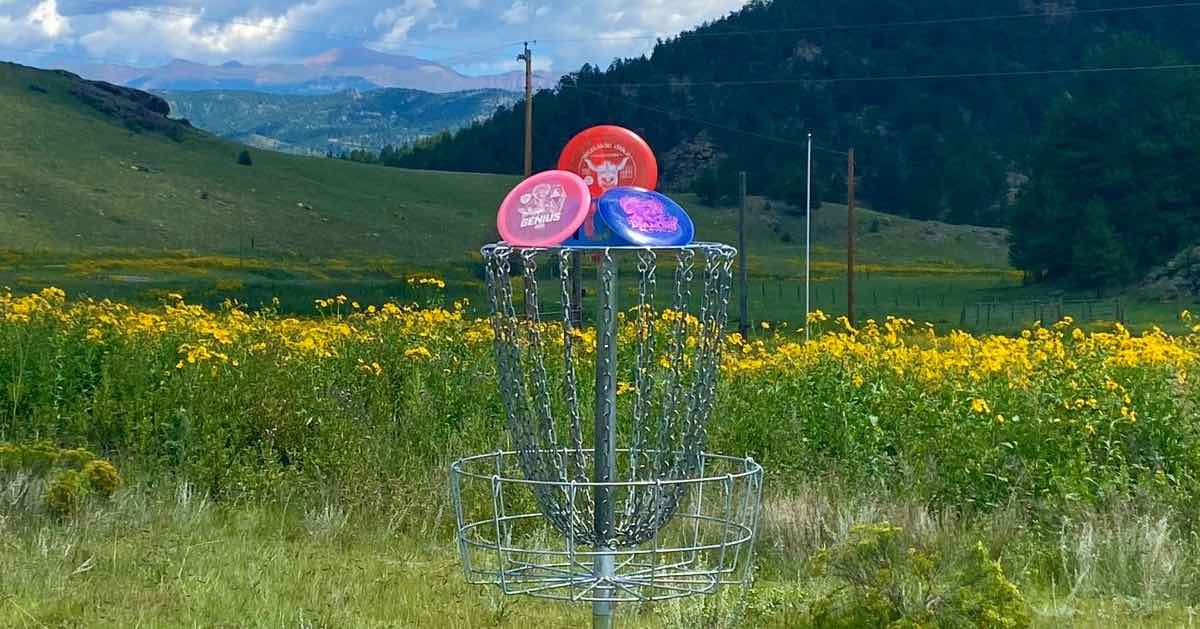 "I didn't move out there with a disc golf course in the plan," he said. "But not long after we moved in, I was out on the four-wheeler, making trails on the property, and I started seeing some pretty epic shots."
With the go-ahead from Kristina, he began to turn those visions into real fairways.
What's It Like to Play at SKÖL Ranch Disc Golf Course?
Slowly, Gary planned and built a course that's a great mix of challenge and fun for the average disc golfer. Along with unique pin positions and inevitable elevation changes, SKÖL Ranch alternates between demanding precision and distance from players while allowing them plenty of opportunities to watch their discs soar with the Rockies as a backdrop. The baskets are Gateway Titan Pro-24s, and the current layout stretches to just under 5,000 feet/1,524 meters.

When the course was first installed in 2017, there were just nine holes with short and long tee pads. In 2018, it expanded to 18 holes and a 19th bonus hole. Gary's latest project (which he expects to finish early in 2023) is creating a short and long tee pad for the entire layout to complete a Purple course (short) and Gold course (long).
"New tees will just add a little something different to make it interesting," he said.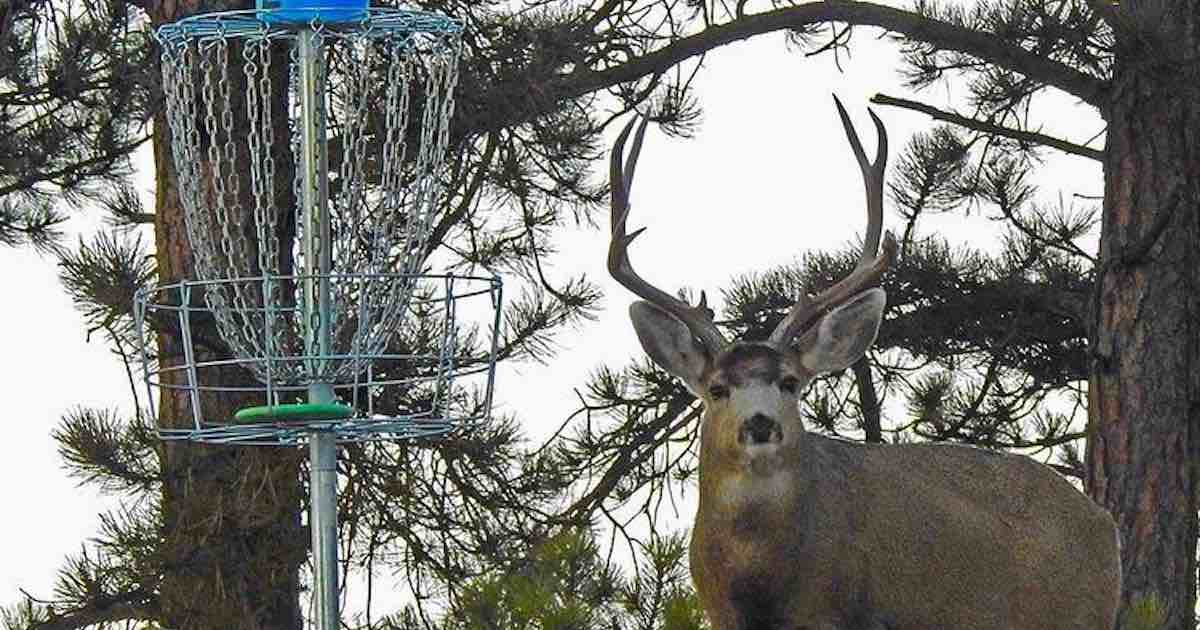 And that stunning view of Pikes Peak? Players can experience it themselves from hole 8's tee.

However, Gary thinks hole 17 is the true signature. When you get to it, you'll find a clear, full-sized tee of neatly-patted-down earth encircled by rocks and boulders. Step onto the pad, and you can see out over a valley. In the distance, rolling, pine-covered hills stretch out as far as the eye can see. Directly below is a much closer pine forest with a naturally-cleared grassy space stretching all the way to one of the few mountain roads that meander through the area.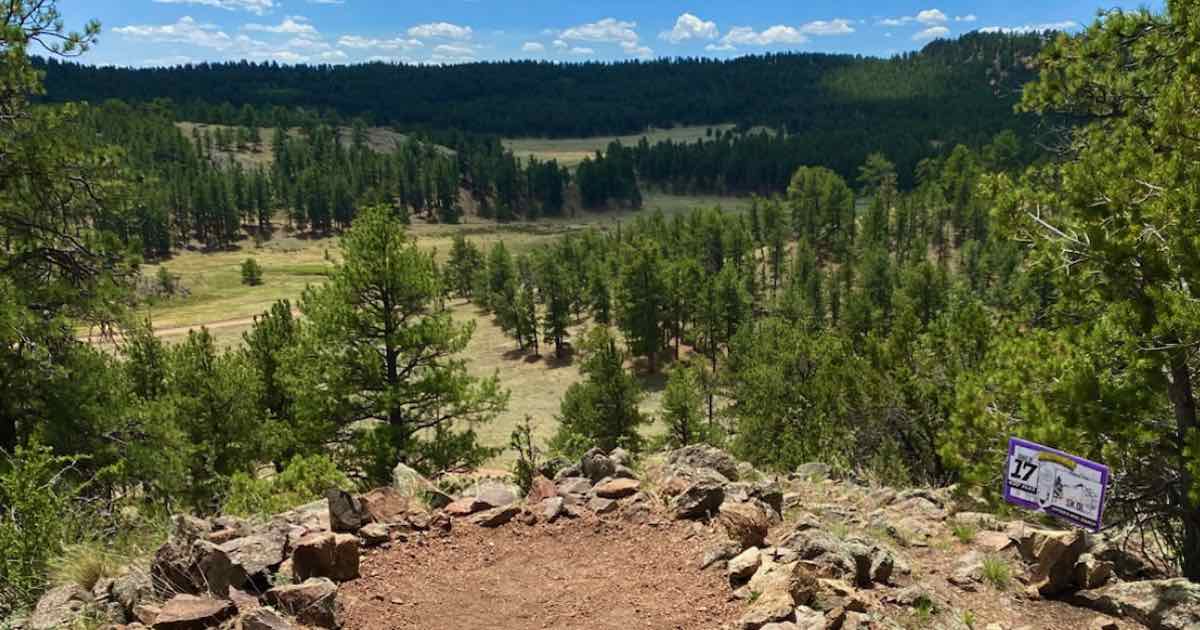 The clearing serves as a clean fairway, moving right to left. The distance from tee pad to basket measures about 420 feet/128 meters, but the hole plays much differently than the measured distance. The tee pad itself is 150 feet/46 meters higher than the pin location, giving players the chance to grip and rip over the expanse of pines.
Something that may give some disc golfers pause is SKÖL Ranch's primarily dirt tees. These have nothing to do with budget and instead reflect Gary's priorities. He wants the course to maintain an aesthetic that he feels traditional disc golf teeing surfaces can disrupt.

"Disc golfers don't mind dirt tee pads," he said. "I want to keep it all natural in the mountains, but there are a few holes that I do have the pavers on." 
How to Stay & Play at SKÖL Ranch Disc Golf Course
SKÖL Ranch is a private, limited access disc golf course, and you'll need the Etters' permission to step onto the property. One way to get it is to shoot Gary a text. You can find his number under "Contact" on SKÖL Ranch's UDisc Courses page. The cost to stop by and play is $10.
"We offer a personal experience," Gary said. "When you get to the course, I come out and greet you and walk you over to hole 1 and make it a little more personal. I have a little speech I will give to everybody before they tee off."

Gary will often offer a course tour before you play via the Rubivike, a custom, Minnesota Vikings-themed Jeep Rubicon.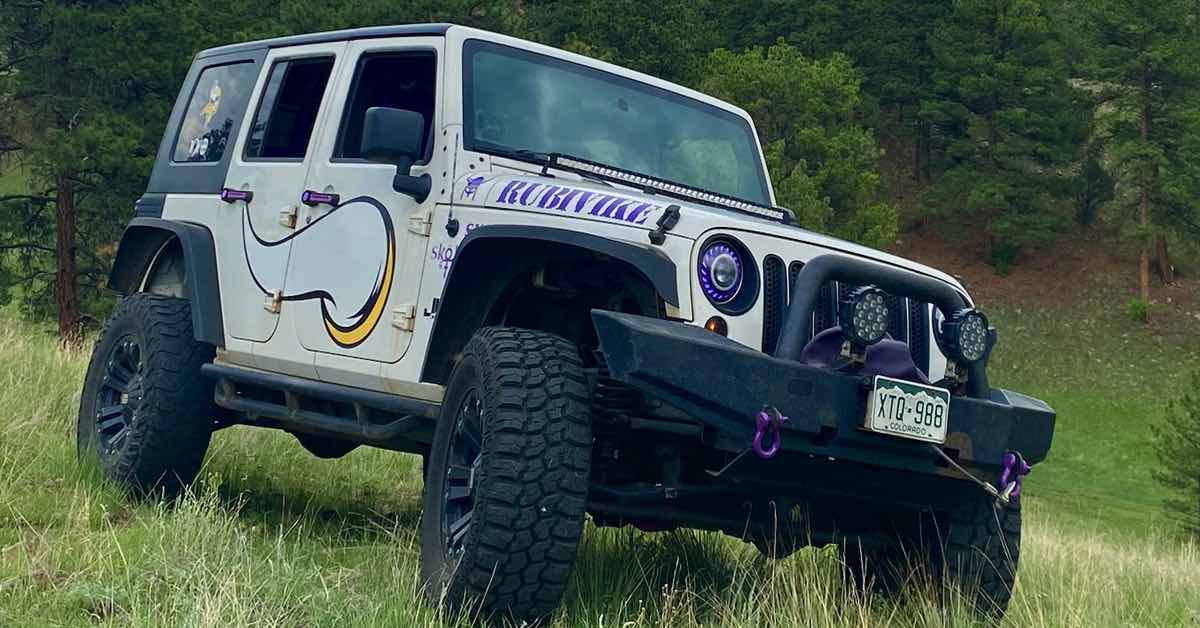 You can get unlimited play at SKÖL Ranch by booking the Etters' Airbnb or going all in on their two-night Epic Mountain Disc Golf package, which includes the accommodation plus meals and guidance to two other great Rocky Mountain courses under an hour away from SKÖL Ranch.
All guests are welcomed into the Etter home and given access to bathrooms, bottled water, and other necessities to make their time at SKÖL Ranch memorable. In addition, the property is both dog and cannabis friendly.
What Does SKÖL Mean?
All this time, you might have been wondering where on earth someone comes up with the name "SKÖL Ranch."
"Sköl" is derived from the Scandinavian-language word skål, which means "Cheers!". A skål was a bowl filled with beer and enjoyed among friends in celebration. The Minnesota Vikings of the National Football League have adopted the word as their "war cry" to celebrate wins, scores, and big moments during the course of a game.
Gary, a lifelong and avid Vikings fan, wanted to salute the team by naming his disc golf course in honor of them. But the name also seems fitting for another reason as the disc golf course the Etters have put together is more than worth raising a glass (or a giant beer bowl) to.