We've covered how to build your first disc golf bag before, and we went a little bit into disc golf accessories in that same article. But when you start getting more serious and playing lots of rounds or maybe even tournaments, there are certain must-have accessories that will make your rounds a lot more pleasant.
Below, we fill you in on some of the most popular and useful disc golf accessories on the market.
More Than Just a Towel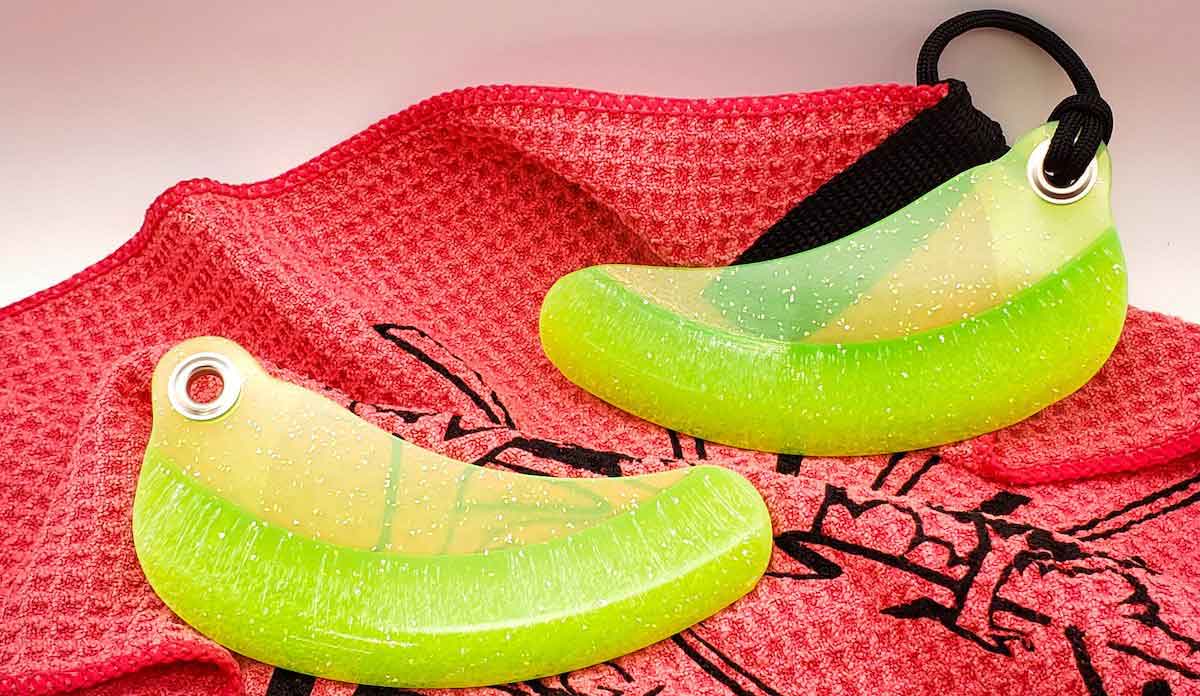 Possibly the most important accessory to any disc golfer's bag is a towel. We know you're thinking this sounds simple. But think again. Some people prefer original terry cloth. Others like microfiber towels. But there's another kind of towel that has been created specifically for disc golfers.
The FlighTowel is a durable, high-quality microfiber towel that is attached to a fob, which is a piece of an actual golf disc. What this creates is a towel that both dries your discs and can help you with your warm-up routine.
How can a towel help you prepare for a round of disc golf? Well, FlighTowel has a fob that's roughly a quarter of a golf disc. You can grip this fob just like a disc and go through your normal throwing motion. The towel provides resistance similar to an actual throw, which is great for situations when you're waiting on a tee box but want to keep your arm loose.
"I really like the idea of being able to swing for a warm-up during big waits at these big events," said JohnE McCray, a 1026-rated professional from Riverview, Florida who has 181 career wins to his name. "It's unique to our sport."
FlighTowel offers towels in multiple colors with fobs from nearly all disc manufacturers. If your favorite driver is an Innova Destroyer or a Discraft Force, they've got a fob for that.
How many towels should a disc golfer carry during a round? At least two. The second is for when the first gets saturated and can also be used to wrap your putters during a rainy round. For extra rainy rounds, try carrying a chamois to wipe excess water off of your discs.
Grip Enhancer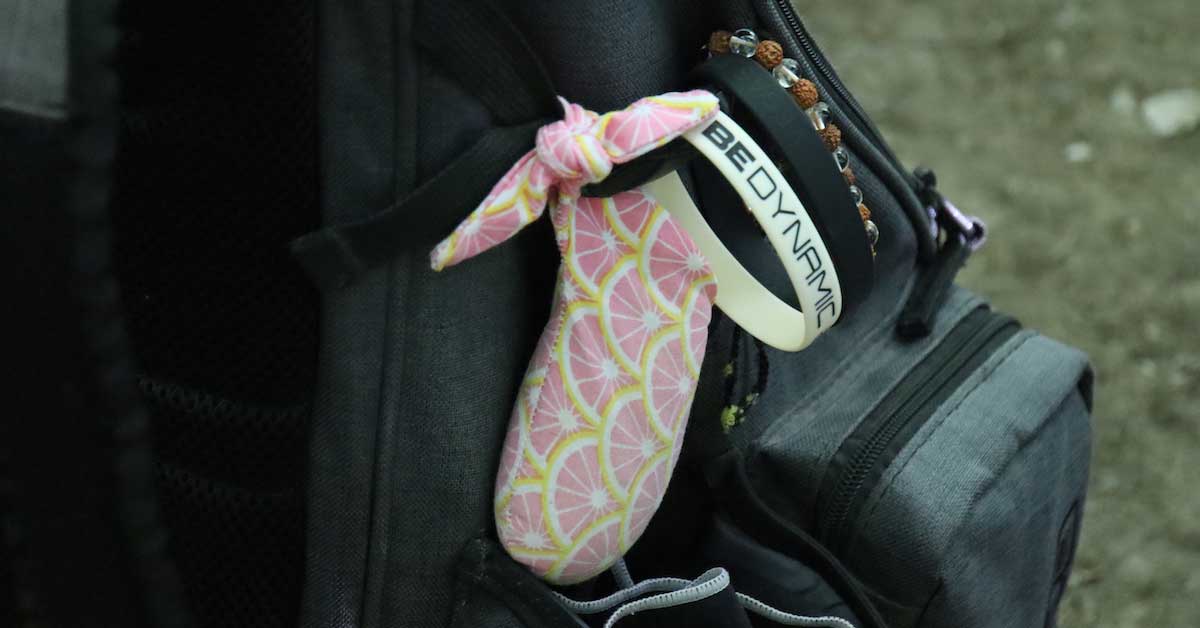 Now that your discs are dry, let's talk about your hands. On hot and humid days, a disc golfer's hands can get very sweaty, causing a poor grip on the disc. So some form of chalk bag or dirt bag can come in particularly handy.
As you can see on the website of popular online disc golf retailer Infinite Discs, there are a wide variety of disc golf grip enhancers. However, the most widely recognized of these is probably the Whale Sac. The brainchild of Tina Oakley, a professional disc golfer living in Pensacola, Florida, a Whale Sac is a whale-shaped bag filled with clay stones and powder. The tail of the whale allows players to tie the product to their disc golf bags.
"If you are looking for something to remove moisture off your hands while leaving a very small amount of tack, Whale Sacs are the product for you," Oakley said. "They're not overly dirty, they're cute, they fit in your hand nicely, are fun to throw around, and obviously they tie onto your bag so hopefully you don't lose them as much as other hand drying bags." 
Whale Sacs, which started out as a hobby for Oakley six years ago, are handmade by her or a member of her family. The fabrics come in a variety of designs—from cats to American flags to, yes, even whales—allowing disc golfers to show their personality.
"The product is exactly what you need it to be—a convenient way to keep your grip consistent," said Nate Perkins, a professional from Austin, Texas, whose Whale Sac came in particularly handy during a rainy round in the 2019 Masters Cup, a major tournament. "They tie on your bag so you don't lose them, they contain whatever type of material you would like, and they come in customizable fabrics."
Disc Retriever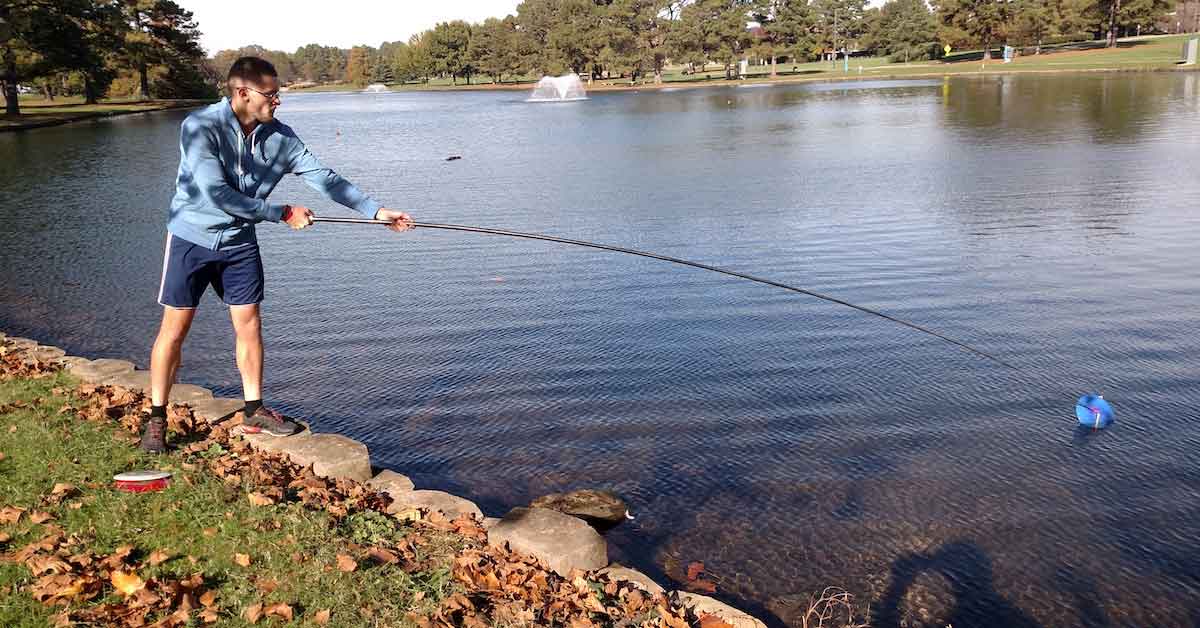 If a disc were to slip out of your hands, and, say, fly into the edge of a lake, you'll need something to help you get it back. That's when you'll need a disc retriever in your bag.
One option is InZone Disc Golf's Kwik-Stik. It's a telescoping pole that extends to reach up to 18 feet/5.5 meters to reach errant throws, but collapses to just 18 inches/46 centimeters to easily fit in disc golf carts and bags. It comes in two models—one has a simple hook on the end, and the other has a frame head that can trap a disc to pull it out of water, mud, or hard-to-reach places.
The Kwik-Stik was designed by Lavone Wolfe, who has played disc golf professionally for over 40 years. Wolfe's goal was to create a disc retriever that was quicker and easier to use than the existing products on the market.
"For years I had been making prototypes of different retrievers, primarily because I design and play a lot of courses with water," Wolfe said. "I knew if I could come up with a faster, easy to carry and use product that was priced right, it would be a great seller." 

Another product similar to the Kwik-Stik is the RexArm disc retriever. We recently reported on how RexArm's owner halted production of the RexArm to make free masks for medical professionals fighting the COVID-19 pandemic.

If you want to make sure you can get discs that have really made their way into the depths, you may also want to consider the Golden Retriever. It's a lightweight metal frame designed to capture discs with an attached rope that allows you to retrieve discs that are really far from shore.
Wireless Headphones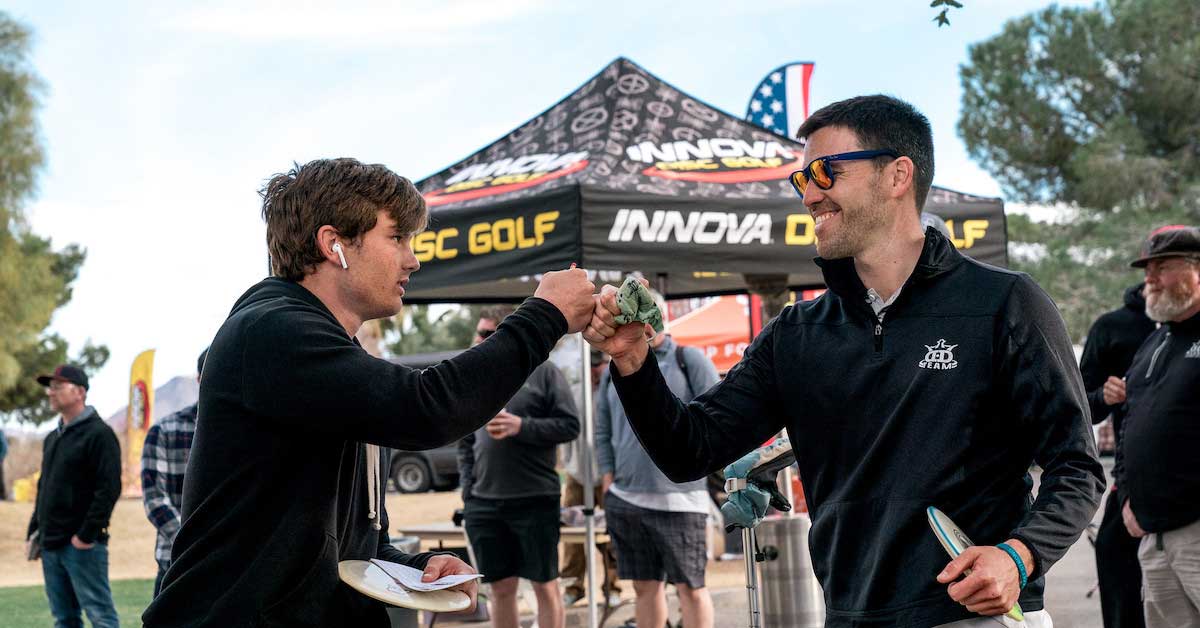 Many disc golfers like to listen to music while they play. During casual rounds, that can mean tunes blaring from a Bluetooth speaker. But during tournament rounds, players have to keep that music to themselves, listening using wireless Bluetooth headphones such as AirPods.
Austin Turner, a 1009-rated professional from Charlotte, North Carolina, wears AirPods during tournament play to give the rounds a more casual feel.
"I wear AirPods mainly for the reason of relaxing on the course," Turner said. "If I can listen to the music I like, I can really get in a rhythm on the course and be happy."
Turner also said listening to music helps block out distractions, whether that's from passing cars or from other tournament players.
"Some people might have a bad attitude or I might not have the greatest relationship with someone so it's easy to just block them out so to speak," he said.
Kevin Jones, a 1035-rated professional from Greenwood, Arkansas and Adam Hammes, a 1033-rated pro from Minocqua, Wisconsin, have also been spotted wearing AirPods during tournament play. Turner stated that he chose AirPods over other headphones on the market because he can have an AirPod in just one ear, allowing him to still be able to communicate with the other players on his card.
"They are great mainly for the reason of having the ability to only have one in," Turner said. "So if I need to hear anything or talk to someone, I can still have one side open, and the other playing some tunes."
Chair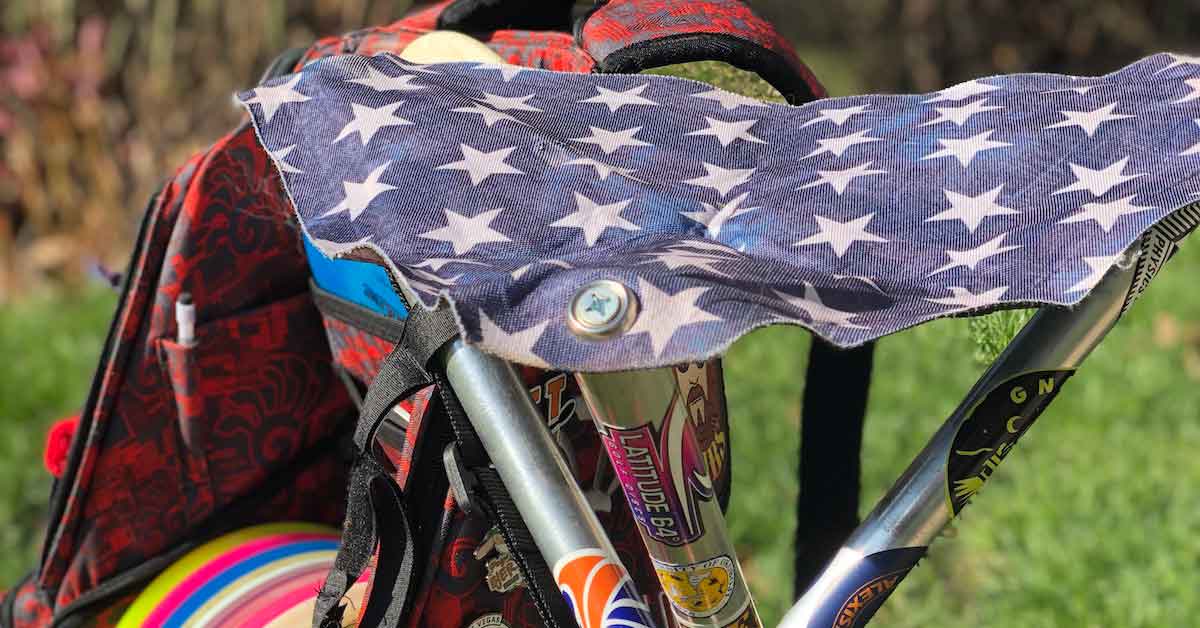 During a tournament or league round, you're going to want a chair to save your legs so you can throw your best shots. The most widely-used chair is the CampTime Roll-a-Stool. Many different disc golf companies sell these chairs with different logos and designs. These stools are lightweight and have a strap so they can be attached to your disc golf bag.
Water Bottle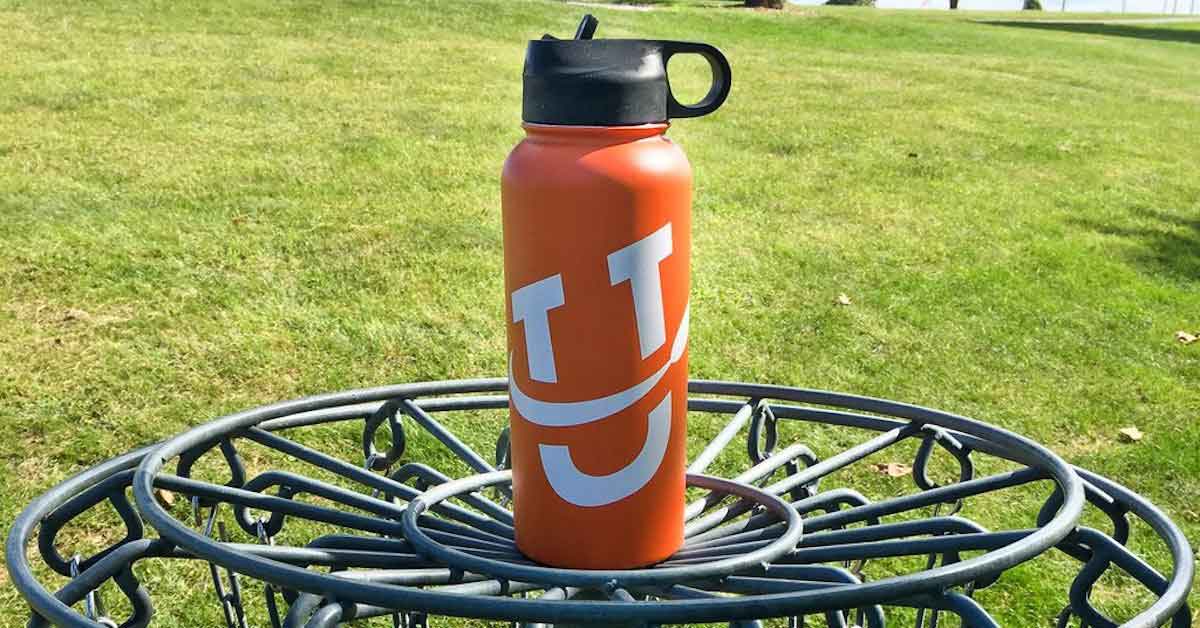 Whether you're playing a casual round or in a tournament, you're going to need to stay hydrated. Often, that means carrying a water bottle.

The Hydro Flask is a great option and has double wall vacuum insulation that keeps cold drinks cold or hot drinks hot for hours on end. If you're loyal to a specific disc brand (or disc golf app, maybe?), many also offer a double-walled stainless steel canteen with their logo emblazoned on the bottle.
Conclusion
Will these accessories save you strokes on the course? Maybe, maybe not. But they are at the very least likely to keep you comfortable, hydrated, and leaving the course with as many discs as you came in with.