Note: If you watch the clips from YouTube in this article (not going to the YouTube app or site), they are set so that only relevant sections play, not the entire videos.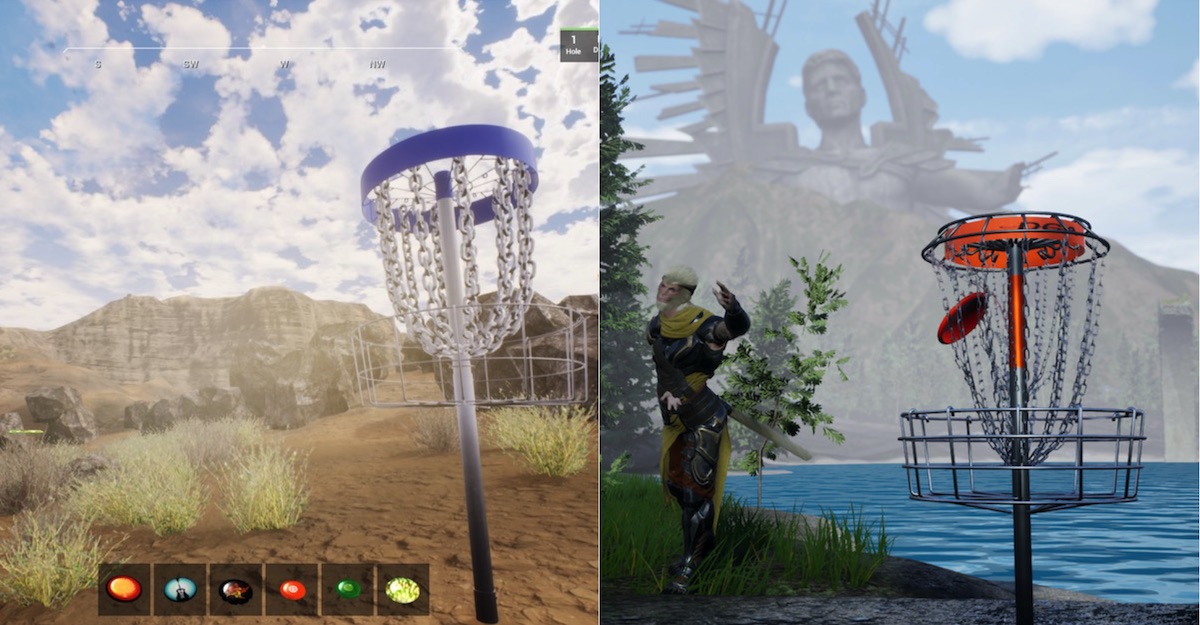 At this very moment there are thousands of disc golfers at home either legally unable to play local courses or responsibly staying off them due to the global pandemic. If you have something that could help them scratch the itch even a little, you're likely to become very popular very quickly in the disc golf world.

Though no one hopes for the circumstances of our current reality, it's hard to deny that they create the perfect conditions for launching an electronic disc golf game. It so happens that there are two disc golf computer games that have been released in Early Access versions in 2020: Ultimate Disc Golf and Perfect Round Disc Golf.

We reached out to the creators of both games to learn about how they came to be made and what experience they offer players.
This isn't the first time we've covered electronic disc golf gaming on 
Release Point. 
Read our interview with the creator of the mobile game 
Disc Golf Valley
, as seen on a recent Simon Lizotte vlog, by clicking here.
Ultimate Disc Golf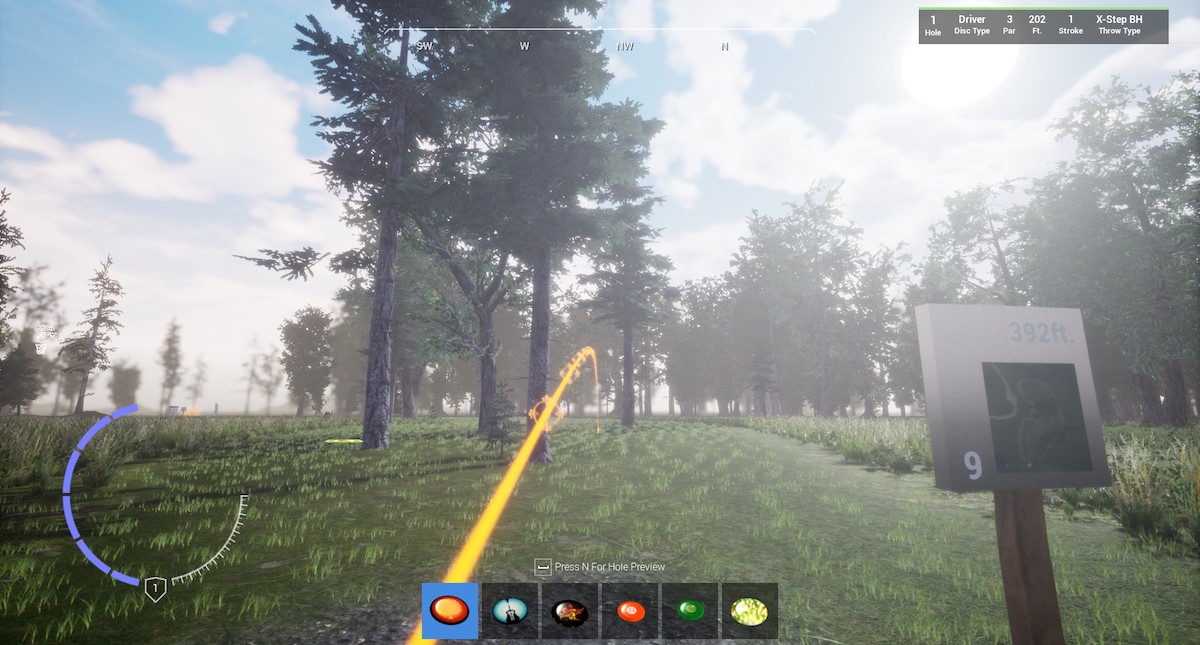 Ultimate Disc Golf is a product of TREE Industries, a company that works with emerging technologies like artificial intelligence, machine learning, and virtual reality. The person who came up with the idea for the game is Joshua Johnson, the company's CTO and also the husband of its founder and CEO.

"As we were building up TREE, I really wanted to expand my personal knowledge of gaming technology," Johnson said. "I've been a disc golfer for a little over 20 years, and I'd been waiting and waiting for the disc golf game I had in my mind and never really saw anything come out or anybody else making one. And so I decided to take it on to progress my own knowledge."

Armed with many years of experience in programming and graphic design from a website development business, Johnson got to work on the game in 2017.

Over the next two years, game development inched forward as Johnson had only his very limited free time to dedicate to it. But eventually the work was impressive enough to Johnson's wife that she wanted to make it an official TREE Industries project. Then in early 2020, a private investor helped fund the game's creation through the end of the year, allowing Johnson to dedicate nearly half of his time at work to game development.

The game was released in an Early Access version on January 31.

Players currently have the option to take on three courses—one of which is an homage to White Birch Disc Golf Course, the oldest course in Johnson's home of Missouri—and can create custom characters who use a variety of discs. An example of the game's throw mechanics is in the clip below:



Another interesting aspect of the game is that it's free roaming. Characters don't throw and then just reappear at their disc's location. Instead, you can meander to your disc—or anywhere else—just like in real life. 

"For me, one thing I love about the sport is being able to get out and enjoy nature," Johnson said when discussing this aspect of gameplay. "It's a stress reliever walking around beautiful courses, and it's something I wanted to bring to the game."

Eventually, this feature will enable side quests like being rewarded for picking up litter, finding lost discs, and much more.

Since the game is still in Early Access version, it will continually be improved throughout this year, and Johnson is more than happy to listen to player feedback about what needs the most attention first. Even in the game's early stages, he was releasing videos of gameplay on social media to crowdsource ideas for improvement.

"The amount of feedback has been amazing—not overwhelming, but exactly what we needed," Johnson said. 

Though the gameplay will only get better throughout the year, there is an advantage to getting a version early. The price for the game is currently $9.99 (just over €8), but those who buy now will receive all future updates free. Johnson says he believes the finished game will go for closer to $20. 

But with or without financial success, Johnson said that one bit of feedback he's received has made him sure his efforts have produced something worthwhile.

"We had one particular player who was an older gentleman, and he can't go out and throw anymore," Johnson said. "He sent us a very nice letter that said even with the early stage the game is in now, it helped him feel like he was out on the course again. To hear that...that's a big part of why we do what we do."
Perfect Round Disc Golf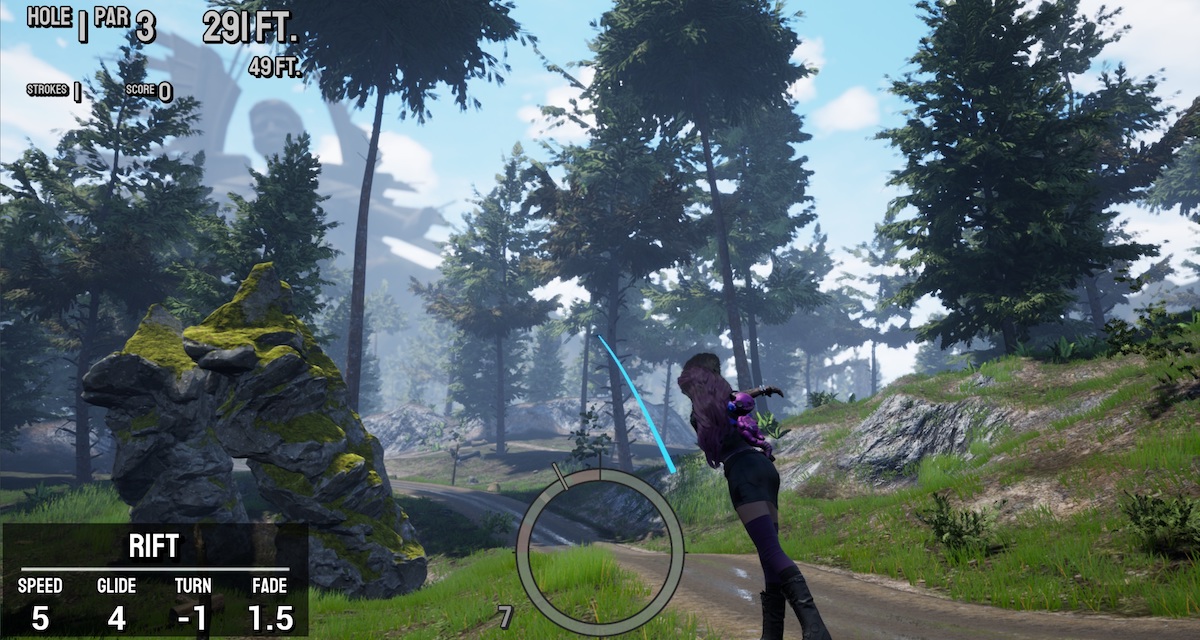 Robert Orlick went to a trade school for two years to learn how to create video games in 2007-2008, but for a decade afterward he did relatively little with what he'd learned. In May 2018 he decided to revive his old interest. He began taking tutorials offered by Unreal Engine, a program that aids in the development of electronic games.

"I started working through some tutorials and realized that I probably knew enough to make a disc golf game," Orlick said. "And there needed to be a good disc golf game."

Orlick's vision for the game from the start was, in his own words, "nebulous." He had the idea that gameplay should resemble popular ball golf video game franchises like Tiger Woods PGA Tour or Hot Shots, but mostly he let creative flow take over.

"I started making stuff and it just took form," Orlick said.

Orlick's seemingly laid-back attitude about the game's creation is deceptive, though. Despite also working a job at a video game retail store, he reported typically spending anywhere from 14 to 30 hours per week on the game, adding up to thousands of hours since he began.

After nearly two years of work, Orlick first released the game in its Early Access form on March 12. 

Perfect Round's courses are remote paradises of woods, mountains, and beaches. Despite the beautiful surroundings, the first thing many people will notice is that the characters all look and speak like they're out of fantasy RPG games. 

"Epic, the company that makes the Unreal Engine, had a game that failed, so they released all the characters and a bunch of assets for free," Orlick explained. "They were super high quality characters with voice acting lines. The voice acting really helped give the game some character and spice."
Though the characters are fantastical, gameplay is relatively straightforward. You can improve by using points accumulated from making birdies and eagles to enhance your character's abilities. You also grow your bag as you play more. Interestingly, all discs—and baskets—in the game are DGA models because Orlick recently took the gear manufacturer up on an offer to support his work.

As for the basic functions of gameplay, you can see an example throw in a clip from a round streamed live on the Disc Golf Comedy YouTube channel:


When we asked Orlick what he wanted people to feel as they played his game, he gave a simple answer.

"I want them to feel whatever they feel when they play disc golf—a little frustration cut by happiness and joy," Orlick said. 
How To Play

If you're interested in playing either of these games, here's what you should know:
Ultimate Disc Golf


What kind of system do I need?

This game will work with most modern computers running Windows 10. A 64-bit processor is the minimum requirement. There's no version for Macs currently.
Where can I purchase it?

On Steam. Click
here
.
How much does it cost?

Currently $9.99 U.S. (
€8.19)
Perfect Round Disc Golf


What kind of system do I need?

The requirements for this one are a little more in-depth and it's better to read them on the game's Steam page. Note, however, that this game is also only available on Windows.
Where can I purchase it?

On Steam. Click
here
.
How much does it cost?

Currently $19.99 U.S. (
€16.79)