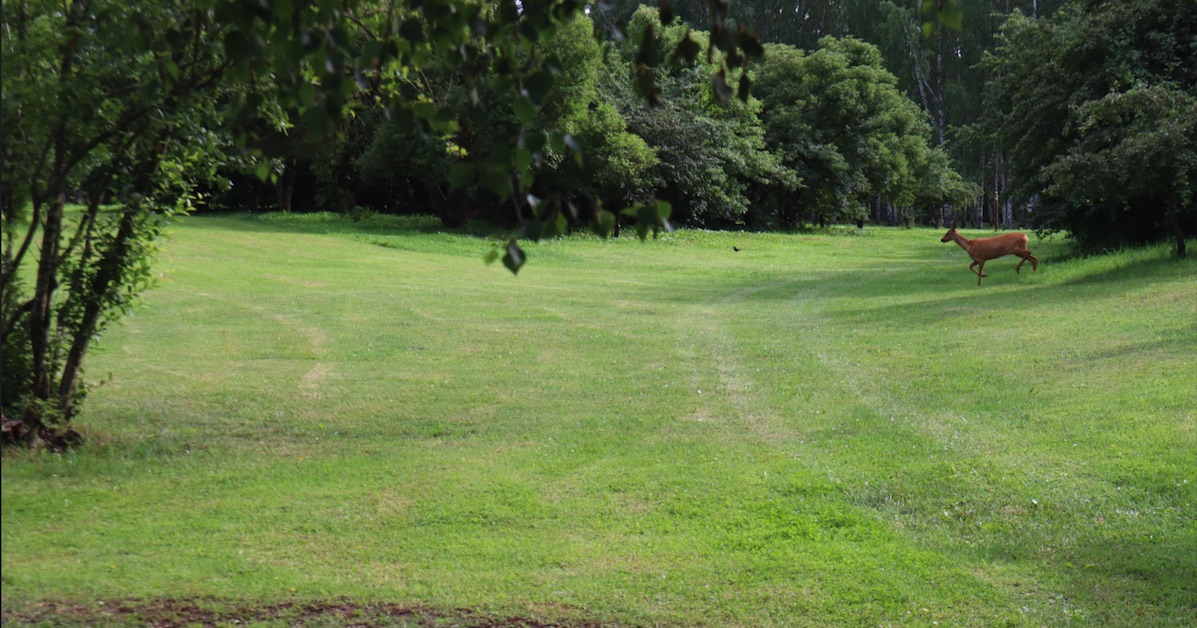 It was a warm day in late July, and we were sitting outside of the SiSi-Cafe waiting for Mats Löf, who needed to finish up some course maintenance duties before he could talk to us. We'd ordered a range of warm food—tabouleh, spring rolls, pastries—and didn't mind the downtime to eat it after having just finished not only a 27-hole round over often steep terrain, but also a quick lap on a short six-hole course meant for beginners. The wait also gave us time to observe our surroundings.

In a flat field of meticulously cared-for grass in front of a tree-covered hillside, people retrieved discs thrown from a giant, artificial turf-covered platform that served as a tee for practice drives. People came up the path from the parking lot, some carrying disc golf bags, others headed towards the cafe, and there were even couples there just to go for a walk. With so much life around, it was strange to think that this place was slated to soon become a home for the dead.

The place, of course, was Järva DiscGolfPark in Stockholm, Sweden, a vision Mats Löf and his brother Jonas had been building into reality for a quarter century. "We" were members of the UDisc staff who'd made a special trip to experience it and to learn as much as we could about it before it possibly disappeared.
Like us before we visited, many of you likely know the basic conflict of the Järva saga. Järva is one of the most revered disc golf courses in the world, but a few years ago, the Stockholm city government decided that the land where the course sat was needed for a cemetery. There's no room for the two to coexist with current cemetery plans, and on October 1, 2019, the city will take over the land1.
Admittedly, most any disc golfer would have a knee-jerk negative reaction to the idea of a great disc golf course being taken out for any reason. But the more details we learned about Järva and the circumstances surrounding its impending demise, the more it seemed to be an objectively questionable decision by Stockholm's city government on both practical and ethical grounds. Below we lay out those details by answering four main questions that get at the heart of the Järva controversy. And though it may seem suspect to objective readers that many of the points come from our conversation with Mats Löf and documents found on the the park's website, we also show how independent Swedish media coverage of the back-and-forth appears to confirm many of the claims made by both of those sources.
1. There's an important update about this date at the end of this article.
Does It Live Up To The Hype?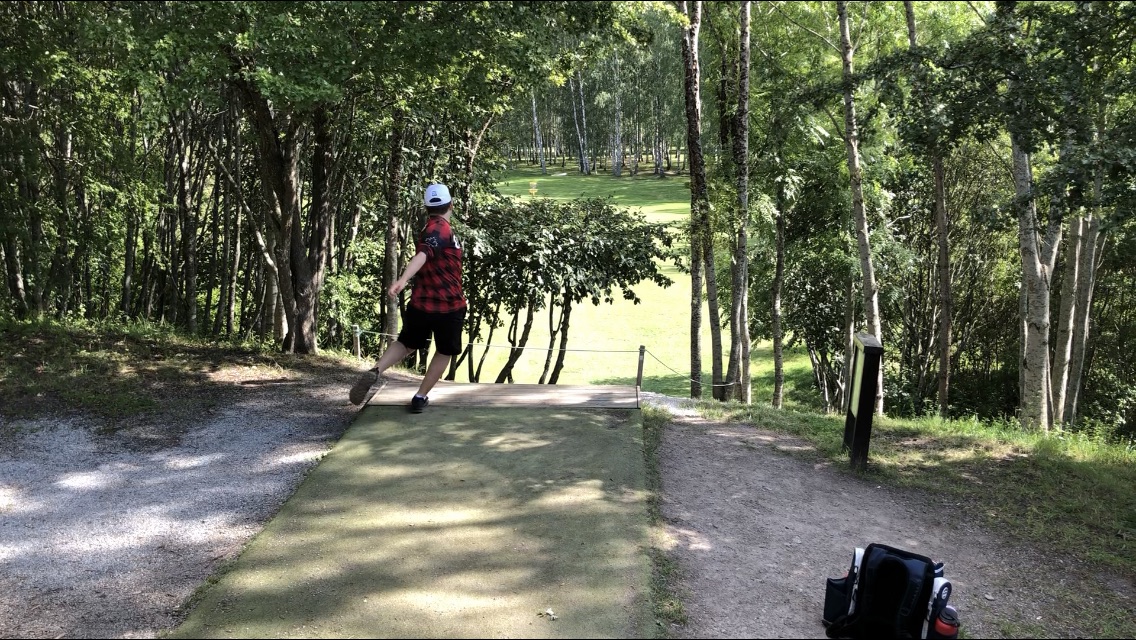 Probably one of the biggest questions people who have not experienced Järva personally have is whether the course is truly worth all the hoopla surrounding it. In the realm of circumstantial evidence, it immediately made the personal top fives of all the UDisc staff who played it on our trip there, and it is listed as the favorite course of Paul Ulibarri, Eric McCabe, and Eagle McMahon on their UDisc Live profiles.

More authoritatively, here are relevant stats from UDisc:

An average rating of 4.8 of 5 stars from over 1,500 user reviews

Over 1,200 perfect five-star ratings

It is the highest-rated course in Europe

For courses with over 200 reviews, it is the third-highest rated in the world
We also spoke with people who traveled there for the first time this year about if the course met their expectations. Rebecca Johnson and her son Noah Higgins of Canada made it a point to make the detour to Järva while traveling to the 2019 World Team Disc Golf Championships in Estonia and didn't come away disappointed.

"We knew this could be a once-in-a-lifetime experience for both of us," Johnson told us. "...What an amazing day we had, playing the 27-hole course, hanging out at the driving range and pro shop, and getting to know a few of the locals. The course is challenging and exquisitely beautiful, and we'll always have great memories from our journey."

It was the same for German Nathali Palencia.

"I've never felt more welcome as a disc golfer on a course than in Järva," said Palencia. "From the driving range, to the challenging holes and the tees so big you can get lost on them, to the café on the course, there's everything a disc golfer could wish for. Every tree and every blade of grass is designed for me and my wonderful hobby. Each fairway was created with love, and they were perfected through years of work and engagement—just for me...There are hardly words to describe it. You have to see it with your own eyes to understand."
Who Has The Right?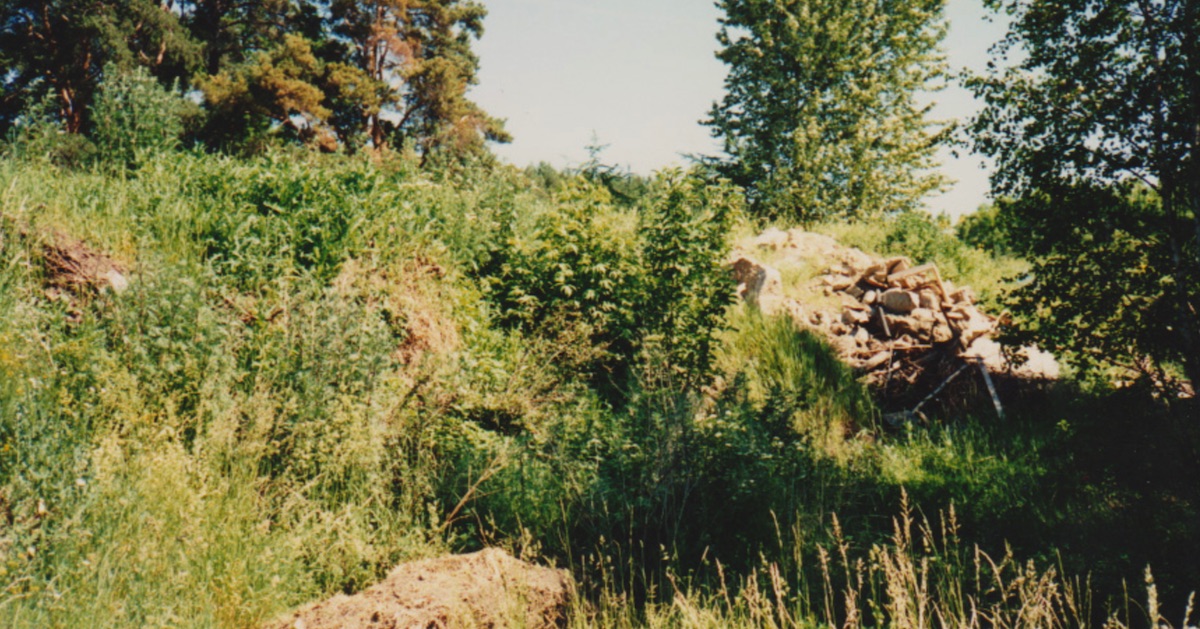 You might wonder exactly how Stockholm is able to simply take land used for a private business like Järva DiscGolfPark. The reason is that the park is built on city property, and the Löf brothers just had permission to run their business there free of charge until the city decided to take back the land for the cemetery. The city is well within their rights to take this action.

But even if the city is within its legal rights, there is some gray area from an ethical standpoint.

When the Löf brothers first took over the land, it was in need of a lot of work. Here's a quote from the original lease (translated from the Swedish) allowing the land to be used by the Löfs provided on the park's website:
"Today, the area...is perceived as untidy and mismanaged, which has made continued degradation of the area seem legitimate. A large circulation of building materials, a dumping site of about 1000m2, and a number of smaller unregulated dumping points in the area reinforce the area's filthy nature.

Another problem is the illegal traffic of motorcycles, mopeds and cars in the area. Illegal traffic is partly due to the fact that traffic roads are not sufficiently blocked and that the prohibition signs are missing or unclear. Illegal traffic has been able to continue relatively undisturbed as the area is not particularly well-frequented."
As the quote shows, the area was a rather seedy dumping area, and as the picture that leads this section displays, it was thickly overgrown. It took the trained eyes of the Löfs—Mats being a Landscape Designer and Jonas being a Landscape Architect—to see the potential the land truly had.
"When we started, the city thought it was very good," Mats Löf told us. "They saw it as a win-win situation. But I don't think they believed I would get out of it what I have, that it would be this great....If the community had built and run this park, I think they would have spent five million dollars [roughly 50 million Swedish Krona]."

So, yes, the Löfs created a business on land that was monetarily free. However, they put in uncountable hours of work that cost the city nothing to turn a literal dump into a professionally landscaped public park (you only pay to play disc golf, not to walk the property).

Up to now the biggest concessions Mats Löf seems to have received from the city government are verbal recognition for his hard work and offers for some sort of negotiation, according to a recent article from SVT (Sveriges Television, Sweden's national channel, equivalent to the BBC in the U.K.). As of publication, no agreement between the parties has been reached.
Is Järva DGP Really The Best Place For A Cemetery?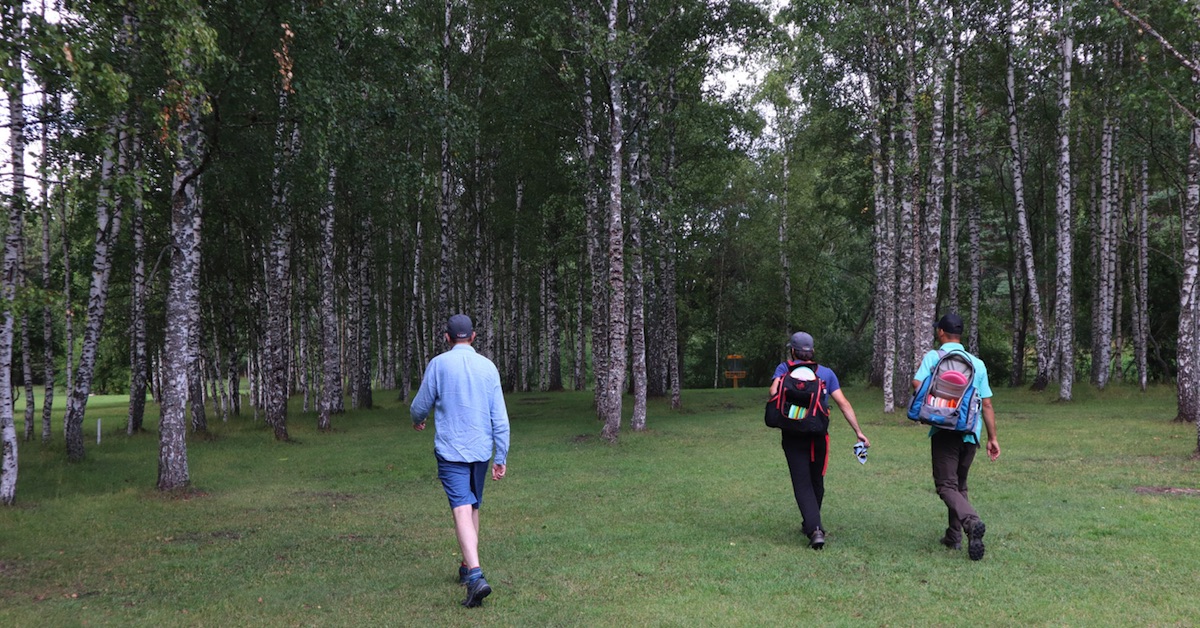 With the area's history as a dump, Mat Löf is extremely skeptical that it would make a good place for a cemetery. He talked about how the soil there is very unstable and the amount of work it would take to make planned roads and structures stable would be extremely strenuous, expensive, and hindered by the fact that excavations will likely run into debris like refrigerators or large concrete slabs from old highways.

"They told us that after their investigations they found out this was the best area," Löf told us, referring to when the city let him know their plans to build the cemetery. "We said, 'Show us the papers.' And the papers said it was a bad area!"

And while this is of course what a person in Löf's position would be likely to say, city officials don't seem to outright deny it.

"The location is not optimal but it is the best we can get," one member of parliament (MP) was quoted as saying in a 2018 SVT article.

It does seem fortuitous that the "not optimal" but "best" possible location for a new cemetery in the city happens to be an area of land that has been professionally landscaped for 25 years at no cost to the city. 
What's Lost And What's Gained?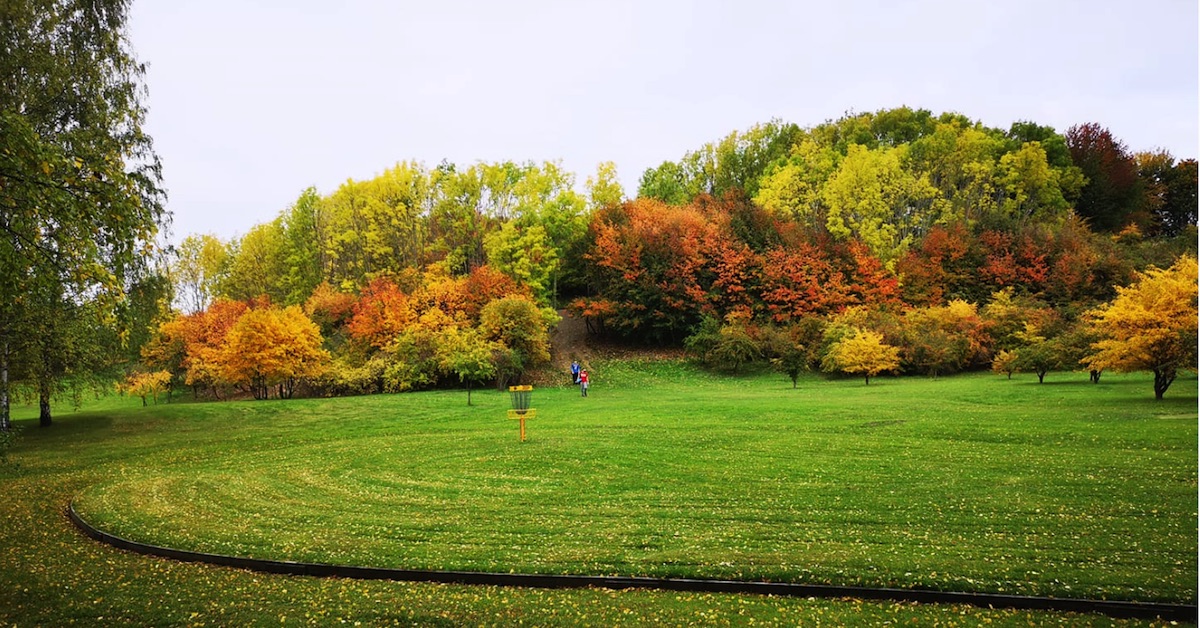 It's likely become clear throughout this piece what's at stake for disc golfers and Mats Löf. Players will lose a landmark course that has provided thousands with joy and inspired designers throughout Europe and the world. Löf will lose an artistic masterpiece that he's dedicated 25 years of his life to, creating a world-renowned destination and viable business in the process.

But there's also more that will go away. As mentioned before, the park is open to the public, and it provides an oasis of green built for humans to enjoy in an otherwise very urban section of Stockholm. It even won a prize for Park of the Year by Elmia Park Inspira in 2017, a competition open to parks of all sorts. Also, with people from five continents and over twenty countries having logged UDisc rounds at Järva, it's clearly bringing in international tourism to the city (notably, to an area of the city that would otherwise not be visited by most tourists). To emphasize that point, 20% of the over 6,500 scorecards logged in UDisc in 2019 at Järva were from foreign players.

What will be gained by the removal of Järva is another one that is easy to answer: a cemetery. The city is in need of a place for more graves, especially for those who are buried in coffins. The same MP quoted in the previous section was also cited as saying, "The cemetery will be a fantastic contribution to the Järva recreation area with an interesting and innovative architecture." This suggests that the government believes or is trying to convince the public to believe that the cemetery is a "contribution" to the area and won't rule out recreational activity there.

We'll leave you with one more loss/gain relationship to consider. Mats Löf says that about 20,000 rounds are paid for at Järva per year. What's the approximate amount of graves that will be gained by creating the new cemetery? According to the 2018 SVT article cited previously, that number is 20,000.
Update: January 2020
Though the threat to Järva is far from gone, construction on the graveyard did not begin in 2019. We contacted owner Mats Löf for comment, and here's his response from January 22, 2020:

"There is no indication that the cemetery administration can begin the destruction of the park. They have not even started a building permit application. It can take several years. We expect the whole park can stay for another season, but we are getting no answers. Responsible politician Dennis Wedin states in the media that Järva DGP is an important business unit in the area and that he will offer alternatives. However, I have not received any alternatives or answers to my emails."
*If you're interested in bringing attention to this issue, watch this video and sign this petition in support of the course's continued existence.