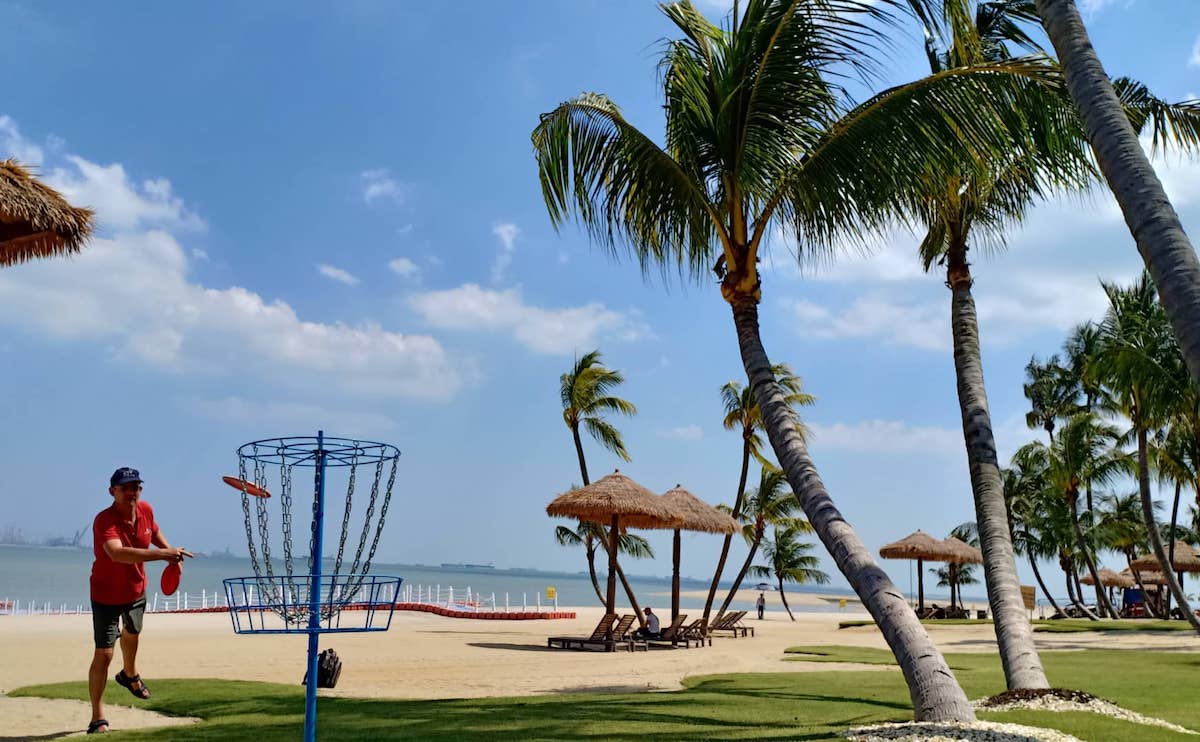 The speed at which disc golf in the Southeast Asian nation of Malaysia has grown is enough to make anyone exclaim, "Rendang1!" 
In around 13 months, the country has gone from being a disc golf desert to having seven courses—a rate of growth anyone familiar with the slow pace of Western bureaucracy will envy. Two of those courses are on resort properties, and both resorts took out ball golf courses to make the land exclusively for disc golf.
Other notable sums include the over 400 members of various disc golf clubs throughout the country and its 21 PDGA members number more than those in Italy, Ireland, and Portugal combined. Along with numerous local events, it's also already played host to two PDGA-sanctioned events this year with more likely to come.

A key catalyst in this growth is Eric Grover, a teacher originally from Ohio who moved to Malaysia in 2018. Talking with him, we learned how an unusually relaxed government stance on course construction, a population already highly involved in disc sports, and a generally high level of enthusiasm around growing the sport has led to the sudden takeoff of disc golf in the country. We also learned more about Grover's personal story and what bits of fate led him to settle in Malaysia and grow disc golf there.
Grover the Rover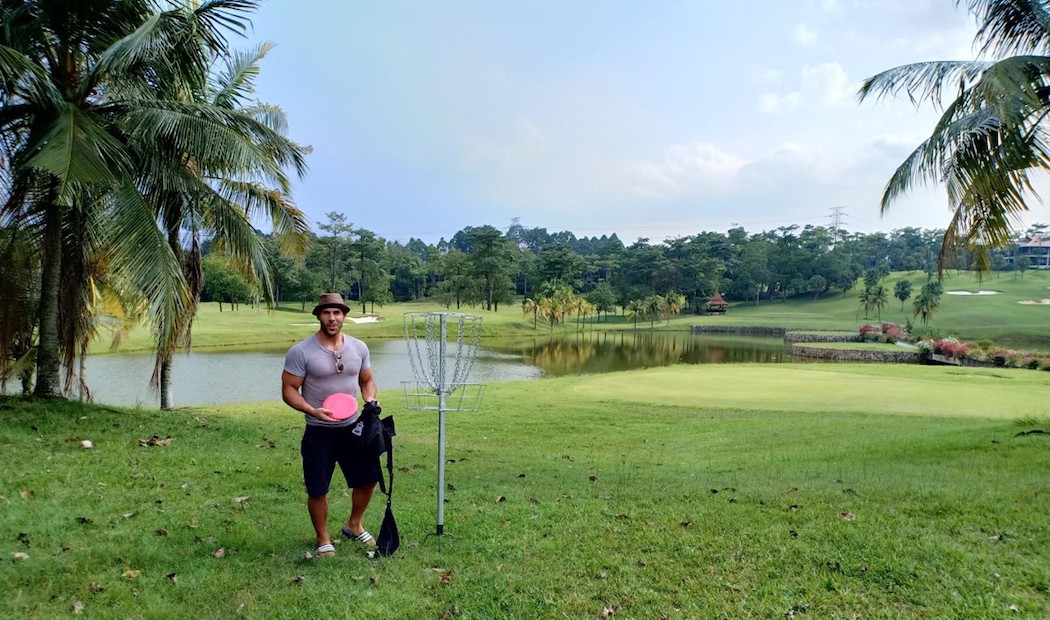 Though Grover has a bit of wanderlust and has lived in Japan, Taiwan, and China, if you want to be romantic, you could say that love brought him to the little corner of Asia he currently calls home. He met his Malaysian wife in the US while she was studying abroad (fun fact: their first date was a round of disc golf at Carter Park in Bowling Green, Ohio). After getting married, the two didn't go directly to her homeland, but spent a few years in Shanghai, China, where Grover taught in an international school.

"We were in Shanghai for four years," said Grover. "And once my contract was done, we had to decide if we were going back to the US, somewhere else in Asia, or wanted to give her home country a try. We ended up shooting over to Malaysia last year."

The two moved to her home city of Johor Bahru in southern Malaysia, just north of the border to Singapore. 
Launching Disc Golf in Malaysia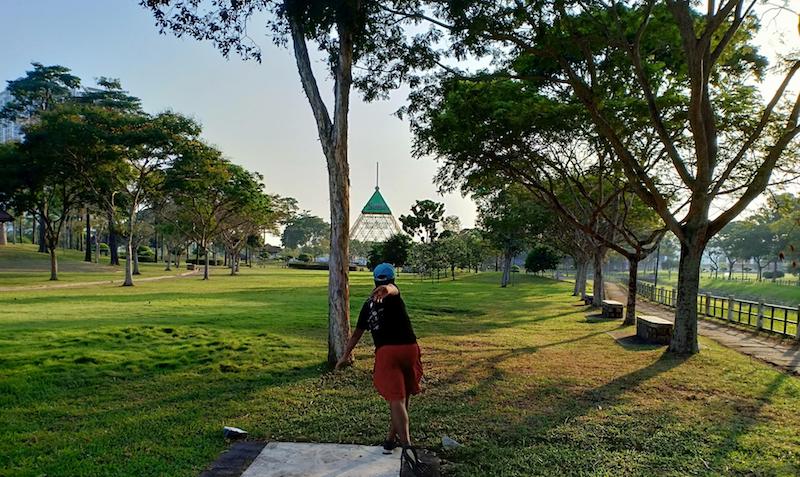 Despite having lived in various Asian nations for extended periods, Grover said Malaysia was a very new experience for him. Along with it being his first time living in a majority Muslim country, he said that the cultural norms and interests of Malaysians were far less westernized than those where he had previously lived.

While adapting to this new culture, Grover did what was natural and sought out something familiar.

"I'm not a great player, but I love disc golf and have been doing it for years," Grover said. "So I looked up disc golf and there was nothing, no disc golf whatsoever. I was a bit heartbroken."

Still, Grover saw potential for great disc golf in the area, a place with the same warm temperatures and 12 hours of daylight essentially every day of the year. Instead of accepting the disheartening status quo, he wanted to change it.

"I decided to try and start my own disc golf course, just to give me and my wife something to do," he said. "But I had no idea what it would turn into."
While trying to make this idea into a reality, the two discovered that food baskets that were a part of daily life in the area happened to be almost the exact dimensions of regulation PDGA targets. Using these, they created their own disc golf baskets and began setting up pop-up courses in parks.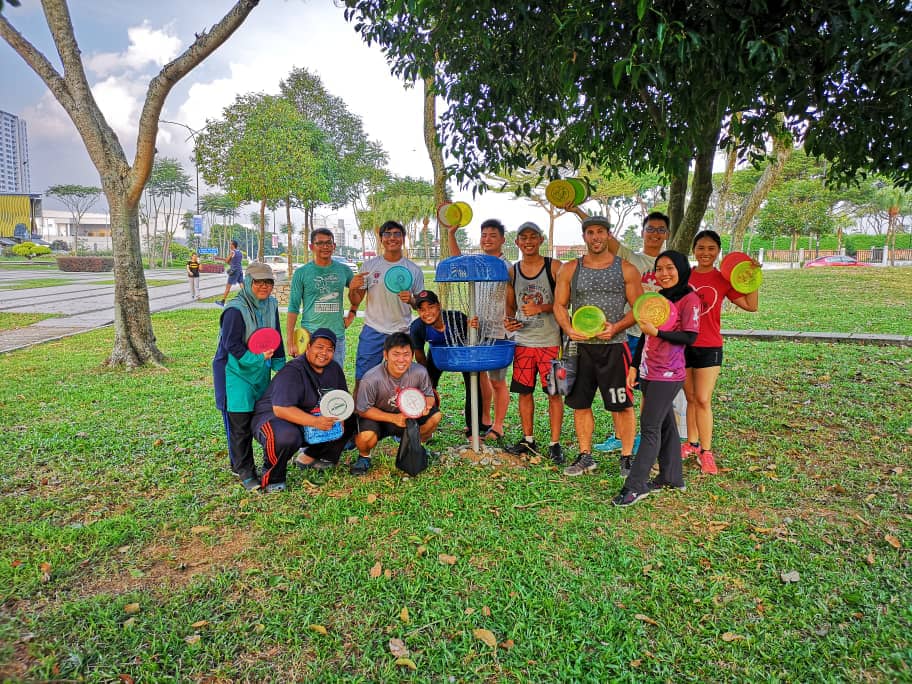 The two used social media to advertise when they would be playing, encouraging others to come. They also saw potential to attract people to disc golf at events focused around a disc sport already extremely popular in Malaysia.

"Ultimate frisbee is really big here, huge actually," explained Grover. "Every university here has teams, and once they finish university, they have semi-pro teams, and you see massive Ultimate events in parks all the time. So my wife and I built a portable basket and started going out to these events to try and introduce disc golf to these people, and it worked."

With techniques honed by years of Ultimate, players were quickly able to throw putters and mid-ranges much farther than your average beginners.

"They were throwing 300 feet from the get-go!" Grover remarked, a little envious. "The first time I threw a disc, it went backwards."
In just one month, the mixed efforts of social media campaigning and recruitment of Ultimate players made the pop-up events extremely popular. Grover and his wife knew that they'd hit on something that could be big and decided to take another step to help feed the growing disc golf fever.
Malaysia Boleh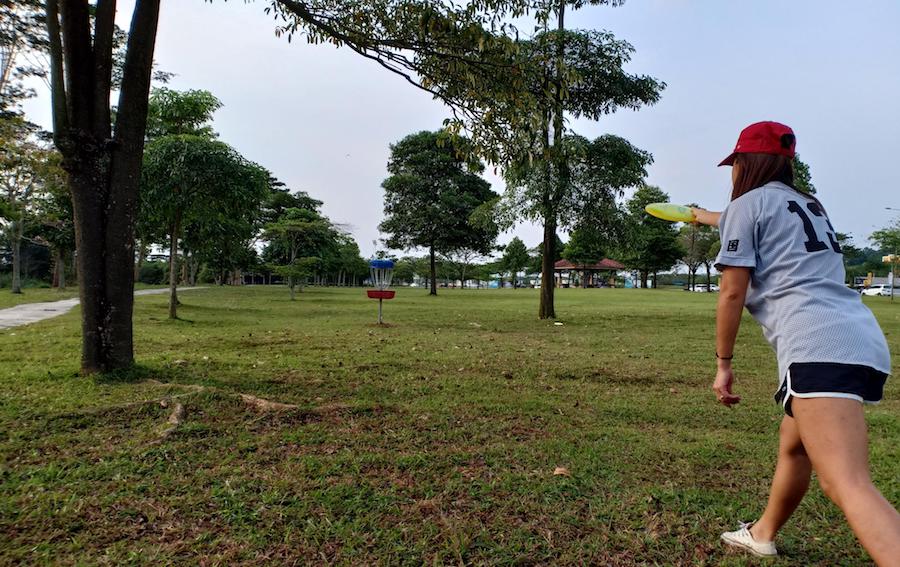 Like everything else in Malaysia's brief disc golf history, the installation of its first course happened with stunning rapidity. Buoyed by the strong attendance at pop-up events, Grover called the local government to ask about putting in a permanent disc golf course in a local park.

"They didn't say 'no,' but they didn't want to give any money towards it," he said. "They said, 'If you want to put something out there, no problem; our landscape people can cut around it.'"

Grover says this attitude is summed up in a common phrase in Malaysia, "Malaysia boleh." The phrase is often translated as something similar to, "in Malaysia, anything is possible" or "Malaysia can do it!"

"They're not sticklers here," Grover said. "People just don't really get in your way when you have a good idea."

Grover took the local authorities at their word, and the first disc golf course in Malaysia, Round-About Disc Golf Course in Bukit Indah, was ready for play in May 2018—just four months after Grover and his wife moved there.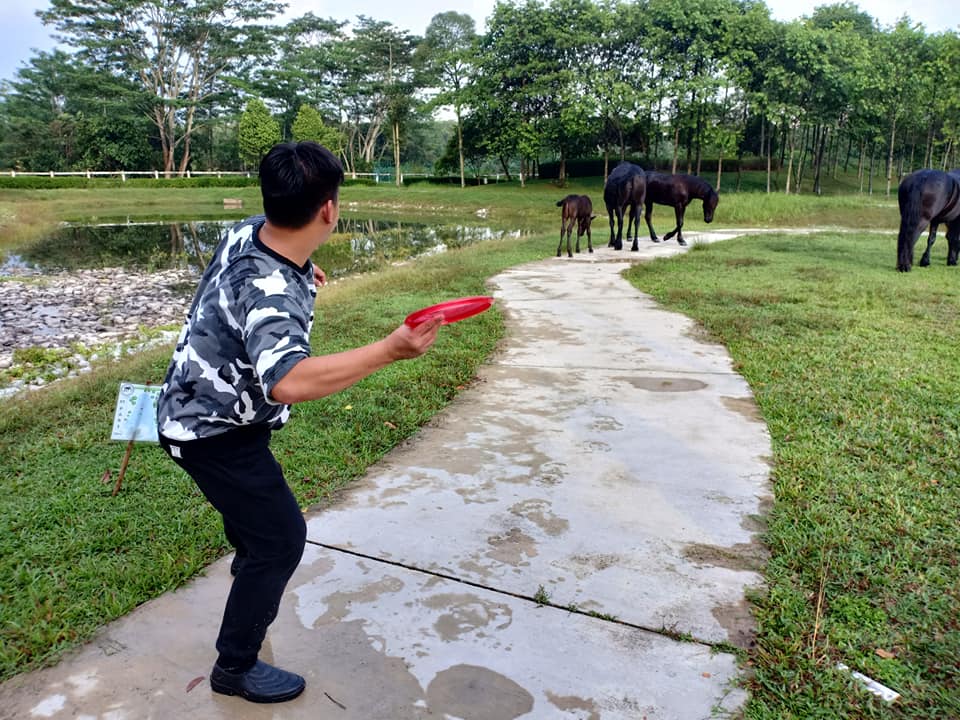 From there, course building and interest has only snowballed. A few months after Round-About was in the ground, the amount of traffic necessitated a second course—Pelangi Indah—being built, followed by a third—Riverside—two months after that. A fourth, longer course was installed at Bale' Equestrian and Country Club. Tournaments began to bring in players from Singapore and Thailand, and even some from Western countries like Canada and Estonia.

Seeing reports of these events and their international, co-ed, and all-ages appeal, Pulai Springs Resort in Grover's home area contacted Grover to talk about installing a disc golf course to replace a ball golf course. The success of that track caught the interest of a ball golf course in Malaysia's capital of Kuala Lumpur, and yet another course will be opening there later this month.

Along with massive amount of course-building, Malaysia also hosted its first-ever PDGA tournaments in February and April of this year.
Local Love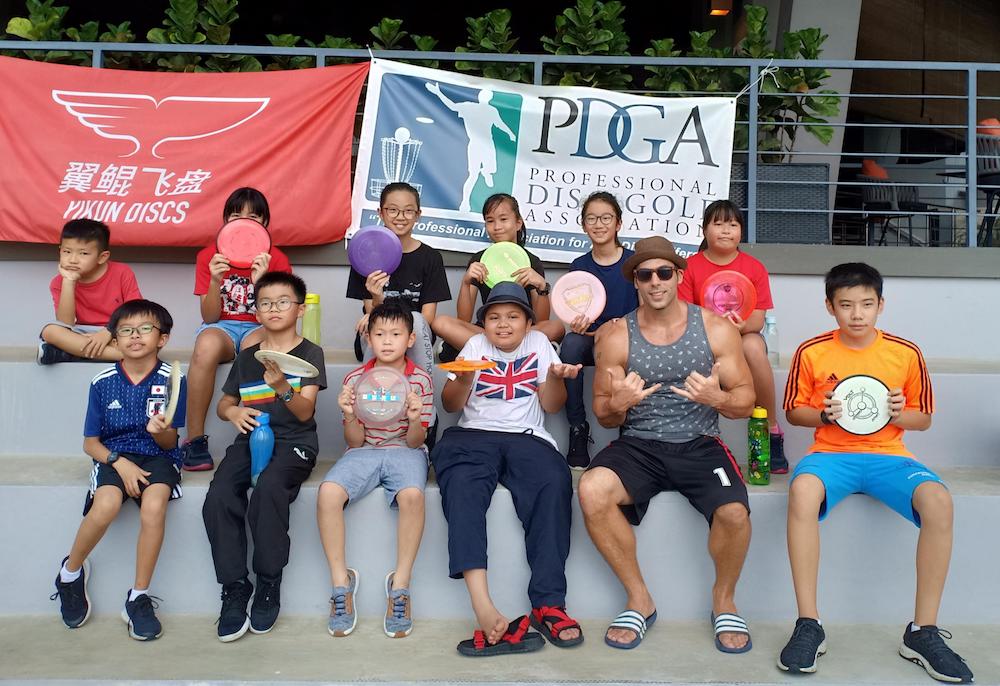 Malaysia is a disc golf success story that's growing more successful by the day. Sure, there seem to be certain special conditions that led to this success: agreeable local governments, a population primed for disc sports, and year-round playing conditions to name a few. However, Grover said he thinks the real key to the success is mainly one factor.

"From living abroad, I've seen disc golf springing up in a lot of different places," Grover said. "But I think they might be struggling because they're not getting the local people involved. Most places have a few ex-pats or foreigners who have played before and are excited to play again, but it's the local people who can draw in their friends and family."

This advice from Grover made us think it could be helpful for others looking to emulate the Malaysian disc golf boom to see why Malaysians were attracted to disc golf, so we asked Grover to see what local players loved most about the sport. We'll leave you with some of answers he found for us:

I play disc golf because the feeling of throwing something 300 feet away is amazing! 
-Mong Guo Ren

When Eric came to Malaysia and introduced disc golf to me, at first I just played along with him. It was like an addiction. I loved watching a frisbee fly for a long time. I used to play Ultimate frisbee for awhile, but this disc golf game is different. You are the only one who can lose or win. There is no other to blame.
-Lim WeMing, PDGA #115446

Sport with nature is the best part of disc golf until you hit a tree and roll OB.
-Redha Fahmi, PDGA #113258

Being close to nature and throw some flying discs, watching them glide through obstacles and land close to the target. Disc golf really suits [a person like] me who loves outdoor activity and is a physics teacher by profession. I really love this awesome sport and want more local kids to play, so I set up junior disc golf club in my hometown. Disc golf also make physics look more fun and not boring.
-Firdause PDGA #107375

I can play together with my children. It is an international game, and you can make a lot of friends.                                                                                           -Gan Yee Look
1. Rendang is a spicy stew popular in Malaysia and Southeast Asia.