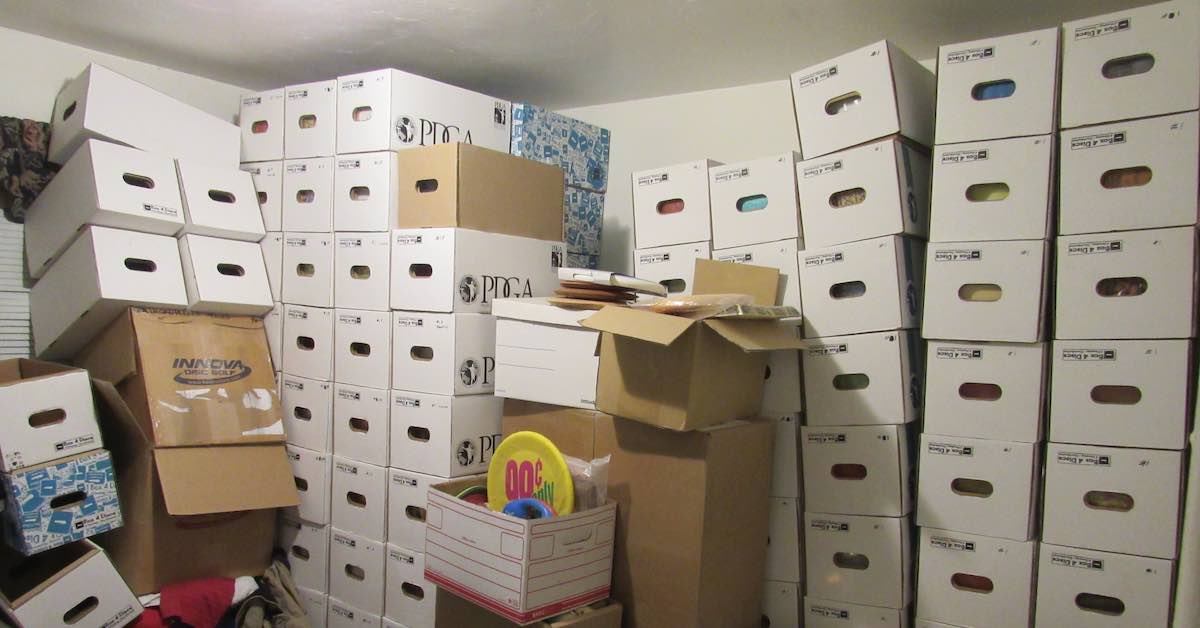 There's a house in Tucson, Arizona, that any disc golfer with even the slightest interest in disc history would love to visit. It's the place Jeff Homburg calls home and where he stores roughly 220 boxes full of discs. One hundred of those are full of his personal collection of flying discs (for disc golf and otherwise), and the other 120 contain two complete sets of every single model of disc the Professional Disc Golf Association (PDGA) has approved since 1989.

An anthropologist and archaeologist with a Ph.D. in soil science, Homburg has also served as the chair of the PDGA Technical Standards Working Group for more than three decades. Along with helping devise PDGA equipment standards, part of his work in that latter role has been assessing new discs companies develop to make sure they meet PDGA guidelines. After he tests the discs, he's free to do with them what he likes, and – just as you'd expect of an archaeologist – he's decided to keep them as artifacts of the sport's history and development.

When speaking with Homburg for our article "Why & How Discs Get PDGA Approved," it became clear that his experiences before and during his time as the person responsible for the PDGA disc approval process were interesting pieces of disc golf history in their own right. He's gone from leading a protest against disc standards to enforcing them, had "Steady" Ed Headrick (aka the "father of disc golf") threaten to sue him, approved the first-ever 3D printed discs, and plenty more.

Meet the man who has given the final nod to the disc models in nearly every disc golf bag in the world.
Becoming "Hummer Thumber" Homburg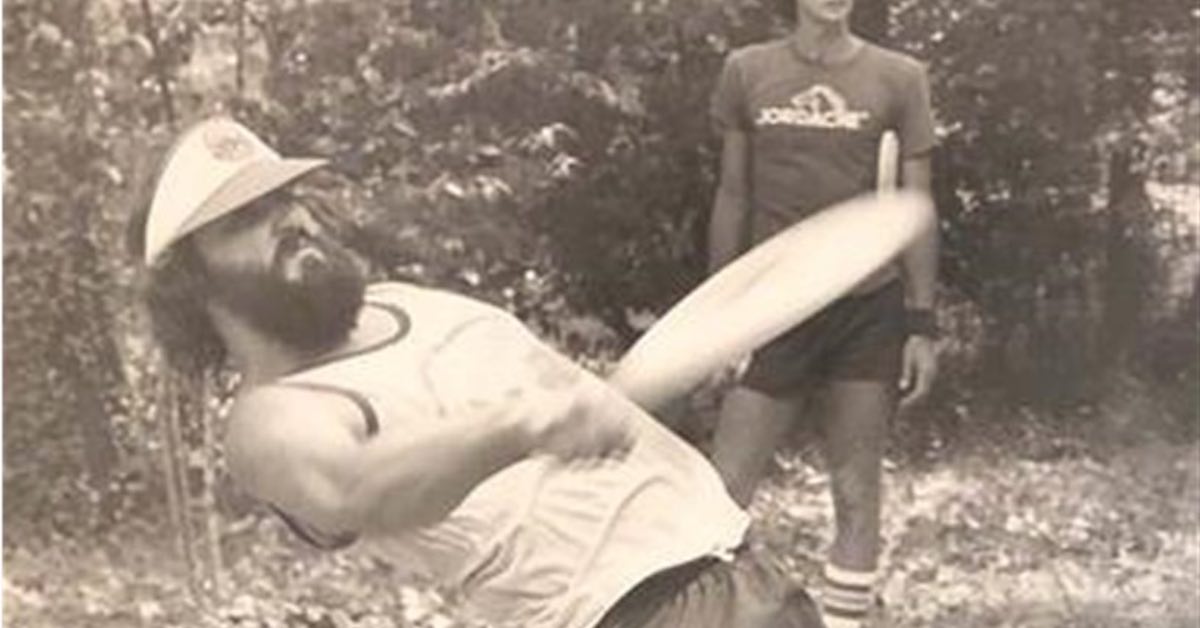 Homburg is originally from Oklahoma and got his first taste of disc golf in 1977 when he was 20, and it came with a healthy seasoning of success.

As his profile for the Oklahoma Disc Golf Hall of Fame explains, Homburg had been playing guts since he was 15 and started a club for disc sport enthusiasts while attending the University of Oklahoma. A club member, Jack Fouts, was directing the Oklahoma State Flying Disc Championships in 1977 and convinced Homburg to compete. Thanks in part to winning the distance and time aloft competitions, Homburg took victory in the overalls.

Though he'd never played before, he took second in the disc golf portion of the competition, too. A love for the sport was sparked and quickly grew.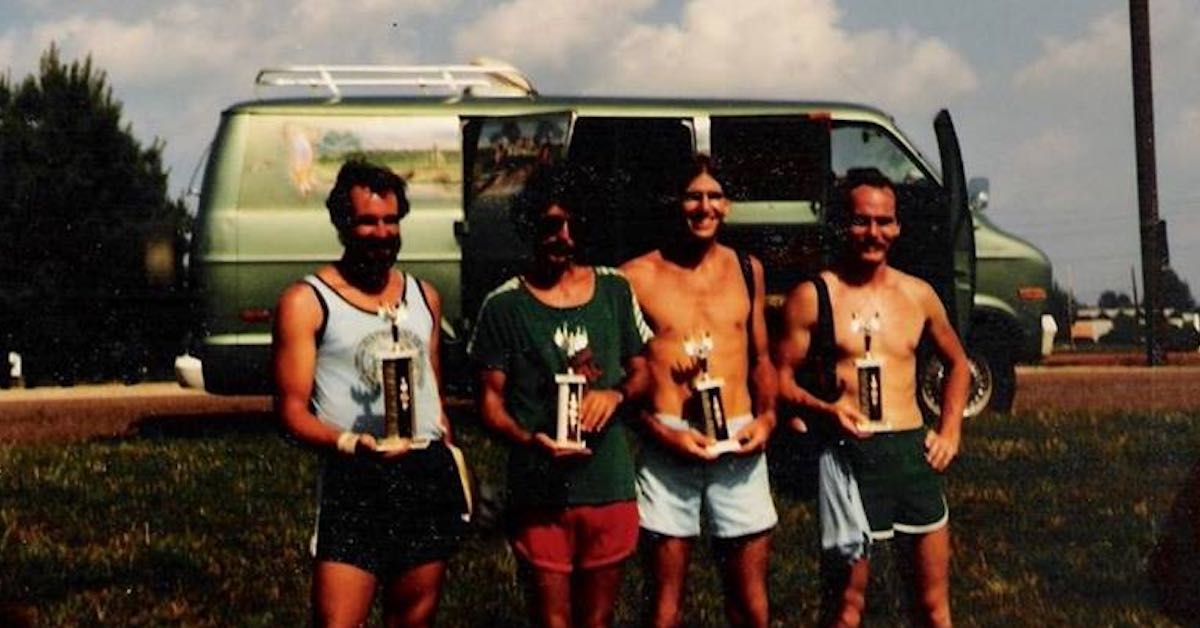 That same year, Homburg helped create Oklahoma's first disc golf course at Northeast Lions Park. It featured a set of the original Mach I "disc golf pole holes" designed by Headrick, making it one of less than 30 courses in the world at the time with baskets. Headrick even came to the park personally to advise on the course's final layout before it was installed

Homburg started playing disc golf before the emergence of the bevel-edged disc, which explains why his experience with Frisbee-like discs translated directly and quickly to disc golf success. He had big distance for the time and got it using a throwing method that has all but disappeared from disc golf.

"My first national distance contest was down in Dallas, and there were about 200 competitors," Homburg recalled. "I came in 11th throwing a Wham-O Super Pro 385 feet [117 meters] with a thumber – and by that I mean the real thumber, not the hook thumber people call thumbers now."

For an example of what a "real thumber" looks like, watch the clip below:



This prowess earned Homburg the nickname "Hummer Thumber," but he was much more than a big arm. Within five years of his first round, he won, respectively, two Central Regional (Arkansas, Kansas, Missouri, Nebraska, and Oklahoma) and Oklahoma State Championships as well a Southern National and Southeast Regional title. As his game developed, he found that he had the most success using very heavy discs: Ones weighing in at about 230 grams.

Not long after he started competing, that became a problem.
How a Standard Protester Turned Standard-Bearer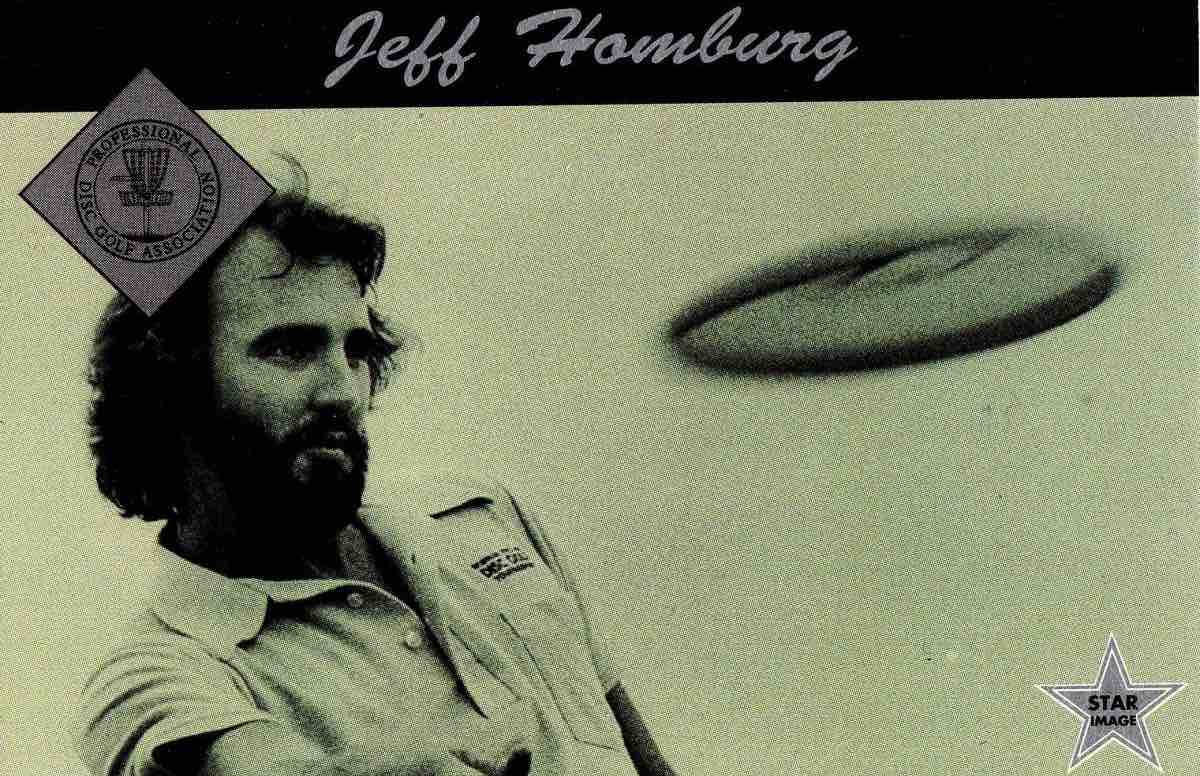 1983 brought a lot of big changes to disc golf. These included the release of the first bevel-edged disc and the PDGA allowing discs not made by Wham-O to be used in sanctioned play for the first time1. It was also the year when the PDGA began transitioning from being controlled by its founder, Headrick, to becoming the player-run organization it officially turned into in 1984.

But one other change that year affected Homburg more immediately than any other: The PDGA imposing weight limits on discs used during sanctioned play.

It had become a trend for disc makers to create heavier and heavier discs, finding plenty of people willing to snap them up for the novelty or to bag them as a source of pride. Some found this not only gimmicky but also a potential danger because the discs were being thrown in courses built in public parks. Hoping to curb the trend, the PDGA made a decision to disallow the use of discs that weighed over 200 grams at events it sanctioned.
For Homburg – who wasn't using heavy discs out of a macho pride but because they genuinely fit his game better – the rule significantly altered what he could accomplish on the course. It's not hard to understand why: Imagine that you had to go from throwing 170 gram to 140 gram discs in competition overnight. It seemed all the more unfair to Homburg that the new rule went into effect just three weeks before the start of the 1983 PDGA World Championships, where he said he would have been a favorite had the new rule not gone into effect.

Still, Homburg's style and its reliance on very heavy discs was an outlier, and most competitive disc golfers' games (especially those who favored backhand throws) weren't impacted greatly by the new rule.

"It wasn't a big concern for most of the players," said Homburg. "I mean, it was certainly an adjustment [for them], but it didn't affect many people to the degree it affected me. In fact, Ted Smethers, the first commissioner of the PDGA, told me it affected me more than any single top pro in the world at that time."

In response to the sudden rule change, Homburg boycotted the 1983 PDGA World Championships and didn't play any tournaments for two years. He also actively worked to eliminate the weight limit.

"I did start a petition and got a lot of people to sign it," said Homburg. "I sent it to the people in charge of technical standards...but I wasn't able to convince them they should allow the heavier discs."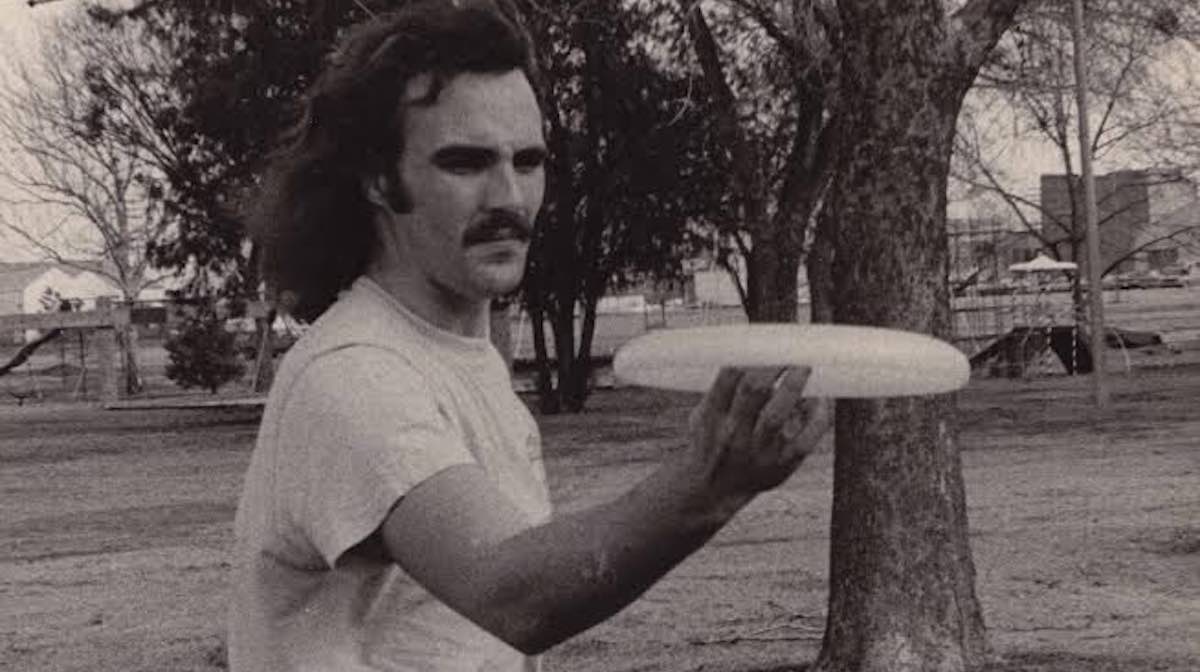 To make things even more difficult, Homburg's preferred throwing style didn't work well with the new bevel-edged discs. For most players, the innovation meant immediate gains in distance, but that wasn't the case for Homburg. He said during his time away from competition that he worked on his backhand and came back a "decent" player but never reached his previous heights.

Despite the conflict and setbacks, Homburg's love of disc golf and the disc golf community held strong. Strong enough for him to express interest when he saw a 1989 PDGA newsletter calling for people to serve on the Technical Standards Committee (now called the Technical Standards Working Group).

"I really didn't have a desire to be the chair of the committee, but they hadn't gotten anyone else interested," Homburg said.

Homburg's new role meant he assumed the duties of testing new discs and targets for adherence to PDGA regulations. He was also in charge of communicating failures and reasons for them to companies. In a big role reversal, he'd suddenly become the person imposing PDGA technical standards rather than protesting them.

The irony isn't lost on Homburg, but he said there's a rational explanation for the switch. He views discs as artifacts, and he enjoys analyzing and cataloguing their differences similarly to how he would if he were looking at a series of evolving tools from an ancient culture.

There's also the fact that disc sports have brought a lot of joy to his life, and he likes helping an organization that does so much for disc golf.

"It's just a way I can give back to the sport," Homburg said.
The Reluctant Disc Golf Policeman
Though Homburg enjoys seeing and assessing the discs sent to him for approval, he doesn't revel being the PDGA's point man for enforcing equipment standards.

"The job I hate most is being like the disc golf police," Homburg admitted. "I've had to contact companies at all levels that have produced discs that were out of compliance, and we've had to rein them back in sometimes. I wish somebody else would do it, but I guess it sort of goes with the job."
An early and dramatic example of Homburg executing this unpleasant task came when he had to confront Headrick, who you'll remember founded the PDGA and led it until it became player-run in 1984.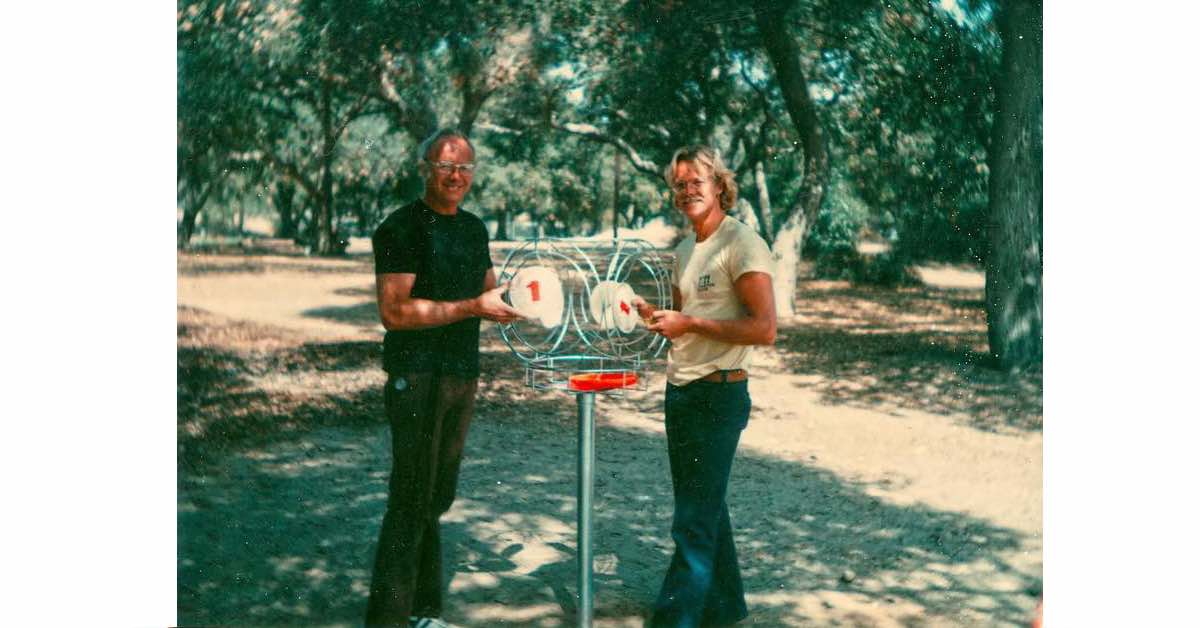 "Back when Ed [Headrick] ran things, basically anything he came out with was automatically approved because he was in control of the PDGA," Homburg explained. "It took me a few years to bring him into the fold. He kept releasing things that weren't approved."

This tension came to a head when, at the 1992 PDGA Amateur World Championships, Headrick was giving out versions of three Innova discs he'd significantly altered from their approved state and put a personal stamp on as part of the player's pack. He then learned at the tournament that none of those altered discs were legal for players to use.

"Ed gets back to [his home in] California, and he calls me up and asks me about this, and I tell him, 'Well, discs have to go through a formal process,'" Homburg said.

As they talked about the matter more, Homburg explained another reason Headrick's discs could be illegal in sanctioned play.

"I said, 'You know, Ed, that could be considered to be an intentionally modified disc, which is expressly forbidden in the standards,'" Homburg said. "Then Ed threatened to sue me and the PDGA. And I said, 'The minute you sue me is the minute I resign.' I had enough headaches in my paid job."

Headrick never sued, but the committee eventually decided to allow the discs in sanctioned play. Headrick didn't always win, however. Homburg said Headrick called about once a month trying to influence the technical standards and often didn't get his way. Still, Homburg thinks the father of disc golf ultimately respected the job he was doing.

"He realized that I had made it a lot more professional," Homburg said. "But I think it was kind of hard for him because it [the PDGA] was his baby and it was going a different direction from what he wanted."

Another interesting story is that of Homburg's self-designated "biggest mistake."

In 2006 and 2007, a company called Quest AT came out with some extremely unusual discs. One of those was a model called the Turbo Putt. Its rim looked like the teeth of a cog and its bottom featured a raised spiral. The disc was specifically designed to make a turbo putt easier.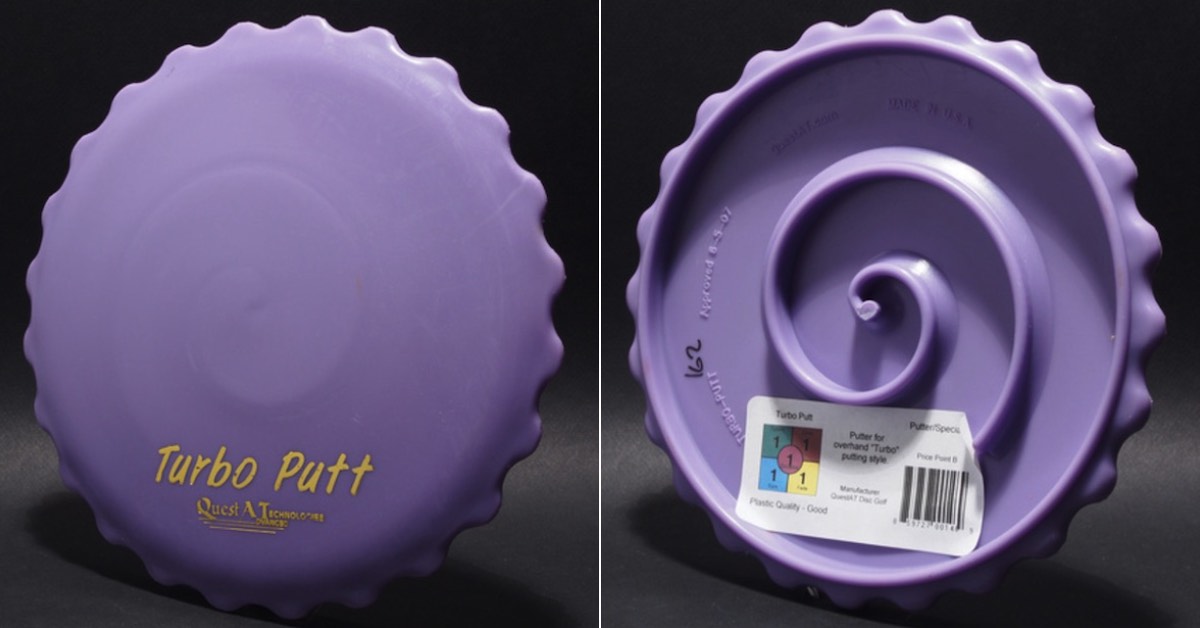 At the time, PDGA standards said discs had to be "circular," and Homburg said he found definitions of the word that the Turbo Putt fit. He still wasn't entirely sure he should approve the disc and asked for feedback from others in the PDGA, but he was simultaneously preparing for a multi-week archaeological trip and admittedly "a bit preoccupied preparing to leave town."

"Not an excuse, but that's what happened," Homburg said.

Ultimately, Homburg decided to approve the disc before he left on the trip

The decision faced quick backlash. Some worried allowing such unorthodox designs would open the door to the primary tools of disc golf becoming less and less like discs. There was also the concern they could make the sport easier to ridicule.

"I was willing to allow it, but there were a lot of people who thought differently," Homburg said. "I probably should have given that more thought."

Under pressure, Homburg and the PDGA announced that they would be rescinding the Turbo Putt's approval, making it one of just two discs in history to be removed from the approved list (see the Destiny/Dynamic Disc entry in our "Guide To Defunct Disc Golf Disc Brands" to learn what the other was).
Documenting History & Looking to the Future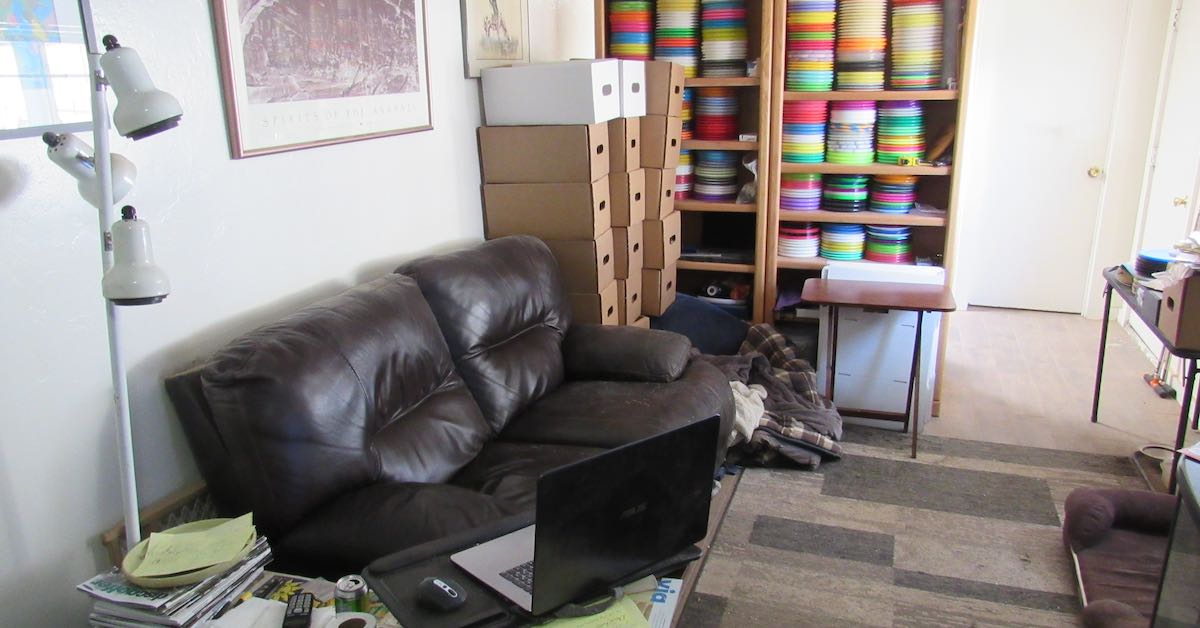 Even if there have been stressful times, Homburg hasn't let them overshadow the general pleasure he gets from having a front row seat to disc evolution. He also likes being in a unique position to save and document each disc he assesses for future generations.

Since Homburg receives multiples of each disc model, he not only has his own collection but has created one for the PDGA, too. He has hopes that they can be properly displayed one day.

"Ideally, it'd be nice someday to have them in a museum...whenever we get to that point in the sport," Homburg said. "I think it's going to take someone with a lot of money who wants to see a museum built and is willing to spend the millions of dollars it might take to do that."

Though that dream may take some time to be realized, Homburg and his wife have already undertaken a huge project to help players get a glimpse at the wide variety of discs he's seen. They've photographed every disc model that he has ever assessed since 1989, which Homburg estimates has taken roughly 700 hours. Thanks to those efforts, photos of almost every approved disc2 are now online in a searchable list on the PDGA's website.

Homburg is on the lookout for someone with a 3D scanner who'd be willing to help digitally catalogue the collection in even further detail.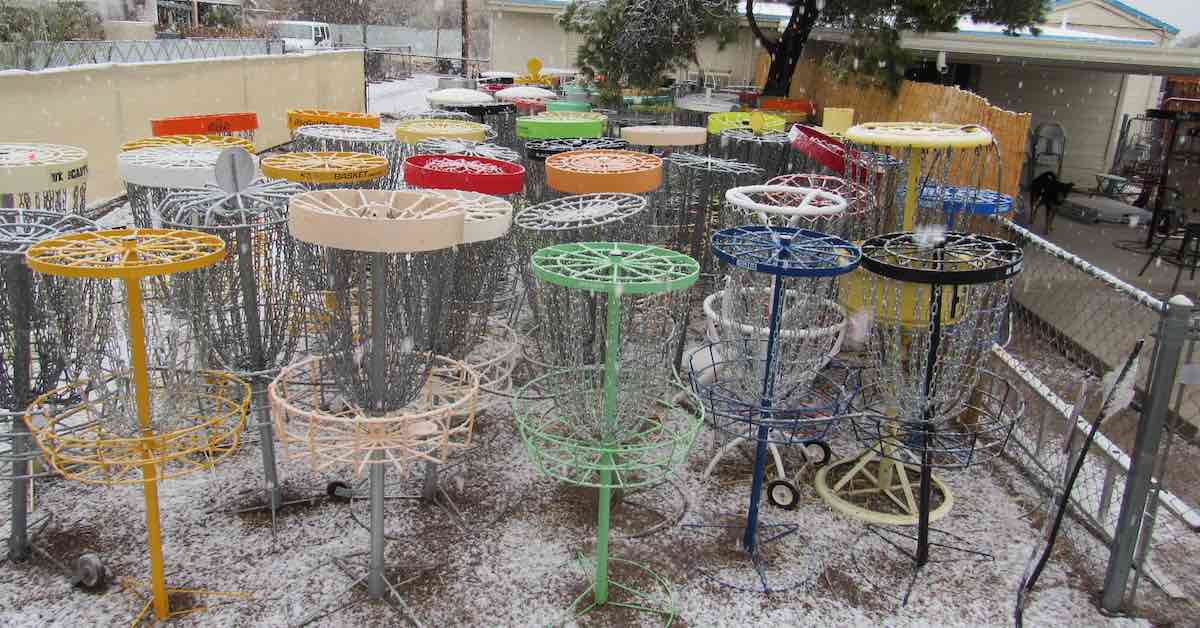 Along with this passion for preserving the past, Homburg has excitement for the future. For example, when we spoke, he'd just approved discs made by a 3D printer for the first time and seemed very intrigued by the possibilities that process allows for. He's also been thrilled to see an uptick in approval requests from companies outside the United States, which is a sure sign the sport is on the rise.

The mixture of a love for history and interest in change and innovation is likely what has made Homburg so well-suited to his role with the PDGA. He's willing to find a balance when devising standards between respecting tradition while allowing for an extent of experimentation. But no matter his suitability for the job, he never believed he'd have it for so long. 

"Basically I got talked into taking this over...and I'm still here doing it," Homburg said. "I certainly didn't think I would be doing it 32 years later."

It's been three decades of doing work well under the radar of most disc golfers. But the next time you go to your local disc golf shop or check out an online dealer's offerings, it could be a little awe-inspiring to think about how Homburg's work has helped shape almost every disc you'll find.

1. Check out the 'Seeds of Change Sown at First Disc Golf World Championships' section of this brief PDGA history to learn why only Wham-O discs were allowed in PDGA-sanctioned competition the first seven years the organization existed.

2. Photos of every disc Homburg has approved exist, but some of the files are corrupted. The photos will be taken again when Homburg's wife has time.