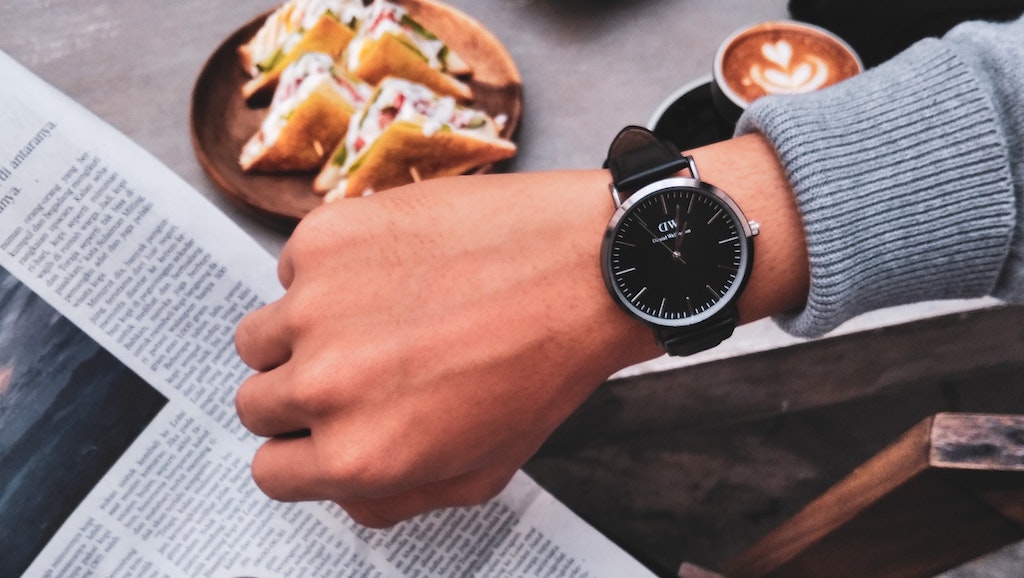 Some of my favorite times disc golfing have been when I arrived at the course alone and left having played a round with some new friends. But there are also times when I go out hoping to have the place to myself—no wait times and no large groups to slow my pace or negotiate play-throughs.
This got me thinking about if UDisc data could help me figure out how to hack the week. I wanted to find out when traffic was likely to be at its lightest for those rounds when time is tight or you have a new player along whom you'd like to teach in a relaxed environment.
Then, once I started on the data, I thought I'd see if a look at the whole year would yield anything of note. Perhaps the best time to plan a disc golf vacation?
I also got interested in whether the same trends would be visible in every disc golf community.
To get an idea about all these variables, I picked two areas to compare that were vastly different in geographic location and weather but very alike in the high number of rounds logged by their inhabitants: Texas and Finland.
The Weekly Planner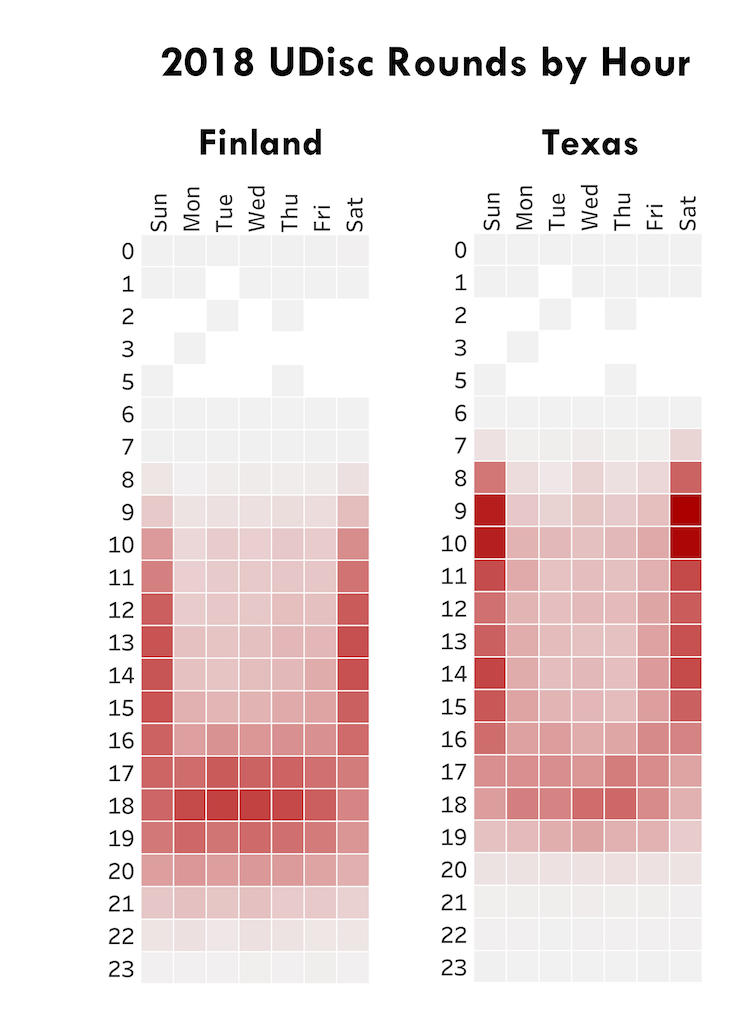 Weekends
As you'd expect, Saturday and Sunday are the busiest days of the week in both places, but only in Texas are the majority of rounds played on the weekends.
Also, Texans are relatively early birds, with rounds peaking at 9am and 10am on Saturday and Sunday. By 4pm, though, only half as many Texans are playing as during the peak hours.
With quite a few months without much light in the mornings, it's no surprise that rounds on the whole start a bit later in Finland. The peak time there is 1pm on weekends, with the action dying down by half around 8pm.

Interestingly, the traffic diminishes at similar rates in these areas; you'll notice that in both it takes around seven hours for the peak traffic to be reduced by half on weekends.
Weekdays and Nights
The first thing I noticed in these stats will come as a surprise to approximately no one: neither Finns nor Texans are raring to go on Monday mornings (though by Wednesday, numbers heat up in both places).
For Texas, the most interesting trend is something I'm calling the "pigskin decline."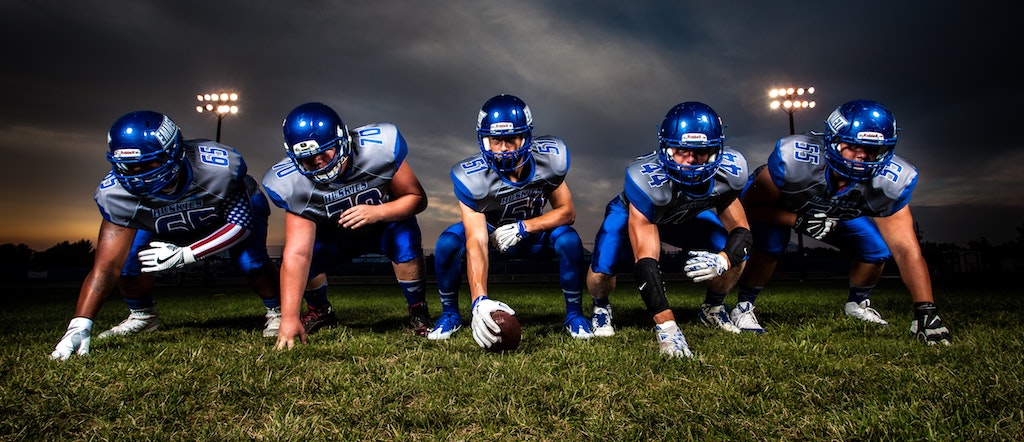 Tuesday at 8am is the thinnest morning of the week for the state, which I'm guessing could be the aftermath of Monday Night Football. Football could also explain dips in Thursday and Friday afternoon rounds during the Friday (and sometimes, at least for the JV squad, Thursday) Night Lights of high school football season in Texas.
Though I was well aware that Finland can have up to 24 hours of sunlight in some areas during the summer, I still got a kick out of seeing just how big the difference in the two areas could be. From 10pm to midnight in the right season, you will find anywhere from 4 to 10 times as many night owl golfers on the course in Finland as you will at the same times in Texas.
Finland is also different in how, though more people play at once on weekends, they tally up the majority of their overall rounds during the week. Two-thirds of all 2018 rounds logged in Finland were played between Monday and Friday (see Figure 3 near the end of this piece).
The Annual Report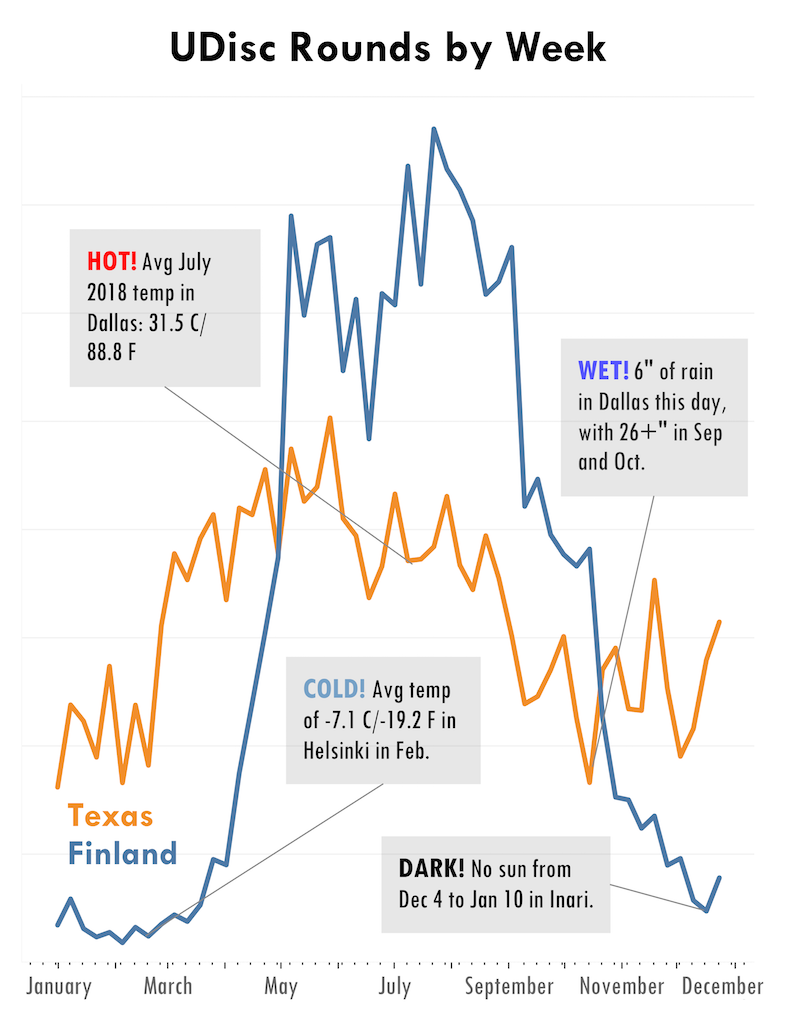 I have to be honest and say a lot of the yearly data simply proved what I would've guessed intuitively:
Golfers across the world play more as it warms and daylight expands in the spring.
Texans take advantage of their mild winters while the extreme cold and dark keeps most Finns off the course.
Finns take advantage of mild summers while Texans largely prefer to avoid the risk of heat stroke.
Still, I thought I'd found gems in Texas' least-golfed months for 2018: February and October. Could they be the perfect times for some beautiful, unexpectedly peaceful golf?
Alas, it turns out that in 2018, these were months of serious rain, with more than ten inches each month in February, September, and October in both the Dallas-Fort Worth (#10 on UDisc's list of Best Disc Golf Cities—USA) and Austin-San Antonio areas, the biggest disc golf locales in the state. A Texan myself, I recalled that in October I had actually lost a disc in a muddy puddle that appeared in a usually dry fairway. In my defense, this puddle spanned 120 feet (36.5 meters) in diameter.
Finally, the way the Finland graph tracks the available daylight is likely no surprise to Finnish readers. However, I did find it fascinating how this might disproportionally affect the Finnish after-work game. In Helsinki it takes until the second week in February before the sun starts to set after 5pm. The six northernmost courses in Finland, which experience a month of zero daylight in winter during typically subzero temps, only have rounds logged from the end of May to the beginning of October. I can't judge anyone for that!
So When Should I Play Disc Golf?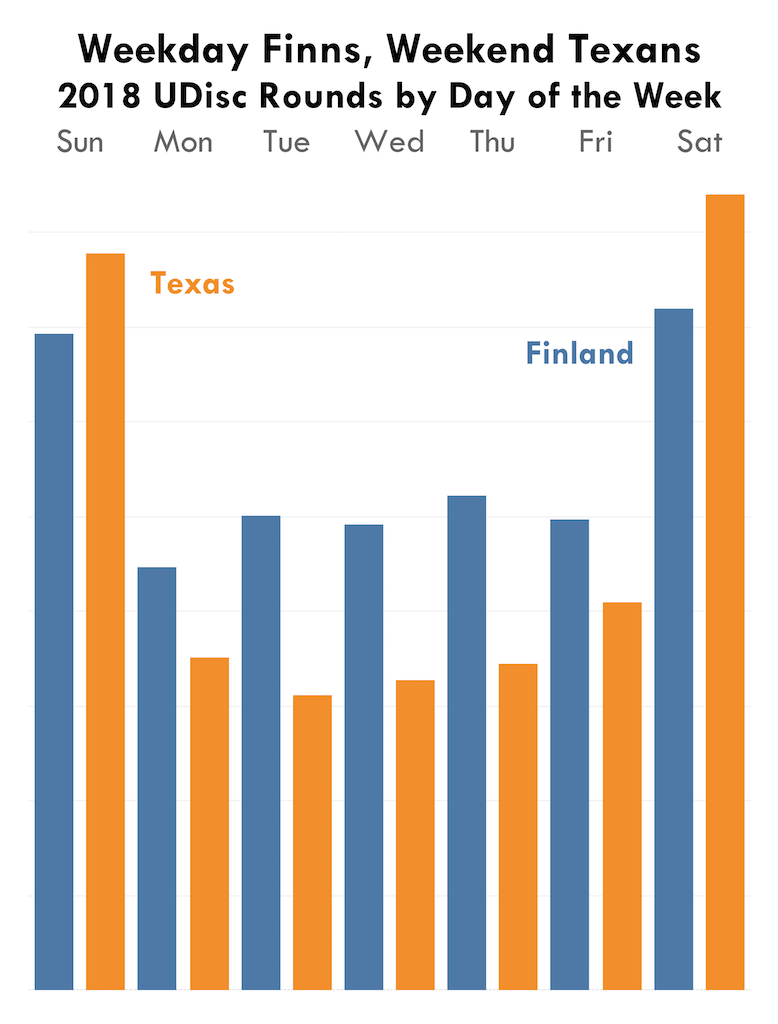 Generally, the data showed what you probably already suspected; quiet rounds on warm, sunny afternoons or mid to late mornings on weekends aren't likely to happen.
Still, there are a few takeaways for both areas:
Texas: Look to the afternoons in winter and set the alarm for early bird rounds in summer.
Finland: Try out very early or very late (weekday or weekend) during seasons when that means daylight.
In the end, I absolutely loved seeing this tiny snapshot of these disc golf communities and how they adapt to their conditions. I don't know about you, but I see a few empty spots on the times of the day heat table that might have my name on them.
One of these days, 3am on a Tuesday, I'm coming for ya!