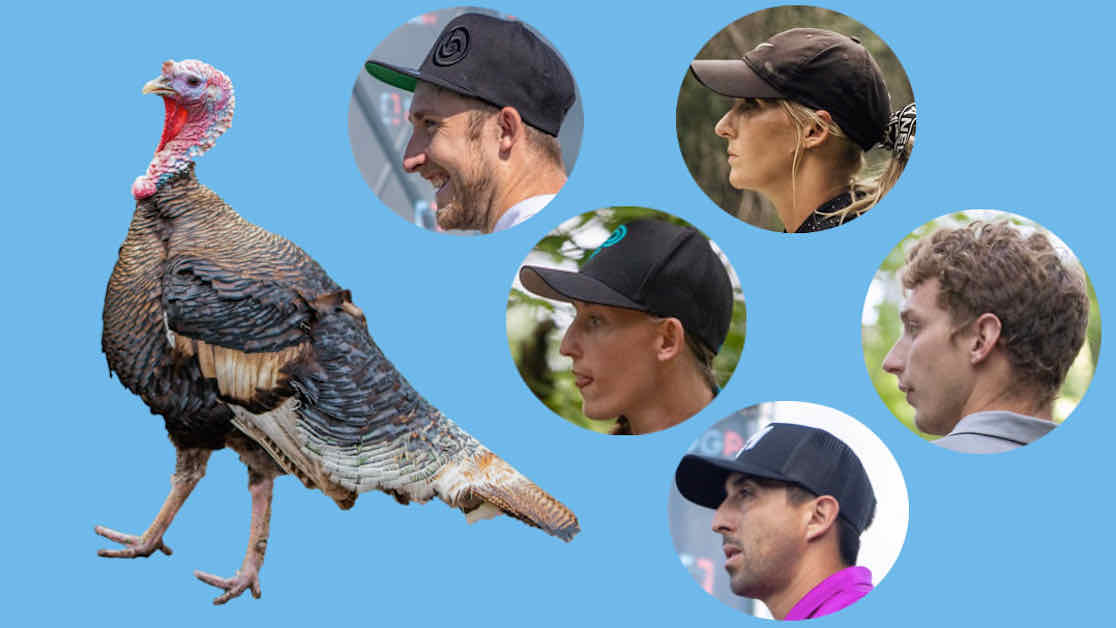 We've cooked up a special treat for you this Thanksgiving!

Made from scratch with only the very best statistical ingredients, we're serving up the MPO and FPO players who made 2021's top 10 for most turkeys on UDisc Live.
What's a Turkey in Disc Golf?
Whenever a player gets three consecutive birdies during a single round, it's called a "turkey."

To get the stats you'll see below, we had to set a few parameters for "turkey." Here's what they were:
The turkey counts could actually include up to five consecutive birdies (what we like to call "turkeys with stuffing").
Any consecutive birdie total that was a multiple of three counted as a separate turkey, i.e. six consecutive birdies was two turkeys, nine consecutive was three.
We included eagles in turkey streaks, but any par broke the streak. So, for example, eagle + birdie + birdie was a turkey, but eagle + par + birdie was not.
Turkeys had to be done within one round, so finishing a round with two birdies and starting the next day with a birdie didn't count as a turkey.
The Most Turkeys in Pro Disc Golf 2021: MPO
Let's get right down to gobbling the meat of this piece. Here are the MPO competitors who had the least interest in pardoning turkeys in 2021:

Swipe left to see the full table on mobile.
An extra turkey-related superlative is that Chris Dickerson had the most turkeys in one round. During round two of the Dynamic Discs Open, he carded 12 straight birdies, giving him four consecutive turkeys by our reckoning. We call for an official vote on calling him Robot Turkey now.

*Tofurkey count
The Most Turkeys in Pro Disc Golf 2021: FPO
These were the FPO competitors who loved "fowl" play the most last season:

Swipe left to see the full table on mobile.
Looking for Seconds of Superlatives?
That's not the end of this gravy train. If you'd like to see more of which pros did it best and most in 2021, check out our post "2021 Pro Superlatives: Best Putters, Highest Birdie Rates, & More."