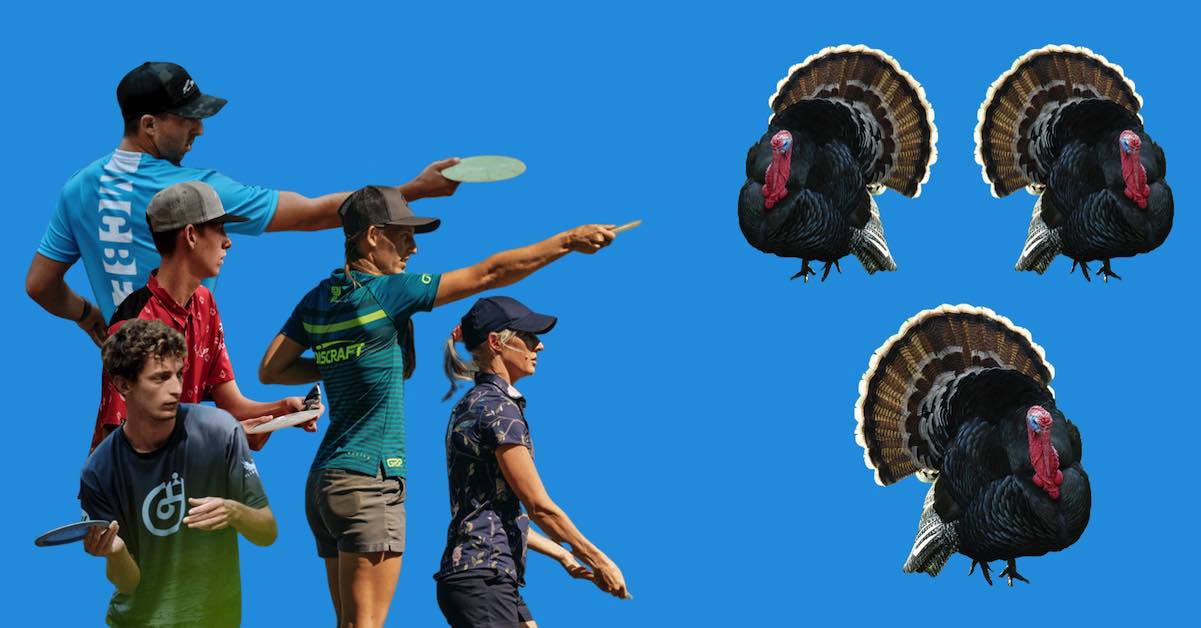 You liked it so much last year, we're making it an annual tradition. It's Thanksgiving, AKA Turkey Day, and it's time to find out which pros got the most turkeys at top-tier tournaments tracked with UDisc Live in 2022.
What's a Turkey in Disc Golf?
Whenever a player gets three consecutive birdies during a single round, it's called a "turkey."

To get the stats you'll see below, we had to set a few parameters for "turkey." Here's what they were:
The turkey counts could actually include up to five consecutive birdies (what we like to call "turkeys with stuffing").
Any consecutive birdie total that was a multiple of three counted as a separate turkey, i.e. six consecutive birdies was two turkeys, nine consecutive was three.
We included eagles in turkey streaks, but any par broke the streak. So, for example, eagle + birdie + birdie was a turkey, but eagle + par + birdie was not.
Turkeys had to be done within one round, so finishing a round with two birdies and starting the next day with a birdie didn't count as a turkey.
Top 10 Turkey Tallies: FPO Disc Golf 2022
Looks like Cat was out for the big birds in 2022.
Top 10 Turkey Tallies: MPO Disc Golf 2022
McBeth was the only player hungry enough to get more than one portion of poultry per round last season.
*Do disc golfing vegans get tofurkeys?
More of the Best Disc Golf Stats from 2022
Turkeys are typically a main dish, but at a UDisc Thanksgiving, they're just a scrumptious side. Check out some of the real entrees from our 2022 stat breakdowns: