First things first. The country with the most courses per capita is...

...not the United States. 

In fact, number one is likely to surprise many and may feel to natives of the lucky land a little like its underdog triumphs in a certain soccer tournament back in 2016. We reveal that top country and all the others on its heels in the sections below.

If you're interested to know the per capita stats for individual U.S. states, you can find those here.
Where'd the Course Numbers Come From?
The course totals for each country are based on courses disc golfers have entered into UDisc's course directory. You can search this extensive directory either on UDisc's Courses website or in the UDisc app.
Who's #1?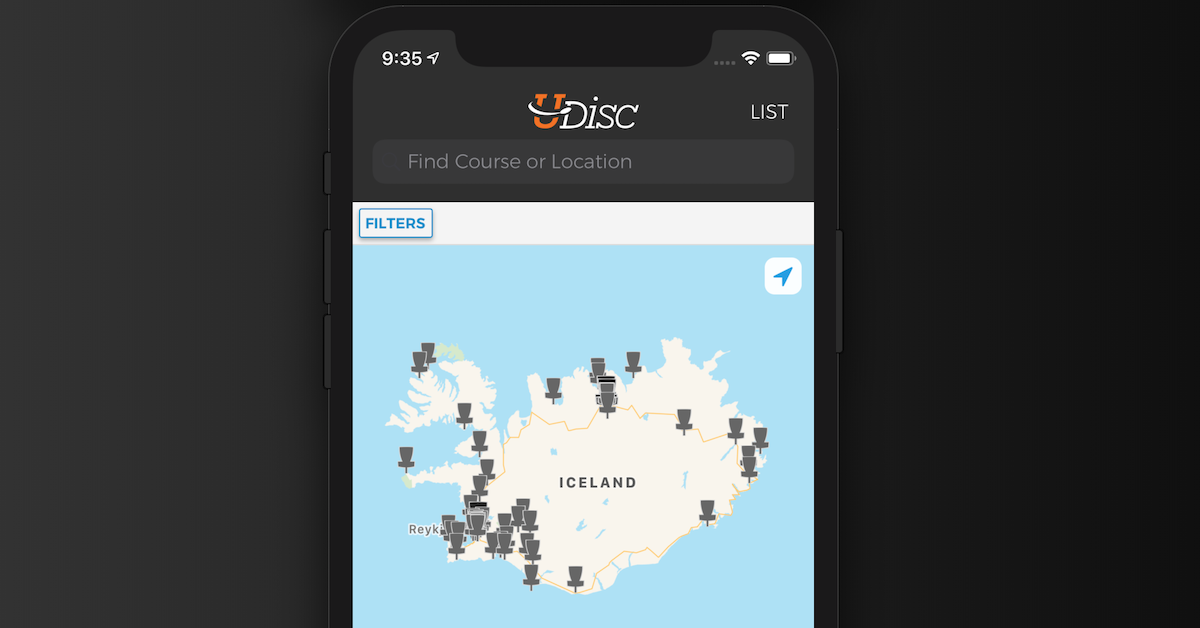 It's nice to be able to write good news about something erupting in Iceland.

That's right. The country with the most disc golf courses per capita in the world is that small island nation. It's home to 53 courses that its population of just over 353,000 can enjoy. To give those numbers some more context, for New York City to have the same disc golf courses per capita as Iceland, it would need to find space for about 1,260 courses.

Iceland only took the throne from Finland in 2019, but it's riding a disc golf wave that doesn't seem to be cresting any time soon. According to Árni Sigurjónsson, course designer and owner of the disc golf store Frisbígolfbúðin in Iceland's capital, Reykjavík, there will be about 70 courses in Iceland by the end of this summer. 

"I see disc golf becoming bigger and growing a lot over the next years," Sigurjónsson said. "I see competitions getting bigger and the number of courses exploding! I hope disc golf will be an option in schools for kids to learn disc golf technique and play for a healthy workout. There are endless opportunities around to spread the word of disc golf, and I know that almost everyone who touches and throws a disc automatically becomes a disc golf missionary!"

Haukur Årnason, the Professional Disc Golf Association's country coordinator for Iceland, was also enthusiastic about the sport's growth in his homeland.

"We have been very successful in getting the city of Reykjavik and towns and communities around Iceland to install free for all courses, and this has built up to an amazing boom in disc golf here," Årnason said. "Everybody and their grandmother is out playing disc golf now, and that is great!"
New Champ Rising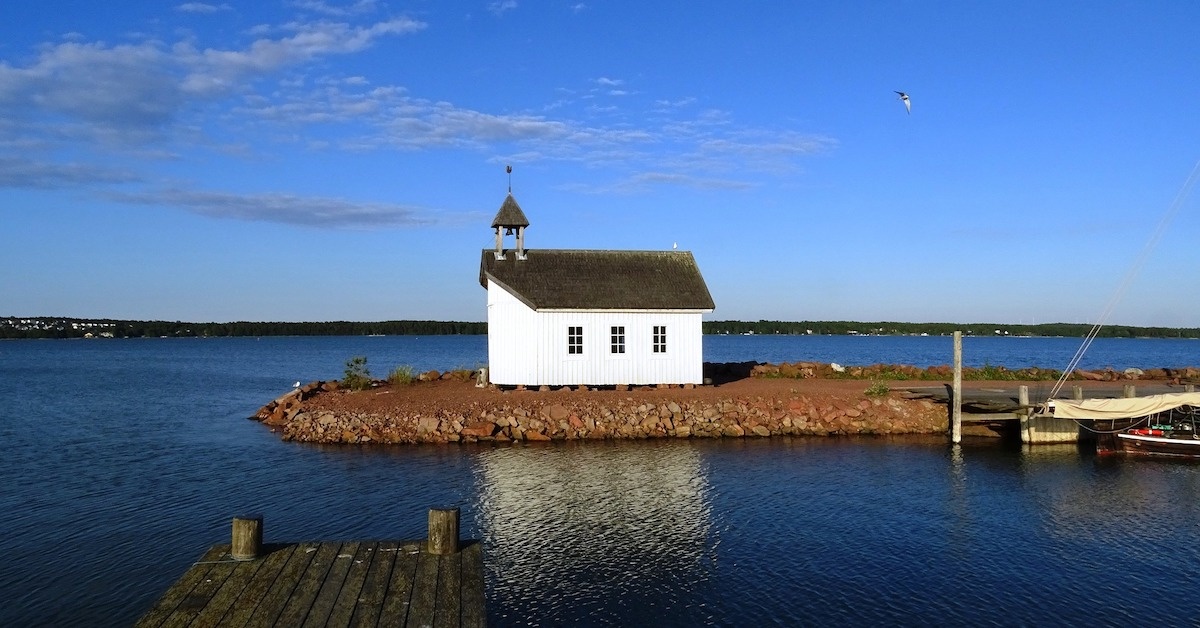 DiscGolfPark by Discmania recently announced that it would be building 16 courses in Åland, a Swedish-speaking autonomous region of Finland consisting of over 6,500 islands. The project is due to be complete sometime this summer and will immediately launch Åland, with its population of around 27,000, to the top of the disc golf courses per capita chart.
Maps & the Full List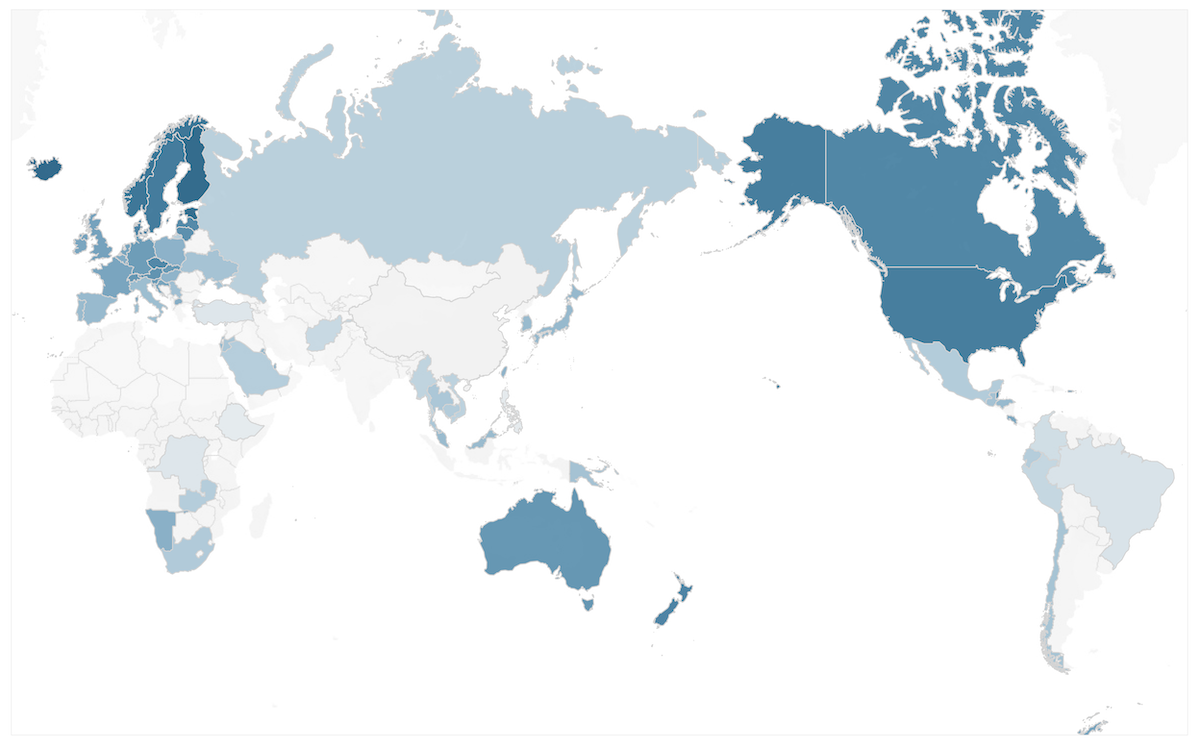 Above is how the world looks colored in disc golf.
As you'll see in the full list that comes just a little bit later, the majority of the top 10 countries are in Europe. So here's a closer look at the continent: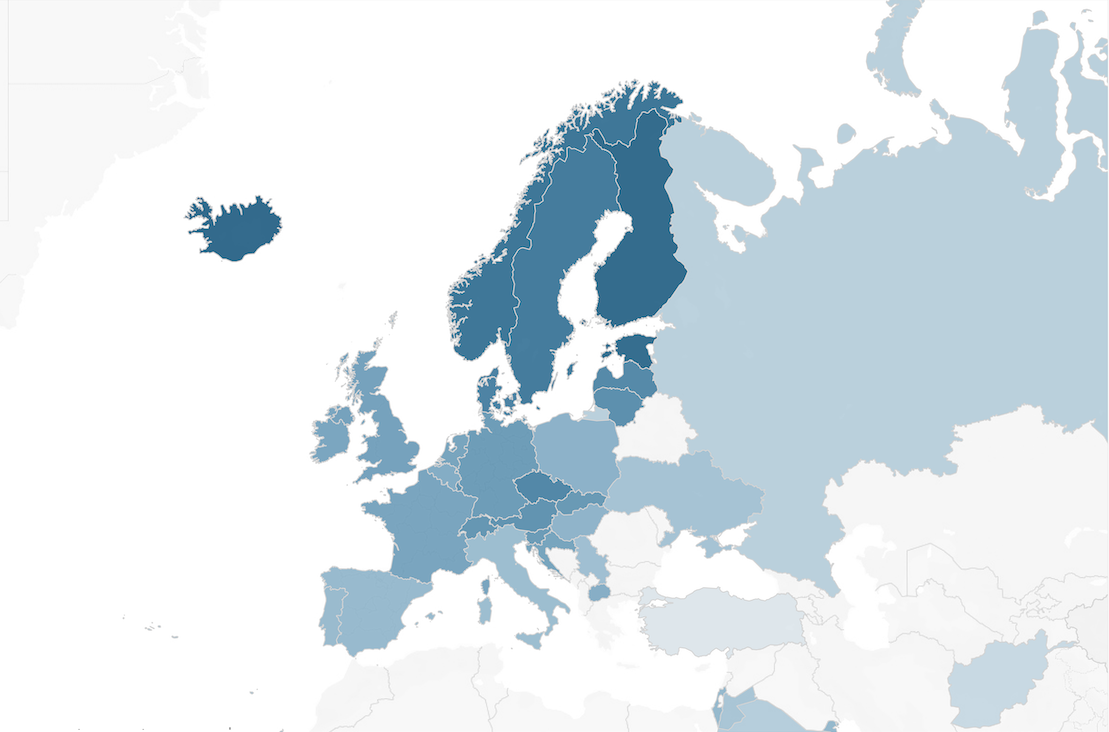 There's a distinct trend of northern countries in Europe being home to a lot of courses relative to their populations. It's one that has many factors, but abundant space and traditions of outdoor recreation are likely two of the main ones. For those looking to take a deeper dive into the burgeoning disc golf scenes in northern Europe, this article from Parked is a good read.

It's also worth noting that four of the five places on our countdown of Best Disc Golf Cities—International were in northern Europe as are three of the world's top 10 disc golf courses.

And now, at long last, we're getting to what you came here for: the full rankings of countries by most disc golf courses per capita.

To level with you, the numbers you'll see below aren't exactly "per capita." Per capita would be the number of courses per person. For example, if we showed you per capita, Iceland would have about 15 courses per 100,000 people, Finland about 13 per 100,000, and so on. 

However, we think this list works better with whole numbers throughout instead of making you imagine, por ejemplo, what Mexico's .06 courses per person would look like. 

That's why below you'll find the number of people per course in each country. That stat creates the same rankings as per capita but may be somewhat easier to visualize.

And to some readers who may be thinking "I bet my home state could beat out these countries," you'll get the chance to find out. We'll soon be releasing a version of this list with just U.S. states. Make sure to subscribe to the Release Point newsletter to make sure you don't miss it when we do.
| | | |
| --- | --- | --- |
| Rank | Country | People Per Course |
| 1 | Iceland | 6,671 |
| 2 | Finland | 7,772 |
| 3 | Estonia | 9,302 |
| 4 | Åland | 13,356 |
| 5 | Norway | 22,329 |
| 6 | Sweden | 37,576 |
| 7 | United States | 43,242 |
| 8 | Denmark | 72,468 |
| 9 | New Zealand | 77,548 |
| 10 | Canada | 93,583 |
| 11 | Czechia | 106,257 |
| 12 | U.S. Virgin Islands | 106,977 |
| 13 | Latvia | 128,436 |
| 14 | Curaçao | 159,849 |
| 15 | Guam | 165,768 |
| 16 | Belize | 191,536 |
| 17 | São Tomé and Príncipe | 197,700 |
| 18 | Lithuania | 199,252 |
| 19 | Austria | 276,470 |
| 20 | Luxembourg | 303,864 |
| 21 | Australia | 347,116 |
| 22 | Switzerland | 354,856 |
| 23 | Brunei | 428,962 |
| 24 | Slovakia | 453,918 |
| 25 | Slovenia | 516,843 |
| 26 | Germany | 571,917 |
| 27 | United Kingdom | 874,855 |
| 28 | Croatia | 1,022,350 |
| 29 | Netherlands | 1,076,939 |
| 30 | France | 1,098,152 |
| 31 | Ireland | 1,213,377 |
| 32 | Costa Rica | 1,249,860 |
| 33 | Mauritius | 1,265,303 |
| 34 | Belgium | 1,903,678 |
| 35 | North Macedonia | 2,082,958 |
| 36 | Namibia | 2,448,255 |
| 37 | Qatar | 2,781,677 |
| 38 | Singapore | 2,819,338 |
| 39 | Poland | 2,921,427 |
| 40 | Puerto Rico | 3,195,153 |
| 41 | Hungary | 3,256,262 |
| 42 | Taiwan | 3,270,626 |
| 43 | Kuwait | 4,137,309 |
| 44 | Israel | 4,441,900 |
| 45 | Japan | 4,518,896 |
| 46 | Spain | 4,672,375 |
| 47 | Honduras | 4,793,761 |
| 48 | Portugal | 5,140,881 |
| 49 | South Korea | 5,163,526 |
| 50 | Malaysia | 5,254,764 |
| 51 | Italy | 6,043,128 |
| 52 | Serbia | 6,982,084 |
| 53 | Papua New Guinea | 8,606,316 |
| 54 | Guatemala | 8,623,904 |
| 55 | Ukraine | 8,924,503 |
| 56 | Chile | 9,364,580 |
| 57 | Jordan | 9,956,011 |
| 58 | Thailand | 11,571,421 |
| 59 | South Africa | 14,444,906 |
| 60 | Mexico | 15,773,849 |
| 61 | Cambodia | 16,249,798 |
| 62 | Saudi Arabia | 16,849,974 |
| 63 | Ecuador | 17,084,357 |
| 64 | Zambia | 17,351,822 |
| 65 | Russia | 20,639,721 |
| 66 | Vietnam | 23,885,099 |
| 67 | Myanmar | 26,854,198 |
| 68 | Peru | 31,989,256 |
| 69 | Afghanistan | 37,172,386 |
| 70 | Colombia | 49,648,685 |
| 71 | Brazil | 69,823,111 |
| 72 | Turkey | 82,319,724 |
| 73 | DR Congo | 84,068,091 |
| 74 | Philippines | 106,651,922 |
| 75 | Ethiopia | 109,224,559 |
| 76 | China | 174,091,250 |