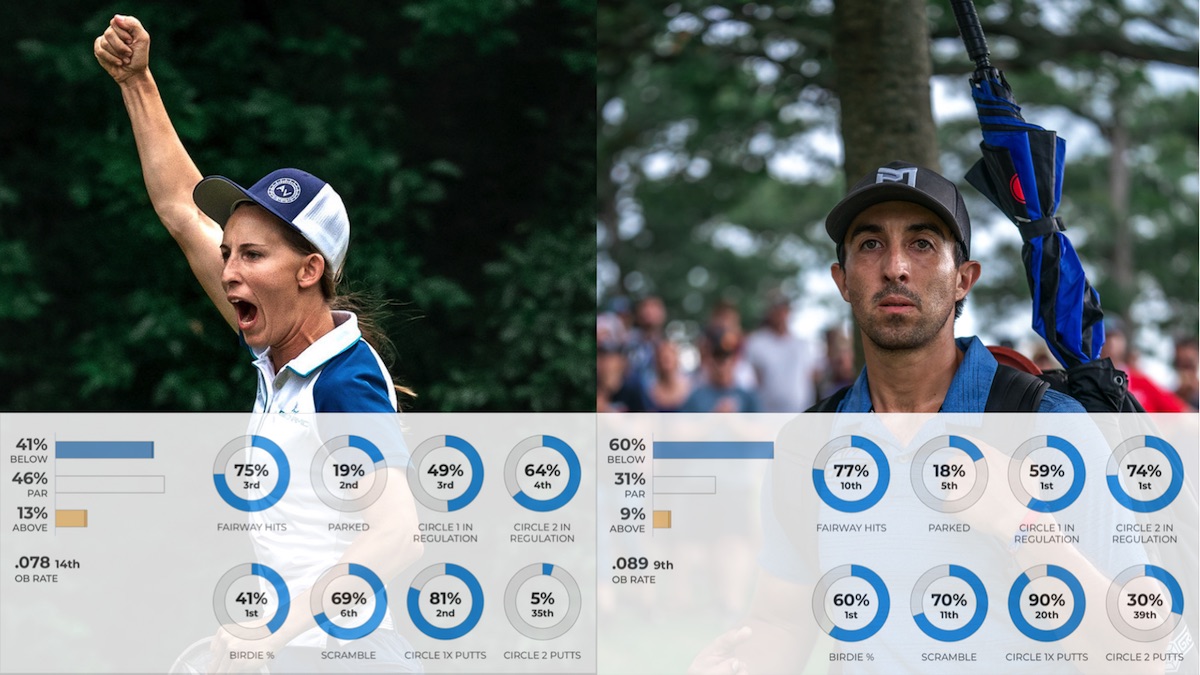 The Professional Disc Golf World Championships—often called simply "Worlds"—have come and gone. For the second year in a row, UDisc Live helped players, their families and friends, and the world keep up with not just scores, but a huge spectrum of other stats. As we've combed through that data, a few numbers have jumped out at us, and we couldn't resist sharing some of the gems we've found.

In no particular order, here are the most interesting things the stats told us.
Open Women Showed Putting Can Really Matter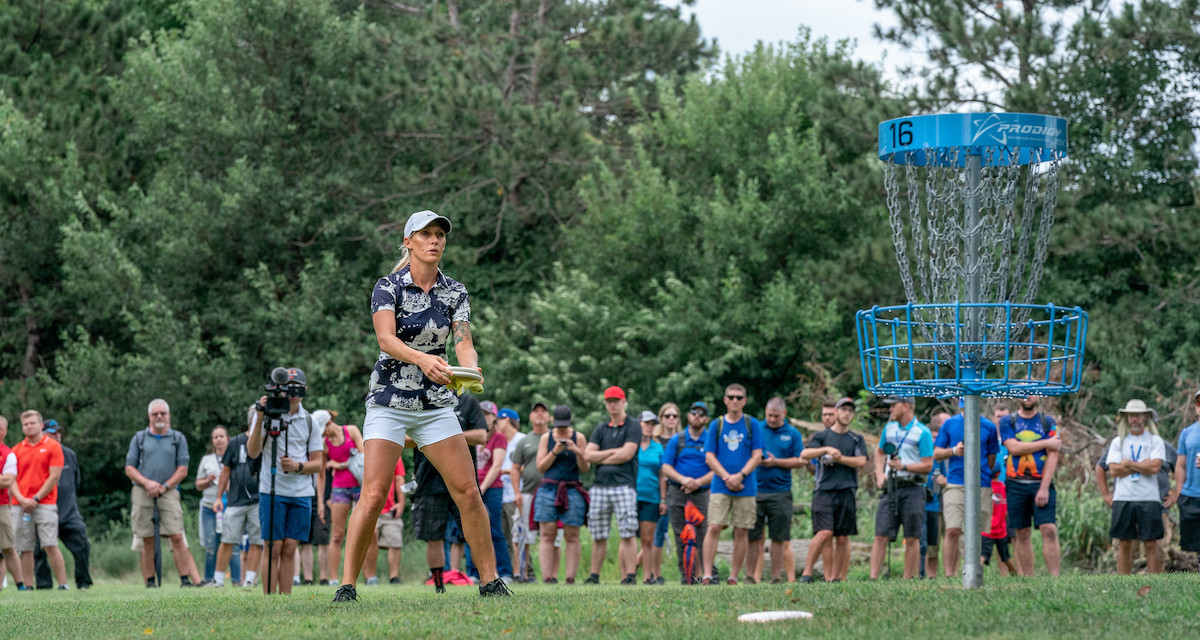 For anyone who watched the coverage of the Open Women division either live on SmashboxxTV or post-produced on Central Coast Disc Golf, it was clear that putting was an enormous factor for where they finished on the podium. Namely, third-place finisher Allen's putter just didn't seem to be finding the basket very often while winner Pierce's was. Allen actually missed more C1X putts than she made. Here are the final numbers:

Paige Pierce C1X Putting: 48/59 = 81%

Catrina Allen C1X Putting: 23/48 = 48%
What makes this stat truly interesting is how both players significantly defied their 2019 averages in the C1X putting department, just in opposite directions. With Worlds included, Pierce's 2019 UDisc C1X putting average is 70% and Allen's is 62%. If both players had putted those averages, Pierce would have missed seven more putts and Allen would have made seven more. With that minimum 14-stroke swing, we'd likely have a different Open Women champ right now. A recent article from Ultiworld Disc Golf dives even further into this difference.

You may be asking, "What about second place Eveliina Salonen?".  She hasn't played that many UDisc events this year, so her average is more unreliable than the other two podium finishers, but she actually putted 69% in C1X during Worlds, her exact 2019 UDisc average.
Two Big Socki Bombs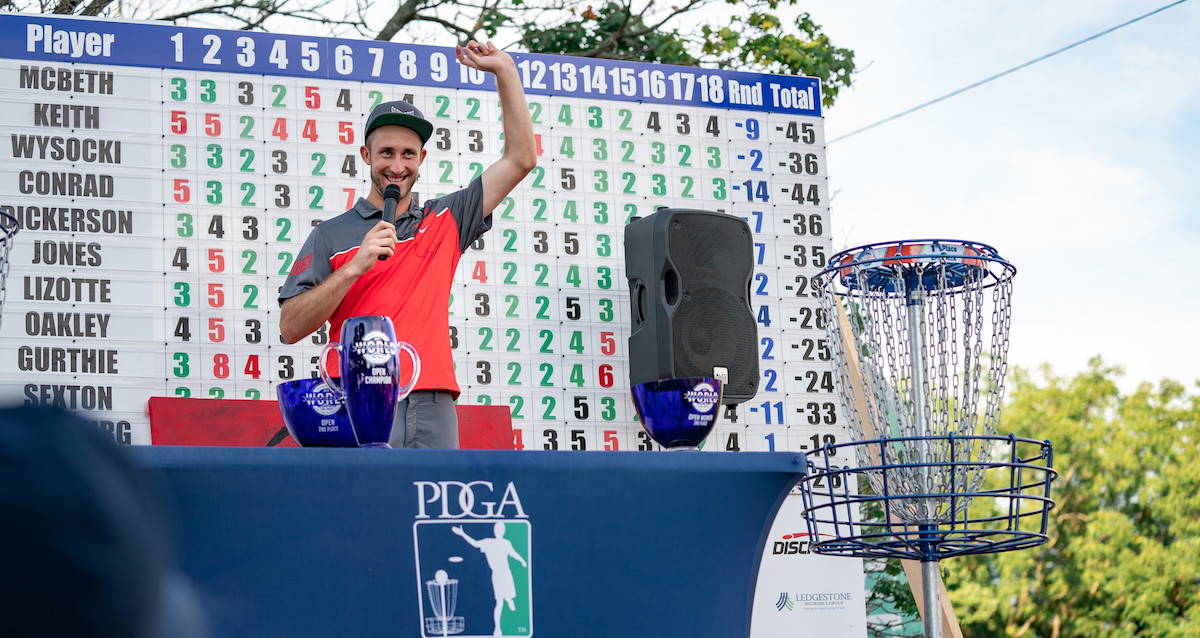 No disrespect to now five-time World Champion Paul McBeth's masterful showing throughout Worlds, but it's not hard to argue that Ricky Wysocki's valiant comeback effort really stole the show in the last round. Here are two amazing stats from Wysocki's tournament:

1) He finished Worlds by going 2.5 rounds without a bogey on some ridiculously dangerous courses. Check out his last three scorecards:

2) He missed just one putt inside the circle the entire tournament, making 86 of 87 attempts.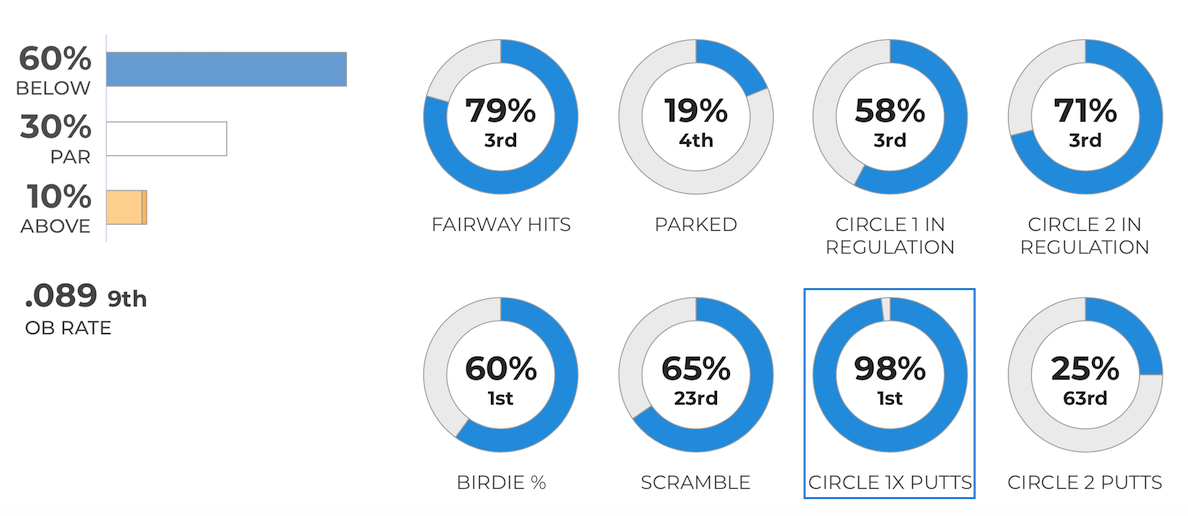 Only Two Players Played Worlds Without Getting Worse Than A Bogey
With Eureka Lake's numerous chances to go OB and its unforgiving drop zones paired with the technicality and punishing rough of Northwood, at least one double bogey or worse was nearly impossible to avoid.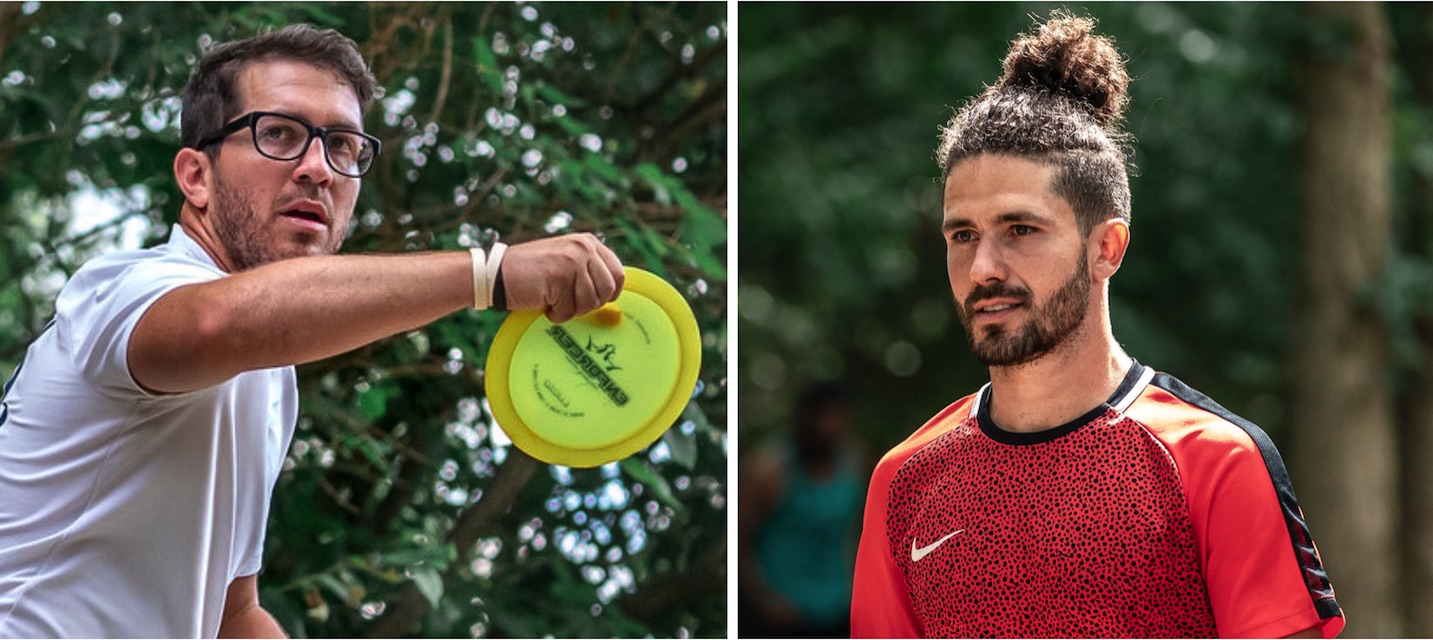 But two players did the nearly impossible: Eric Oakley and Nikko Locastro, who happened to tie for 10th place. They both carded nothing worse than a bogey over the entire tournament, the only players of either gender to accomplish that feat.
McBeth and Keith: What Kept Them Together, What Tore Them Apart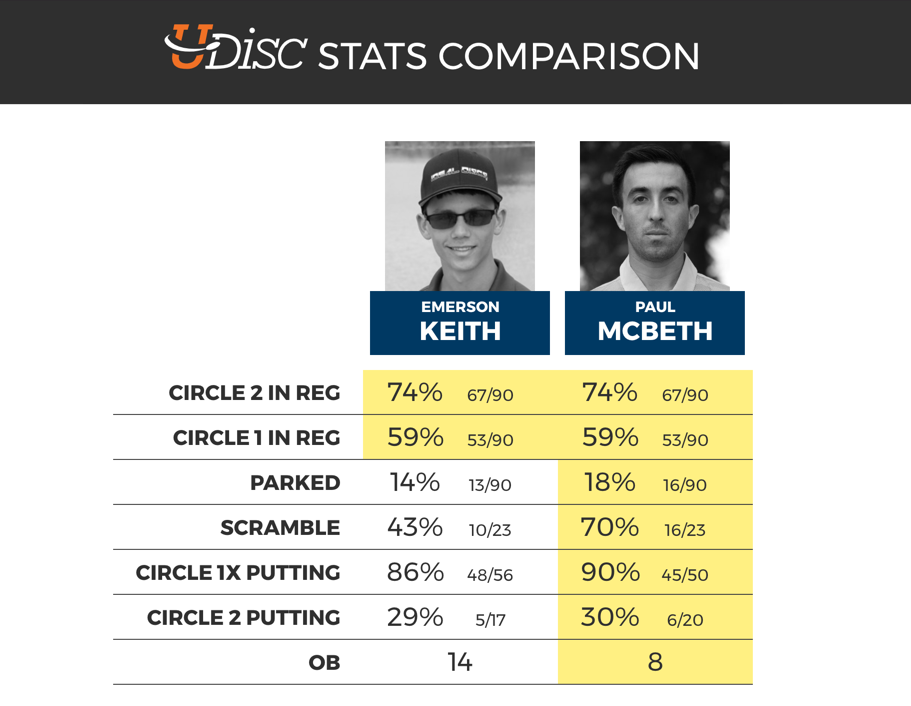 As you can see in the chart above, 2019 World Champion Paul McBeth and breakout performer Emerson Keith did a lot of things the same. They had the same percentages of being in Circle 2 and Circle 1 after their drives, and many of their other stats are just a few off from each other. If you want to know what truly separated them in the end, though, look no further than scramble and OB rates. Scramble rate describes being able to make par or better after being outside Circle 2 with only two strokes left to achieve par.
Amazingly, both players had to scramble exactly 23 times over the course of the tournament (yet another similarity), but McBeth did it successfully six more times than Keith. McBeth beat Keith by nine strokes, and 67% of those strokes were due to scrambling. Six extra OBs from Keith were also a deciding factor and likely contributed to the scramble rate difference.
How Hard Was Northwood Gold Hole 12?

A flyover of the hole from JomezPro.


Really, really hard. The last two Worlds were scored with UDisc Live, and 12 at Northwood Gold has by far the highest average score of any hole played, no matter the round. At 2018 Worlds, the hardest hole was the 1,225-foot /375-meter par 5 hole 7 at Fox Run Meadows. The highest average on it during any round played during the 2018 Worlds was .95 strokes above par in the first round. The lowest average for Northwood Gold hole 12 was 1.48 strokes over par in the third round. In the second round, it was played an average of 1.62 strokes over par.

Also, hole 12 on Northwood Gold was only birdied four times last week while Hole 7 at Fox Run was birdied 31 times in just the first round of the 2018 Worlds. Hats off to James Conrad, Tristan Tanner, Eagle McMahon, and Chandler Fry.
0.005268%

We tracked 18,982 drives in Open and Open Women over the course of the tournament. Of those, 0.005268% resulted in an ace. If for some reason you can't do that math in your head, that means there was just one ace. Norway's Knut Valen Håland got it in round one:


One Last Thing
While we could go on for thousands of words about all the small wonders in the numbers from this year's Worlds, we think the sections above cover the big ones. The only other thing we'd like to add is a huge thanks to the over 85,000 people from over 100 countries who checked UDisc Live over the tournament's five days (that's our favorite stat). We hope you all join us again next year and maybe get a few friends interested, too.