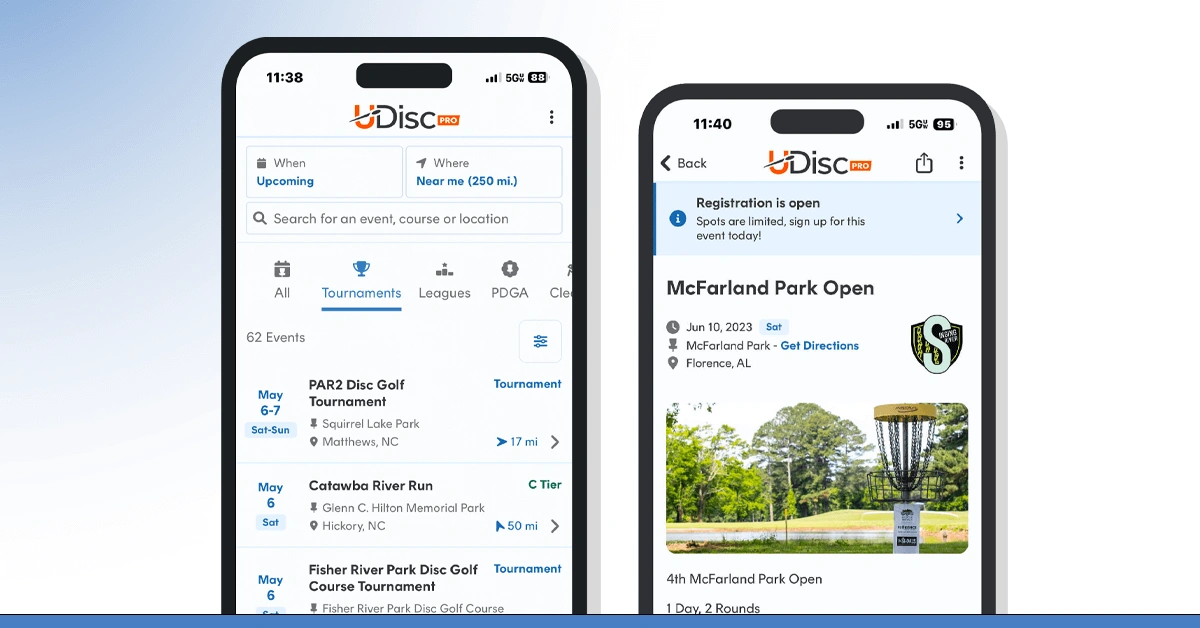 Now available on version 16.1 of the UDisc app, the Events tab is a completely reimagined experience. You can search by date and location, and select from several quick filters that allow you to choose your own disc golf adventures, including:
🏆 Tournaments
🏅 Leagues
🥏 PDGA events
🚮 Course cleanups
🌟 Glow events
🧑‍🏫 Clinics
♀️ Women's events
👐 Charity tournaments
You can even look for beginner-friendly tournaments, events that have an ace pool, and much more with the advanced filtering menu.
'Where did my events go?' Help your community!
You might notice, at least early on, that some PDGA events are missing from the app. That's because of the course calendar (see below): In order to sync an event to a course, a tournament director (TD) or community member will need to add the event on their own. We'd encourage you to politely nudge your TD to go to udisc.com/events/add and get their event on the calendar.
You can also add an event yourself at the same link – it takes less than 5 minutes to add a new event for your community!
Need some extra help with the listing process? Check out how to list and manage your events here.
Why did UDisc's Events tab have to change?
Great question. We know that this is a bit of a change from how the Events tab looked before, but it's all working toward creating a better experience for players who use UDisc. Here's how we're doing that.
Course calendars now include Events!
The new UDisc Events is about more than finding events – it's about making sure players have all the information they need to get to the course and have a great round. That's why every event listed on UDisc will sync with a course calendar.
That's right: Gone are the days of driving an hour to check out a new place to play, only to find out there's a tournament going on and you won't be able to get on the course. Check UDisc before you go and, so long as a tournament director has listed their event, you'll get a heads-up that you may want to consider another course.
TDs can now customize their UDisc event details
The previous version of the Events tab didn't allow TDs to take control of their tournament listing. The new version allows for event directors to customize details and include more useful information like:
Full event schedule
Course locations
Staff contact information
Caddie books and virtual players meeting notes
Sponsor information
Communities can share other types of disc golf events
Like we mentioned above, there's more to disc golf than just tournaments and leagues – but that's all you could see in the app before! With the new Events tab, your community can stay informed about all kinds of different happenings at your courses. We especially like being able to filter by women's specific events and charity tournaments, but that's just us.
There's more on the way
Upcoming UDisc app releases will let disc golfers save events they are interested in and receive notifications about registration or other important information. We also have plans to let players opt-in to email digests that will tell them about upcoming events in their area – think about those emails you get from Ticketmaster or Live Nation, but now for disc golf! It's gonna be great.
Still curious for some more details? Check out our handy FAQ.
UDisc Events: Frequently Asked Questions
I'm not an event organizer. Can I still list an event?
Yes! You'll be helping your community and your local event directors.
If you decide to list an event that you are not running yourself, we suggest you know the TD or organizer's UDisc username or PDGA number so you can add them as a staff member. That will allow them to manage the event after you list it. Providing a link to the registration platform being used will also be helpful.
Why did you remove PDGA events and make organizers relist them?
The previous Events tab was simply displaying information listed on the PDGA website. However, none of that information was connected to a course on UDisc, so those events were unable to appear on a course's calendar. This led to users showing up to play a round, only to be turned away because an event that they were unaware of was happening at the course.
We are now encouraging TDs and community members to list their events with UDisc so they can hook up to a course's calendar, customize the schedule, and have more control over the information they need to share with local players.
My event is coming up soon and it's full. Why should I take the time to list it on UDisc?
We'll point you back to the course calendar. Not only will your event show up in the Events tab, but it'll also be visible to players who are coming to the course for non-tournament rounds. That means they'll be informed that it would be best to steer clear that day.
Simply put, listing your event on UDisc takes less time and effort than chasing people off the course. You've got a tournament to run, after all!
I run too many events and don't have time to list them all. What can I do?
For events that are already scheduled, our team is here to help. Drop us a line at help@udisc.com.
For events that are on the horizon, please make UDisc Events part of your pre-event workflow! It's quick and easy to list an event, and in the coming months you'll be able to run scoring and registration through UDisc, as well.
Can my event use UDisc to keep score?
Not quite yet – event scoring and registration are on our agenda for summer 2023. However, we have an interim solution.
If your event is a single-round event, you may be able to use the UDisc Leagues platform for scoring. You can learn more about that
here
.
If you still have more questions, please reach out to our customer success team and we will be happy to assist.