When Paul McBeth took a kick out of bounds on hole 17 in the third and final round of last weekend's Throw Down the Mountain (TDTM), JomezPro's post-production commentators Jeremy Koling and Simon Lizotte noted that it would likely lead to McBeth's first bogey in quite awhile. You can hear their comments in the clip below:


Koling wasn't mistaken when he said that the bogey was McBeth's first since hole 5 of the first round of the Waco Annual Charity Open (WACO) two weeks prior. However, what no one knew (not even us until we ran the numbers for this story) was that McBeth's bogey on that hole ended the longest bogey-free streak ever recorded on consecutive UDisc Live rounds. 

What had McBeth's total reached before that? A staggering 101 holes.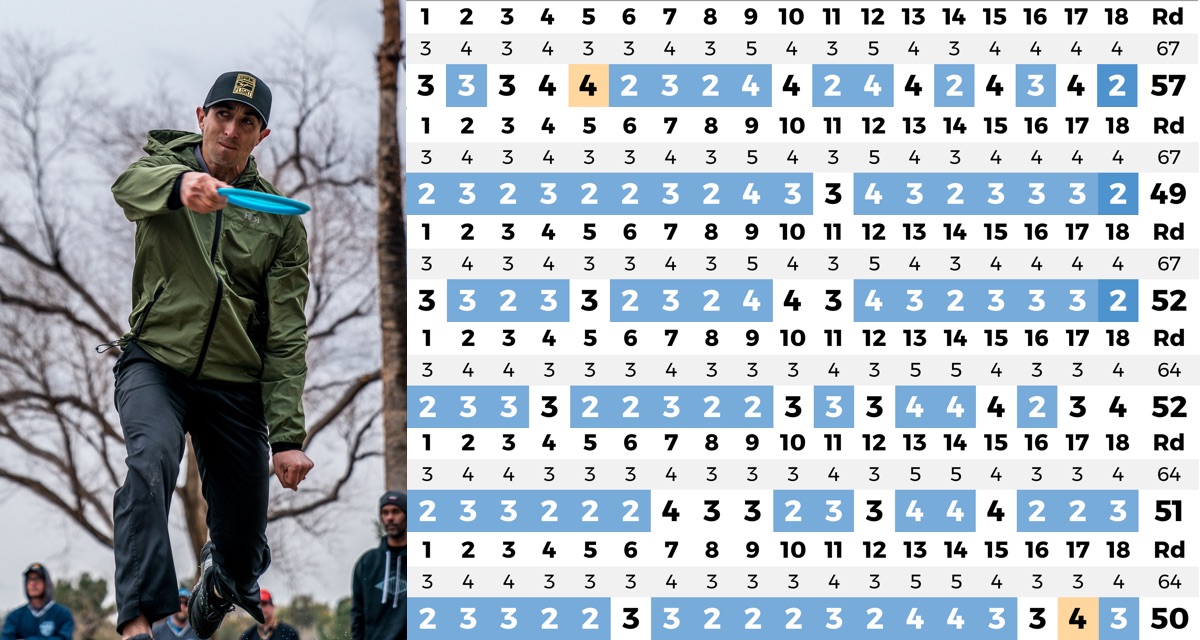 It's even more impressive that before hole 5 at WACO, McBeth was on a 49-hole bogey-free run which began after a bogey on hole 9 at Fountain Hills during round two of the Memorial Championship. So, because every tournament hole McBeth has played from the Memorial to TDTM has been recorded on UDisc Live, we know that McBeth played 150 consecutive tournament holes (the equivalent of a little over eight 18-hole rounds) with just one bogey.

Of course, to find out that McBeth had set a record, we had to compile the stats from all players who had participated in tournaments scored on UDisc Live. In doing so, we were able to see not only the longest bogey-free streaks, but also the longest birdie streaks in both the Open and Open Women divisions.
Top 10 Bogey-Free Streaks
We have to point out that while the number of UDisc Live events has increased each year since its first use in the 2016 season, it has far from covered every tournament the pros have participated in since then. So we think it's important to note which streaks on this list are, like McBeth's, entirely consecutive—meaning the player did not participate in any PDGA events not scored by UDisc Live over the streak's duration. This is indicated in the table below with an asterisk next to the player's name.
Top Birdie Streaks
Though we used the word "perfect" when we ran a story comparing McBeth's two historic 18-under par rounds, there are those who say "perfect" means a run of 18 birdies (or better) in one 18-hole round. For these purists, you may be interested to know that 18 straight birdies, regardless of round, has yet to occur on UDisc Live. Dustin Keegan made a heroic go of it at this year's Las Vegas Challenge (LVC), carding 16 straight, and Eagle McMahon tied that number when you combine the end of his LVC with the start of the Memorial. 

Still, as all math experts agree, 16 is less than 18, and the much sought-after streak of 18 is still waiting to be achieved.

Also worth noting:
The last two spots on the Open chart don't have a typo: McMahon and Lizotte went on the exact same 13-hole streak at the same tournament just one year apart.
The risk-taking Paige Pierce didn't show up in the bogey-free streak list, but she owns the birdie streak one.