There's no doubt that disc golf videos are the most popular media in the sport, and in 2018 those creating them achieved some pretty incredible results.
Record numbers of livestream viewers tuned into Smashboxx the last day of Pro Worlds. JomezPro hit nearly 100,000 YouTube subscribers and pushed the envelope for next-day disc golf footage, including the epic quadruple Follow Flight at the 2018 United States Disc Golf Championship (watch it again in all its glory below).

Of course, those are just two examples in a year where they abounded. But if you need any other proof of the medium's popularity and its relevance to disc golf and its fans, look no further than the controversy surrounding the Disc Golf Pro Tour's media plan for 2019.
Given the undeniable importance of videos to the sport, we wondered what looking at stats related to the most popular disc golf media outlets might tell us. After examining data from over 20 disc golf-focused YouTube channels, we learned so much that we couldn't even cram it all into one article.
Today we're focusing on how the audience for filmed disc golf content has grown incredibly in just a short time and which channels have been driving that growth the most.
Round Coverage Dominates View Counts
The first thing we want to establish before talking about growth is what content draws the most eyes. The graphic below shows that tournament coverage is the indisputable champ. Of the 1,500 most popular videos from the channels we assessed, tournament rounds made up the staggering majority of them.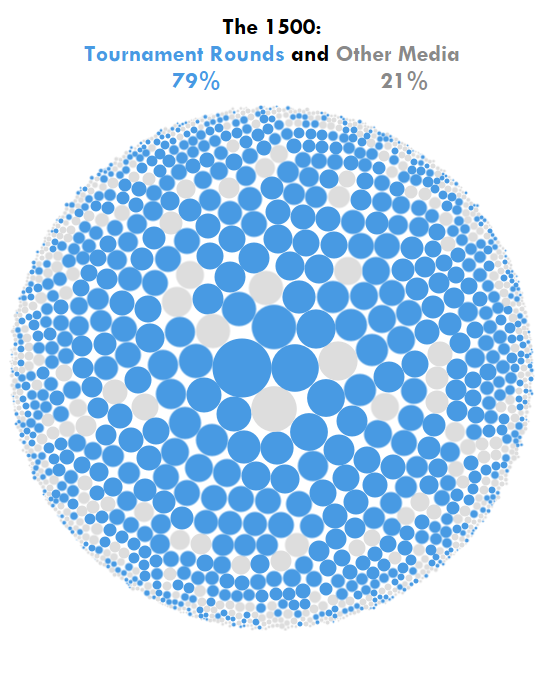 Something else this visual shows is that there's a reason coverage of tournament rounds has been such a big off-season topic. It's where the eyes are, and whoever wins the battle to give those eyes what they want to see could well decide what enterprises rise and fall in the years to come.
Rampant Growth and Who's Fueling It
Disc golf viewership has skyrocketed in recent years. To give you a sense of the magnitude of the increase, we've created a chart using the amount of views garnered by some of the YouTube channels with the most current subscribers. The top 10 of those channels have been assigned colors.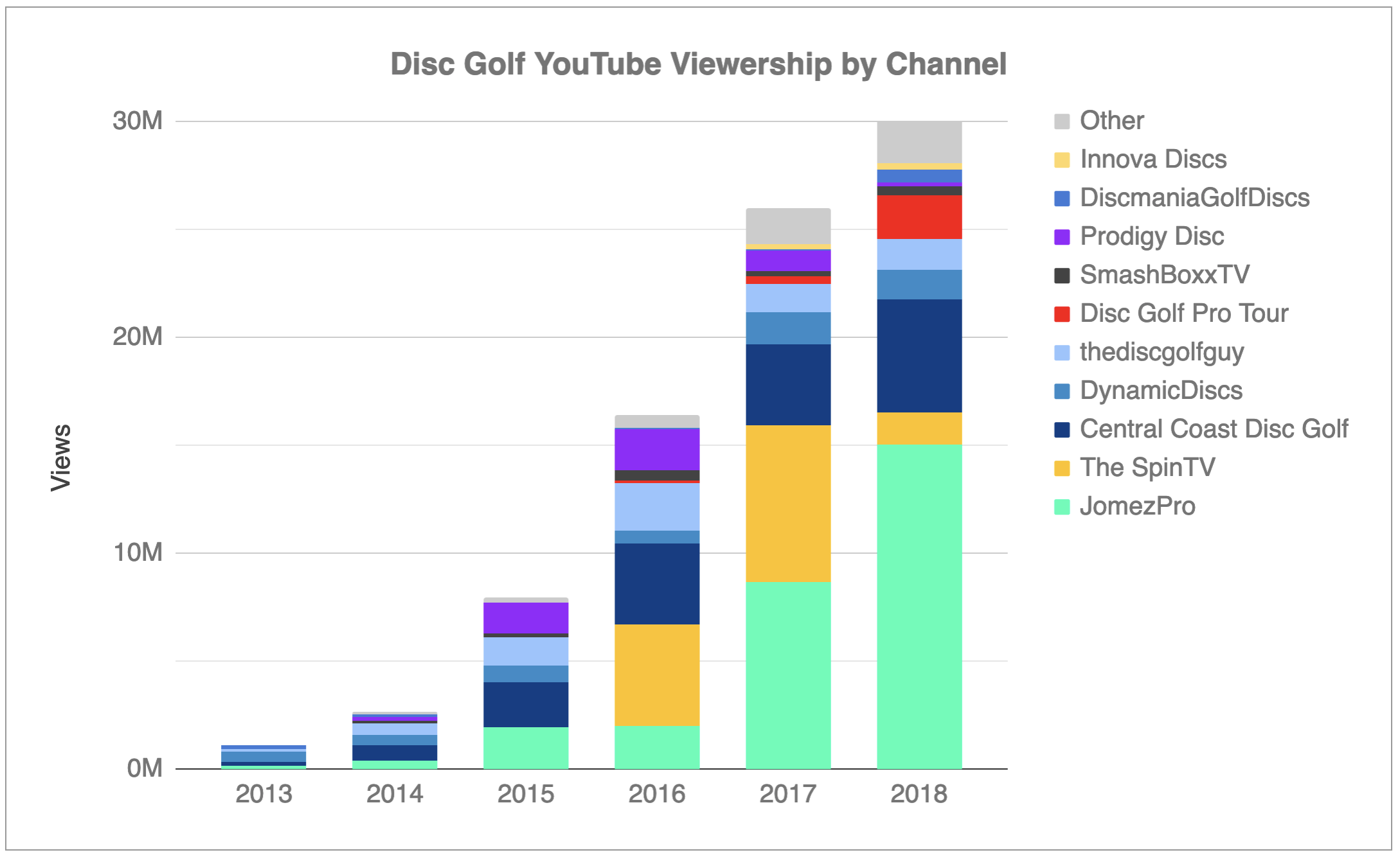 No, your eyes didn't deceive you. For just the channels we examined, views increased by around a whopping 2,900% from 2013-2018 (from just over 1 million to just over 30 million). 

As you might have guessed from the data in the previous section, the big drivers of this growth are channels specializing in round coverage. And, in fact, the channels with the most subscribers are the tournament-focused JomezPro (98,842), SpinTV (77,158), and Central Coast Disc Golf (63,778). 
Jomez is not only the leader in subscribers, but it is also clearly the leader in views. Of last year's 30 million views, Jomez videos accounted for about half. However, with the Disc Golf Pro Tour (DGPT)—the popular tour which Jomez filmed every event of last year, resulting in many of its views—bringing its media in-house this season, it will be interesting to see how Jomez's numbers are affected.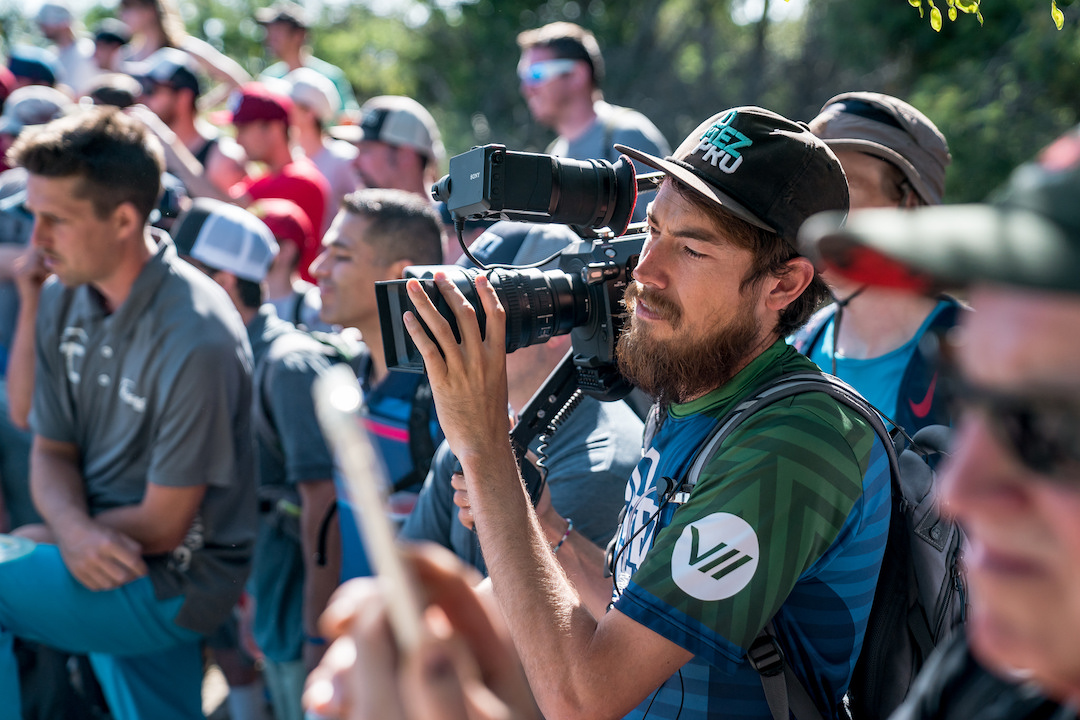 One possible bad omen for Jomez on that front is how SpinTV's yellow bar contracted considerably last year after not covering the USDGC like it had in previous years and the European Open (another event from which it got tons of views) not taking place. However, Jomez's schedule is still very full—and includes huge attractions like Worlds and the USDGC. Perhaps the most compelling thing to watch will not be if Jomez's numbers remain stable or—likely—grow, but if they do so while the DGPT's also see a considerable increase.
Part Two
For further standout findings from our look at disc golf video stats, you can read Part Two of this series by clicking here. A few topics include if BigSexy commentary affects view counts and a look at exactly how big McBeth's star is in the disc golf video world.