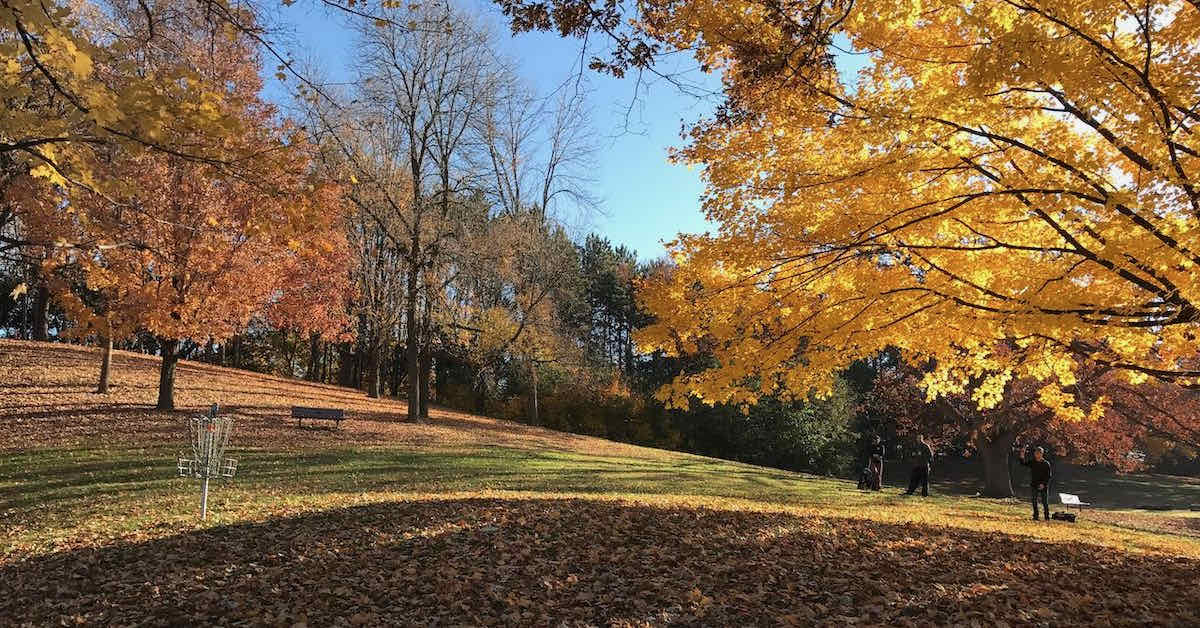 Minnesota's Disc Golf Epicenter
Minneapolis/St. Paul, Minnesota, is the third best metro area for disc golf in the United States.
A brief anecdote about St. Paul from a Mental Floss article is the perfect example of the ethic that created the amazing disc golf hub that is the Twin Cities area:
 In the fall of 1885, East Coast reporters visited Minnesota and called St. Paul 'another Siberia, unfit for human habitation.' The Saint Paul Chamber of Commerce responded by hosting a giant winter carnival replete with food, ice palaces, and winter sports. The event was held on and off over the years until the St. Paul Winter Carnival finally became an official seasonal tradition in 1946. 
Like those 19th century St. Paulites before them, the Twin Cities disc golf community hasn't let the region's brief summers and harsh winters stop them from creating something everyone can enjoy. The area has a smorgasbord of top notch disc golf tracks as well as an abundance of leagues and weekly events. Add to that a "Minnesota nice" population, and you have a place that's the dream of most any disc golfer. In fact, Minnesota courses helped inspire the recent disc golf renaissance in the nation's #9 disc golf city, Dayton, Ohio (read the "History" section of that post for details).
Below you can learn about the history of disc golf in the Twin Cities, what the best disc golf courses in and around Minneapolis and St. Paul are, where to get disc golf gear in the area, and how to find leagues and tournaments. We also give recommendations for great places to get a bite to eat and wet your whistle and other off-the-course attractions.
All Top 10 Disc Golf Cities
Want to see who else made the list? Check out Top Disc Golf Cities – USA: 2021, our master page for all things Top Cities.
Minneapolis & St. Paul Disc Golf Stats
Minneapolis-Saint Paul-Bloomington Metropolitan Statistical Area, Minnesota & Wisconsin

Overall Rank:
3


Weighted Course Count Rank:
2


Weighted Course Density Rank:
15
The Top 10 Disc Golf Cities – U.S.A. rankings are based on the number, quality, and density of courses within nearly 400 metro areas in the country. The rankings are based entirely on stats and not the personal preferences of anyone at UDisc.

If you'd like to learn more about the system behind these rankings, give "How The 2021 Top 10 Disc Golf Cities – USA Rankings Worked" a read.
Minneapolis & St. Paul Disc Golf History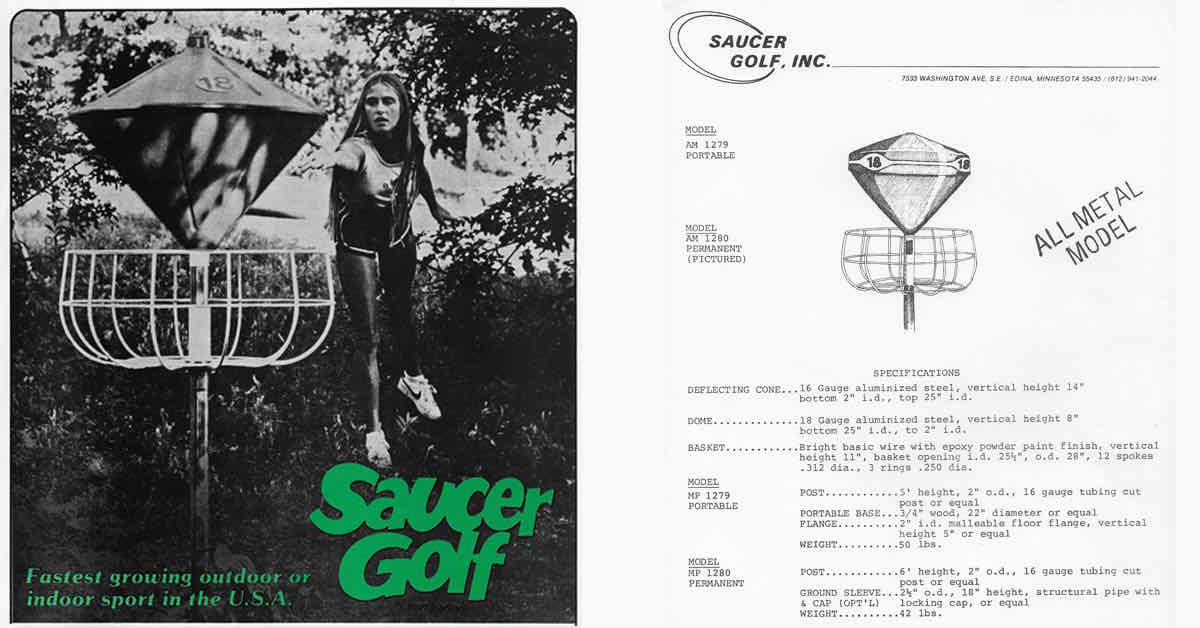 The Twin Cities have played a part in so much disc golf history that for the sake of length, it's best just to make a highlight reel. Below we take a look at some of the most important and interesting disc golf facts and events connected to Minneapolis and St. Paul.
Why are there so many good courses in and near the Twin Cities?
According to longtime Twin Cities area resident and extremely experienced course designer Chuck Kennedy (over 100 courses and co-founder of the influential Disc Golf Course Designers group in 1994), tax structure is a big reason the metro area he calls home is so full of excellent courses. Minnesota's tax system provides a lot of money to parks departments, making the relatively low investment in the infrastructure and maintenance of disc golf courses fairly easy to get approved. Kennedy said that in the 1990s alone he designed around a dozen courses in the metro area.
The oldest state-wide disc sport club in the nation started in the Twin Cities.
In 1975, the Minnesota Frisbee Association (MFA) got going in the metro area. The organization was originally made up of people interested in various disc sports but disc golfers make up its primary membership today. The MFA claims that no state-wide disc sports organization has existed longer than the MFA.
The cone target was invented near Minneapolis/St. Paul and a few area courses with them still exist.
The chain-based "disc golf pole holes" – as the first disc golf baskets were officially named – did not strike all early disc golfers as the end-all-be-all of disc golf targets when they started to spread around the nation in the late '70s and early '80s. Around that time, the Twin Cities' Jim Challas helped develop an idea for an alternative target that used a conical shape to deflect discs into a basket. For some years, Challas sold courses with the baskets across the midwest. Though the idea never really caught on, you can find two cone courses in the metro area today in Moir Park and Hansen Park (both installed way back in 1979). To learn more about the story of the cone targets, see our post "Cones & Tones: Alternative Disc Golf Targets That Almost Stuck."
A Twin Cities-area resident invented the Professional Disc Golf Association (PDGA) rating system.
Chuck Kennedy's interest in course design made him want a way to rate course difficulty. The only apparent way to do that was to create a system that would quantify players' skill levels. If you could do that, you could use player performance to gauge how hard courses were. This line of thinking led Kennedy to the invention of what became the PDGA ratings system, which Kennedy emphasized would not have been possible without "Roger Smith's database expertise." Those of you who anxiously await ratings updates each month can now shake your fists in the direction of Minneapolis/St. Paul, the original source of your torment.
One of the world's best disc golf courses is near Minneapolis/St. Paul.
Blue Ribbon Pines a little north of the Twin Cities is one of the highest-rated disc golf courses in existence. It opened in 2006 and its consistently high standards helped Minnesotans open up to the idea of pay-to-play courses. Learn more about this in the "Disc Golf Course Highlights" section.
A top disc golf earner of all time is from the Twin Cities.
As of the end of 2021, Twin Cities native Cale Leiviska had earned more money from playing disc golf tournaments than all but nine others in the history of the sport. Leiviska tours fairly irregularly these days, though, devoting his time to course designing, running his business Airborn Disc Golf, and working on his multi-course complex with a bar and grill about an hour from the metro area.
UDisc got started in the Twin Cities.
The UDisc app was originally created by Twin Cities-area native Matt Krueger with the intent of giving Minnesotans (including himself) a way of finding and getting information about courses in their state. Today, UDisc has the largest international disc golf course directory in the world, helps players keep scores and stats for millions of rounds each year, and much more.
What's Disc Golf Like Around Minneapolis & St. Paul?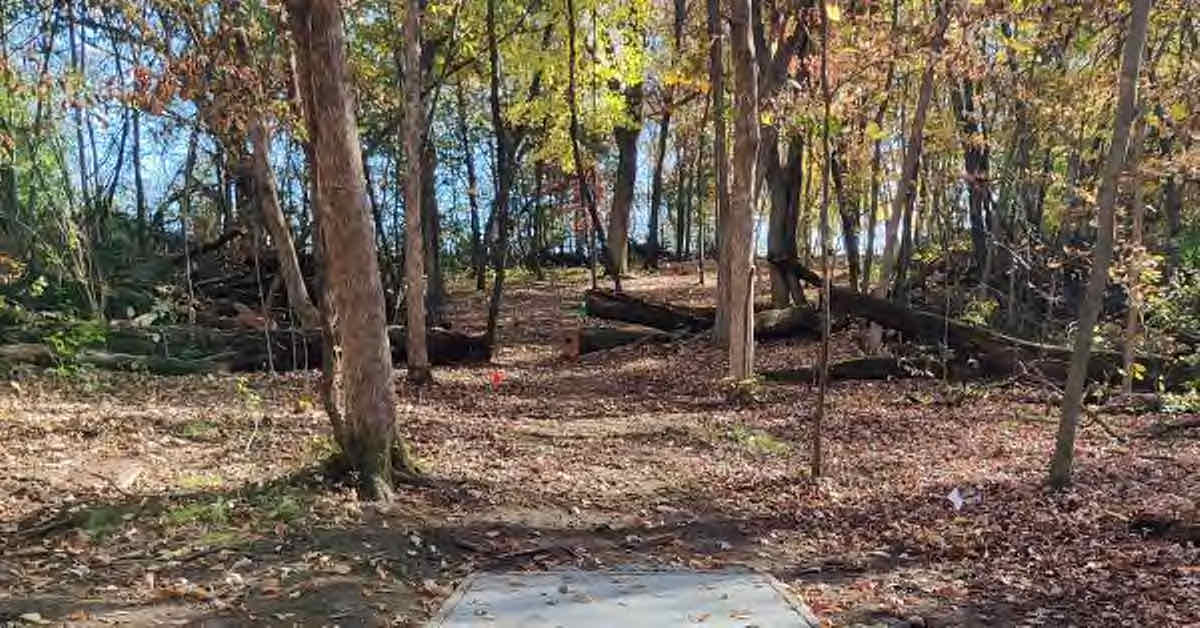 Anyone playing near Minnesota's capital (and its twin) should be ready for their discs to get a few dents because it's a place where technical golf with plenty of trees reigns supreme. You can find some significant elevation and more open courses if you look for them, though. Take, for example, the Hyland Hills Disc Golf Course that plays on clear, grassy hillsides that turn into ski slopes in the winter.
Minneapolis & St. Paul Disc Golf Course Highlights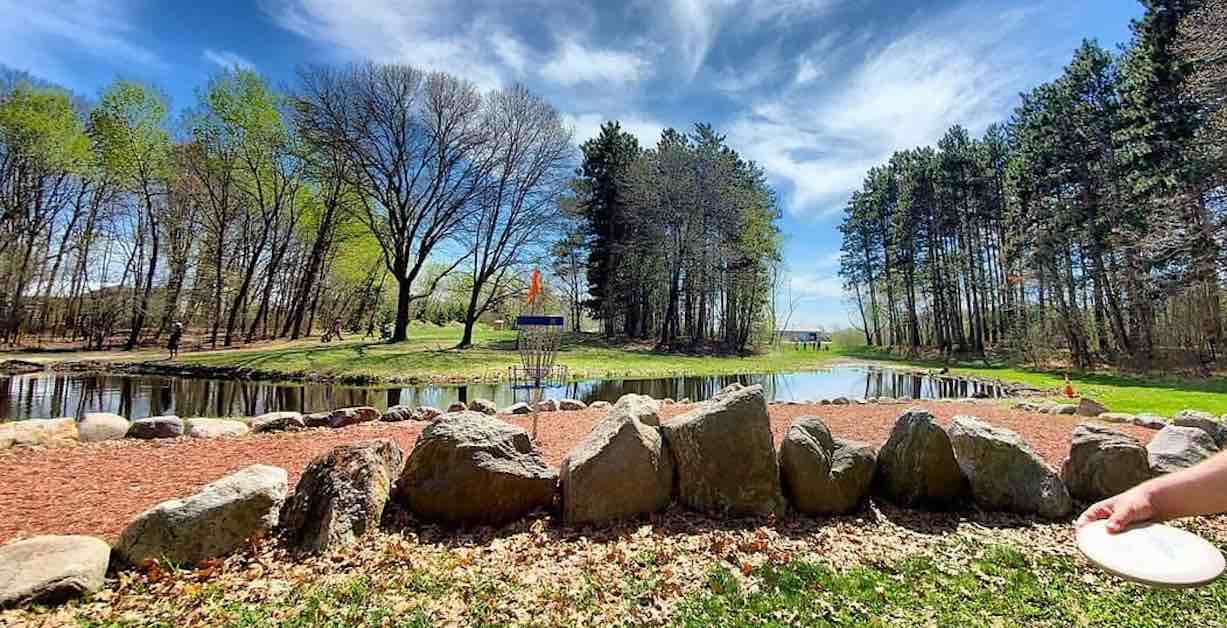 To see photos, hole distances, and reviews for each course, just tap or click on its name, which is linked to its UDisc Courses page.
Blue Ribbon Pines: Drive north of Minneapolis (a little over 30 minutes from the city center), and you'll reach one of the world's top 10 disc golf courses: Blue Ribbon Pines (BRP). A private, pay-to-play course lovingly maintained and constantly updated by owner Ray Jordan, BRP has been a regional gem since 2006. Though there are some holes where distance is an advantage, this is a technical, wooded course with phenomenal upkeep and landscaping, 27 holes, a "Snack Shack" with food and (soft and hard) drinks, a camping area, and a stage for live music. You can learn even more about this must-visit course in our post "World's Best Disc Golf Courses: Blue Ribbon Pines."
Kaposia Park: Kaposia has graced South St. Paul since 1990 and is one of the Twin Cities' highest-rated courses. Today it's a 27-hole pay-to-play course ($5 a day for adults and free to all under 17) managed by the on-site Kaposia Pro Shop. Expect a well-kept woods course where your technical skills will be challenged more than your distance. Additionally, the course got brand new Prodigy T2 baskets in 2020.
Other highlights
1. With lots of elevation and gorgeous lake views, Bryant Lake is currently the second-highest rated course in the Twin Cities region after BRP ($6.50 per person to play).

2. If you have time on your hands and love great disc golf, the Airborn Disc Golf Preserve will likely be worth the one or so hour drive north of the Twin Cities. It's a multi-course complex owned and designed by elite pro Cale Leiviska on land that was formerly used for ball golf. The courses are all rated 4.6 of five stars or more, and the facility has twice hosted a Disc Golf Pro Tour event. There's a bar and grill on site serving up modern takes on classic American food, too.

3. Want more suggestions? See all disc golf courses in Minneapolis/St. Paul and surrounding communities on UDisc Courses.
Disc Golf Shops in Minneapolis & St. Paul
If you're looking to buy some backups before playing in the Land of 10,000 Lakes, the place to get them is Gotta Go Throw, just over 10 minutes from the center of Minneapolis in Golden Valley. You can check out more of the area's disc golf equipment retailers on UDisc Stores.
Minneapolis & St. Paul's Online Disc Golf Community
To meet up with or get advice from locals, reach out to the over 6,500 members of the Twin Cities Disc Golf Facebook group.

Disc Golf Leagues & Events in Minneapolis & St. Paul
Leagues: League play is widely available in the metro area (yep, even in winter). You can find many disc golf leagues in and near the Twin Cities on UDisc Leagues. There are also weekly putting leagues in the winter. Two running in winter 2021-2022 are at Modist Brewing in Minneapolis and St. Paul Brewing.

Blue Ribbon Pines (BRP) has popular leagues on Thursdays and Sundays in warmer months, and just Sundays in the winter. On Sundays, there's always a twist. In summer, you get one mulligan per hole but you must play from your mulligan shot no matter how good it is (this is called the Cali league). In winter, you can take a mulligan and choose your best option. The leagues are also well-known for giant ace pots that can get up into the thousands.
Events: PDGA-sanctioned play is easy to find around the Twin Cities. One of the most well-known events is the annual Majestic at BRP. There's an amateur Majestic that's typically held a weekend before an event for pros. Look for the amateur and pro tournaments to take place between late May and early July. If you want to see all the sanctioned events happening in the area, use the "Events" tab in the UDisc app.
Chow Down & Drink Up in Minneapolis & St. Paul
For gourmet burgers and a selection of craft beers in the Twin Cities, try out one one of four Red Cow locations. Those who want something other than a burger but like the sound of craft beer can peruse a list of breweries with food from Meet Minneapolis.

Southern soul food lovers should look into Revival, which has a few locations in the Twin Cities.

To get other recommendations in various food categories, take a look at some of the top area restaurants as chosen by readers of Mpls.St.Paul Magazine.
What Else is There to Do in Minneapolis & St. Paul?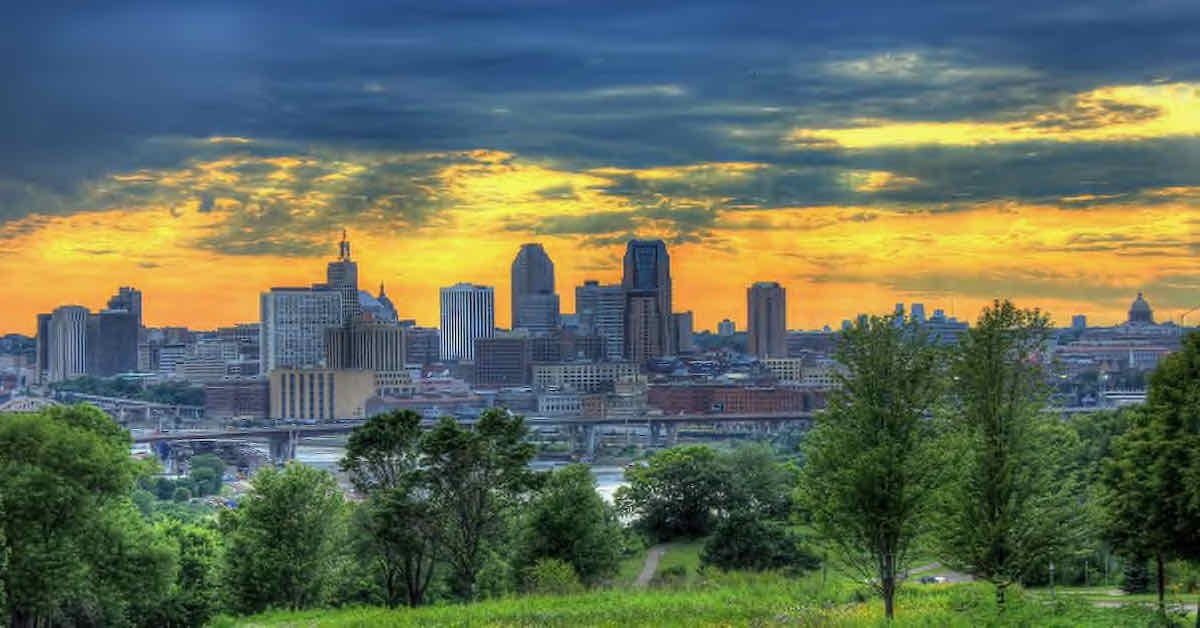 If you're looking for off-the-course entertainment, here are a few good places to go:
Shopping: The massive Mall of America is in Bloomington just south of the Twin Cities. Those more into small, individual shops might like to take a stroll down Grand Avenue in St. Paul.
Flora and Fauna: The Como Park Zoo and Conservatory is a beautiful place to see plants and animals of all sorts in St. Paul. It's also free though small donations are encouraged.
Science!: The Science Museum of Minnesota has plenty to see, do, discover, and learn for people of all ages.