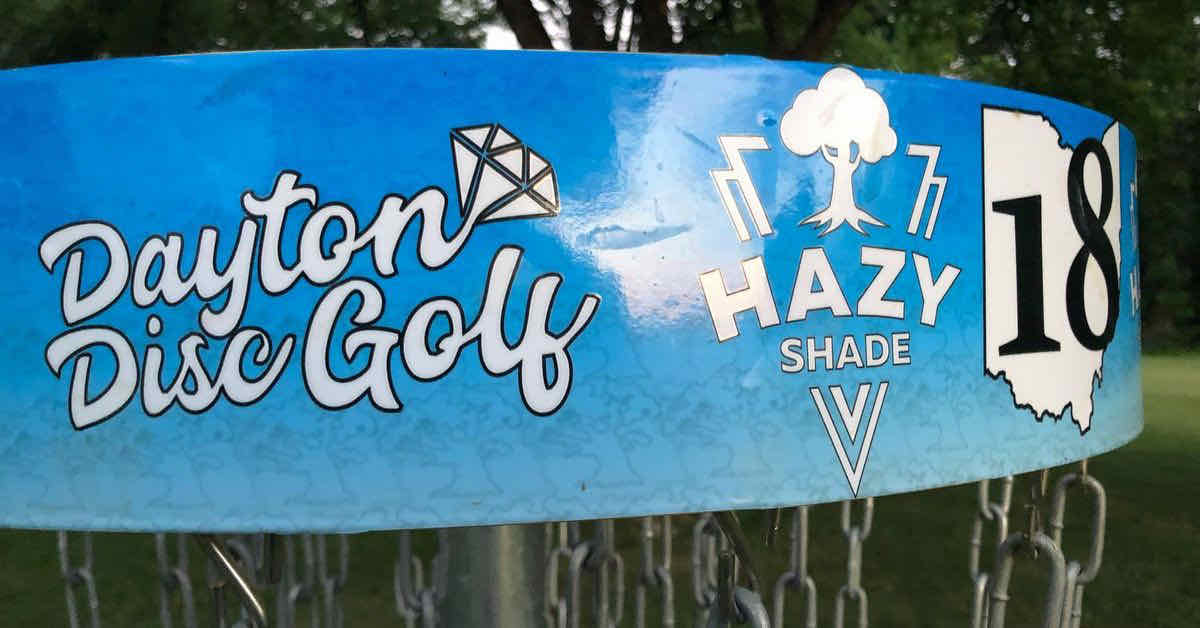 Some of Ohio's Best Disc Golf Is in Its "Gem City"
Dayton, Ohio, is the ninth best city for disc golf in the United States.
If you were asked to name Ohio cities, it's not likely that "Dayton" would be your first thought. With a population of about 141,000, the place nicknamed the "Gem City" (though, curiously, it was never a haven for jewel-seekers) has about half the residents of Cleveland or Cincinnati. Its claim to fame is being the town the Wright Brothers called home when they built the first functional airplane.
But in the last five years, the diligent work of area club Dayton Disc Golf and other community stakeholders has given Daytonians another feather for their caps: Living in one of the best places for disc golf in the country. A lot of Dayton's rise has to do with a recent flurry of course building and updating. One of the newer tracks – Caesar Ford Park – was 2021's best disc golf course in Ohio, and an even fresher addition to the area's course catalogue is getting better reviews than Caesar Ford.

Below we explore both of those courses in more detail when we talk about the best disc golf courses in and around Dayton. You can also learn a little about the city's disc golf history and how to find disc golf leagues as well as disc golf gear in the metro area.

Additionally, we give you tips on great places get a drink or a bite to eat in between and after rounds and some highlights for off-the-course sightseeing and activities.
All Top 10 Disc Golf Cities
Want to see who else made the list? Check out Top Disc Golf Cities – USA: 2021, our master page for all things Top Cities.
The Stats
Dayton-Kettering Metropolitan Statistical Area, Ohio
Overall Disc Golf City Rank:
9


Weighted Course Count Rank:
34


Weighted Course Density Rank:
4
The Top 10 Disc Golf Cities – U.S.A. rankings are based on the number, quality, and density of courses within nearly 400 metro areas in the country. The most populous cities within these metro areas are featured in posts' titles. The rankings are based entirely on stats and not the personal preferences of anyone at UDisc.

If you'd like to learn more about the system behind these rankings, give "How The 2021 Top 10 Disc Golf Cities – USA Rankings Worked" a read.
Dayton's Disc Golf History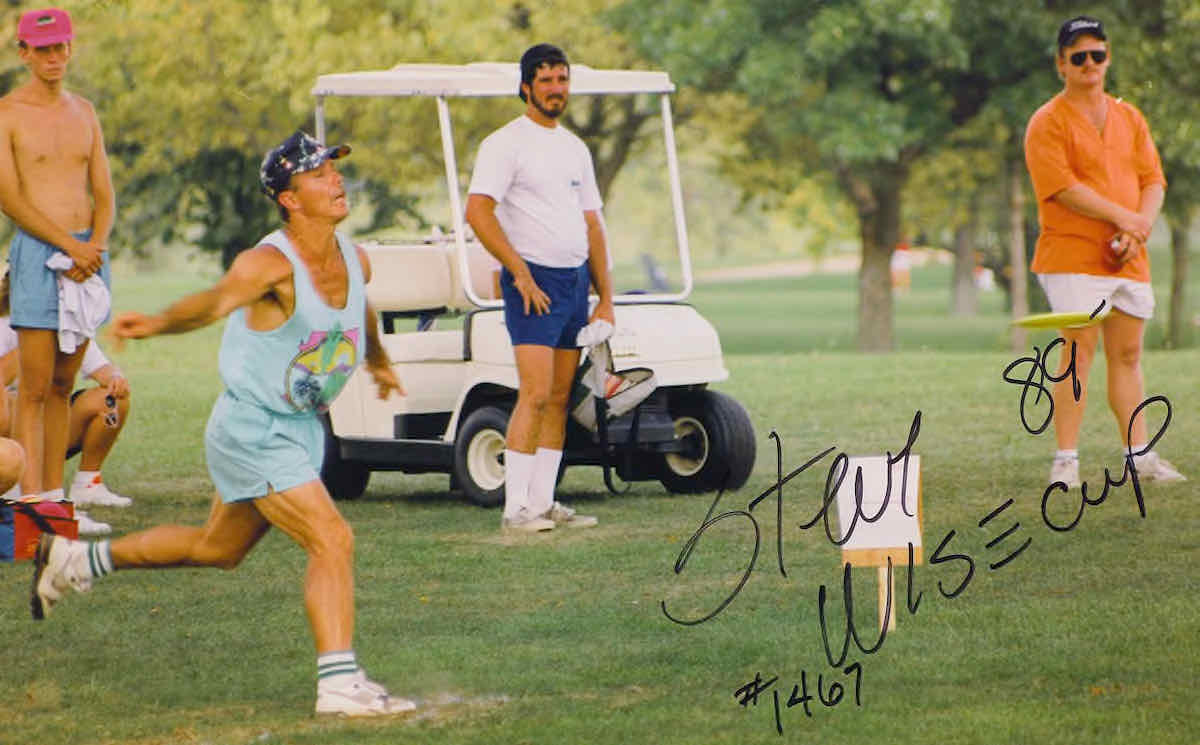 Dayton got its first course way back in 1978 at Eastwood MetroPark. The track lasted a decade but it was eventually removed and its baskets were used elsewhere – notably the extant Indian Riffle Park in nearby Kettering (though its baskets today are not those from Eastwood). In 1989, Dayton installed a course in Belmont Park, which is still an extremely popular place to play.
During its earlier years, the Dayton scene had two highlight accomplishments: Producing the 1989 pro disc golf World Champion Steve Wisecup and hosting the 1991 Professional Disc Golf Association World Championships.
The Gem City didn't get its own dedicated disc golf club until the late '90s. A Dayton Disc Golf (DDG) association formed in 1997 to fill a vacuum left by the Miami Valley Sports Disc Golf Association, which had collapsed a few years before.

For just under 20 years after DDG's founding, Dayton's scene grew at a fairly leisurely pace. The metro area would get a new course every few years or so and local leagues were doing reasonably well. Still, there wasn't a large fire burning to make the area's disc golf some of the country's best.

But in the last five or six years, things have started heating up. Current DDG president Brian Crabtree told us that the Dayton disc golf community has gone all in on growing the sport in the region. He said that it took many people to make plans bear fruit, but a group consisting of longtime DDG officer Carl Chiles (who he called "a beast" in terms of coursework), Nick Taulbee, Steve Kelsey, and himself have played key roles.

Crabtree's own inspiration to get more involved came from a trip he took shortly after ending a ten-year hiatus from serious involvement with the DDG following the births of his two children.

"I went to Minnesota, and my son and I were playing some of the courses up there, and they were so gorgeous and so well-maintained – they had signs and trash cans and benches," Crabtree recalled. "I thought to myself, 'Why don't we have that here [in Dayton]?'."

Now, thanks to the huge recent efforts of the Dayton area disc golf community, it's likely many visiting disc golfers ask themselves, "Why aren't the courses back home more like Dayton's?".
What's Disc Golf Like in Dayton?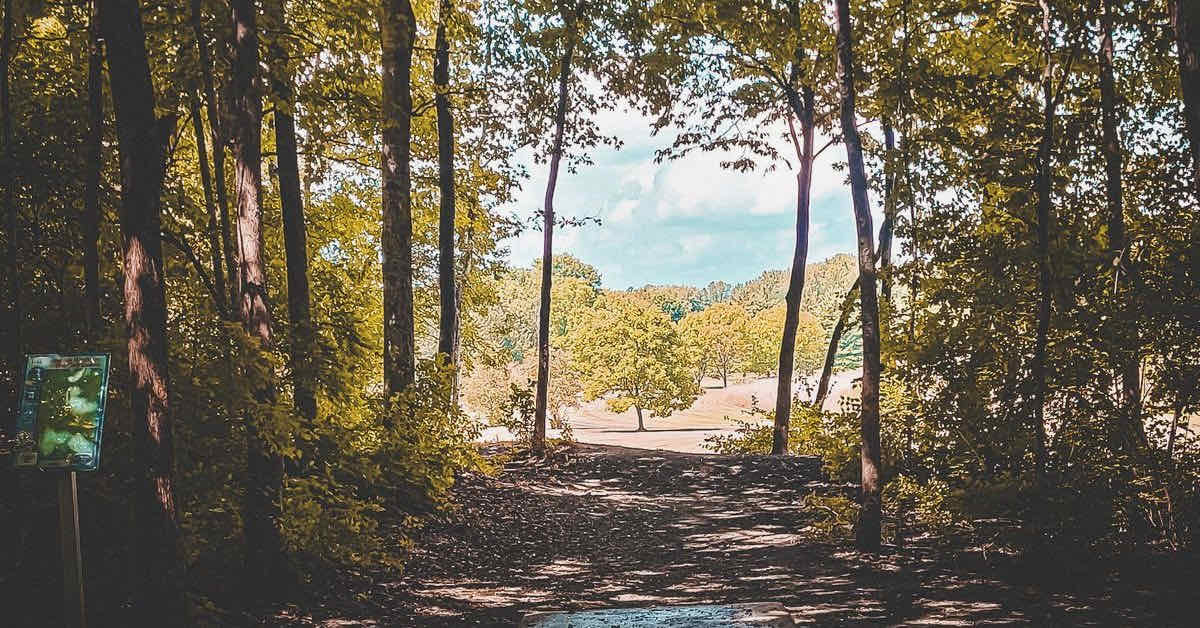 Courses around Dayton are diverse, with some on hilly terrain and others in flatter areas. There are many places to play on typical public park land that feature relatively open fairways with scattered trees keeping things interesting (the well-reviewed Belmont is a good example of this landscape). Some of the harder courses (two of which we feature in the next section) have more significant woods mixed with longer, fairly open holes. Whether you're looking for a quick, fun round or a course that will take you on a challenging adventure, you can find it in the Dayton area.
Dayton Disc Golf Course Highlights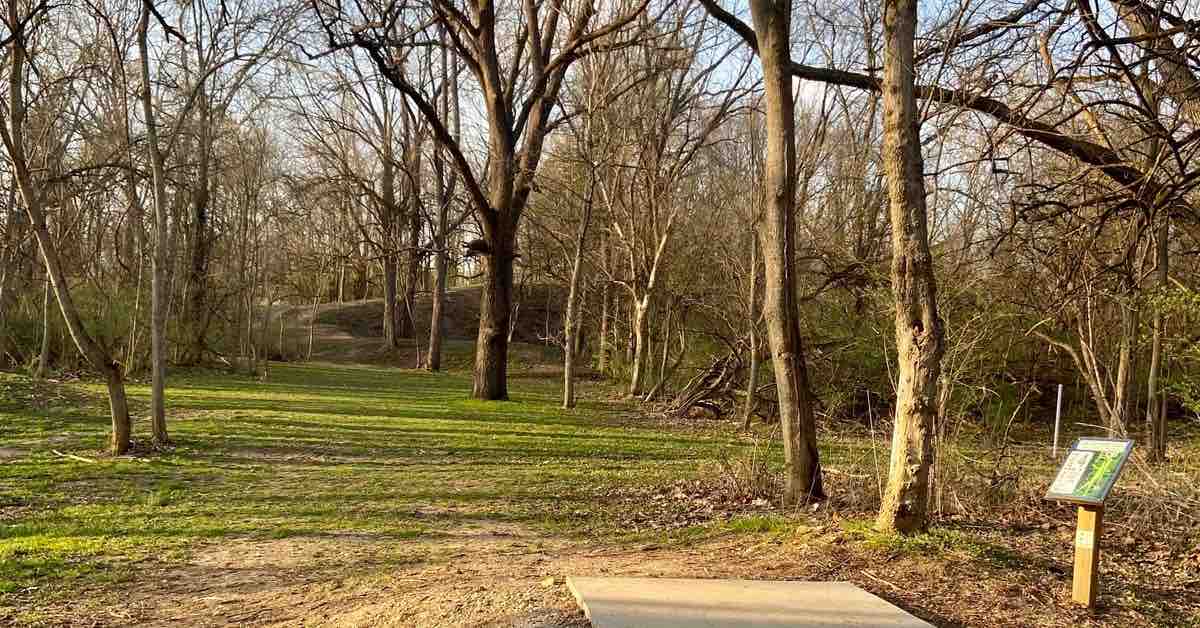 To see photos, hole distances, and reviews for each course, just tap or click on its name, which is linked to its UDisc Courses page.
Caesar Ford Park: In 2021, Caesar Ford Park was the best disc golf course in Ohio based on ratings by disc golfers with UDisc. Established in 2019, this fairly new course with its three sets of tee pads per hole has quickly become a regional favorite. Expect both your power and finesse games to be challenged with a variety of wooded and more open holes. Though the nearly 10,000-foot/3,048-meter Gold layout is meant to challenge the best players, the Blue (middle difficulty) and White (easiest) tees make it so disc golfers of various skill levels can find a course that's right for them. Reviews of the course often mention how well-maintained it is.
Echo Valley: Formerly a much-loved temporary course, Echo Valley became permanent in 2021 and has been an immediate hit. According to Crabtree, people have been driving from far and wide this year to check the course out and leaving impressed. Fairways run the gamut from tightly wooded to fairly open with scattered trees to wide open with just a tree line on the sides. Elevation is also a factor. The course has two sets of tee pads, both of which will be most fun for experienced players rather than novices.
Other highlights:
1. Handyman Ace Hardware (called Fairborn Disc Golf Course by locals) is a very challenging course for true woods-lovers.

2. Want more suggestions? See all disc golf courses in Dayton and surrounding communities on UDisc Courses.
Disc Golf Shops in Dayton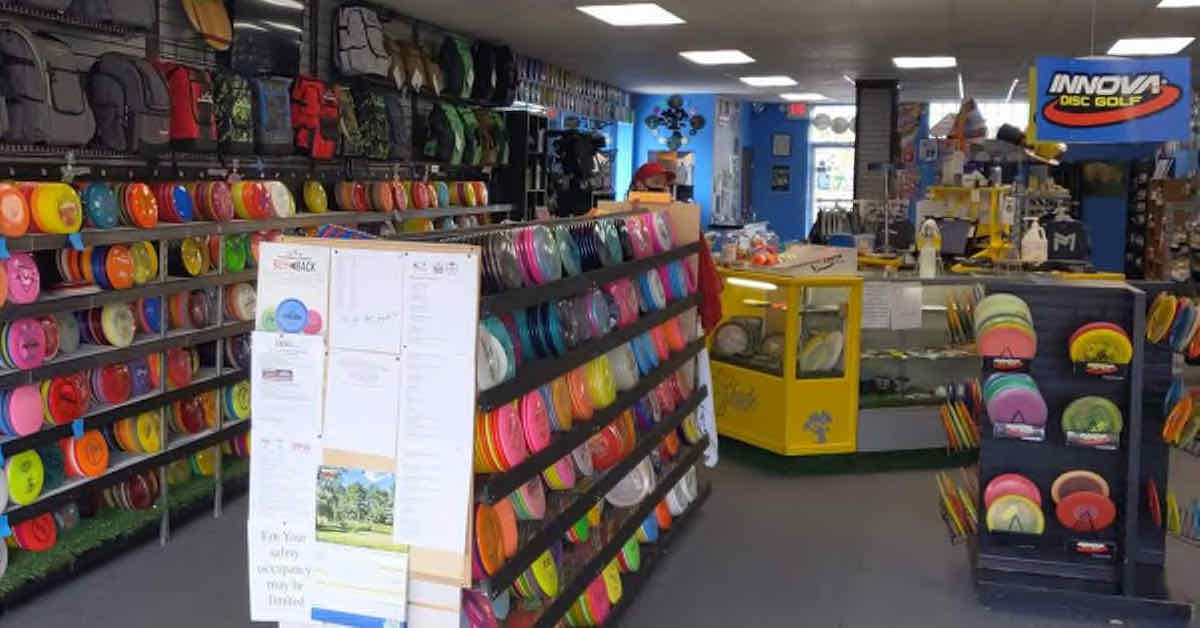 The place for all your disc golf equipment needs in Dayton is Hazy Shade Disc Golf and More. Established in 2002, the shop boasts a huge selection of discs and other equipment from a wide range of brands and is an integral part of Dayton's disc golf community. They even have a room where players can practice drives and putting when the weather turns bad.

For some new gear or in-person tips and info from people well-informed about disc golf goings-on in the area, Hazy Shade is the place to go.
Dayton's Online Disc Golf Community
If you have disc golf questions for those living in and around Dayton, try out the Facebook group Dayton Disc Golf. Another Facebook group, SW Ohio Disc Golf, can also help with Dayton-area questions if you need it.
Disc Golf Leagues & Events in Dayton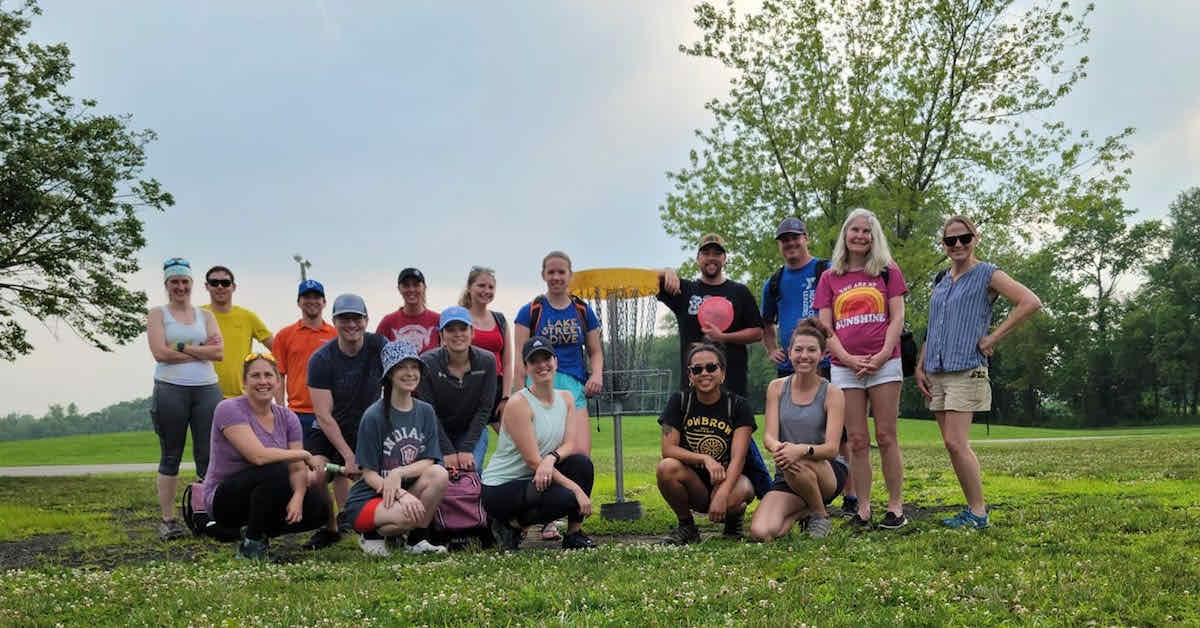 Leagues: Dayton's leagues tend to go on hiatus in the winter, but from spring until the end of fall, it should be pretty easy to find one. In season, two of the most popular are Wednesday Night Doubles at Belmont Park and a Thursday night random draw doubles league that alternates between Englewood Metro and Westbrook Park (a site most locals and the league itself refer to as "Clayton").

There are a number of leagues in the region that are scored with UDisc, which means you can find their upcoming places and times on UDisc Leagues (just click that link to see UDisc Leagues in Dayton). One of those is a women's disc golf league called Dayton Ladies League. Note that if you're reading this in winter, you're not likely to see any upcoming events on UDisc Leagues for Dayton since none have been scheduled yet.

For other days and times of leagues in Dayton, check a page on the Dayton Disc Golf website dedicated to that information. It's updated with new details each spring.
Events: Dayton Disc Golf has an event schedule on its homepage. You can also see area tournaments by using the "Events" tab in the UDisc app.
Chow Down & Drink Up in Dayton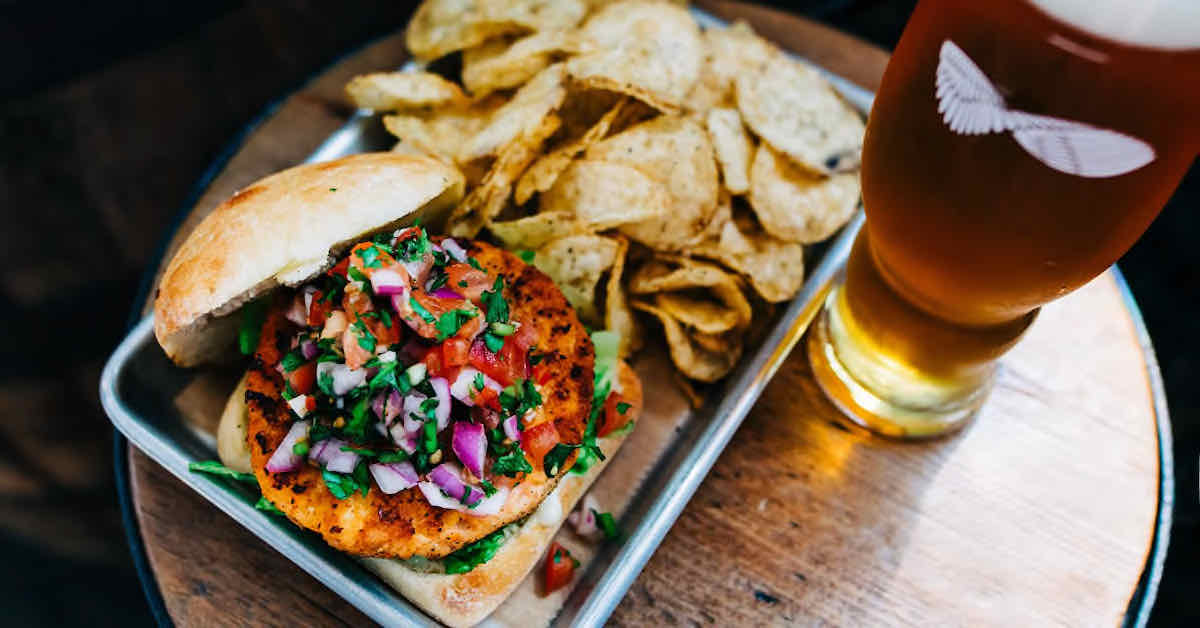 For food trucks, craft beer, and maybe a little shuffleboard, Devil Wind Brewing is a Dayton-area brewery that supports disc golf. They sponsored a league in 2021 and have even brewed a specialty beer for Hazy Shade. Every evening they're open, you can experience a different food truck and enjoy a good variety of beers on tap while spending your dollars at a place that backs the sport we all love.
If you have a mixture of craft beer lovers and non-drinkers in your party, Warped Wing Brewing Company is another good option. The brewery has recently added self-made non-alcoholic craft sodas to their menu alongside an extensive beer list and modern twists on bar food. Beers include straightforward lagers as well as pale ales, IPAs, dark beers, and creative seasonal offerings. The food is old U.S. favorites done with care and often a little something unexpected added to the flavor profile (e.g., you can go as simple as a grilled cheese or bite into a pork belly, lettuce, tomato sandwich with sriracha mayo). A bonus is that a newer Warped Wing location is just a 10-minute drive from the Echo Valley course we highlighted earlier.
Another disc golf-adjacent food destination is Slyder's Tavern, which is near both Hazy Shade Disc Golf and More and Belmont Disc Golf Course. A Dayton institution since 1948, it's supposed to have some of the best burgers around.

Those who enjoy trying regional franchise restaurants, keep these names in mind: Roosters and Dewey's Pizza. Roosters is known for chicken wings, and Dewey's is a mid-western gourmet pizza chain.
What Else Is There to Do in Dayton?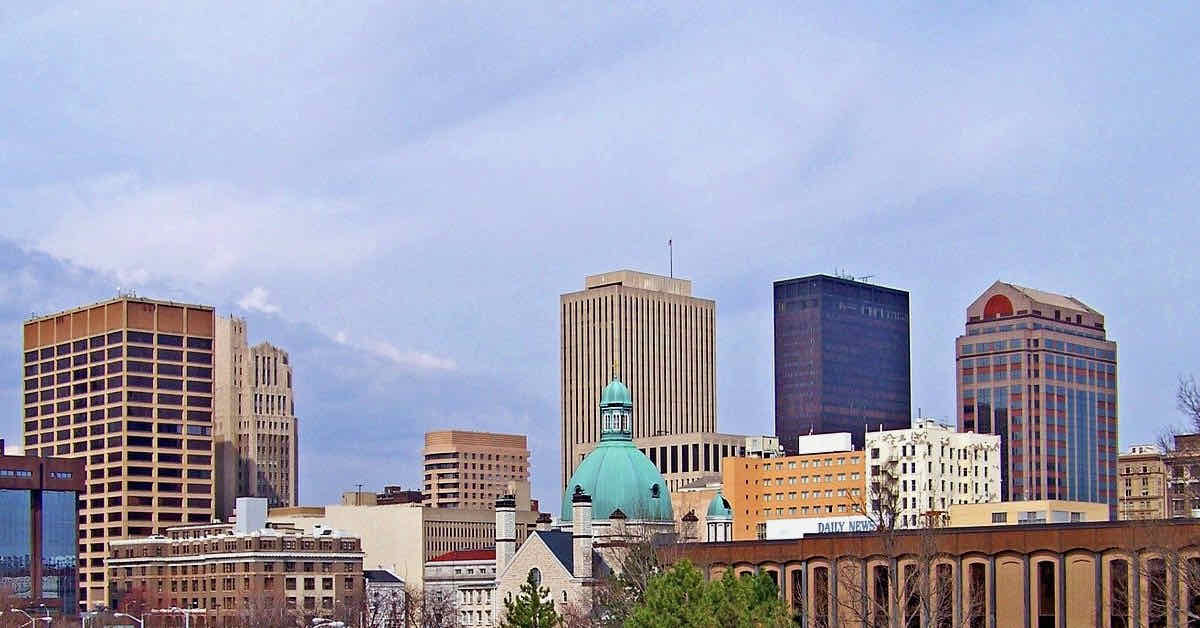 If you're looking for off-the-course entertainment, here are a few good places to go:
A look at history: Visit Carillon Historical Park, an open-air history museum where visitors can see historical buildings and artifacts. The biggest draw for many will be the Wright Brothers National Museum, where you can learn more about the brothers from Dayton who created the first functional airplane.
Flying machines great and small: Dayton is home to the world's largest military aviation museum: the National Museum of the U.S. Air Force. It is completely free to visit and includes real, full-size planes and even spacecraft.
Great with kids: The Boonshoft Museum of Discovery describes itself as "a children's museum, science and technology center and zoo." Expect plenty of hands-on exhibits and fun for the whole family.

Note: We'd like to thank Brian Crabtree and Bartosz Kowalewski especially for helping us learn more about Dayton disc golf for this post.