At the end of 2018, we finished revealing the Top 10 Disc Golf Cities — USA, and the week before Easter 2019, we toured the globe to fill you in on the best cities for disc golf outside of the United States. 
If you haven't read any of our Top Disc Golf Cities articles before, know that they're not just stats and a few fun facts. With the guidance of people who know the areas intimately, each piece tells you the type of disc golf you can expect near each city, describes must-play courses, and gives recommendations for the best places for food and drink. The international series also informs you about sightseeing and cultural highlights.
In case you missed them the first time around, here's the full list of Top 5 Disc Golf Cities — International (just click the city to go to its corresponding article):

1. Helsinki, Finland
2. Oslo, Norway
3. Stockholm, Sweden
4. Tallinn, Estonia
5. London, Canada
As we explain in each of the articles, this list wasn't created based on any sort of internal opinion poll. The cities on top made it there due to the number of holes they have available for play within their surrounding areas and the quality of their courses according to the ratings of UDisc users. And though we used data from all over the world, it seems that outside the US, nowhere has more options for great disc golf than Northern Europe.

Below, we discuss this phenomenon and suggest some reading material for anyone interested in learning more about it. We also give shoutouts to cities that weren't far from making the list and are sure to give the current top five a run for their money in the coming years.
Northern Europe Rising
"Disc Golf in Finland" (below) is from The SpinTV. It demonstrates the enthusiasm for disc golf common in Northern Europe.
It's no secret to most people that Northern Europe is a hotbed of disc golf activity, and we weren't surprised that it took up all but one spot on our international list. We discussed the number of courses in Estonia per capita as compared to the US in the Tallinn article, but for this recap we went ahead and ran the numbers on all the countries home to a Top 5 city and the US.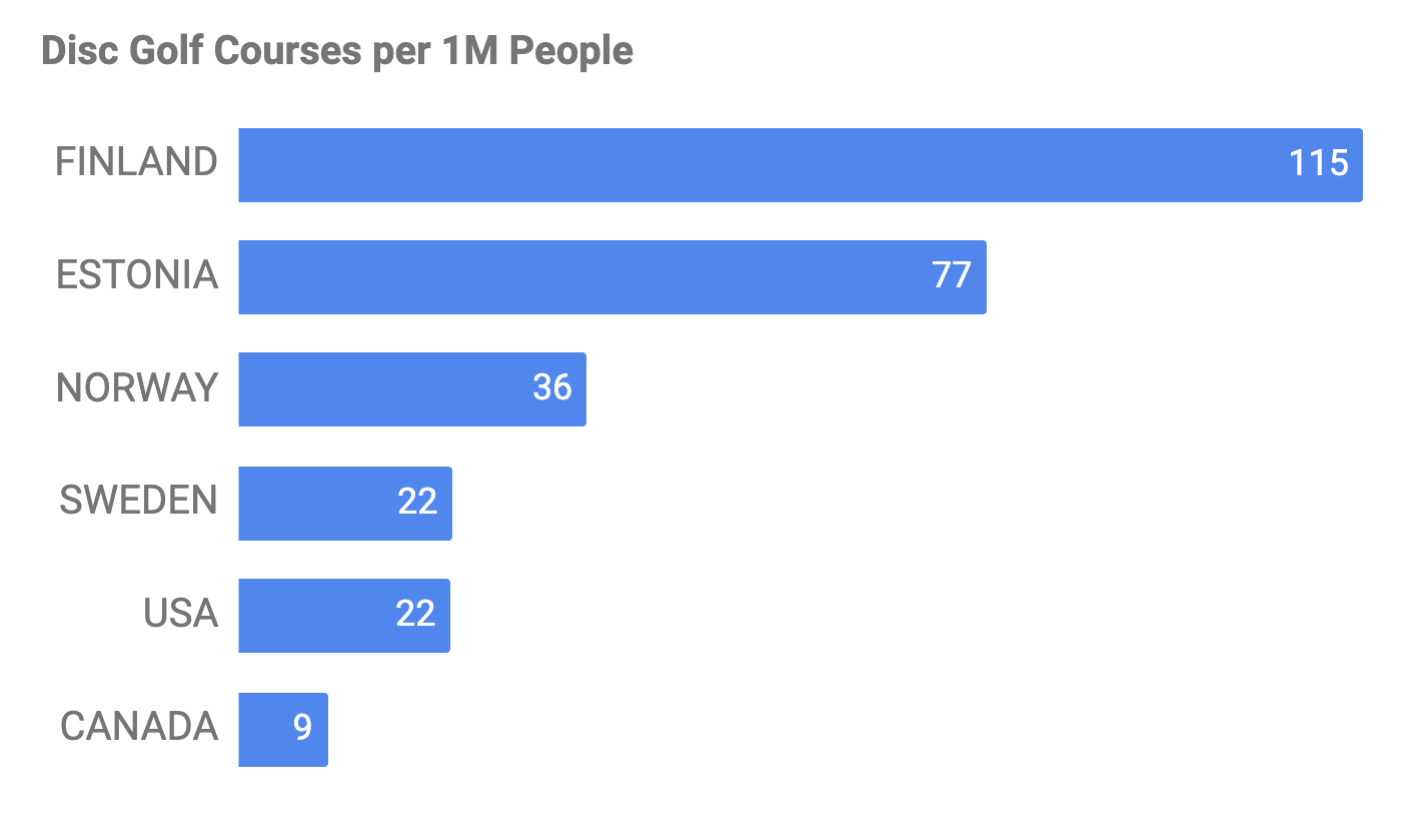 The results show that three of the four Northern European countries in the Top 5 have more courses per million inhabitants than the States, and Sweden and the US are virtually tied. In Finland and Estonia, the difference is enormous. When we saw this, we thought we would have a lot of work ahead of us digging up reasons for why disc golf is so successful in these areas. 
Luckily, though, a good portion of that work has already been done by the people at the disc golf think tank Parked. They have a series of articles examining what they call "the Nordic anomaly." Belief in strong government and top-down organization are just a couple of the interesting ideas they cover. This article of theirs is a great starting point for those interested in learning more.
Honorable Mentions
At the end of each Top 5 article, we explained how just one city from each country was included in order to make sure the list had as much variety as possible. But in all five countries, there was a city not too far off the leader that could in coming years unseat the current champ. We wanted to take a second to recognize each of those cities, listed alphabetically by city name below:
Calgary, Canada
Gothenburg, Sweden
Hamar, Norway
Pärnu, Estonia
Tampere, Finland
In the case of Pärnu and Tampere, they actually both beat out their respective countries' #1 cities in quality rating. The only thing they need to claim their countries' top spots is more holes.. As for the others, they were just a little behind in both quality and quantity, but not so far off that it's unthinkable they could catch up. 

What's certain is that each of these places is well worth a visit, and even if they aren't in the Top 5, we may take you for a spin around them in the future anyway.