See all top disc golf small towns — USA.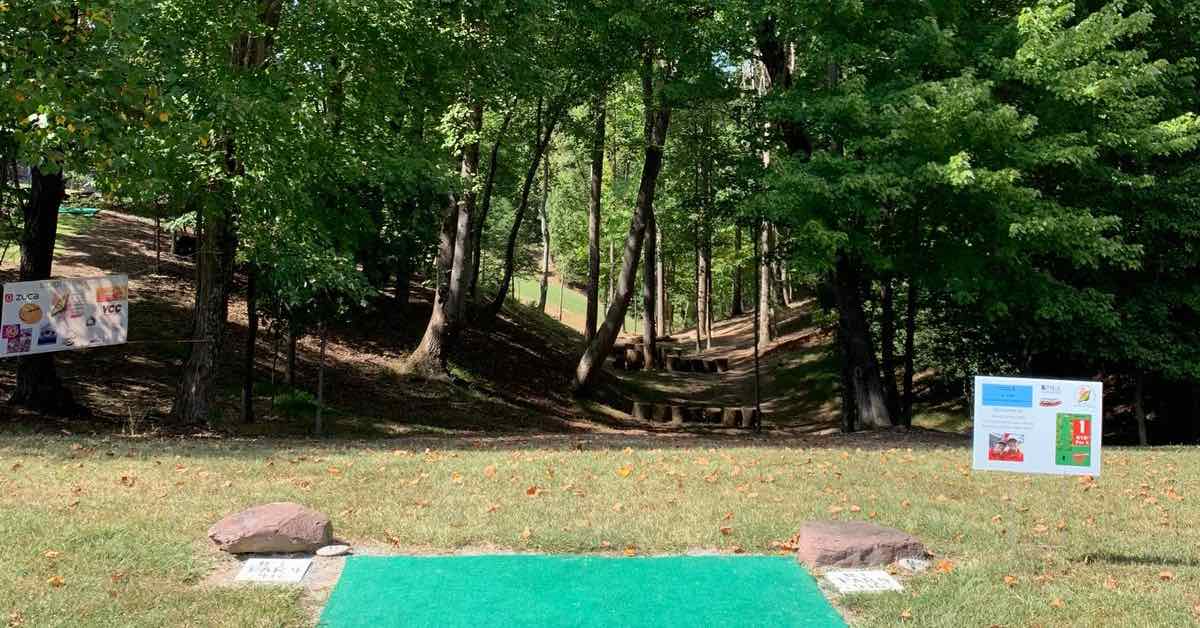 Amazing Virginia Disc Golf Just Off I-95
If you've ever driven on the much-used stretch of I-95 between Washington, D.C., and Richmond, Virginia, you've passed right by one of the best places to play disc golf in the United States. The town of Fredericksburg, Virginia, is almost directly between the two cities, and there are very few places in the country that have more options for players who just can't get enough of the tight fairways and technical lines that are hallmarks of southeastern disc golf courses.

And it's not just that there are a lot of courses in Fredericksburg and the surrounding area, it's that there are a lot of very, very good courses. There are a total of eight disc golf courses in or near Fredericksburg (within 25 miles/40 kilometers)* rated 4.4 out of 5 or higher on UDisc (and that's excluding two highly-rated par 2 courses). One of them is even on our list of top 100 disc golf courses in the world. 

Along with those courses, the town also has options for non-disc golf outdoor recreation and plenty for U.S. history buffs to enjoy. Don't forget the great local breweries, wineries, and restaurants, either.

Read on to get a more specific overview of what the Fredericksburg area offers in terms of disc golf, food and drink, and off-the-course recreation.

*Note: Courses not in Fredericksburg did not affect its ranking in this list.
The Stats
Here's how Fredericksburg's disc golf offerings fared in our analysis of over 6,000 small towns in the United States:
Quantity Rank: 5

Quality Rank: 3

Overall Disc Golf Grade: 82/100
To qualify for this list, towns had to have populations under 50,000. Fredericksburg's population is around 28,000.


The scores used to establish both quality and quantity ranks derive from information from the UDisc app, which, thanks to disc golfers from around the world, has the most complete disc golf course directory available with well-established courses typically having an abundance of ratings. 


The quantity rank is based on how many courses and unique permanent holes a town offers. Each town received a quantity score, and its rank reflects where that score fell in relation to the other towns we analyzed. Unlike our Top 10 Disc Golf Cities – USA rankings that considered courses within a radius of each metropolitan area, only courses in town borders counted for this list.


The quality rank was derived from the ratings of a town's top four courses in the UDisc app. Each town received a quality score, and its rank reflects where that score fell in relation to the other towns we analyzed


The overall grade comes from a composite of the scores used to generate quantity and quality rank. This grade was what determined a town's position in our Top Disc Golf Small Towns – USA list.


The Top Disc Golf Small Towns made their way onto this list based on data and not the opinions of this article's author or any other members of UDisc's staff. We were as surprised and interested as anyone to find out what the numbers would tell us.
The Flyover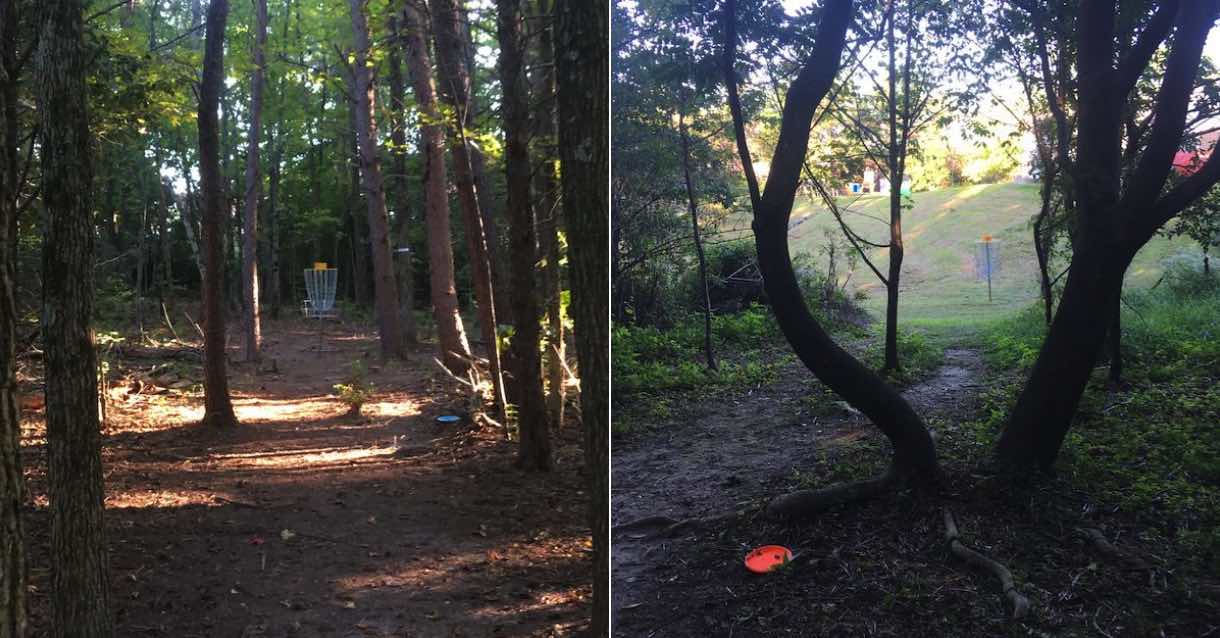 While some places (like most on our Top Disc Golf Small Towns – U.S.A. list) can point to a single person or organization that built the foundations for their thriving disc golf scene, the Fredericksburg area has many to thank for its bounty of excellent courses.

The person some call the Godfather of Disc Golf in Virginia, John Biscoe, lives close to Fredericksburg and has designed some of the area's most well-known and highly-rated courses, like Loriella Park and Hawk Hollow. There's also Mike Trapasso, the landowner of the private, multi-course disc golf destination The Blockhouse in Fredericksburg's neighbor town Spotsylvania Courthouse. The first course of The Blockhouse was installed a quarter century ago in 1995.

Disc golf history buffs will also be interested to know that along with inspiring love for disc golf in many locals, Trapasso's Blockhouse and its pay-to-play model generated a spark that turned into one of the world's best disc golf courses, Maple Hill.

More recently, Doug Jones helped add a new gem to Fredericksburg's crown: Cannon Ridge. This private (but free-to-play) course on Jones' property currently boasts a stunning 4.8 out of 5 rating on UDisc. You can read more about the history of this course and what it's like in the Course Highlights section of this article. Since Cannon Ridge's creation, Jones has become more and more involved with the local disc golf scene, including helping design other area courses.

The wide variety of sources for the disc golf riches in the Fredericksburg area belies a huge amount of support and love for the game there. And that's something the Professional Disc Golf Association (PDGA) must have noticed, too, when it accepted the region's bid to host the 2019 United States Women's Disc Golf Championship.

Of course, what you're probably more interested in isn't Fredericksburg's past but what it's like to visit in the present. Don't worry because we found two great sources to help us tell you all about that. One them is Jones, and the other is Bob Cannon, the president of the Spotsy Disc Golf Club (short for Spotsylvania County which is right next to Fredericksburg). Cannon is on the Ambassador Team for disc golf equipment company Innova and also the Virginia coordinator for the PDGA. He's lived in the Fredericksburg area since 1987.
What Disc Golf Can I Expect?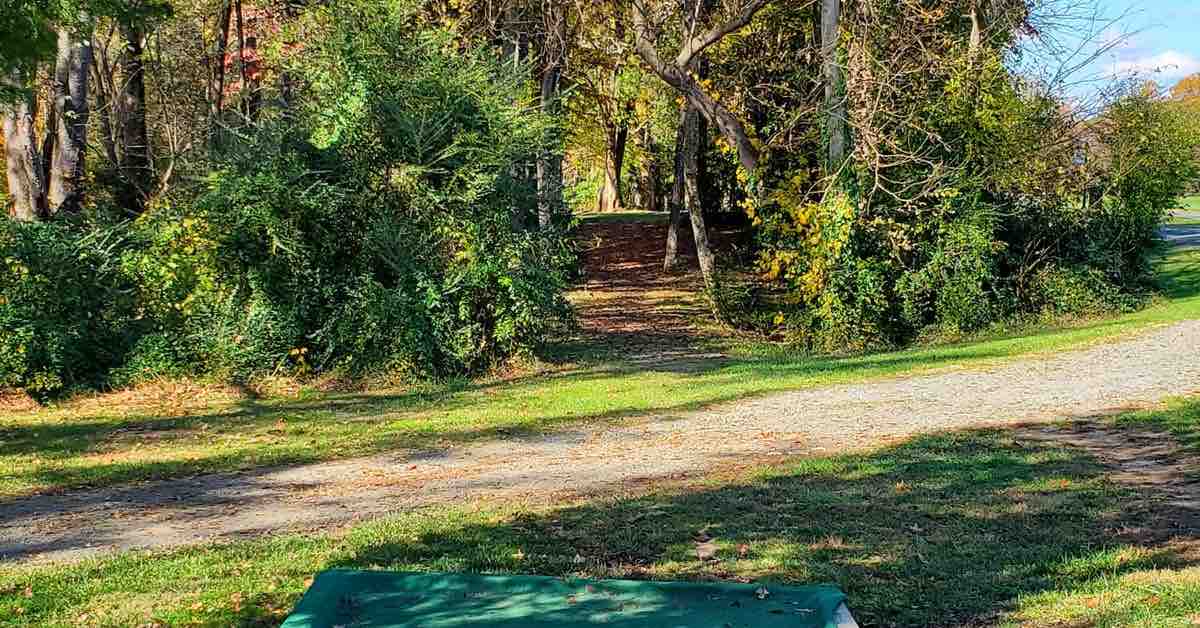 According to Cannon, if you plan to play near Fredericksburg, be ready for courses where technical lines are the norm.

"To me, Virginia disc golf is playing in the woods and learning to shape those shots between all the trees," Cannon said.

That isn't to say that there are only tightly wooded fairways there. For example, Cannon said Loriella Park (see more about this course in Course Highlights) is a course with "about half of the holes in the woods and half in the open." However, there's not a course in the area without a good amount of holes where trees are a major factor.

Though the courses have this common trait, Jones said that "hole variety" was actually one of his favorite aspects of disc golf in the region.

"I love that I use virtually every disc in my bag when I play Cannon Ridge, Loriella Park, Blockhouse, Pendleton, Curtis Park, or Hawk Hollow," Jones said. "The variety includes hole length, fairway width, elevation changes, and flight paths. Frequently there are multiple flight path options to choose from. Many of the local courses also have multiple tee and pin locations, so golfers never get bored."

It seems you can expect a few dings on your discs when you play in or near Fredericksburg, but you can also anticipate that every single one of them will be worth it.
Course Highlights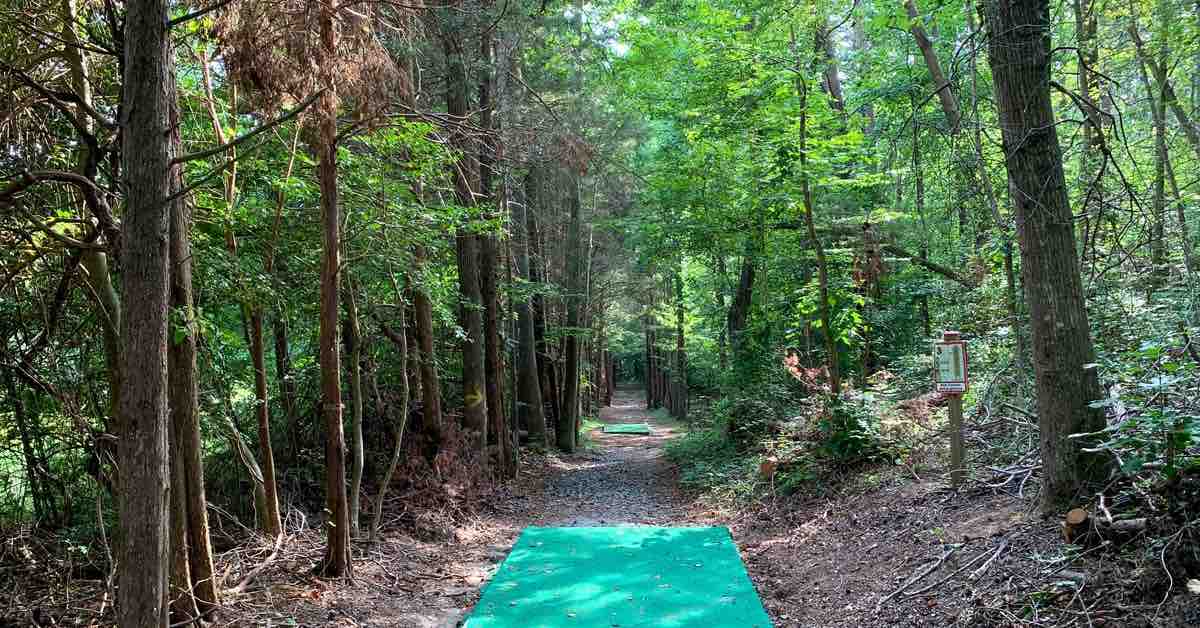 Cannon Ridge: As we've already said, Cannon Ridge is Fredericksburg's most highly rated course at 4.8 out of 5. Its beginnings, however, were pretty humble, according to Jones, the owner of Cannon Ridge.

"I moved to Fredericksburg in 2000 and began playing object golf in 2006 as a way to teach my three sons 18 types of trees growing around our new home and to enjoy some quality father-son time," Jones said. "We used Frisbees and were not even aware of the growing sport of disc golf."

Over the next few years, Jones learned not only what disc golf was but also that he was in a hotspot for the sport. In 2011, he began hosting leagues on his object course and eventually added permanent baskets in 2014 in conjunction with a redesign that made the course more challenging. 

After Fredericksburg's bid to host the 2019 USWDGC was accepted by the PDGA, even more improvements were made to Cannon Ridge. They were accomplished with input from aforementioned Virginia course design guru Biscoe and local pros as well as help with labor from the Spotsy Disc Golf Club.

Now the course is a true stunner. There's a huge variety in elevation, well-maintained fairways through hardwood forest, and three tee locations for most holes. A recent course review on UDisc called Cannon Ridge "a Mecca for disc golf in Virginia" and many others express similarly high regard.

Amazingly, though Cannon Ridge is on Jones' private property, it is completely free to play. 

"I just ask golfers to text me in advance with names of players and arrival time so I know who is on the property...[and] to respect the property and not to leave their trash," Jones said.

You can find Jones' number in the UDisc Courses page for Cannon Ridge. Click the course name at the beginning of this description to see that page.

Loriella Park: It's Jones' favorite Fredericksburg course other than his own, and it offers a broad range of hole types.

"In addition to a beautiful park setting, new Innova DISCatcher Pro 28 baskets and rebuilt tee pads, multiple tee and pin locations, the variety of shots required to play a successful round sets it apart," Jones said of Loriella Park. "Elevation, water hazards, tunnel shots, wide open – it has it all!"

Loriella was played twice by the Open Women at the USWDGC, so we also reached out to the champion of that division, Kristin Tattar, for her thoughts about the course. 

"Distances weren't very long so there was a lot of pressure to birdie almost all the holes, but if you weren't accurate enough, bogey came pretty quickly," Tattar recalled.

The course was designed by Biscoe and is currently rated 4.5 out of 5. 

More Options: As we've said before, the Fredericksburg area is home to a very high number of excellent courses. Cannon said his favorite in the vicinity was Hawk Hollow, but you can explore all disc golf courses near Fredericksburg, Virginia, yourself on UDisc Courses.

The Local Routes
Gear: There are multiple options for discs and equipment in Fredericksburg. The Blockhouse and Curtis Memorial Park are both courses with pro shops. Additionally, there's a computer store named Heart and Soul run by a local disc golfer that also sells new and used discs. The local Play It Again Sports carries discs, and Dick's Sporting Goods has (a limited) selection, too.
Talk to the Locals: If you're looking for some more local advice or someone to meet up with, try joining the Spotsy Disc Golf Club Facebook group. You can also look for disc golf tournaments in the area by tapping the Events tab in the UDisc app.
Eat, Drink, See, Do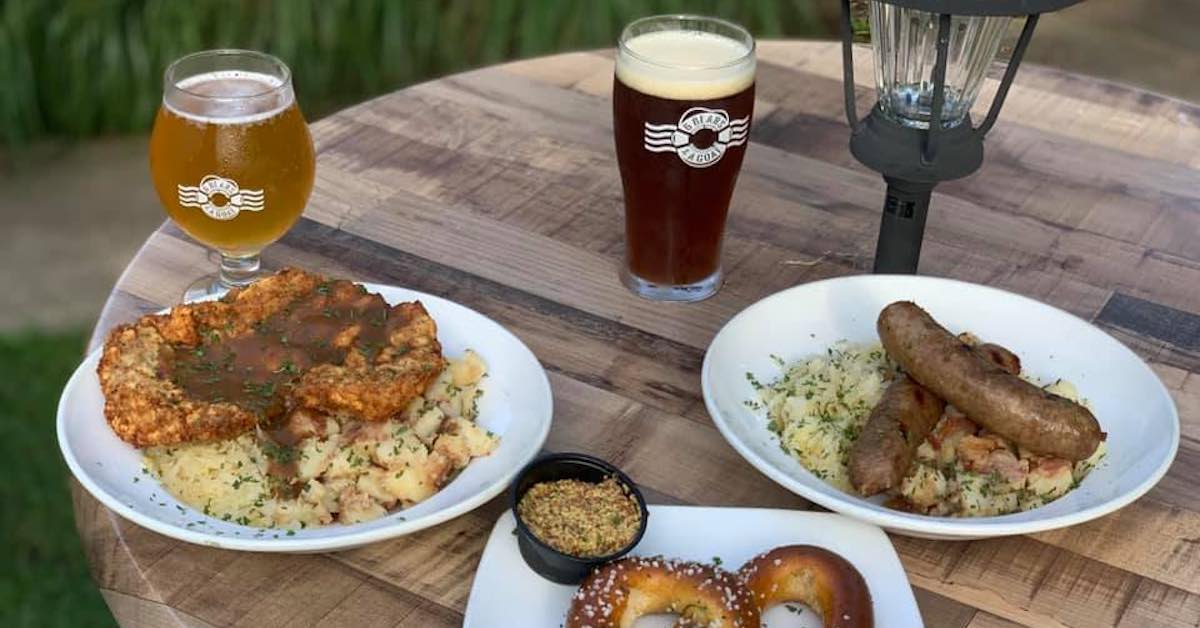 Eat & Drink: Both Cannon and Jones pointed to the same place as their current favorite for food and drinks in Fredericksburg: 6 Bears and a Goat Brewing. It's American fare like sandwiches, burgers & fries, and salads done to a high standard with many fresh, local ingredients and plenty of modern twists (e.g., parmesan truffle fries). It also has a rotating selection of beers, many of which are award-winning. Those brews are often used as ingredient's in the restaurant's dishes.

6 Bears and a Goat also has a nine-hole par 2 course on site if you want to practice those upshots.

Another brewpub option Cannon recommended is Spencer Devon Brewing. Or, if you're in the mood for BBQ, you can try out Billiken's Smokehouse. For a more upscale vibe, there's Foode.

Finally, Carl's Frozen Custard stand is a can't-miss for those with a sweet tooth. Using the same recipes since 1947, this quaint piece of Americana will serve you chocolate, vanilla, or strawberry frozen custard to cool you down during those hot Virginia summers.

See & Do: You can have many great experiences in and around Fredericksburg, but here are three standouts:
History: Fredericksburg was home to major battles during the U.S. Civil War, and you can explore much of that history at the Fredericksburg and Spotsylvania National Military Park. 


Downtown: Fredericksburg has a historic downtown with a wealth of interesting architecture, shops, art galleries, and restaurants. Learn more about what's there at fredericksburgdowntown.org.


Wine & Spirits: Fredericksburg is home to a number of wineries and the A. Smith Bowman Distillery, which won the World Drinks Award prize for World's Best Bourbon in 2016 and 2017. For $25, you can get a ticket to the Grapes and Grain Trail, which will get you tastings at five local wineries and the distillery, a wine glass, and discounts on wine purchases.