See all top disc golf small towns — USA.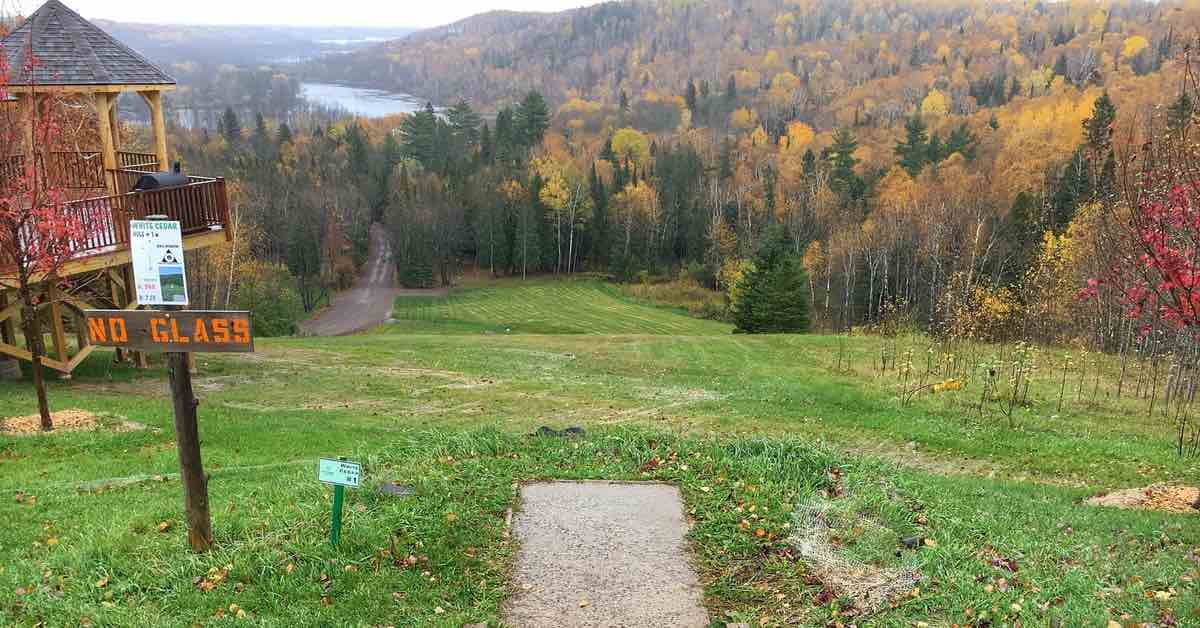 "Superior" Disc Golf in the Twin Ports
At the far western tip of Lake Superior, you'll find a town named after that great body of water: Superior, Wisconsin. Superior is one half of the Twin Ports. Its sibling is Duluth, Minnesota, just a short ride over either the Blatnik or Bong Bridge.

The number of disc golf courses in the Twin Ports has steadily risen over the last decade, but something truly special has been happening in Superior. There, a local resort has committed to making itself a must-visit disc golf destination and currently has multiple top-notch courses on its property. Add to those courses another recent course addition in a municipal forest, opportunities for plenty of non-disc golf outdoor recreation, a number of great food and brewery options nearby, and you've got a destination checking a lot of boxes for disc golf tourists.

And if you weren't already excited, allow us to mention that Superior is also not far from the world's heaviest ball of twine.

Read on to get a more specific overview of what Superior and the surrounding area offer in terms of disc golf, food and drink, and off-the-course recreation.
The Stats
Here's how Superior's disc golf offerings fared in our analysis of over 6,000 small towns in the United States:
Quantity Rank: 4

Quality Rank: 8

Overall Disc Golf Grade: 78/100
To qualify for this list, towns had to have populations under 50,000. Superior's population is around 26,600.


The scores used to establish both quality and quantity ranks derive from information from the UDisc app, which, thanks to disc golfers from around the world, has the most complete disc golf course directory available with well-established courses typically having an abundance of ratings. For example, disc golf courses in Superior average over 130 ratings.


The quantity rank is based on how many courses and unique permanent holes a town offers. Each town received a quantity score, and its rank reflects where that score fell in relation to the other towns we analyzed. Unlike our Top 10 Disc Golf Cities – USA rankings that considered courses within a radius of each metropolitan area, only courses in town borders counted for this list.


The quality rank was derived from the ratings of a town's top four courses in the UDisc app. Each town received a quality score, and its rank reflects where that score fell in relation to the other towns we analyzed


The overall grade comes from a composite of the scores used to generate quantity and quality rank. This grade was what determined a town's position in our Top Disc Golf Small Towns – USA list.


The Top Disc Golf Small Towns made their way onto this list based on data and not the opinions of this article's author or any other members of UDisc's staff. We were as surprised and interested as anyone to find out what the numbers would tell us.
The Flyover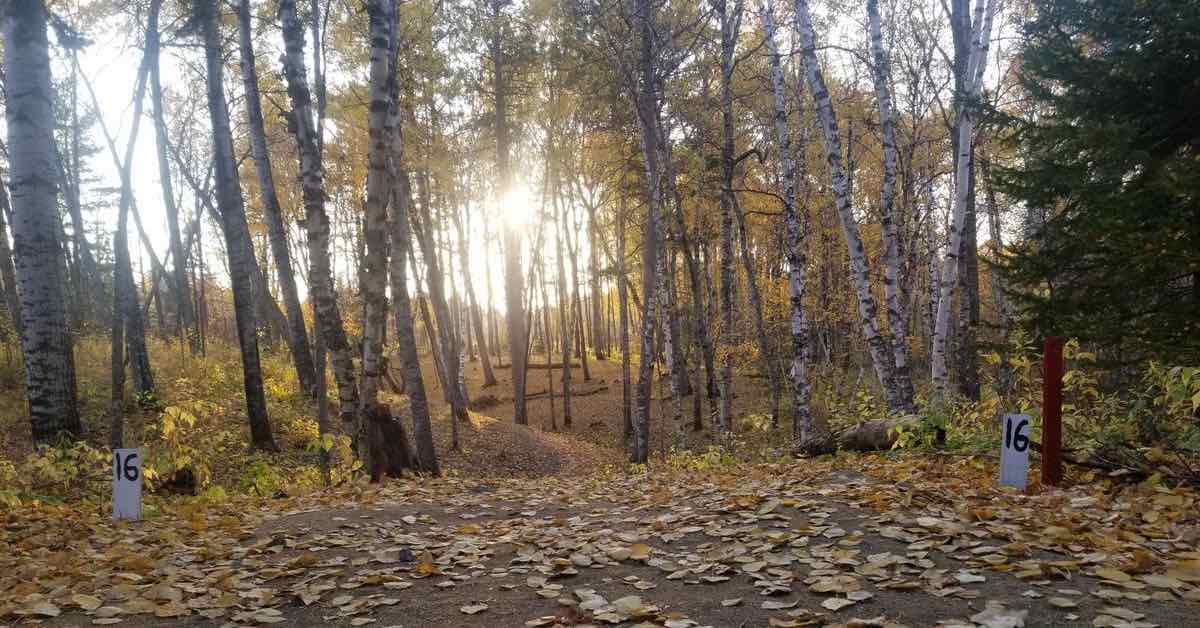 Superior finding its way onto this list has a lot do with the relationship between Mont du Lac Resort and the person in charge of its Disc Golf Operations, Bryan Lagergren. 

The parties first came in contact in 2009 when Lagergren ran a tournament on a temporary course he'd set up at the resort. At that point, Lagergren had helped install several courses in the area, but his experiences with course building on public land had turned him off to the bureaucratic processes that involved.

"I was going to pursue only private entities going forward with installing courses," Lagergren said. "I can get more things done in less amount of time without all of the outside interference."

Mont du Lac was just the type of private entity Lagergren was hoping to partner with. He said that when the resort's owners got a glimpse of what disc golf could potentially do for their property at that 2009 tournament, they were immediately enthusiastic about making it a part of their offerings.

"The owners were hooked," Lagergren said. "Ten years later there are three 18-hole courses on the property, it's the home of [Lagergren's disc golf retail shop] Northern Lights Disc Golf and the Lake Superior Open, and the rest is history. Mont du Lac Resort was the first to take the risk on disc golf and it's all paid off."

Now it's not just paying off for the resort itself but also Superior as a whole. Without the three well-rated courses at Mont du Lac, Superior would certainly not be a standout on our Top Disc Golf Small Towns – USA list. None of the resort's courses are rated below 4 out of 5, and its most recent addition – Hidden Meadows – is at an impressive 4.5 out of 5.

We got in touch with Lagergren to learn more about what to expect at his courses as well as to get some tips about food, drinks, and other activities in and near the Twin Ports. And though it's great to get information about courses from those who made them, it's also valuable to hear informed opinions from those who didn't. So we sought out another source and found longtime Twin Ports-area resident and disc golfer Laramie Carlson. He gave us his perspective on what the local disc golf is like as well as his own recommendations for other wonderful experiences in the area.
What Disc Golf Can I Expect?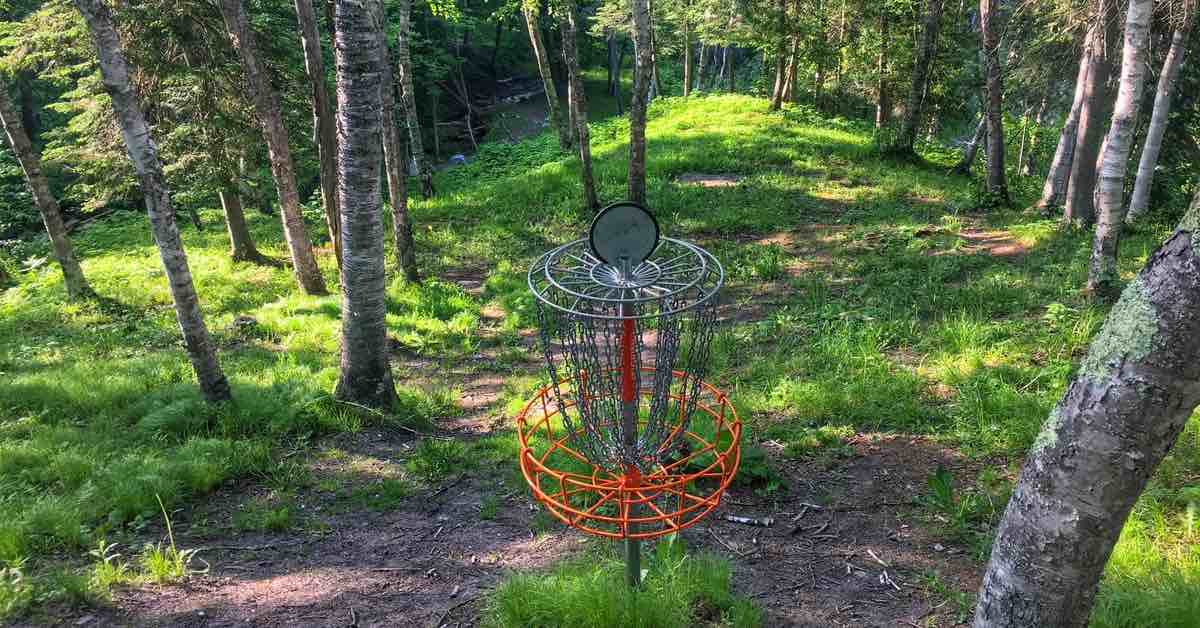 The most highly-rated courses in Superior — those at Mont du Lac and Superior Municipal Forest – offer up holes that call on players to use a great variety of skills, but Lagergren said that fairways and frequent elevation changes are the norm on almost all of them. The exception to this is Hidden Meadows, which has plenty of woods without as much elevation.
Insights Carlson offered on signature Lagergren design techniques also help potential visitors know what to anticipate at the three Mont du Lac courses.

"Bryan utilizes tight tunnels from tee box to basket, low ceilings in tactical spots, and well placed pins with appropriate obstacles to make par good on his courses," Carlson said.

Generally, expect to need a decent amount of power, a lot of technical prowess, the stamina to climb hills, and a good pair of disc golf shoes if you want to shoot well in Superior.
Those looking for something shorter, more open, and quick can also try Superior's little six-hole course, Central Park.
Course Highlights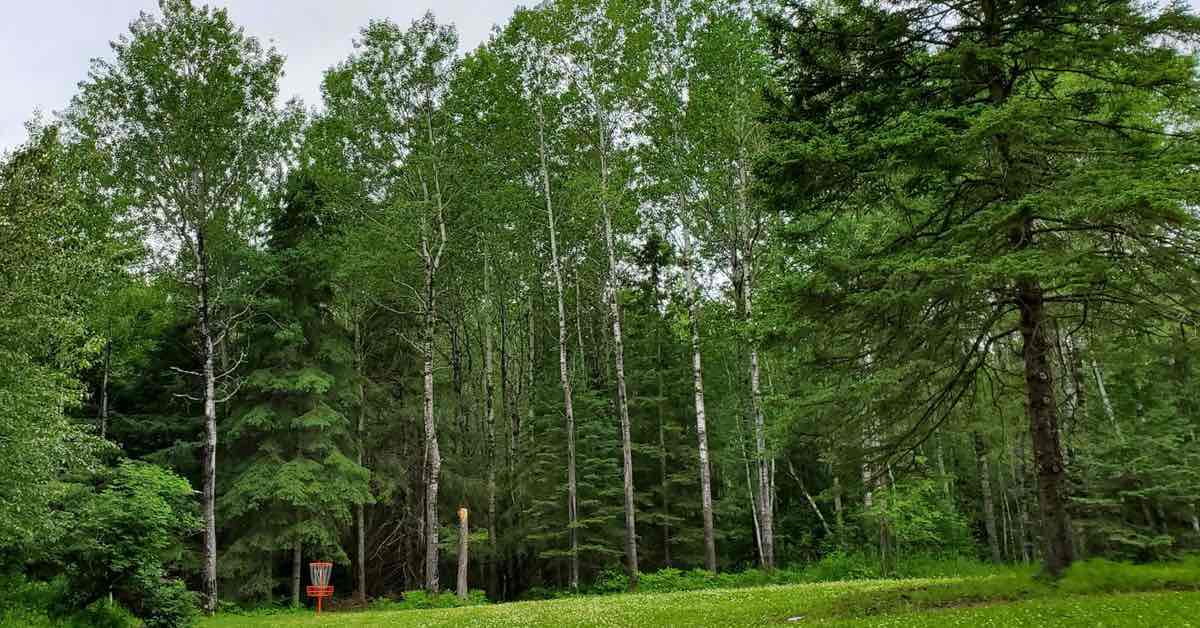 Hidden Meadows: This course, one of those at Mont du Lac Resort, is simply a must-play while in Superior. A slightly amusing sign of its quality is – despite its location in Wisconsin – multiple reviews on UDisc calling it one of the best courses in Minnesota (proof of how close the border truly is). Also, both Lagergren and Carlson chose it as their favorite course in town.

"The seasonal course plays through tight ATV trails and open grassy meadows in a mixed forest," Carlson explained. "Long touch lines with two par 4s and a par 5 – the double meadow hole."

This high praise for Hidden Meadows exists despite the fact that Lagergren is still in the process of installing permanent tee pads. When that process is finished, it's very likely the course's rating will shoot up even higher than its current 4.5 of 5 rating.
Superior Municipal Forest Disc Golf Course: Though we've mentioned Lagergren often in this piece, Carlson also said that Superior disc golf has a lot to thank Tyler Masseth for. Along with running events and leagues, Masseth cultivated a relationship with the city that led to permission to build a course in Superior Municipal Forest. As you might expect from a course in a forest, its fairways are often wooded. It also has plenty of elevation changes and forces a variety of shot shapes.

Just installed in 2020, the process to perfect the course is still ongoing, but it's already getting rave reviews like this one from a reviewer on UDisc: "Fantastic course...Great mix of woods and open," they wrote. "Has gravel/carpet tees and that would be my only complaint though a very tiny one at that because they work better than some I have seen. Worth the stop if you what to play one of the best courses in the Duluth/Superior area."

More Options: Superior and its surroundings are home to a treasure trove of courses. Check out some of the best disc golf courses in and around the Twin Ports on UDisc Courses.

Important Info: Playing at Mont du Lac costs $10 per day, and all courses are closed on Tuesdays. The day pass allows you to play as many rounds as you'd like on all three courses, White Cedar, Eagle's Peak, and Hidden Meadows, from 8am-8pm. Additionally, of the three courses, only White Cedar is open throughout the winter.
The Local Routes
Gear: Mont du Lac features a small selection of discs, but there is no dedicated disc golf retailer with regular hours in Superior. Carlson did mention that Lagergren's Northern Lights Disc Golf and Duluth's Par Plastics were available by appointment and that the local Play It Again Sports had discs, too.
Talk to the Locals: If you're looking for some more local advice or someone to meet up with, try joining the Lake Superior Disc Golf Community on Facebook. You can also look for disc golf tournaments in the area by tapping the Events tab in the UDisc app.
Eat, Drink, See, Do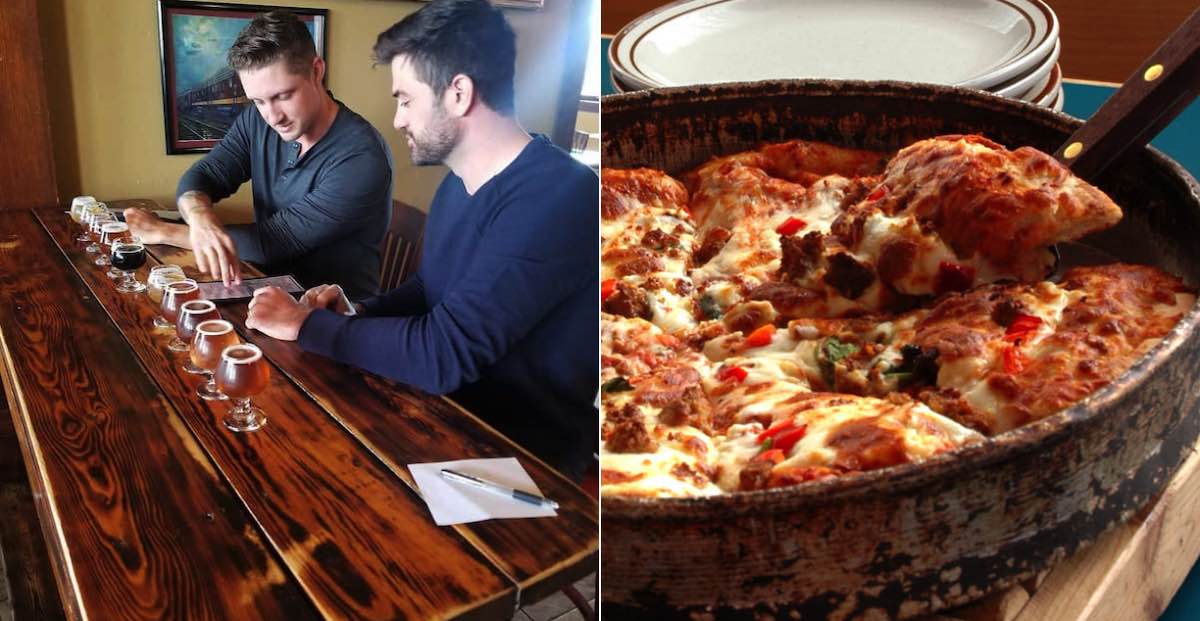 Eat & Drink: If "the best pizza and brewpub in Superior" sounds good to you, that's exactly what Lagergren called the Thirsty Pagan. Located in a renovated former train passenger depot, the Thirsty Pagan serves freshly-made, gourmet pizzas and a variety of their own craft brews to wash them down. It's a great place to relax and recuperate after a long day of disc golf.

Not feeling pizza? Superior is also home to Anchor Bar and Grill, which has burgers and fries so good it was featured on popular TV show Diners, Drive-Ins, and Dives. Carlson said Anchor was "cheap and good" and recommended the jalapeño cream cheese burger.

If you're all full but still interested in trying a few local brews over the bridge in Duluth, Lagergren recommended Bent Paddle Brewing and Carlson vouched for Earth Rider Brewery's tasting room, the Cedar Lounge.

See & Do: You can have many great experiences in and around Superior, but here are three standouts:
Wisconsin's Highest Waterfall: Pattison State Park is in Superior, and it's home to the 165-foot/50-meter high Manitou Falls. Take a hike through the park to find the waterfall and its sibling, Little Manitou Falls, and experience other beautiful scenery on the way.


Animal Time: If you or anyone in your family enjoy zoos and aquariums, you can find both in Superior's twin city, Duluth. Though neither is huge, both the Lake Superior Zoo and Great Lakes Aquarium have a variety of interesting animals and exhibits.


Mont du Lac's Water Park: If the heat is too much for another round of disc golf, try out Big Kahuna Waterpark at Mont du Lac Resort. It has a trampoline, a climbing wall, a slide, and more.