See all top disc golf small towns — USA.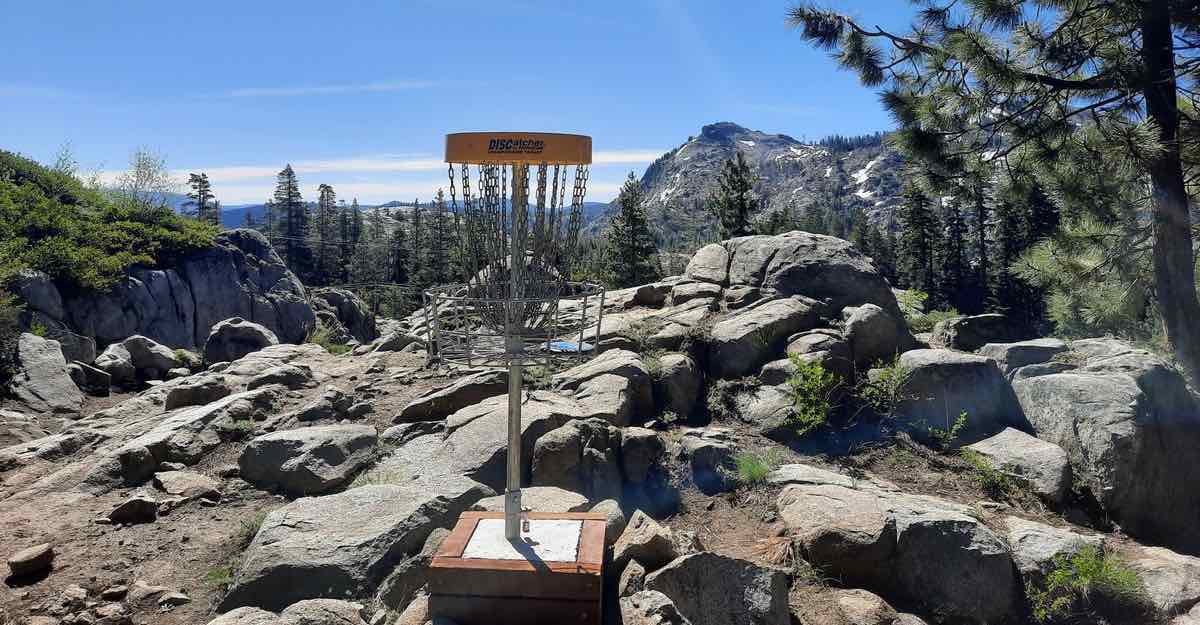 A Great Disc Golf Destination Near Lake Tahoe
Truckee, California, provides all the ingredients necessary for any disc golfer to concoct their dream trip. As if its highly-rated disc golf courses in a stunning mountain setting weren't enough, it's also home to historical sites, beautiful hiking and swimming areas, a number of breweries and modern restaurants, and plenty more that make it a wonderful spot for a trip with non-disc golfing friends and family, too.

Read on to learn more about how Truckee made this list and also to get an overview of what it offers in terms of disc golf, food and drink, and off-the-course recreation.
The Stats
Here's how Truckee's disc golf offerings fared in our analysis of over 6,000 small towns in the United States:
Quantity Rank: 21

Quality Rank: 2

Overall Disc Golf Grade: 76/100
To qualify for this list, towns had to have populations under 50,000. Truckee's population is between 16 and 17 thousand.


The scores used to establish both quantity and quality ranks derive from information from the UDisc app, which, thanks to disc golfers from around the world, has the most complete disc golf course directory available with well-established courses typically having an abundance of ratings. For example, no disc golf course in Truckee had been rated fewer than 275 times.


The quantity rank is based on how many courses and unique permanent holes a town offers. Each town received a quantity score, and its rank reflects where that score fell in relation to the other towns we analyzed. Unlike our Top 10 Disc Golf Cities – USA rankings that considered courses within a radius of each metropolitan area, only courses in town borders counted for this list.


The quality rank was derived from the ratings of a town's top four courses in the UDisc app. Each town received a quality score, and its rank reflects where that score fell in relation to the other towns we analyzed


The scores used to establish both ranks derive from the UDisc app, which, thanks to disc golfers from around the world, has the most complete disc golf course directory available with well-established courses typically having an abundance of ratings. For example, no disc golf course in Truckee had been rated fewer than 275 times.


The overall grade comes from a composite of the scores used to generate quantity and quality rank. This grade was what determined a town's position in our Top Disc Golf Small Towns – USA list.


All towns made their way onto this list based on data and not the opinions of this article's author or any other members of UDisc's staff. We were as surprised and interested as anyone to find out what the numbers would tell us.
The Flyover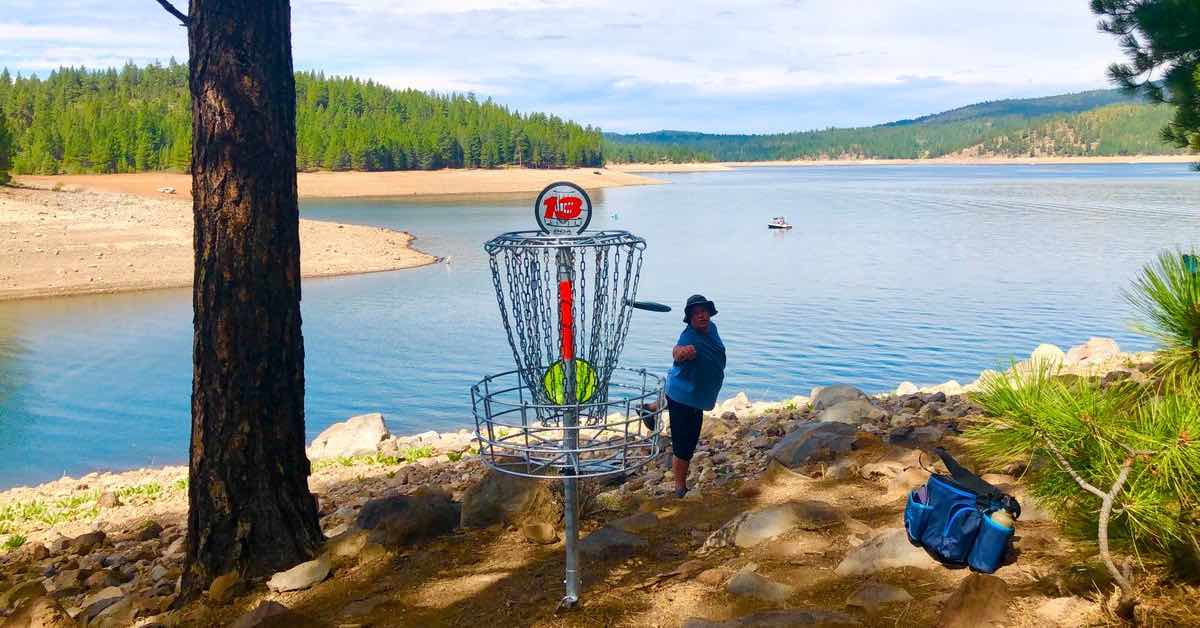 Truckee, California, not far from the northern shores of Lake Tahoe in the Sierra Nevada mountain range, has survived on various industries since people of European ancestry first started settling there. It's changed from a place for prospectors to rest and stock up on supplies on their way from Sacramento to the gold fields in Nevada during the 19th century gold rush, to a logging hotspot, to an in-demand location during the early days of motion pictures, to, finally, as it is today, a place to enjoy outdoor recreation in summer or winter.

And though the town's main draws are winter sports, hiking, and destinations like Donner Memorial State Park (yes, named after those Donners) that are both beautiful and full of compelling history, Truckee's excellent disc golf offerings are a growing attraction. The town got its first course in 2000 and second in 2008. But after that relatively slow pace, it has added two courses in the last two years. It probably hasn't hurt that disc golf currently has a friendly ear in town hall – Truckee's mayor, David Polivy, is a disc golfer.

What's more, every course in Truckee is well-rated, with no course dipping below an average of 4.1 out of 5 based on ratings from disc golfers using UDisc. 

To learn more about what Truckee has to offer visiting disc golfers and their friends and family, we spoke with two locals: Craig Getty and Joshua Matzke. Getty designed all of Truckee's courses and worked with the local community to secure the permission, funding, and manpower to build them. He also organizes tournaments in the region. Matzke has lived around Truckee for seven years, has helped with installing some of the area's courses, and is on the committee for organizing a set of area tournaments called the Sierra Tahoe Series.
What Disc Golf Can I Expect?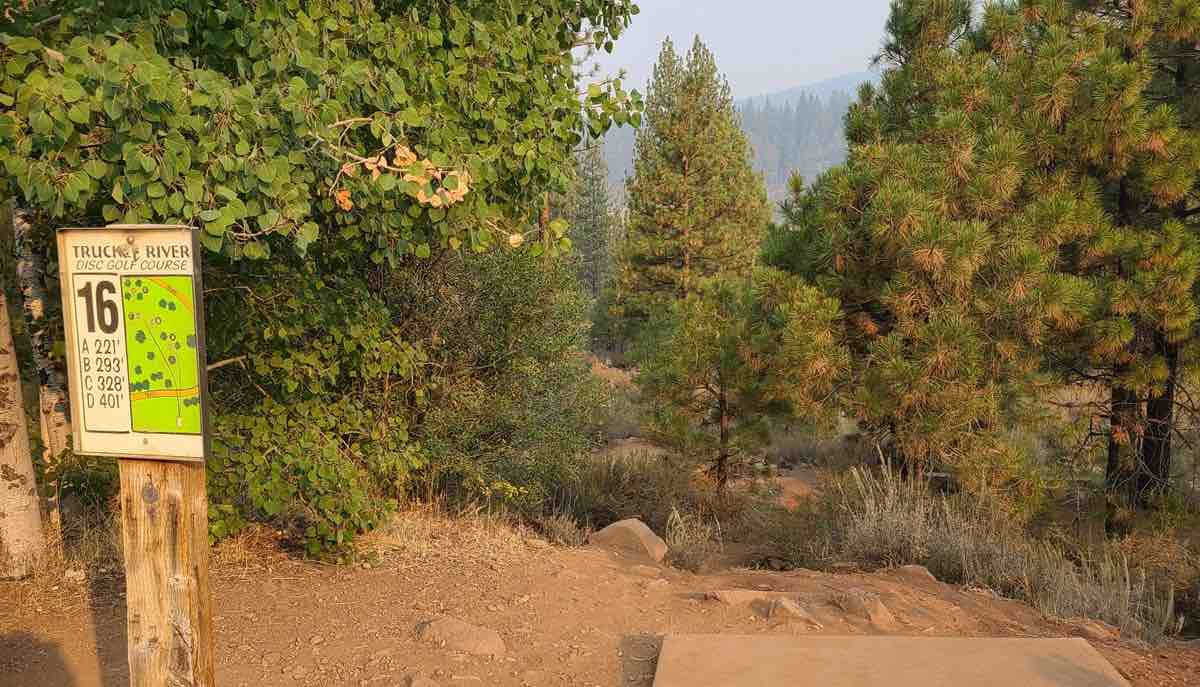 As you can probably guess based on their location in the Sierra Nevada mountain range, Truckee's courses all offer ample elevation changes. But just as the ups and downs at individual courses create challenges so, too, does the generally high elevation of Truckee – at least for visitors not used to such heights.

"The biggest difference that Truckee golf has is the elevation," Matzke said. "The courses here are all over 6,500 feet [1,981 meters] with Donner Ski Ranch at 8,000 feet [2,438 meters] plus. It makes a huge difference in the way your discs fly."

With the thinner air at higher altitudes, discs fly with more overstability, meaning players from lower altitudes should think about bringing more understable discs with them on a trip to Truckee than they're used to carrying. The altitude also means that there's often plenty of snow in Truckee, and it likes to stick around. Make sure to plan any trip to Truckee's courses after the snows are likely to have melted and before they start up again.

Players can also expect technical lines forced by the area's numerous trees on every course.

However, don't let yourself believe that the hallmarks of Truckee disc golf are all it has to offer. 

"The elevation changes and the multitude of trees define our courses, but each course stands on its own for uniqueness and beauty," Getty said.
Course Highlights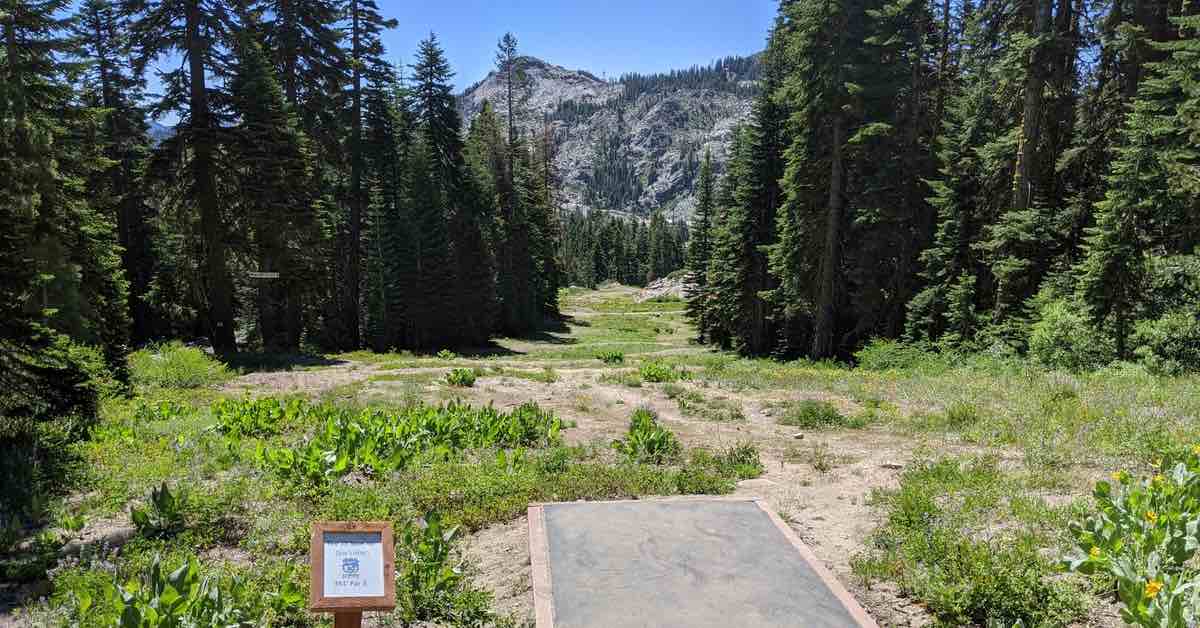 Donner Ski Ranch: Situated at the highest elevation of any course in town, Donner Ski Ranch offers a number of basket placements with views that disc golf courses anywhere would be hard-pressed to match. In the words of one reviewer on UDisc: "Just wow, one of the prettiest courses [I've] ever played."

The course is also enjoyable for disc golfers of any caliber, according to Matzke.

"When you think of a ski resort course, you think big climbs and huge throws," Matzke said. "While there are a couple of those here, it's really just a great course for all levels of players."

Stampede Reservoir: Though Getty doesn't think you can go wrong with playing any course in Truckee, he made the hard call to deem Stampede Reservoir his favorite. Getty designed the course, which is built on land owned by the U.S. Forest Service.

"It is surrounded by the reservoir with a water view from every tee," Getty said. "It is well-treed but with defined fairways. A good mix of intermediate to pro level holes with lots of challenges."

For more skilled players, some holes may be a little on the short side, but the trees add plenty of technicality. Also, Getty's love for the course seems to be shared by those who've played it. Stampede has a 4.6 out of 5 rating on UDisc currently, tying it with Donner Ski Ranch as the area's most highly rated.

More Options: Truckee and its surroundings are home to a treasure trove of great courses. Check out the best disc golf courses in the Lake Tahoe area on UDisc Courses.

The Local Routes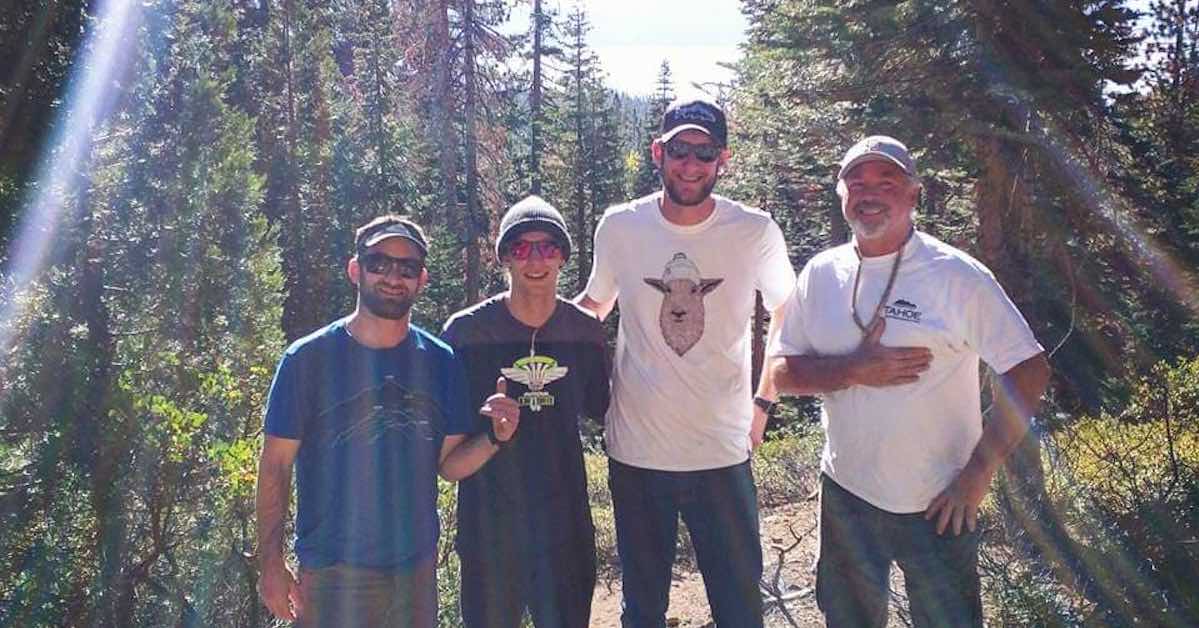 Gear: If you find yourself in need of some plastic while visiting Truckee, Matzke said three shops in the town carry small selections of discs: Mountain Hardware & Sports, Tahoe Sports Hub, and Tahoe Mountain Sports.

There are also stores with larger selections of disc golf discs in the Lake Tahoe area. 
Talk to the Locals: If you're looking for some more local advice or someone to meet up with, try joining the North Tahoe/Truckee Disc Golf and/or the Truckee Disc Golf Association group on Facebook. You can also look for disc golf tournaments in the area by tapping the Events tab in the UDisc app.
Eat, Drink, See, Do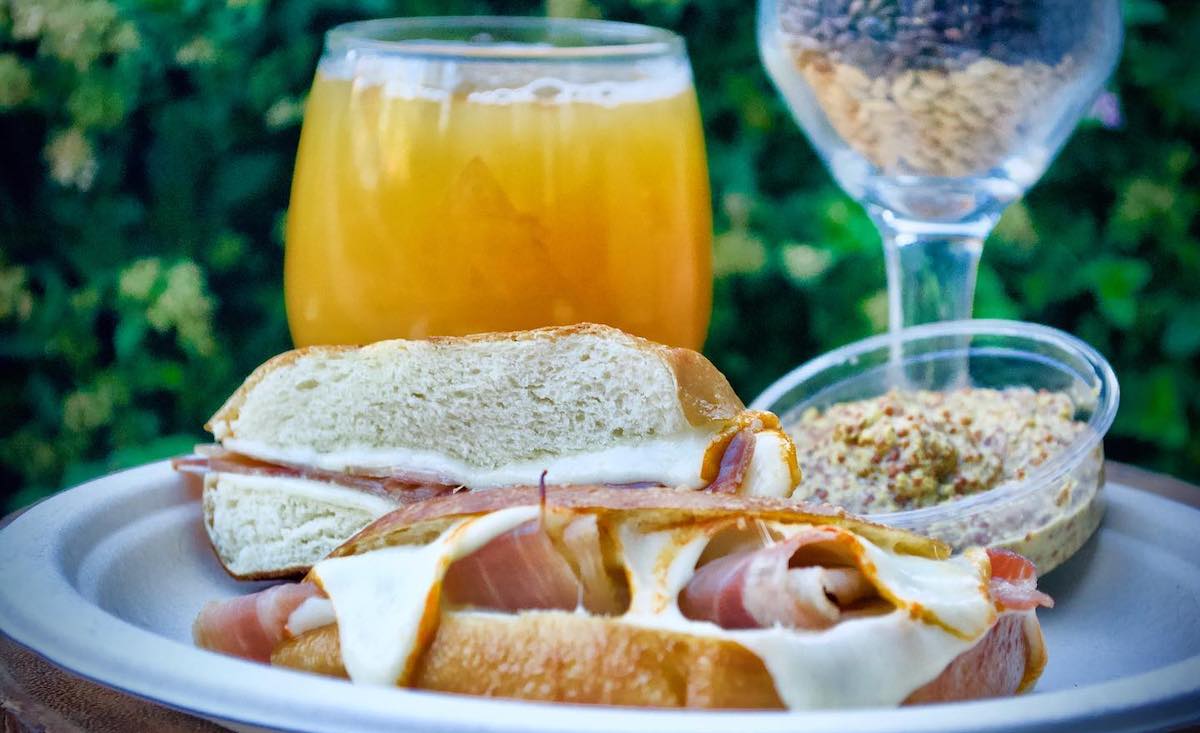 Eat & Drink: If you want an easy combo of disc golf and dining, try out the Old 40 Bar and Grill which is part of Donner Ski Ranch. Both Getty and Matzke mentioned Old 40 has tasty eats that hit the spot before or after rounds. For those looking to have some local libations to go with their grub, Getty recommended the microbrewery and restaurant combo at 5050 Brewing Company.
If it's just a drink you're looking for, there's also Truckee Brewing Company and the creative suds of The Good Wolf Brewing Company, which has brewed beers such as a Foraged Mushroom Ale and a Foraged Pine Tip Black Lager.

For simpler fare, Matzke said you couldn't go wrong with a burrito from Golden Rotisserie or a sandwich from the Full Belly Deli.

See & Do: You can have many great experiences in and around Truckee, but here are three standouts:
Donner Memorial State Park:  A beautiful park with plenty of opportunities for outdoor recreation. The park also has a museum focusing on the area's local history, including the experiences of the Donner party.


Downtown Truckee: Truckee's downtown is on the National Register of Historic Places. With architecture developed over the period of 1870-1930, it's worth taking a look at for any visitor to the area. It also has a number of restaurants and shops to visit for those so inclined.


Enjoy the Outdoors: For anyone who loves the outdoors, Truckee has plenty to do. There are hiking trails galore, chances for tubing and kayaking in the Truckee River, and plenty of bodies of water to take a dip in. You can learn more about opportunities like these on Truckee's official website.