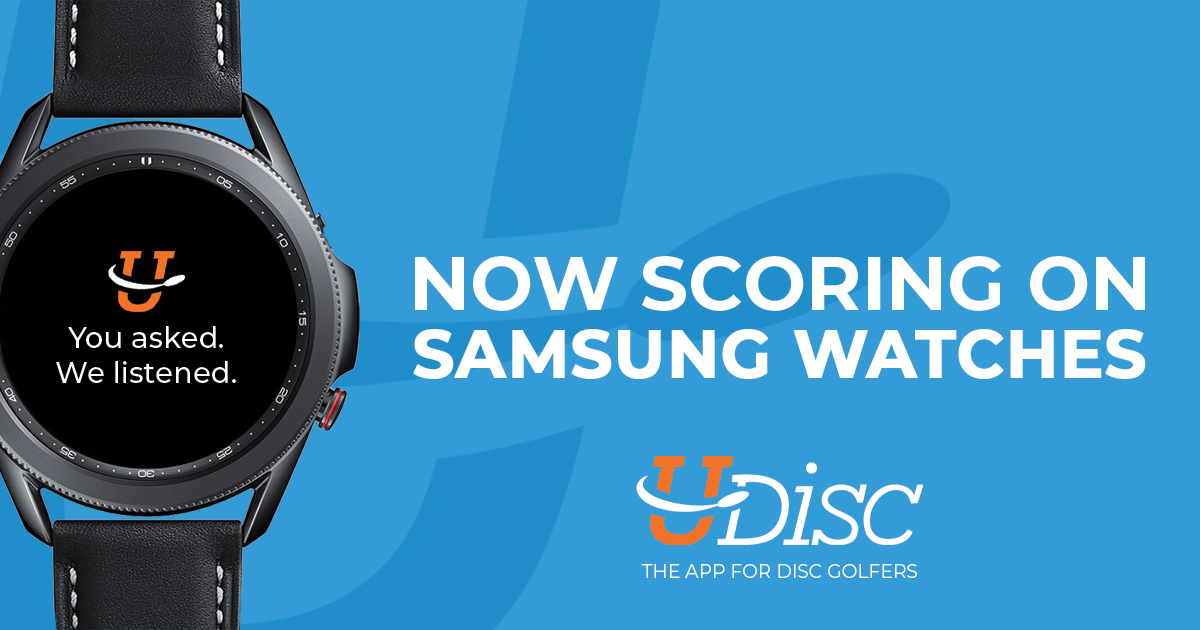 Welcome to the party, Samsung smart watch owners! Like those with Wear OS and Apple wearables, you can now keep score with UDisc on your smart watch.

We're excited to bring the #1 disc golf app to this oft-requested platform. Below you'll learn how UDisc functions on Samsung wearables and our recommendations for the best watches to use with UDisc.
Important Update As of Fall 2021
If you bought a Samsung Galaxy Watch4 since they were released in August 2021, the information you'll find below about how to find the UDisc app for a Samsung smart watch doesn't apply.

Galaxy Watch4s (and all future Samsung smart watch models as far as we know) run Wear OS whereas older models run a system called Tizen. Wear OS is the same system used for Android smart watches.

This means owners of the Samsung Galaxy Watch4 and future models can find the UDisc app in the Play Store.

If you own a Samsung smart watch model released before the Galaxy Watch4, your watch will continue using Tizen, and all the information below is still relevant to you.
How It Works

Scoring with UDisc on your Samsung wearable couldn't be easier. Here's how it works:

1. Find UDisc in the Galaxy Store. Install it just like any other app for your watch.
2. Start a normal UDisc round on your phone.
3. Your watch will buzz when the scorecard is ready.
4. Keep score by tapping the plus or minus to reach the desired score for a player, swipe up to move on to the next player, and swipe left to go to the next hole. See the graphic at the top of this section for a more visual explanation.

If you have other questions, you can find our Help article on UDisc for Samsung watches here.
Buy a Watch, Help UDisc
In the next section you'll find links to smart watches that are affiliate links. This means if you click on a link to a product in this article and end up buying it, UDisc will earn a little money for helping you discover it. This would happen at no cost to you. You would pay the same price you would otherwise but at the same time support the UDisc team's efforts to continue to improve the app and bring new innovations to the sport of disc golf.
Watch Recommendations
Are you thinking about purchasing a smart watch but want to be sure it will be ideal for disc golf scoring? We can help you with that.

The best Samsung watches that run Tizen (see update near the top of this post) to use with UDisc are the Galaxy Watch 3 and Galaxy Watch Active2. We developed UDisc for Samsung wearables using these devices. If you want to give these watches a look, here are some options:

Galaxy Watch 3 (Black, 45mm)
Samsung Galaxy Watch Active2 (44mm, GPS, Bluetooth), Aqua Black (US Version)
More to Come
The UDisc team is always working on ways to improve and expand our offerings. If you want to make sure you never miss out on the latest development, subscribe to our Release Point newsletter. Twice a month you'll not only learn about the latest developments at UDisc but also see the newest posts on our blog that explore a wide range of topics from the disc golfing world, from the World's Best Disc Golf Courses to tips to disc golf history and much more.

You can subscribe to our newsletter here.