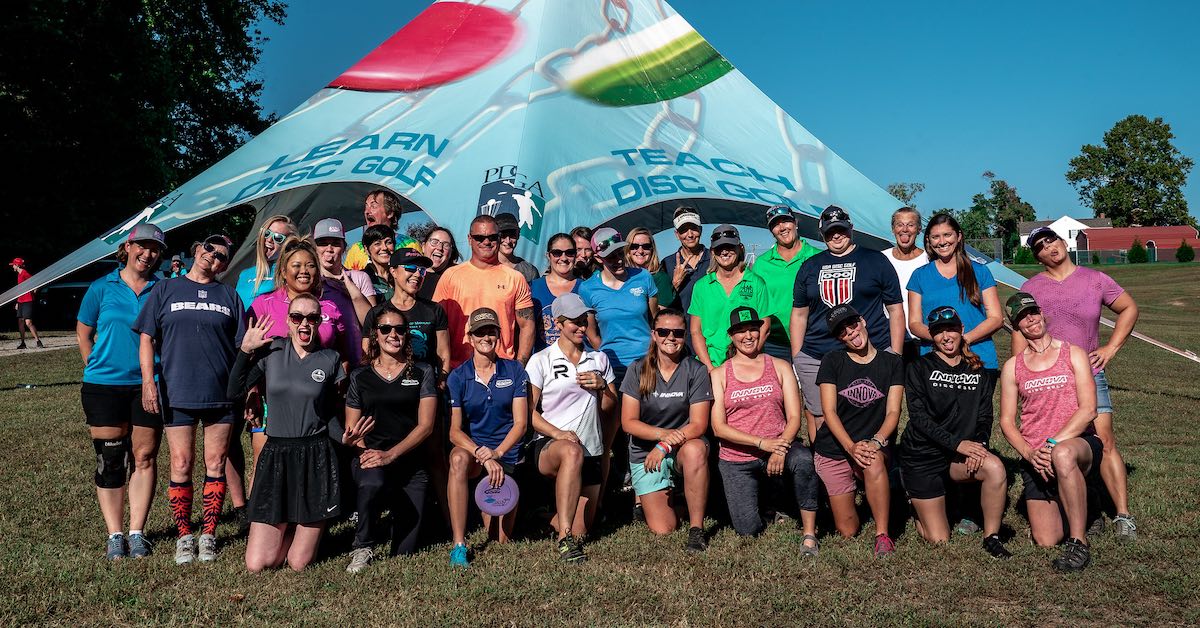 At a time when many signs indicate that disc golf is growing more rapidly than ever before, efforts like this week's #respectHERgame campaign are instrumental to reducing the huge gender gap within the sport. The campaign will begin on Tuesday, October 6, ahead of the Women's National Championship.
According to co-organizer and prominent professional disc golfer Sarah Hokom, a primary goal of the campaign is to raise awareness of the issues female disc golfers face on a daily basis. It is also meant to give a sense of solidarity to all disc golfers who believe in standing up against the forces that make those issues so prevalent through a tidal wave of videos on social media of women showing off their games captioned with the campaign's mission statement:
I have more value than my appearance. I deserve to be promoted ethically in the media. I will not stand for bullying or harassment on the course or online. #respectHERgame

We spoke with Hokom at length about the origins and philosophy behind #respectHERgame and the problems she and other organizers hope the campaign will help the disc golf community productively confront. Below are contextualized excerpts from that conversation that will help answer many of the questions disc golfers are likely to have about the #respectHERgame campaign.
What Are the Origins of the Campaign?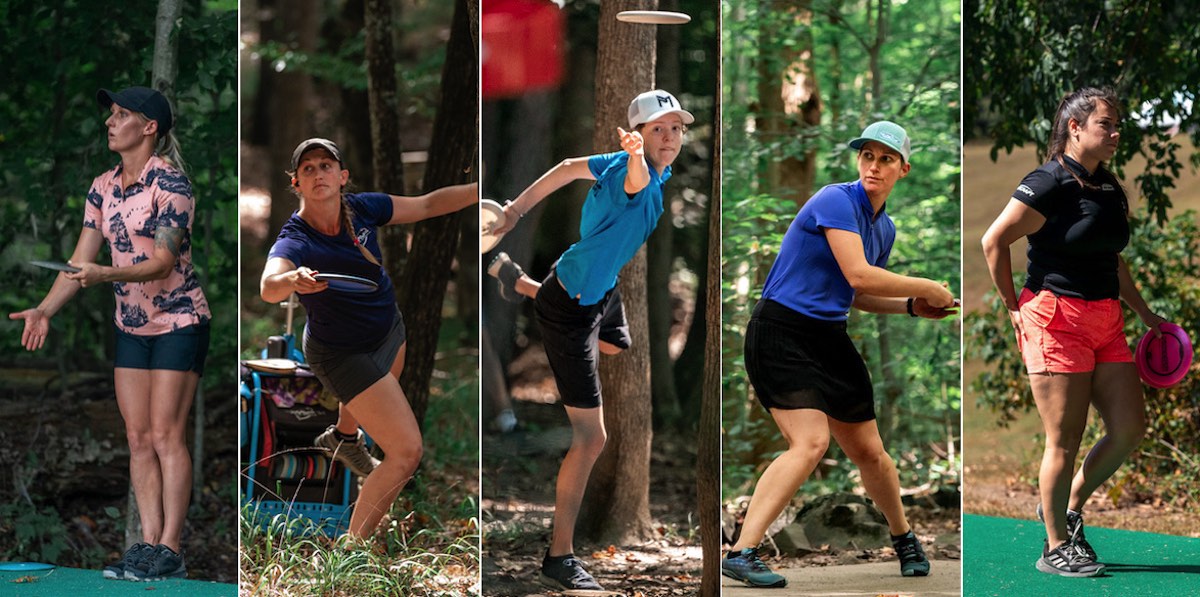 Hokom said "the original spark that lit this fire" was a post on the Disc Golf for Women's Facebook page by a woman from Germany named Sara Krieg.

Krieg had noticed comments on a social media page controlled by a prominent disc golf media company that sexualized players rather than focusing on their efforts as athletes. She contacted the media company with requests for them to remove the comments. Multiple messages and emails yielded no action, and Krieg turned to the Disc Golf for Women's page to both voice her frustrations and seek other ideas for what to do.

The post got a huge response and more people began pressuring the company about removing and monitoring such comments. 
"Eventually with some pressure from us and other organizations, they actually agreed to monitor their comments through an app that checks and flags different words that are inappropriate," Hokom said.
The incident got Hokom and other professional women seriously discussing how to motivate more disc golfers to fight against the all too common sexism in their sport.
"Myself and a few pro women started to talk about it individually and we decided that, you know, maybe we need to take a stand, maybe we need to do something and stand up for ourselves and all of these other women who experience negative interactions on the course and online that make them feel unwelcome," Hokom said.

The result of these discussions was the #respectHERgame campaign. Along with Hokom, players Catrina Allen, Vanessa Van Dyken, Sara Sinclair, and Hailey King are helping organize #respectHERgame, and they have also sought input from many others as it has developed.
What Are the Primary Issues Women Disc Golfers Face?

The campaign's organizers hope it will inspire disc golfers both male and female to feel that a large part of the disc golf community supports them when they stand up against sexism either online or on the course. Hokom detailed the issues concerned citizens of the disc golf world should be on the lookout for.

Sexualization
As the incident that started the whole campaign shows, women in disc golf—like those in most sports—are often thought of as, in Hokom's words, "women first, athletes second." 

"But we're athletes first and our value is not in our appearance, it is in our skills," she continued.

This sexualization of women leads to constant comments on the course and online concerning their looks and even desirability as a sexual partner, which creates an extremely unwelcoming atmosphere.

Additionally, Hokom mentioned how many women are frustrated by constantly dealing with unwanted advances from fellow disc golfers.

"One of the biggest things that I I took from testimonials on Disc Golf for Women is that women are uncomfortable on the course because they get all these messages saying how beautiful they are or even dick pics and other things that are totally inappropriate," Hokom said. "But they're here to play, not find a boyfriend. Disc golf isn't a dating tool and women don't want to feel uncomfortable going to a league because they rejected two people on their DMs last night."

Being Overlooked During Event Organization
Another issue facing disc golfing women is that events often don't cater to their needs and preferences as much as men's.
Hokom pointed out that lack of bathroom access was a huge deterrent against women playing events since using the bathroom outdoors leaves them far more exposed than men. Additionally, disposing of and changing tampons in the open is not an appealing prospect.

Other issues include players' packs not having discs and apparel suited to women, women's divisions typically being the go-to for combining with juniors, trophies for women's divisions being smaller than men's, and not having tee positions suited to women's games.
Sexist Language & Attitudes

Many men and women—often unwittingly—use language on the disc golf course that promotes sexist views. Hokom gave an example of how simply leaving gendered statements out of course talk can have a huge effect.

"When a woman throws a good shot and the group says, 'Wow, that's a great shot for a girl,' they should just say 'That's a great shot,'" Hokom said.

Another common language issue Hokom pointed out was using women's names like "Sally" as synonyms for weak throws.

Along with constantly hearing phrases talking down women's abilities, receiving unasked-for disc golf instruction is another problem for female players.

"Women get a lot of unsolicited advice regardless of whether they're posting a video of themselves throwing online or on the course and oftentimes they're not in a position to listen to it—they are working on something else in their game," Hokom said. "It's not necessarily inappropriate for men to give women advice on their throw, but if a woman wants help throwing, they'll ask for your help."
Women also often face automatic derision at mixed doubles events due to their gender though their skill level is completely unknown to other participants.

"I got a lot of feedback about how people roll their eyes when they get paired with a woman at doubles, and that's even happened to me " said Hokom, one of the top-rated women in the world. "My partner only warmed up to me after I was throwing good shots."

Continued Growth of Women's Disc Golf in the Media

Hokom recognized that since 2016 organizations like the Disc Golf Pro Tour and the PDGA on its National Tour have put forth effort to increase the visibility of women's disc golf through more video coverage and other means. The organizers of #respectHERgame hope to see that foundation continued to be built on and for all disc golf media to think hard about if its coverage of women is equitable and to make serious changes if it's not.
Is This Campaign Only for Women?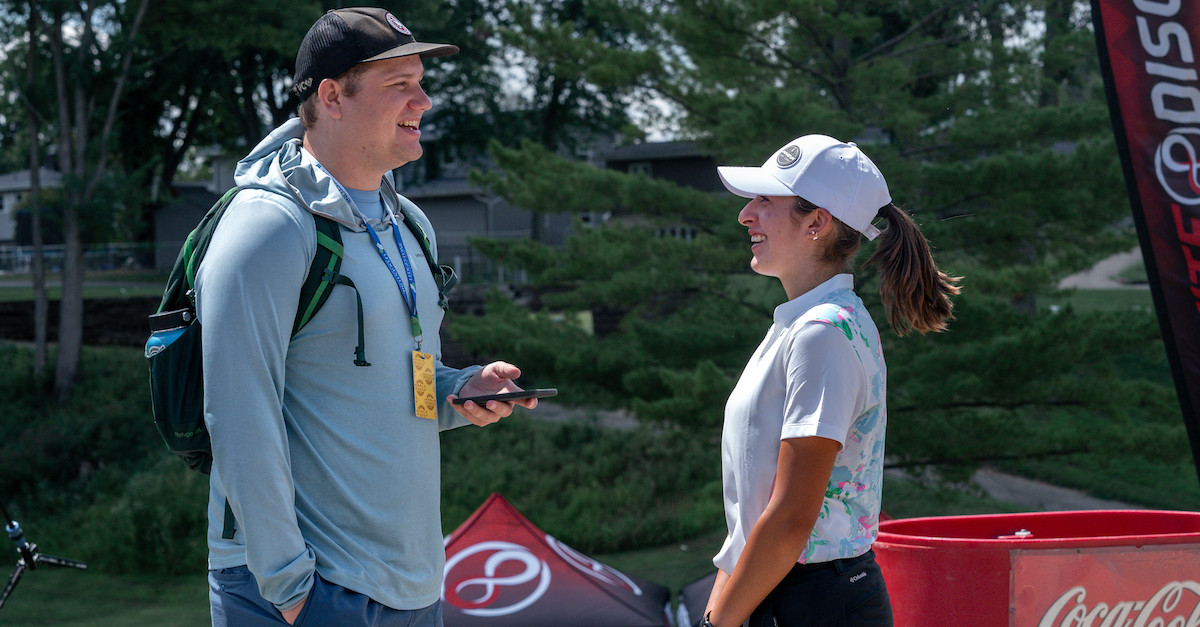 This one has an easy answer: No. In fact, the campaign hopes to make more men into allies.

"The vast majority of the men who play this sport are great, and I want to emphasize this because this campaign is not about us attacking men," Hokom explained. "This is about creating an inclusive environment where everyone feels welcome and we need a little help. Women can stand up for themselves, but because a lot of the men saying inappropriate things might have ingrained misogyny, they might just brush off if a woman told them something they said was wrong. But when their male colleagues say something to them, it might have more weight because that's the type of person that they're willing to listen to to begin with."
Why Not Just Ignore the Negativity?
Some might wonder if most of the people in disc golf aren't part of the problem, why is there need for a campaign that will call attention to the few who are? 

"We're always told to just ignore it," Hokom said. "'Oh they're just trolls who live in their parents' basement and suck at disc golf anyway. Who cares what they think?' We're starting to realize that ignoring the trolls is being complicit. If we just ignore them and let them say these nasty things without any kind of recourse, we're accepting this environment and that this is what people see when they see our media. I think it's time for people to start standing up to these trolls now."

And the more voices speak up against the trolls, the more apparent it will be that the trolls' opinions aren't accepted by the majority of the disc golf community.
Where Can I Find More Info About the Campaign and How to Participate?
There are multiple ways both online and at disc golf events to show your support for the #respectHERgame campaign. Learn more about them at www.respecthergame.org.

Again, the campaign starts on Tuesday, October 6.