When people begin playing disc golf, they often have one or two discs that are easy to take around the course in their hands. In many cases, as players' interest in the sport grows, so, too, do their disc collections. At some point, two hands just aren't enough.

Once, the best options for carrying discs were bags with single shoulder straps or specialized disc golf backpacks. But in the last few years, an alternative to bags has become widely available and sought-after: the cart.
Disc golf carts are a specialized market and only a handful of companies are creating them. We researched the best options currently available to help you make the right choice when purchasing a cart. We also dove a little into the history of disc golf carts to learn more about their recent and dramatic rise in popularity. 

Note that since initial publication we've edited cart prices to match each product's cost as of November 2021.
History
Long before anyone created a business out of disc golf carts, they existed in the form of converted baby strollers or other homemade contraptions designed by those who were fed up with the strain bags put on their shoulders and backs. Many players looked on these carts with derision, thinking they were only for those too feeble to carry a bag.
In 2015, one sponsorship by disc golf cart maker Delta did a lot to change that. They chose to partner with rising pro disc golf star Ricky Wysocki, who began using their Delta Ten cart to get his discs around the course instead of carrying a backpack like the majority of other pros.

"Delta reached out to me and I really didn't know what to expect," Wysocki said. "But it just made life so much easier on the course."
The biggest positive for Wysocki was the disappearance of back aches.
"I remember back to when I had a bag, I definitely had some back trouble reaching down and grabbing the bag all the time," he said. "Once I switched to the cart, I didn't have any back aches or back pain and I had more energy toward the end of the round."
Delta's timing for sponsoring Wysocki couldn't have been much more to its advantage. 2015 and subsequent years saw a huge rise in consumption of filmed disc golf tournament coverage online, and Wysocki was on his way to back-to-back World Championships in 2016 and 2017. For a company looking to break the stigma in the sport around carts, it couldn't get much better than a rapidly growing audience of disc golfers regularly seeing a fresh-faced world champion toting one behind him as he left opponents in his dust.

To see an example of what the disc golfing world would have seen then, check out this footage from SmashBoxxTV's coverage to the 2016 Jonesboro Open, where Wysocki's Delta cart stands beside him in frame as he knocks down a putt on the way to a victory:



Once people started using carts, they experienced many of the physical advantages Wysocki had. They told their friends, and the disc golf cart market started growing.
"I'm not the kind of person normally to follow trends, but I guess I can start one," he said. "It's cool to start a trend and to be a face of disc golf and the face of the cart culture in general."
Delta Disc Golf folded as a company after the 2018 season, but companies like ZÜCA, RidgeRoller, and Clicgear have furthered the interest in carts on the course by marketing their accessorizing abilities. Everything from additional pockets for more discs or personal items, to water bottle holders, to umbrella stands, to seats have given players even further incentive to ditch carrying a backpack around the course.
"The putter pouches were a great addition," Wysocki said. "There's really nothing missing from the carts with all the attachments. They've just done a great job adjusting. The only people missing something are the ones still carrying a bag."
Wysocki has watched the cart culture boom in the last five years and has a similar prediction for the next five.
"In the first years I started using a cart, maybe one out of every group of players was using a cart at your local course," he said. "Now it's up to at least two, and in the next five years I think you'll see that number at about three."
ZÜCA: Various Options from $189-$359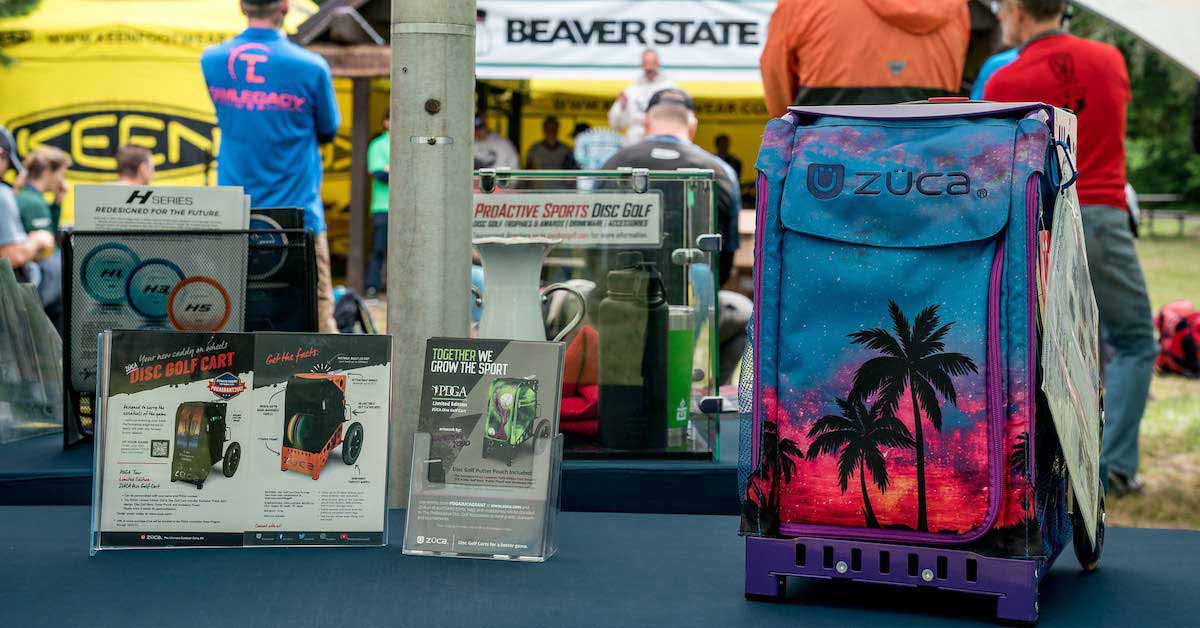 The disc golf cart brand with the widest name-recognition in the sport is undoubtedly ZÜCA, a company that makes rolling bags for various pursuits. They were the first company to truly market themselves as the major retailer for any disc golfers looking to ditch the backpack bag or just try something new.
In 2013, Joe Robinson picked up a ZÜCA ice skating cart, made a few personalized tweaks, and transformed it into a disc golf cart. He then sold it to the owner of the Rolling Ridge Disc Golf Course in Reedsville, Wisconsin. From there, with the inspirations of Robinson's company, Ridge Roller Customs, ZÜCA exploded onto the scene and became increasingly popular even after Robinson split off in 2016.
"When Joe left the company to do his own thing, ZÜCA had already invested heavily from a marketing standpoint and building out a retailer network to sell product," said marketing manager Jason Wilder. "The company base continued to expand."
ZÜCA carts are sturdy, lightweight, and suitcase-like, featuring a handle and two large wheels to help absorb and navigate bumps on the course. To access the storage compartment in the company's best-selling model, players simply unzip the door on the front of the cart and retrieve whatever disc they need from inside. Much like books on a shelf, the disc compartment works best if it's full.
The sub-name of ZÜCA is the "All Terrain Cart". The company truly believes this cart can handle any topography and will be suitable and dependable for players to use on all courses.
"If there is enough room for you to walk, there's enough room for you to pull a ZÜCA cart," Wilder said. "Because of the footprint and the width of the frame, you can roll it anywhere."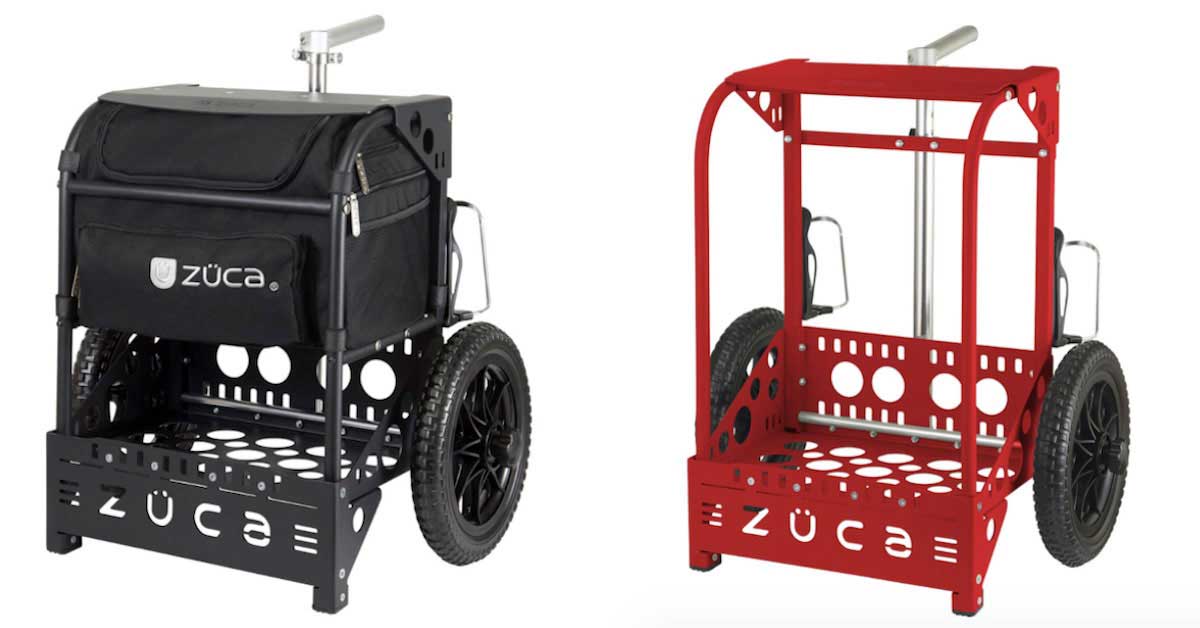 With the option to purchase a cart with one or two racks of disc storage and side pockets, all players should be able to find a ZÜCA cart with enough (but not too much) space for their discs and accessories. Another bonus is that the top of the compartment sits about two feet/nearly two-thirds of a meter off the ground and offers dual use as a seat. The cart structure is designed to support up to 300 pounds/136 kilograms. The company even sells attachable cushions to maximize comfort when sitting down.

Something else of interest is that ZÜCA sells carts made to hold the disc golf backpack players already own. Like other carts we discuss later, this option is good for players who have backpacks and want the choice to carry it or roll it depending on the course. They also have a top that can be used as a seat – though larger players might find them a tight fit.
The ZÜCA website is the premier location to find these carts and all of their accessories (Europeans, here's the European ZÜCA site), but interested players can also visit local disc golf shops or the Infinite Discs website. Dynamic Discs even offers a customized version of the ZÜCA EZ Go and Transit carts with their own logo on it for anyone looking for a special DD product.
Ridge Roller: $275 (V3) & $625 (Custom R3)
In 2016, Joe Robinson split from ZÜCA, branching off to become his own entity with Ridge Roller Customs.
After Delta had discovered an untapped disc golf market with their cart and seen an explosion in sales, their company collapse left an opening for Robinson and Ridge Roller Customs. Robinson offered exclusive pricing to anyone who had a receipt for an unfulfilled order from Delta. This built credibility with consumers and Robinson's product did the rest.
Like ZÜCA, there are Ridge Roller backpack carts (the V3), but the R3 has become a big hit as well, thanks to a new sponsorship deal with – surprise – Ricky Wysocki and the collapse of Delta Disc Golf.
The R3 takes many ideas from the original Delta Ten carts. The compact, low-to-the-ground box fits up to 25 discs and can be accessed from the top whereas the flagship ZÜCA carts are accessed from the front. This allows the lid of the compartment to serve as a seat too. An extendable handle lets players adjust how they pull the cart based on their height, and all-terrain wheels give the cart the ability to handle rocks, roots, sand, grass, mud, or whatever the course throws at it.
"I like the way it sits off the ground," Wysocki said. "The Delta sat a little lower to the ground so it was a little awkward and your knees were bent, but with the new RidgeRollers, I sit really comfortably. They also have an extended handle so I don't hit my feet when I'm walking."
Each cart is made to order by Robinson himself in Appleton, Wisconsin, so the customization options are what set Ridge Roller carts apart. These carts can be ordered exclusively on Ridge Roller's website.
Clicgear Rovic RV1D: Starting at $249.99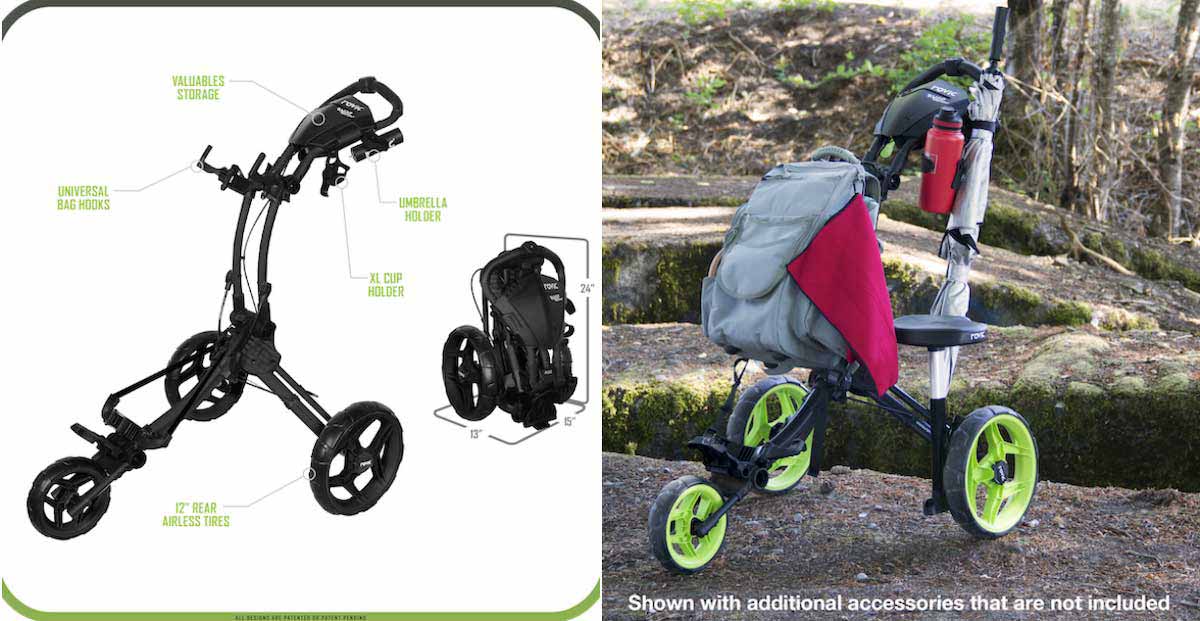 Clicgear's parent company, ProActive Sports, has been producing a golf-specific version of the Clicgear cart for over 35 years, becoming the leading distributor for golf push carts in the United States. They first introduced a disc golf cart in 2017. 
"We began having more and more requests from customers looking to turn the cart into a disc golf version," said Kevin Vella, a sales and marketing specialist for The ProActive Sports Group. "We knew we had a high-quality product that could be unique in the disc golf scene with a few adjustments to the existing product."
With the exception of a few converted strollers, the only carts on the market when the Clicgear cart entered the scene were pull carts with two wheels. Clicgear golf carts all have three or four wheels and are push carts, leading the company to closely examine whether its offerings would truly match up with the needs of disc golfers.
"When looking at our design, we had to figure out if we could adopt this feature or if we needed to look in a different direction," Vella said. "Our number one concern was coming up with a system that allowed the strengths of the current ball golf cart to shine through while also adapting to the needs of disc golf."
Ultimately, they stuck to their guns and went with a three-wheel push cart, one of several qualities that differentiates the Rovic RV1D from the competition. Another separator is the cart can hold all styles of backpack bags. Players simply clip their current backpack onto the cart and start playing.
"We believe that customers should be able to use their own disc golf bag rather than have to use one that comes with the cart," Vella said. "The way that the bag sits on the cart is also a benefit because it sits up higher than other carts, allowing someone to easily get in and out of their bag throughout a round."
The final unique quality of the RV1D is its foldable feature. When transporting in a vehicle or storing, the cart can be folded down to about the size of a backpack with no assembly, or disassembly, required, making it easy to carry and pack away. 
The Rovic RV1D can be found on ProActive Sports Disc Golf's website, the Infinite Discs website, and at some local disc golf shops. Like other carts, the RV1D has many attachments that can be purchased. And, being part of the Clicgear family that has been around for over three decades, a lot of the attachments can even be found at Walmart, such as wheel covers and shoe brushes. Clicgear also has seats that can attach to the cart and bear 220 pounds/100 kilograms.
MVP Rover: $169.95

MVP has been steadily gaining market share as a disc golf company in recent years and has generated a loyal following. They entered the disc golf cart scene in 2019 in an effort to keep up but also to give players a quality alternative to just wearing a backpack around the course.
"With how popular our backpack bags have been, we knew that the percentage of players with backpack bags was skyrocketing," said Chad Richardson, the chief engineer at MVP Disc Sports. "We knew many would benefit from the option of a disc golf cart geared specifically to cater to current backpack users. So, we went to work on designing and developing the first cart in our Rover Cart series."
MVP chose to design the Rover as a platform cart, with two wheels and a shelf to place a pre-existing bag on. It functions similarly to a dolly you would find in a warehouse to move boxes. Richardson wanted the cart to be an easy and cost-effective addition to a player's game.
"When you want to have a quick round or choose not to use a cart, it's nice to be able to quickly unclip your backpack from the cart and enjoy your round with a traditional bag," he said. "The Rover Cart was designed with that dual functionality in mind to provide an easy-to-use cart with a low, smooth-rolling profile that isn't a chore to set up or transport."
The cart's low center of gravity means tipping shouldn't be an issue, and removal of the handle makes the entire cart no more than a foot/30.5 centimeters tall, maximizing storage space when transporting. The cart features foam tires, so the fear of blowing a tire while on the course is eliminated. The Rover does not have a seat option like the other carts, but this was intentional.
"We found that not all players prefer a seated cart," Richardson said. "Many simply want an easy bag conversion. This makes the price point much more affordable for a wider audience who have already invested in a high-quality bag and don't want it hidden, or its functionality hindered, by their cart."
Richardson and his team are looking to continue to improve the Rover and have been using feedback from players all over the world. Some tweaks coming soon are to the accessories line which includes stainless steel drink holders and putter pouches for players to attach to their cart. Further down the road, MVP plans to introduce another cart into their Rover lineup. You can learn more about the rover on MVP's website.
DIY Disc Golf Cart
For those that like to save a few dollars and have the skills to put something together themselves, building a disc golf cart is a route many players have taken.
Some have used PVC piping to create a handle and base and then combined it with a plastic crate or laundry basket for storage. Others have modified and repurposed baby strollers left over from when their children were younger.

Homemade carts may not look as good or perform as well as the ones previously mentioned in this article, but it's certainly an inexpensive alternative. For an example, take a look at what these two guys were able to do with some spare supplies lying around the house: