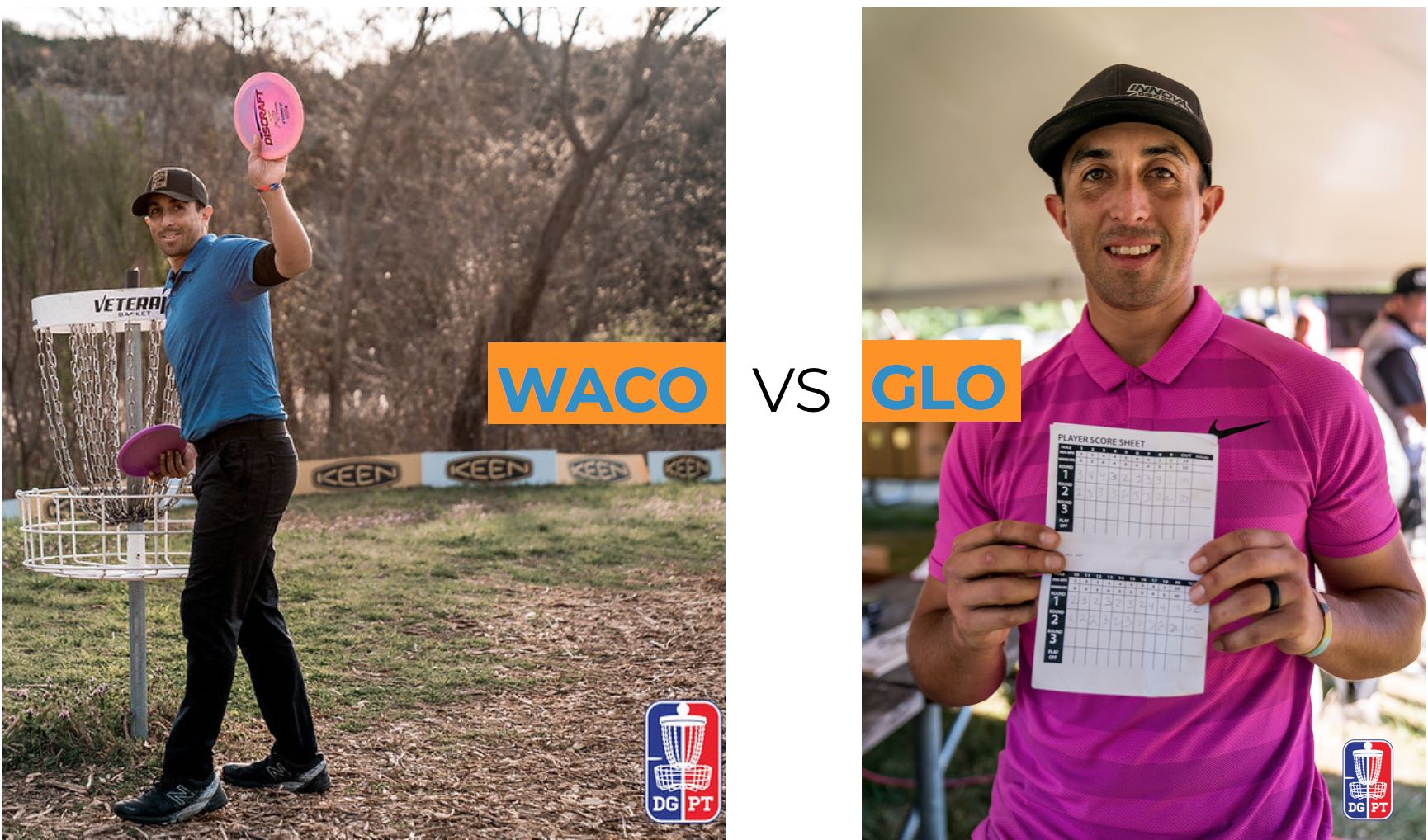 Lightning struck a second time last weekend as Paul McBeth carded another 18-under par during the second round of the Waco Annual Charity Open on the Brazos East Course, known locally as the bEAST. As we all waited for the JomezPro footage to drop the next day, the internet was abuzz with comparisons to his first 18-under round last summer on The Toboggan course at the Great Lakes Open (GLO).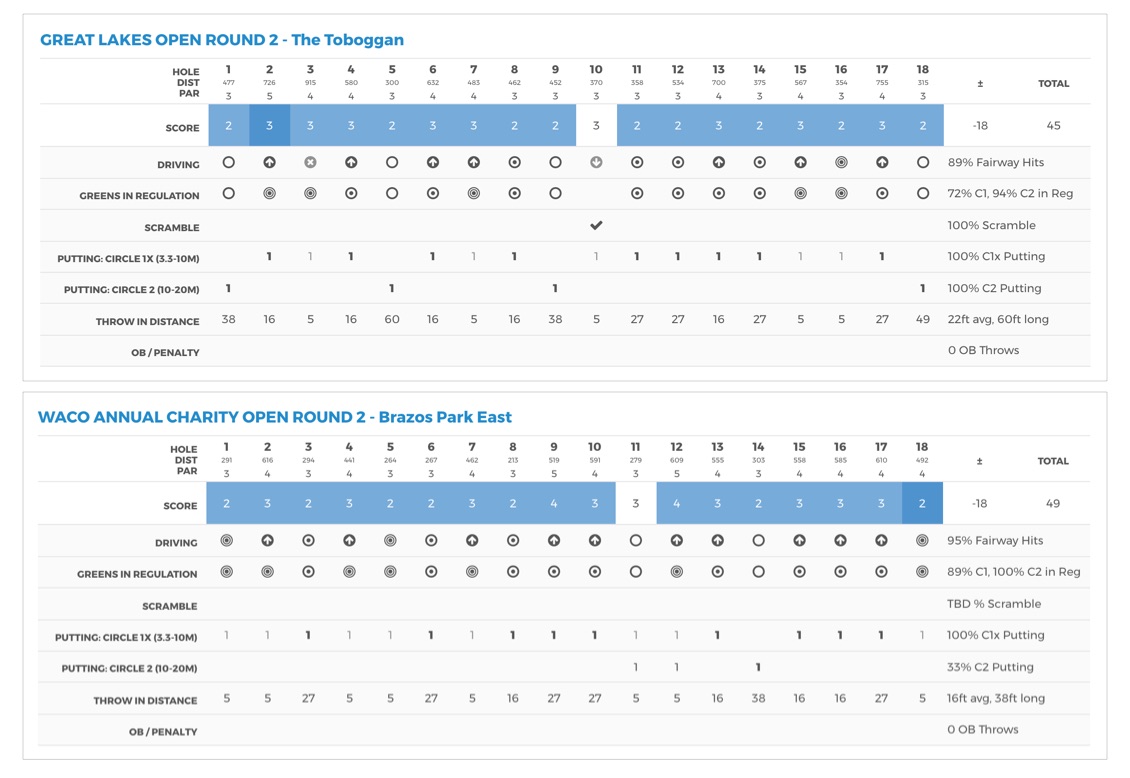 Based on a quick look at the stats, there seemed to be plenty of room for debate. Despite a notable difference in Circle 2 putting (4 for 4 from Circle 2 on the Toboggan but just 1 for 3 in Waco), Paul's 18-under rounds had quite a few similarities. They both included 16 birdies, one eagle, and one par, as well as 100% putting inside Circle 1 and no OB strokes. 
In the midst of the back-and-forth, McBeth came out with his own opinion on Facebook and gave out a challenge to anyone who doubted him:


We figured who better to be "someone" than UDisc itself? So we accepted McBeth's challenge and then went even further, figuring out odds of 18-under pars being shot at each course based on available player data. 

One thing that should be noted is that we think McBeth likely meant GLO hole 11, not 10, in his Facebook post since he did not birdie hole 10 in his 18-under round. Therefore, we focus on 1, 5, 9, 11, 12, and 181.
Digging Into the Holes in Question
Here are the quick answers to McBeth's main questions about those GLO holes:

1. Did anyone else birdie them in one round? No.

2. Did anyone else birdie them all over the entire tournament? Again, no.
This means both of McBeth's assumptions were 100% accurate. In fact, with McBeth out of the equation, only Willie Prince came close to birdieing all of them, missing only hole 12 over the course of the entire GLO. In the final round, he actually got four of the six. No other player managed to birdie more than four.
However, we didn't stop once we'd met McBeth's challenge. McBeth's post implied that the six holes he mentioned were extremely difficult to birdie as compared to holes played during WACO. We looked into that, too: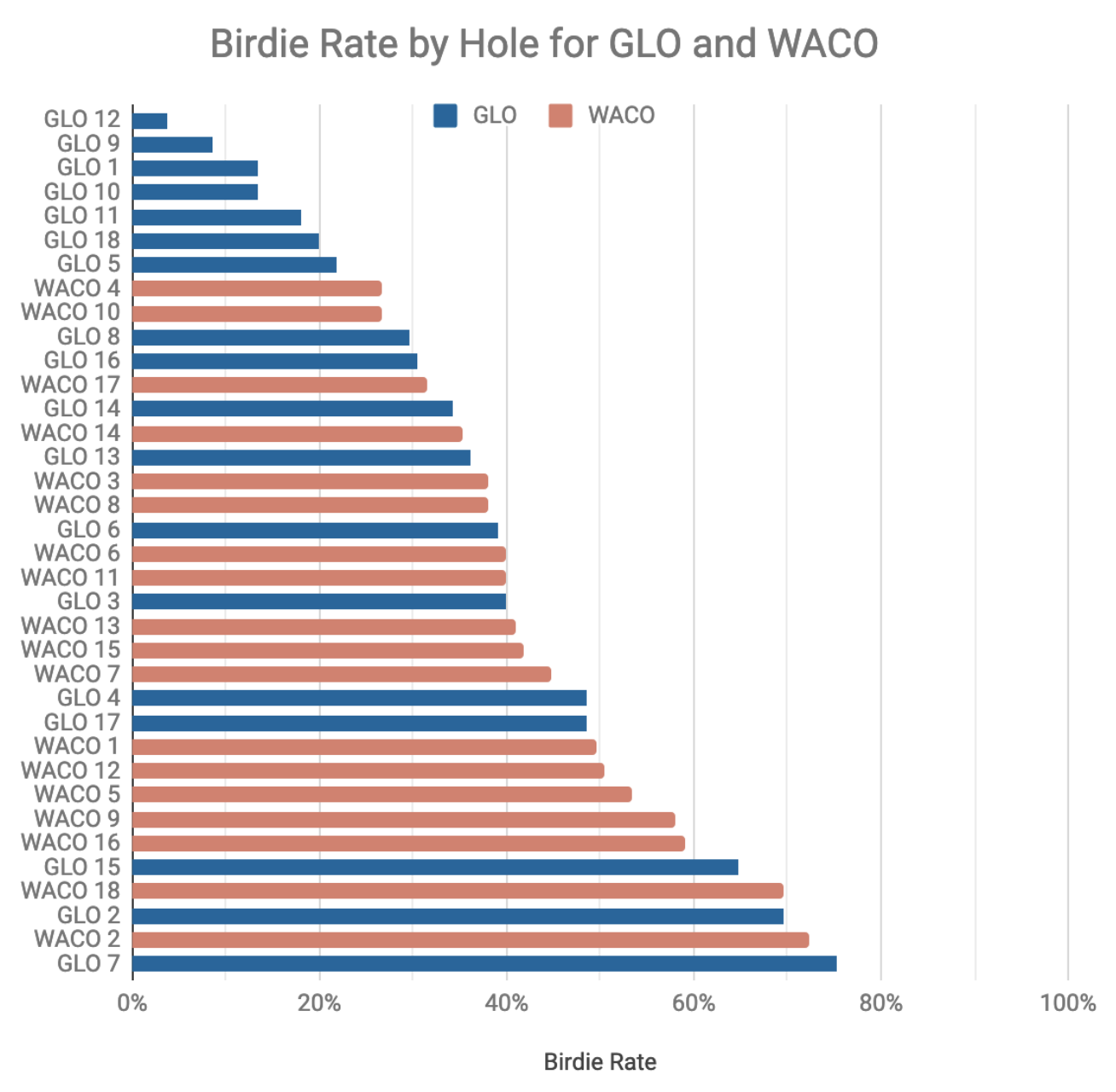 The chart not only shows that the six GLO holes McBeth name-checked certainly had low birdie rates in 2018, but that each of the six holes had a lower birdie rate than any hole at Brazos East in 2019. It's also worth noting that GLO hole 10, the one hole McBeth parred in his 18-under round at GLO, was harder to birdie than any hole in Waco.

There's also a common theme running through the six GLO holes. They are all long par threes that require distance and control off the tee with very little room for error. Their average distance is 408 feet/124 meters. The bEAST's longest par three? 303 feet/92 meters2.
McBeth vs the Rest
Looking simply at raw scores and not specific holes, there's even more evidence that McBeth's GLO performance was the more extraordinary one. Across all three rounds only one other player was within six strokes of McBeth's 18-under. At WACO, there were 10 rounds within four strokes.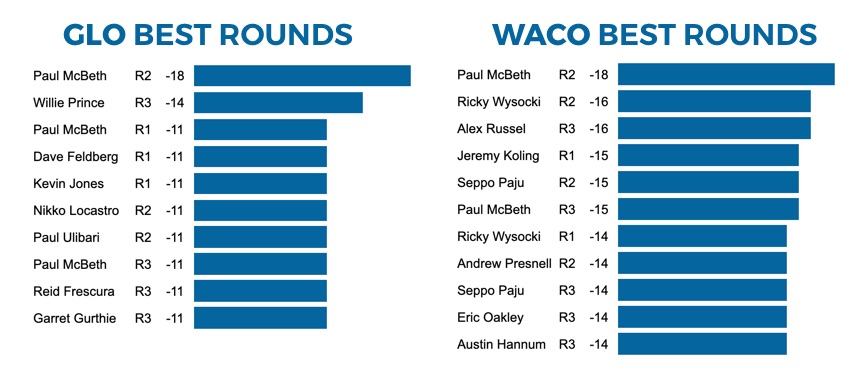 Just to emphasize the point, chew on these tidbits:

If you let every player in the tournament take their best score on each hole at the 2018 GLO, only Willie Prince could match McBeth's 18-under (but then McBeth would move to -19 since he birdied hole 10 in the first round). After Prince, the next best would be 16-under par. If you gave each player the same option at the the bEAST in 2019, you'd have 19 players at 18-under or better, and Garrett Gurthie would come in at 21-under par.
If You Gave 19 Pros One Billion Chances...
It seemed pretty clear to us that all the data was pointing towards exactly what McBeth suspected: the GLO 18-under was objectively harder than the one at WACO. But we couldn't resist checking out that theory in just one more way.

We ran a simulation using the scores from the 19 touring pros who placed in the top 50 at both GLO and WACO3. We randomly picked scores for each hole from the 57 different scores that actually occurred during each tournament on each hole (19 pros x 3 rounds each), simulated one billion total disc golf rounds, and then plotted the distribution. The odds listed below are for the group of 19 touring pros4. Let's compare the simulated round scores: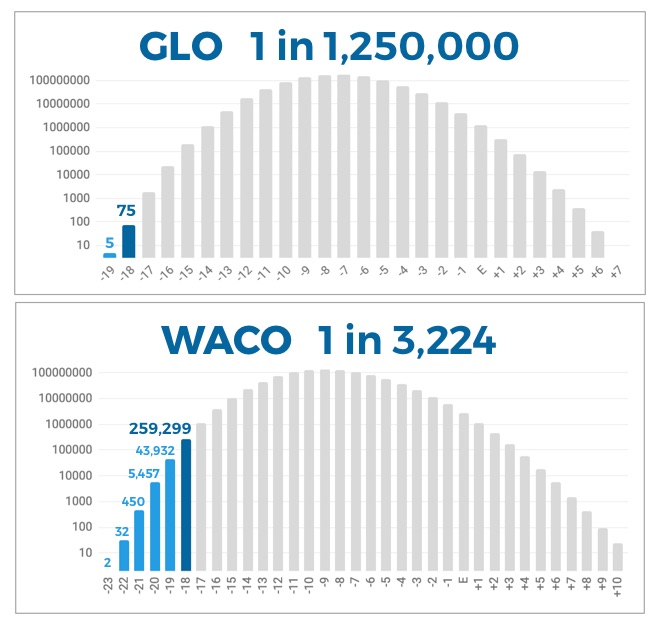 With several more opportunities for eagles, the simulated rounds for WACO resulted in far more 18-under par rounds and several even better. Overall, the WACO course was about three strokes easier compared to par than the GLO course. A 15-under at the GLO was around the same as an 18-under in Waco, and a 21-under round at the bEAST is five times more likely than an 18-under on the Toboggan.
To us, the data indicates that, even if you prefer to avoid the words "more impressive," McBeth's GLO performance was at least less likely. One other thing we have no doubt about, however, is that both were incredible achievements, and we highly recommend taking some time to (re)watch JomezPro's coverage of McBeth's historic rounds at GLO and WACO.
1. Previously, we didn't catch this oversight. Thank you to Ben Jackson for pointing it out and helping us make this article as accurate as possible.
2. Hole distances and hole maps are available on UDisc Live. Check the event pages for the 2019 WACO and 2018 GLO.
3. The 19 include McBeth, Alex Russell, Paul Ulibarri, James Conrad, Jeremy Koling, Eric Oakley, Garrett Gurthie, Tim Barham, Andrew Presnell, Grady Shue, JohnE McCray, Reid Frescura, Kevin Jones, Noah Meintsma, Chris Clemons, Austin Hannum, Andrew Marwede, Willie Prince, and AJ Risley
4. Paul McBeth's personal odds are significantly higher but the sample size would be too small.