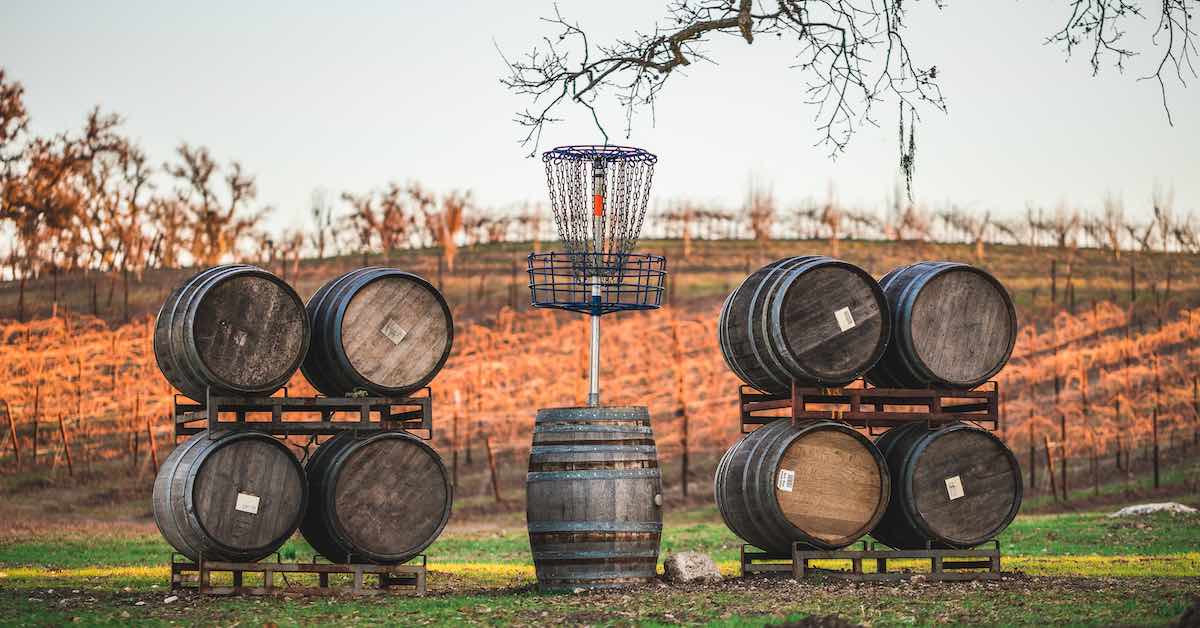 The sound of rattling chains mingles with the celebratory clink of wine glasses raised in toasts to made putts and great drives. The baskets are perfectly placed between grapevines and atop wine barrels, and at any point during a round, it'd be well worth taking a break to admire the vineyard's gently rolling hills.

This may sound like something out of a fairy tale, but the phenomenon of wineries installing disc golf courses on their properties as a way to attract and entertain visitors is far from fantasy. Though the pairing might not be as commonplace as beer and disc golf, there are quite a few winemakers across the United States testing out what disc golf can do for them. We spoke with two wineries who've installed courses to see how their experiments are going.
Castoro Cellars' Whale Rock Disc Golf Course in California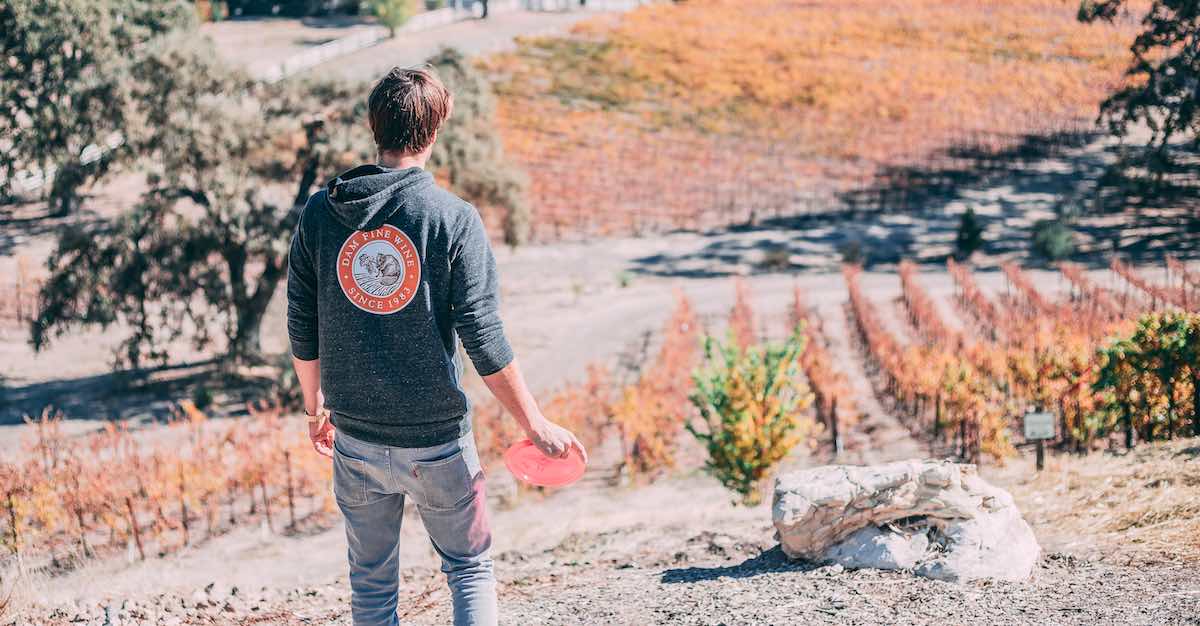 Currently there are an astounding 300 wineries to choose from in and near Paso Robles, California. However, merely 30 years ago there were only 12, and Castoro Cellars – located in nearby Templeton – was among them. Established in 1983, Castoro is now a well-loved mainstay in the region.
The winery was founded by Niels and Bimmer Udsen, and the Udsen family always loved disc golf. They all had discs, sought out new courses when they traveled, and played as a family regularly. Their son, Max Udsen, long had a dream to open his own disc golf course that encompassed everything he loved from all the courses he visited with his family. In 2014, his dream became reality when Castoro Cellars decided to add a disc golf course to the property. 
"If I was going to do it, I was going to do it right," said the younger Udsen. "I wanted proper signage, benches, pads, good flow."
The careful thought and planning that Udsen put into what is now Whale Rock Disc Golf Course are illustrated by touches like having petrified whale bones in the tee pads. These relics can actually be found in the earth throughout the property, reminders of how the area was under an ancient sea 10-20 million years ago. There's also signage to educate visitors about the local habitat and wildlife. 
Over time, the disc golf course has become exactly what Udsen hoped it would be. He continues to improve the course by planting trees and shrubbery to make the holes more challenging and restore the natural habitat as much as he can.
The course attracts over 1,000 players per year, many of whom may have not been introduced to the sport without the winery. Udsen explained that they have loaner bags of discs for visitors to use while on the property.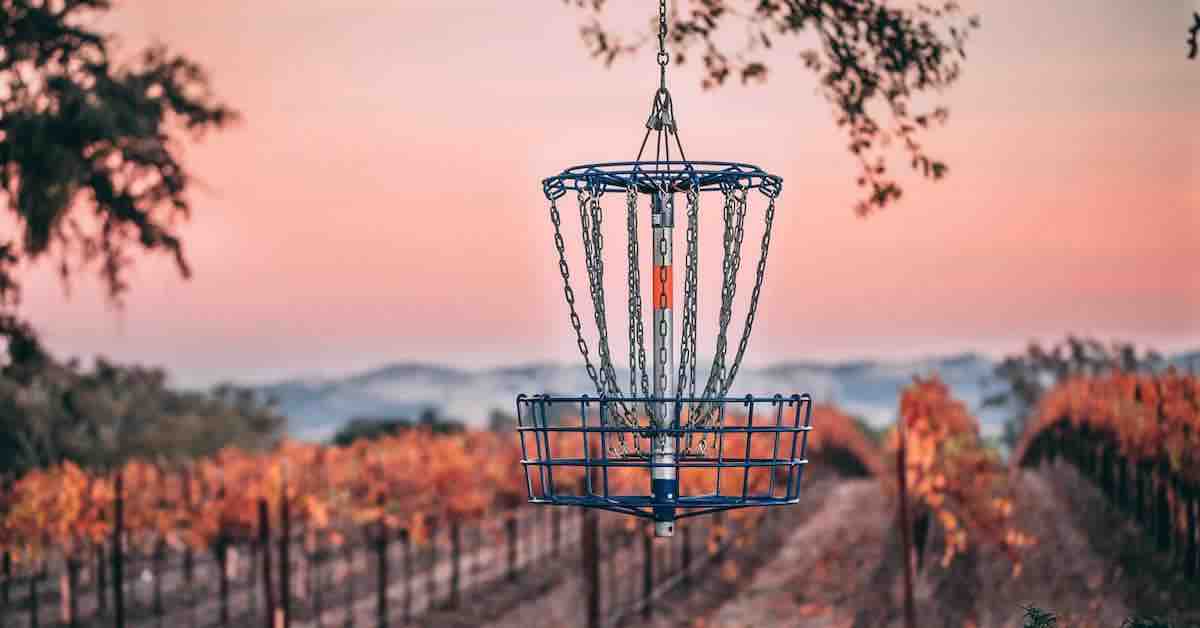 The winery puts on an annual event called the Wine Down Tournament as a big thank you to the community for their support and love. The event includes unlimited BBQ, wine tasting, and fun. It's a lighthearted and casual event to bring the community together. In addition to this tournament, the winery puts on three other tournaments per year. 
Local disc golfers who love the course and Castoro Cellars' sustainably cultivated wines can join the Wine Club, which includes unlimited use of the course. There are also day passes for sale in the tasting room. Visitors and club members alike are welcome to taste wines before and after rounds. 
"For those hot summer rounds, you can't beat a crisp sauvignon blanc after a disc golf round," recommended Udsen. "In the colder months, our Zinfusion is perfect."
Flat Creek Estate's Disc Golf Course in Texas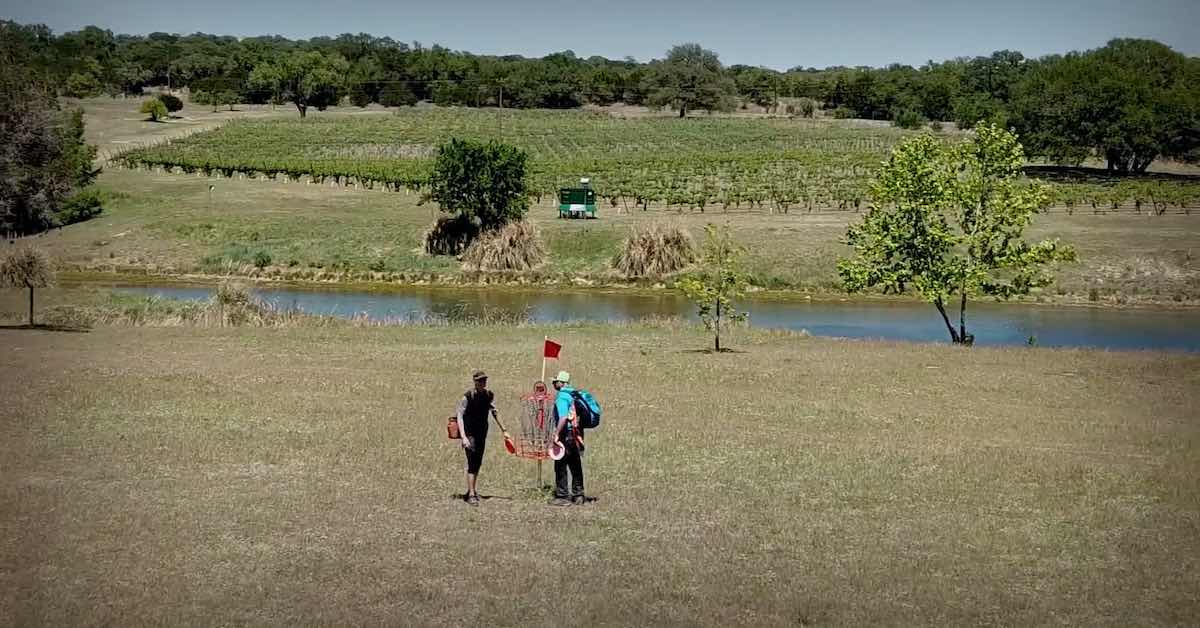 Hidden on the outskirts of the Texas Hill Country wine district is a unique destination winery. Though started on April Fools' Day in 2000, Flat Creek Estate is no joke. Following its birth, the winery has boomed and grown to add a restaurant, tasting room, and, yes, a disc golf course.
Since the estate is a little off the beaten path, it was important to the owners to create a place where people would want to spend their entire day. Additionally, they wanted to find activities to encourage visitors to explore the vineyard. 
"People always congregated in one area," said Amanda Koraska, director of business operations. "We asked ourselves how to get people to want to go around and stroll the land."
The answer came to Koraska when she remembered disc golf, an activity her husband plays and loves. Once the idea arose, the course came to life. Koraska hired John Houck to design the course with both new and experienced players in mind. To meet this request, Houck created the course with different tee pads for different experience levels.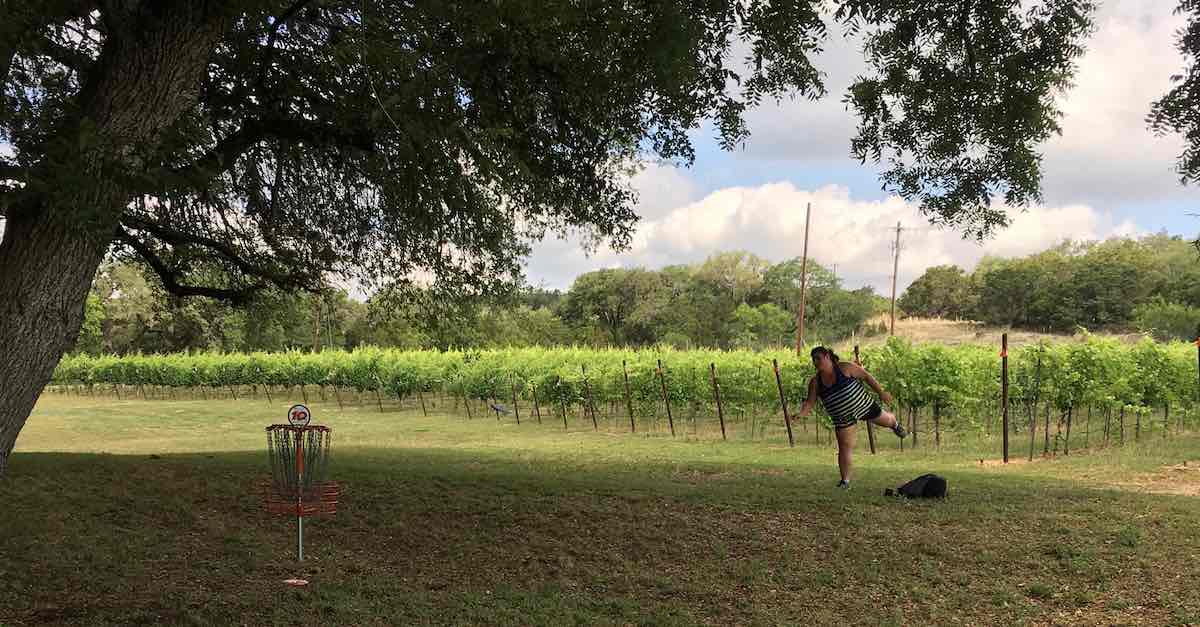 The course has grown to be a crowd favorite. Visitors often purchase custom-stamped discs and wine glasses to remember their experience on the disc golf course. Over 200 disc golfers have purchased an annual membership to the course. In addition to local players, Flat Creek hosts a vast number of disc golfers who travel from across the U.S. during tournaments such as the Texas Open and the annual Central Texas Hyzer Honey's women's tournament. 
"Since we're in Texas and it can get hot, I definitely recommend our estate-grown pinot grigio," suggested Koraska. "It's cool, refreshing, and has a lighter body. Plus, disc golfers get an up-close view of the pinot grigio grapevines on holes four, five, and six while playing the course."
Growing in the Grapes
As the success of courses at venues such as Castoro Cellars and Flat Creek show, there can be multiple perks for businesses that add disc golf courses to their offerings. They can lure experienced disc golfers to places they may otherwise never think to visit, be a fun and novel experience for people who've never encountered the sport before, and also provide an annual source of revenue if they are used to host well-run tournaments.
As disc golf continues to grow, those potential benefits will only become greater. And though now the idea of blending disc golf and wine might sound odd, we wouldn't be surprised if it's one that ages well.