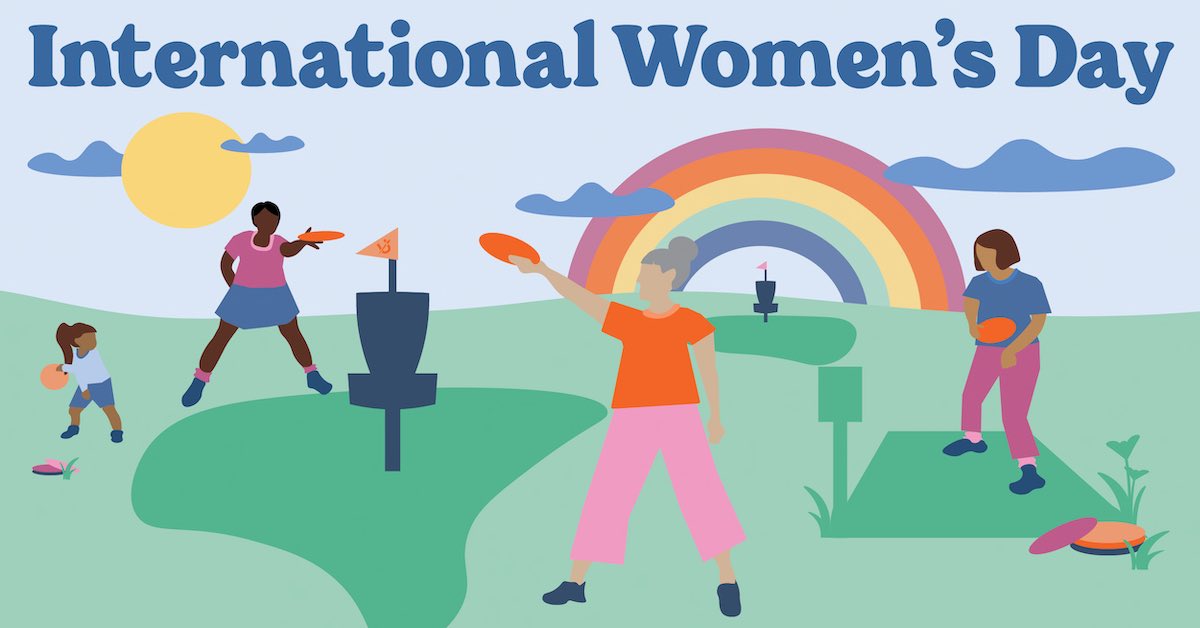 The ways we find disc golf are as individual as that driver you've perfectly seasoned. Behind each person slinging discs on the course, there's a unique story.
For women, though, there's often an assumption that their tales started the same way: "Once upon a time, a disc golfing boyfriend/husband..."
While significant others are indeed a popular way for women to be introduced to disc golf, they're far from the only way. As it turns out, when you ask women how they found the sport, you find some crazy answers (and quite a few sweet, heartwarming stories).
In honor of International Women's Day, we're sharing fifteen of the best disc golf origin stories we could find from women across the U.S. and beyond. From moms and music to heartbreak and healing, it's clear there's more than one gateway to the sport.

If you're short on time, just tap or click below to jump to the experience that most catches your eye:
Emma Rose Hanley, Oregon, USA: Born to Disc Golf 
👶
"I was born on a disc golf course in 1979: That's my story," said Emma Rose Hanley, a disc golfer from the Pacific Northwest. "When I was born, my parents were involved in running a summer program at a beautiful old historic lodge in the Willamette Valley in rural Oregon. At the time it was called Cherry Grove Center. It is located up a long gravel road in what is now the heart of Oregon's wine country, so beautiful, rolling hills and open grassy meadows."
When Hanley's parents were spending time at the lodge, they noticed the property's similarities to a golf course and wound up creating an object disc golf course at the Cherry Grove Center. Her parents played on this regularly, both before and after Hanley was born.
"In '78 they ran a small tournament that they called the Wapati Open," Hanley said."I had been born not long prior to that and famously was a babe in arms at the first event."
Hanley followed in her parents' footsteps and fell in love with disc golf.
"While of course I've played my whole life here and there, and almost every gathering I ever attended centered around a noon game of Frisbee golf, this was when I started getting quite good and after about 10 years of playing very regularly and practicing regularly, I joined the PDGA [Professional Disc Golf Association] and my dad and I played our first sanctioned event," Hanley said. "And we both won our divisions."
Nathali Palencia Martin, Hesse, Germany: Gamer Turned Golfer 🎮
"Back in 2013, my husband and I bought a PlayStation bundle together with the game Sports Champions," said Nathali Palencia Martin, who lives in the state of Hesse in Germany. "One of the games we loved to play [on the console] with our best man was disc golf, but we had never heard of it before."
After doing some research, Palencia Martin and her husband learned disc golf was actually a real sport – and they had courses near them.
"We went to the course in Darmstadt, where you could borrow discs," said Palencia Martin. "We started to play, and all three of us were hooked immediately! We are all still playing, but I am surely the craziest one."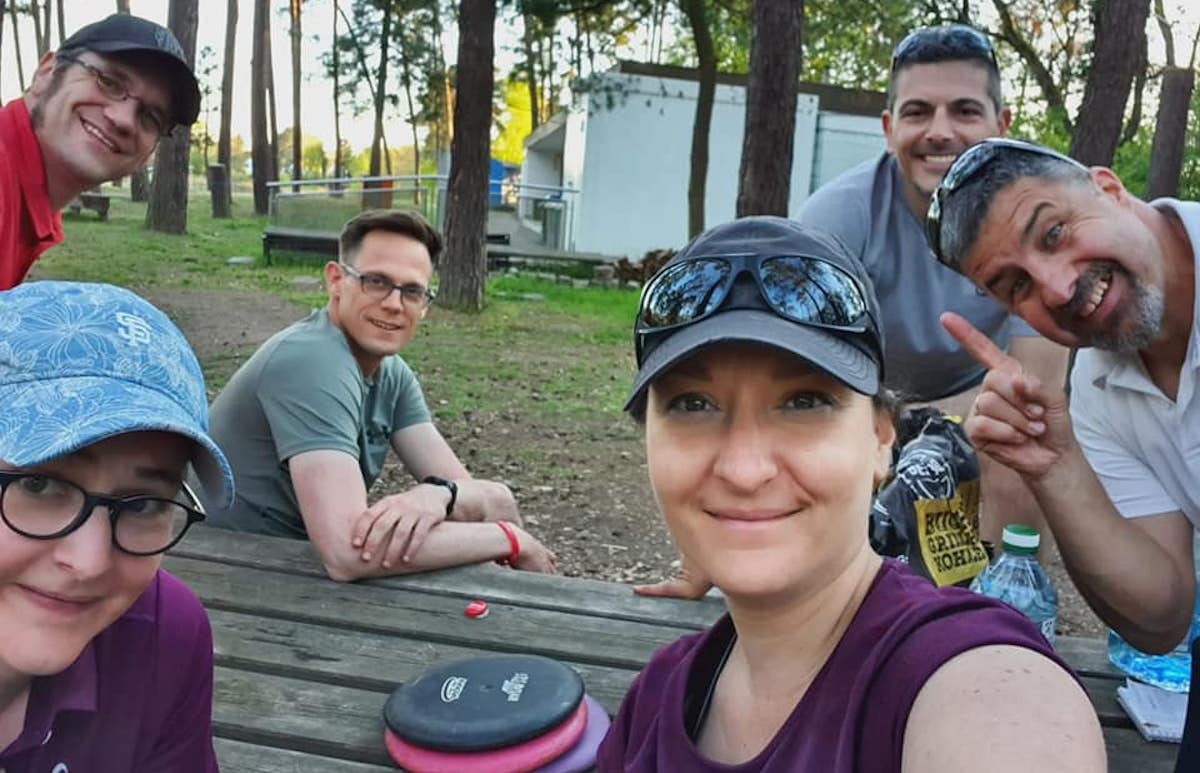 Palencia Martin drives every weekend to different courses and tournaments, does plenty of fieldwork, and organizes disc golf vacations whenever possible.
"Disc golf definitely changed my life!" Palencia Martin said.
Lani Kazmark, South Carolina, USA: Reggae Festival ft. Disc Golf 🎵
"I found disc golf by going to a reggae festival," said Lani Kazmark, a music-loving disc golfer. "In 2018 I was going to Surrounded By The Sound put on by a band named Sun-Dried Vibes."
Before she attended, Kazmark learned there was going to be an unofficial disc golf tournament at the festival. That piqued her interest.
"When we bought tickets for the festival, we also bought discs and started playing to get ourselves prepared for it," Kazmark said.
When the event finally came around, the disc golf tournament began as the band was on stage.
"Music and disc golf – what more could you ask for?" Kazmark asked.
Alison Blakeman, Washington, USA: Catching Rays 🕶️
"I just wanted to get a tan," said Alison Blakeman. "Turns out I got so much more."
In 2006, Blakeman agreed to take a walk with her friends, but the number one task on her agenda was getting some sun. When her friends pulled out discs and told her to try it out, she did.
"I threw a disc and here I am: hooked for life," said Blakeman. "I would say, like many, disc golf saved and changed my life. Never would I have ever traveled outside of my state so much or met some of my favorite people in the world."
Marisa Leva, South Carolina, USA: Masters and Memories🏅
"I just turned 69 and started playing disc golf at age 68," said Marisa Leva, a disc golf player that is falling more in love with the sport every day. "After walking through a local park with a disc golf course and watching others (mostly men) play, I decided to get some discs and start learning and throwing."
Leva had been athletic all of her life and was an avid road and trail runner. Over time, her fitness activities evolved into hiking and spending time outdoors. Once she found disc golf, she quickly became enamored by the sport and now plays up to five times per week.
"This sport has been a wonderful transition for me as disc golf combines my love of the outdoors and nature with walking, hiking, athleticism, friendly competition and camaraderie, lifelong learning, and maintaining a healthy mind and body (in spite of a few aches and pains!)," Leva said.
Madalynn Shepley, Florida, USA: Supported by the Sport ❤️
"I first found disc golf through several coworkers but didn't start playing until COVID," said Madalynn Shepley. "During the pandemic, the choices were to play disc golf or just sit on the couch. Three bags and hundreds of discs later, this sport has made a massive impact on my life."
Like many, Shepley first found disc golf during the early parts of the COVID pandemic. Unfortunately, though, her story varies greatly from the majority of those who simply got hooked on the sport during lockdowns.
"In March 2021 my partner of 16 years passed away unexpectedly," Shepley said. "I was out on my home course the same day with my daughter just tossing discs to take my mind off of the pain."
Shepley's relationship with disc golf changed wildly after the loss of her partner.
"Disc golf has helped keep me alive as I can still hear my love say, 'It's a nice day, go play,'" she said.
Brook Johnson, West Virginia, USA: The Ultimate Transition ⏭️
"I came to disc golf from ultimate Frisbee," said Brook Johnson, an ultimate player since 2005 and a disc golfer since 2014. "A friend in my league ran the local Ice Bowl and invited a group of us out…We may or may not have been bribed with free food."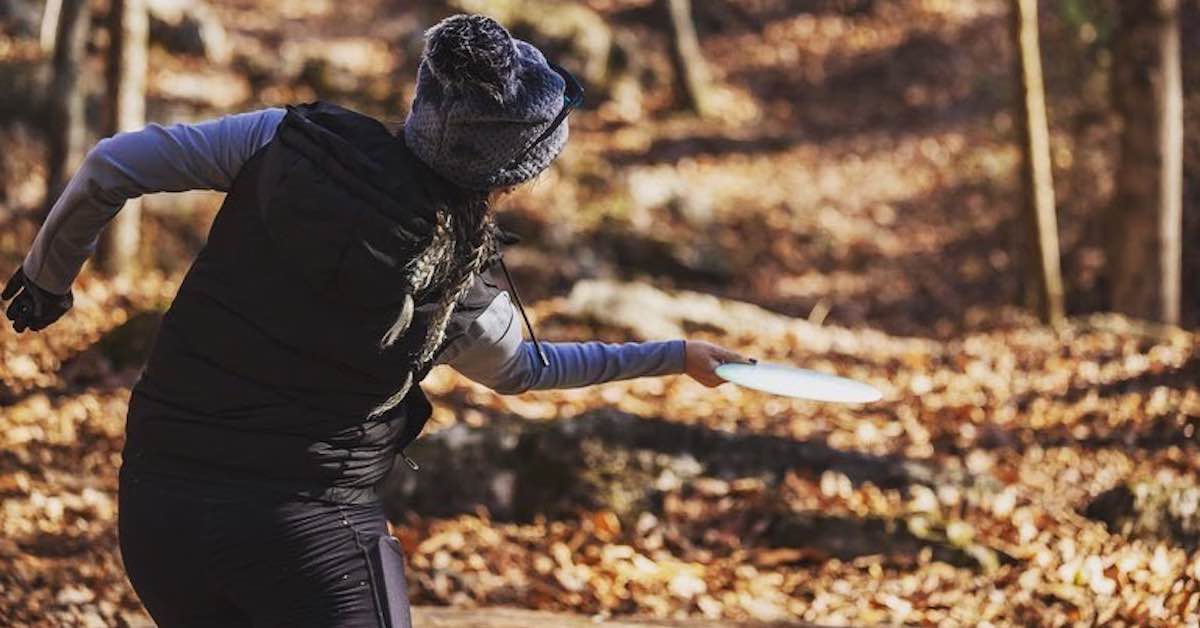 Disc golf and ultimate have their differences, but Johnson loves them for their similarities.
"The thing I love most about disc golf is the same thing I loved about ultimate: the people I've met along the way," Johnson said. "Some of my most favorite people in my life have come from disc sports. You'd think playing a tightly wooded course with an UltraStar and the putter someone handed me in the parking lot in the snow would've run me off but here I am, nine years later!"
Sheeba Loeber, Oregon, USA: Running to Disc Golf 🏃
"In 2003, my college track and field coaches took us all disc golfing on the first day of practice," said Sheeba Loeber. "We got one disc and split off into cards."
Loeber recalled how that practice was much better than any of their previous first practices since the team had more personal time to get to know one another in a beautiful environment.
"It was the most fun I ever had with a new sport," Loeber said. "It was humbling at first, not being good at something immediately. But through each hole, I saw improvement in my throws and my teammates. The energy was silly and buzzing. It's really funny watching some people who are absolutely amazing at every sport just shank it into a tree or griplock the disc."
Missy Masucci, Minnesota, USA: Best Mom by Par 👩‍👧‍👦
"First and foremost I am a disc golf mom," said Missy Masucci. "I get to spend weekends on the course and taking road trips to and from the courses with my teenage boys. But my story doesn't start there."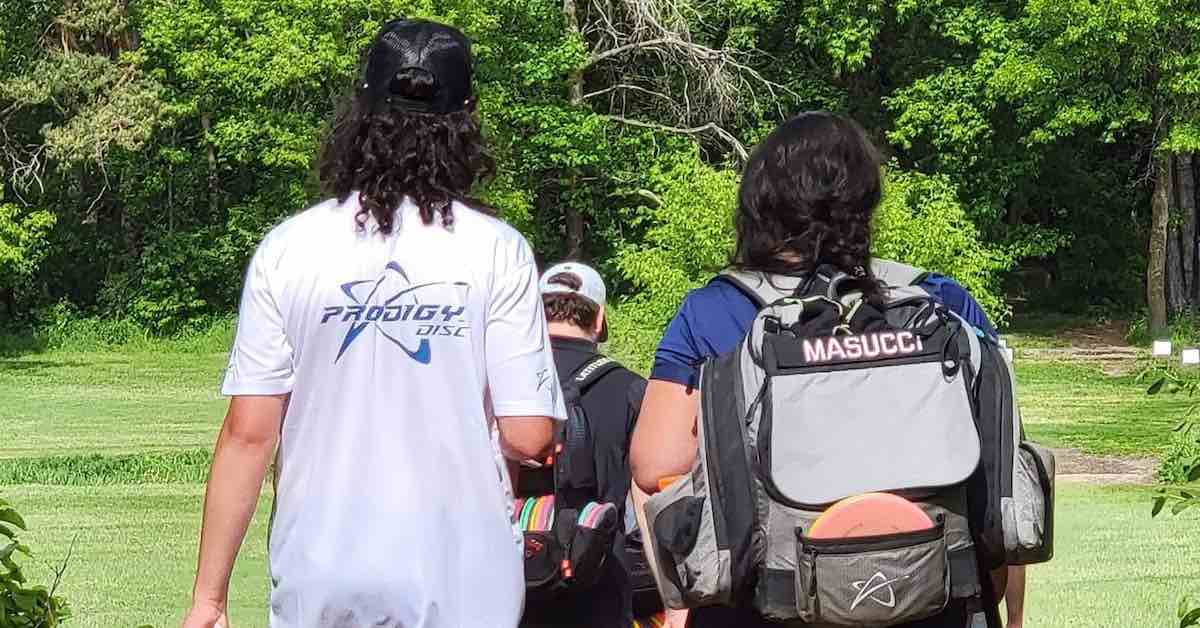 Masucci's cousin introduced disc golf to their family 10 years ago.
"We were at a family reunion, all the kids were getting bored and we couldn't scrape up enough people to willingly play softball, so my cousin went to his car and took out this bag of discs," Masucci said. "He shows us some basics and we begin throwing the discs all over the baseball field. At the end of the day he gave us three discs. We brought them home, but at that point they were just put in the garage only to be picked up every now and again."
Three years later, her boys played disc golf again with their friends. After their first trip to the course, that summer was filled with countless more visits to play. The boys also started getting involved in leagues, competing in tournaments, and becoming very active in the community. The entire time, Masucci was there to support her sons.
"It was my choice to be included in something teen boys loved," she said. "I got to spend countless weekends traveling to and from courses. We have planned many summer vacation road trips around disc golf. I have cheered putts, wiped tears off cheeks, and felt the pride and excitement of a win. As they got older and I was only needed to bring them to and from the courses, I thought it was my time to try playing.
"I could sit in the car for hours, carry a bag, or play," Masucci continued. "So I started to play. Over the years I have met some of the most amazing people. Random card mates have become great friends. The amount of encouragement strangers have shown me is amazing. My disc golf journey is not the same as most – I followed two young men onto the course, and I'm lucky they still let me tag along."
Dana Orlando, Kentucky, USA: Giving Disc Golf a Shot 🥃
"I had some regulars from the bar I worked at keep talking to me about disc golf," said Dana Orlando, a disc golfer originally from Seattle who started playing in 2005. "Eventually, they invited me out for the weekly doubles round.
"I was nervous so I decided to just caddy and walk the first round," explained Orlando.
However, the locals playing in the doubles round knew Orlando would love the sport and did everything they could to get her to play.
"I met a local legend that day who gave me my first disc and started me on this nearly 18-year love affair with disc golf."
Orlando had no idea just how large of a difference disc golf would make in her life. Through her move to Kentucky, she continued to play and even introduced her partner to the sport.
"We actually got married at a tournament during the lunch break at a local course," shared Orlando.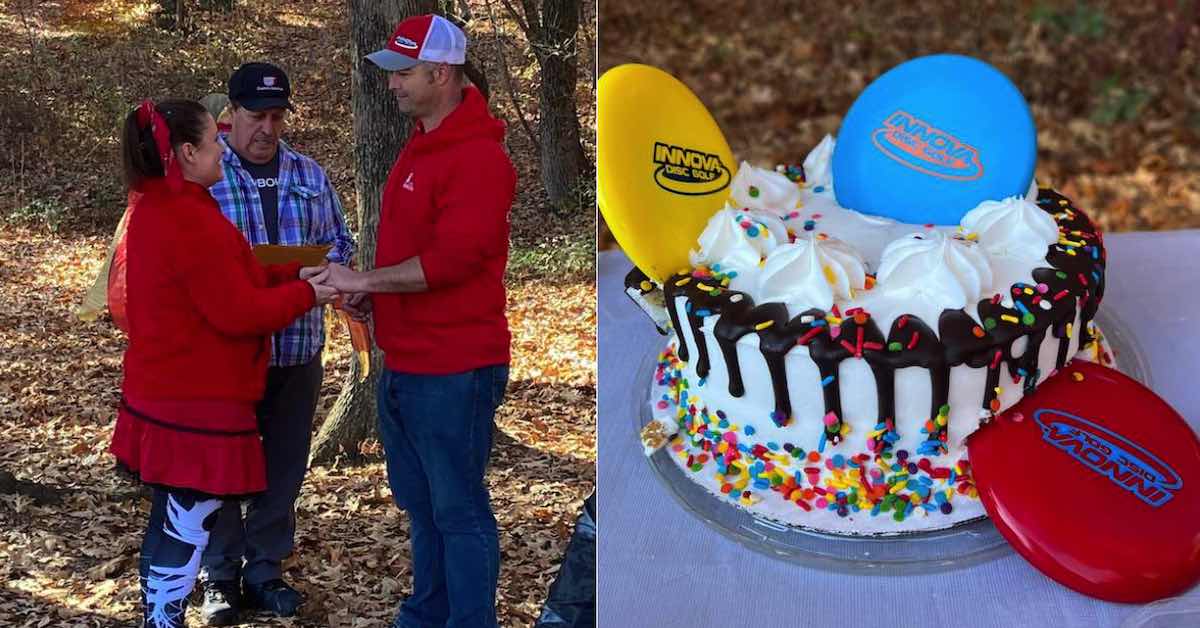 With a decorated basket, a disc-golf themed wedding cake, and all of their favorite card mates watching, Orlando and her husband got married and then started round two as husband and wife.
Kennedy Schmidt, Saskatchewan, Canada: The Disc Golf Natural 🏆
"My dad and cousin had been playing for a few years, but I never had much interest in disc golf myself," said Kennedy Schmidt. "However, they wanted to try and find more girls to play as it was a heavily dominated male game. In 2019, my cousin told me, 'I just want you to pick this up and throw it.' He didn't tell me how or what to do, so I just threw it."
The rush of her first drive, plus the dropped jaws of both men in her life, were enough to bring her into the sport.
"Their excitement made me want to try more and more," Schmidt said. "I kept practicing a bunch of drives in a field. I played my first ever round the next day and have been hooked ever since."
The moments of excitement, just like the ones her dad and cousin shared, are what Schmidt loves most about disc golf still today.
"The cheerleading that takes place from everyone to everyone, regardless of competition, is what makes others join and want to play this sport," she said.
Cindy Foster, Texas, USA: A Healing Hobby 🥏
"I was going through depression when my son who had been playing for about a year suggested I start playing to get out of the house," said Cindy Foster, a disc golfer of four years from Texas. "I pretty much only went to work and went home and I became a homebody, so to speak."
When Foster's son first suggested disc golf to her, she wasn't so sure it would help.
"I honestly laughed at first," admitted Foster. "But when I decided to give it a try, I fell in love with it." 
Foster used disc golf both as a way to get active and to connect with a community.
"Where I'm from, there's not a lot of women who play," said Foster. "I just played with the local disc golf club, who were mostly men. I made it my goal to at least be able to hold my own at the course."
Foster has done very well with her goal, plus she has started playing in tournaments.
"Disc golf has helped my depression so much," shared Foster. "Being out in nature, the exercise, the fresh air… not to mention the friends I have made. It is a great sport!"
Foster hopes that others feel comfortable enough to push themselves to participate in local events.
"You meet so many women on the local levels who are either shy or embarrassed to play, mostly worried what the guys might think," explained Foster. "I always tell them, 'Who cares? You're not out there to compete with them. You're out on the course for the enjoyment of the game and for yourself.'"
Brittany McQuilkin, Idaho, USA: Curiosity Got the Birdie 🔍
"I got started playing disc golf by randomly seeing the baskets while playing in the park with my kids," said Brittany McQuilkin. "I didn't know how to play, so I just grabbed some cheap discs and threw those. I didn't even see the tee pads for a good few months."
McQuilkin and her kids continued to play as a family until her disc golf circle started to grow.
"I went to play after work one day and got in line behind a group of women about to play," she said. "One came up to me and asked if I'd like to play in the ladies league that night. I tried it out and learned a lot. She even gave my daughter her first disc, and we have been playing ever since."
When she competed in that first league five years ago, there were only about eight women who showed up. Last season, her league sold 38 women's tags.
"Disc golf opened me up to the possibility of true friendship and gave me a sense of community that I didn't have before," McQuilkin said. "I have grown a lot as a result of gaining confidence in my abilities with this sport and in myself."
Tori Lopez-Redford, Washington, USA: Tackling Disc Golf 🏈
"I found disc golf after playing seven seasons of women's full contact football," said Tori Lopez-Redford, a disc golfer going into her sixth year of playing. "A good friend of mine took me out one day. I have loved it since day one of her bringing me out to play."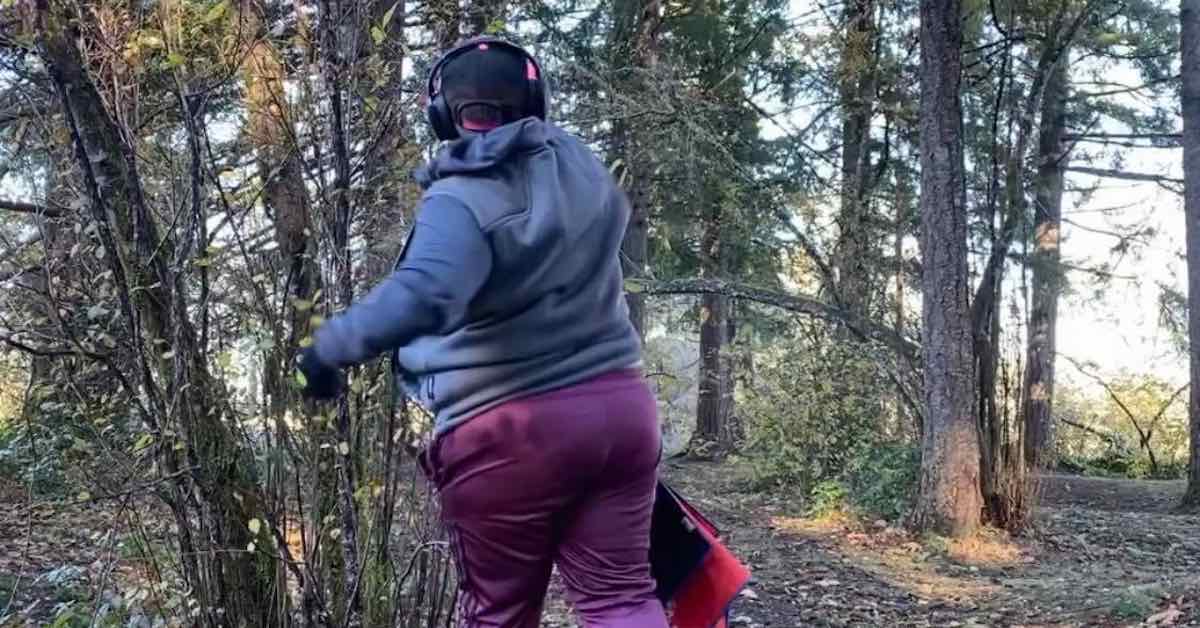 While Lopez-Redford loved football, she was seeking out a sport that she could still compete in that wasn't as hard on her body. Disc golf was the perfect fit.
"I also love the individual competition of the game," said Lopez-Redford. "I'm competing to better my game, but also I've found a lot of supportive women and have never been on a card in a tournament that wasn't fun."
Alainna Smith, Guelph, Ontario: To New Beginnings 🥂
"I found disc golf through a friend who had started playing as a sort of personal therapy after her divorce," said Alainna Smith. "She introduced me after my divorce."
Smith used to participate in roller derby, so she was very used to active hobbies.
"Disc golf gave me back a part of myself I'd been missing since having kids and being a stay-at-home mom," Smith said. "I was pretty much instantly hooked. I love being outside but struggle to make the time for it without a purpose or goal, so disc golf is perfect."
Smith didn't realize how much the sport would impact her life.
"I used to play roller derby before I had kids, and I hadn't really realized how much I was missing it – the competition, companionship, striving for self-improvement, using my body again! It's all great," Smith said. "Good for my body and soul."
Disc golf had one more surprise for her, though.
"Last May, I played in a Nikko's Drive doubles tournament with my (then) eight-year-old," she said. "It was the first tournament either of us had ever been in, and we had a great time...and, I ended up meeting my current partner there. He was on our card with his eight-year-old daughter."
Ten months later, Smith, her partner, and their children have become more than just card mates (although they still play together all the time).
"Now, our kids are practically like siblings and we're planning a forever future," Smith said. "Disc golf gave me that."
Get More Disc Golf Stories
UDisc's Release Point blog is dedicated to sharing stories, tips, history, and information that help disc golfers learn about every aspect of their favorite sport. If you never want to miss out on posts like this, consider signing up for the Release Point newsletter.