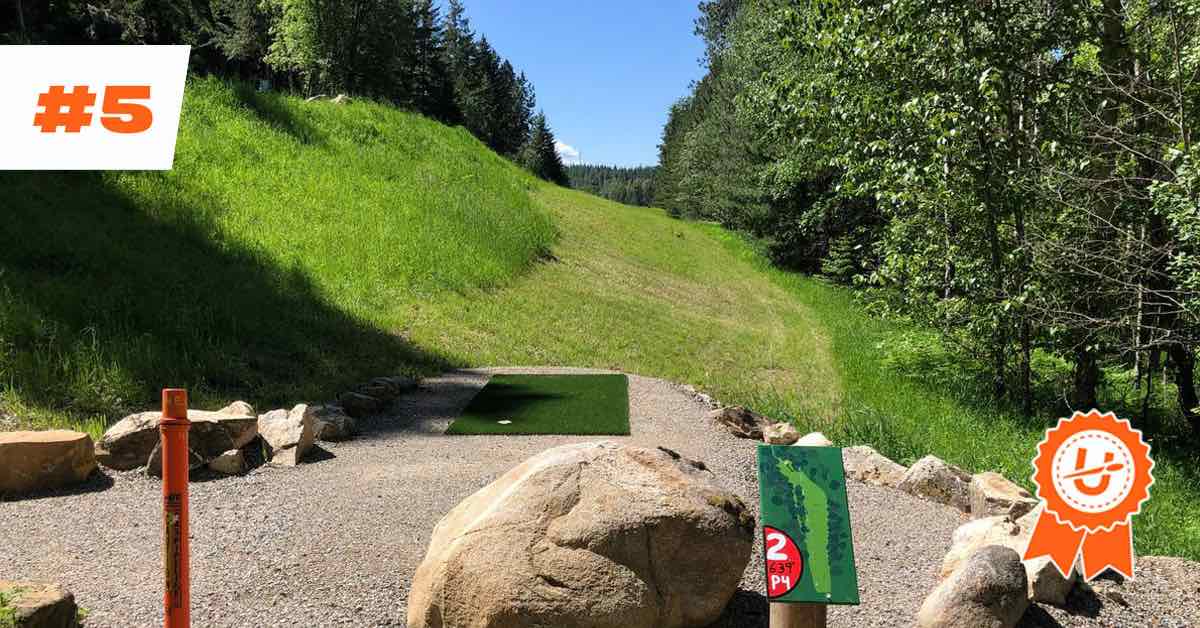 Here you can learn all about one of the world's best disc golf courses: Caliber Disc Golf Course in Sandpoint, Idaho.
Click or tap below to learn about Caliber's past, present, or future:
All of the World's Best Disc Golf Courses 2023
To see the rest of the world's top disc golf courses for this year, check out World's Best Disc Golf Courses 2023: #1-#100.
Caliber Disc Golf Course: 2023 Stats & Basic Info
Score:
95.08
Number of Holes:
18
Rank in World's Best Disc Golf Courses 2023:
5


Rank in World's Best Disc Golf Courses 2022:
8
Year Opened:
2018
Designer:
Paul Stiller
Availability:
Season start and end dependent on conditions. Roughly mid-to-late April to late October/early November.
Cost:
$15 per round (lower rate available when purchasing a 10-round pass)
History of Caliber Disc Golf Course
Preservation is a primary theme of Sandpoint, Idaho's Caliber Disc Golf Course. Owner, designer, and builder Paul Stiller created Caliber to preserve a sizeable area of diverse western forest, to preserve a dedicated green space between him and his neighbors, and to preserve disc golf itself by having a private course that's continued existence couldn't be threatened by ever-changing demands on public land.
A native Ohioan with a background in forestry who has lived in various parts of the U.S., Stiller started throwing discs in 1986. He described himself as an off-and-on disc golfer until he moved to outdoor recreation paradise Sandpoint in 2013. An old friend living in town was an avid player, and he drew Stiller deeper into the sport – so deep that Stiller helped build significant portions of local Baldfoot Disc Golf Course less than a year after moving. Baldfoot was a replacement for another public course in Sandpoint that had been forced to close shortly before Stiller relocated.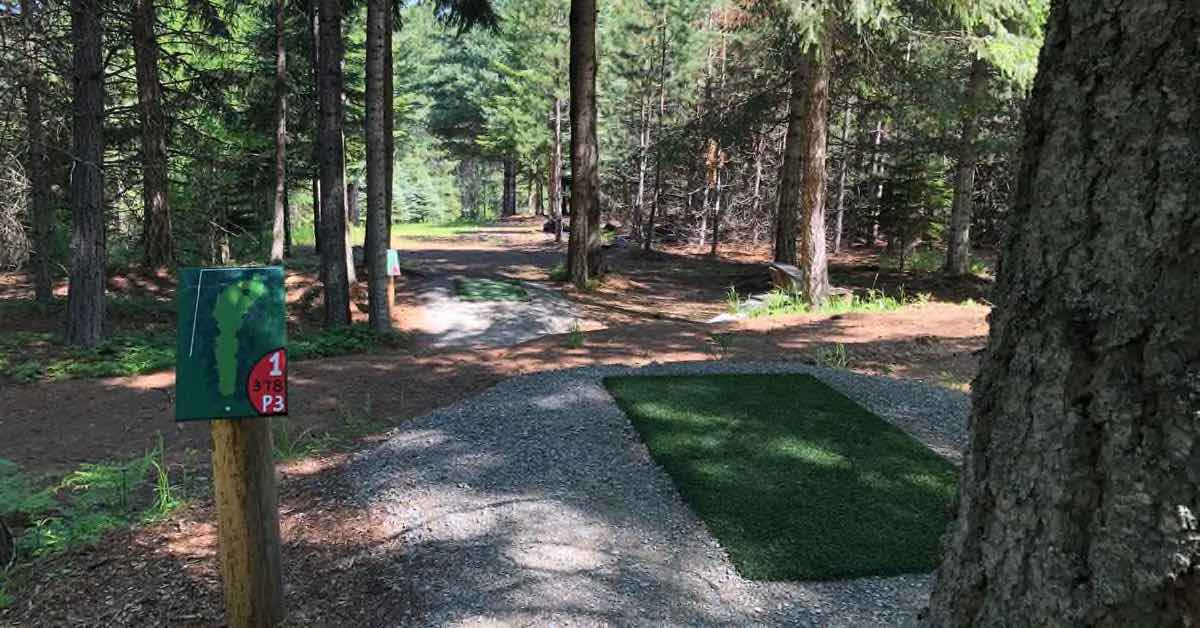 As his brush hog helped carve out Baldfoot's future fairways, Stiller was carving out the beginnings of a plan.

"I had the idea for a private course around 2014 because I've seen so many courses come and go," Stiller said. "The history of disc golf is you play, you get used to a place, you get kicked out, you have to build another course. It doesn't matter what part of the country you're in – it's always been kind of the same."
When Baldfoot's existence was threatened by a planned water treatment facility not long after it opened, Stiller's annoyance at the familiar cycle made him get serious about creating a private course. Though he'd already set up a small course on the land he lived on at the time, he knew he'd need something on a larger scale to draw enough players to make a private course financially viable. Stiller and his wife hoped to find about 20 acres/8 hectares with plenty of elevation changes (elevation changes are great for disc golf) where they could live and Stiller could build and run a course.
On paper, the place where Caliber is today didn't match the wish list at all. Its 40 acres/16 hectares seemed like too much and the terrain was described as "level." But Stiller decided to take a look just in case.

After a faulty map made simply getting to the property an ordeal, Stiller was already a little frustrated by the time he arrived to see land he was pretty sure he wouldn't want anyway. But his mood and desires changed quickly when he set eyes on the anything-but-level acreage.

"It's a beautiful, arboretum-like setting with all these different trees – a knoll with rolling benches coming off of it," Stiller said. "I started walking around the property, and I was just like, 'Wow.' I could already see a disc coming down what's now hole 4. As soon as I turned the corner and looked up one hillside, I could see a long, floaty putter shot heading into the green. After I walked the property, I told my wife, 'Look, this is a dream piece of land and it lends itself to building a disc golf course.'"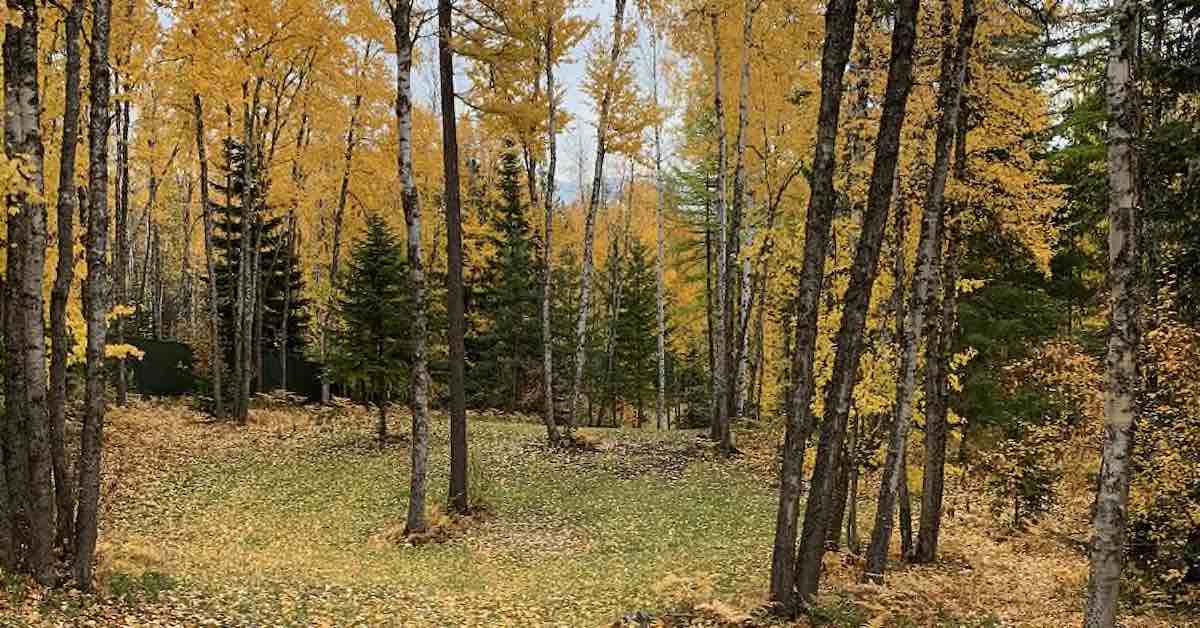 That initial viewing was in September 2016, and the Stillers officially owned the property by November 18, 2016.
"I came in the next day on the 19th of November with my two tractors, my truck, and my host of chainsaws," Stiller said.
Over the two months between seeing the land for the first time and buying it, Stiller had walked the property quite a bit. As a former forester, it was easy for him to tell which stretches of the woods were the likeliest fairways, and he already had many of the holes mapped out in his head. He said it took him just 25 days to have the trees down on 12 fairways.
If you're wondering how all that cutting matches up with the idea of "preservation" we led with, know that strategic tree thinning is actually healthy for a forest. In fact, Stiller said, "You get to a great disc golf course by first taking care of the land." These are all ideas we've covered at length in a post called "Can Disc Golf Courses Prevent Catastrophic Wildfires?".
It took about a year for Stiller to feel like the course was ready for others to test out (sans tee pads at that point) and another year to get a permit to run the course as a commercial enterprise. Caliber – a name Stiller said represents the standard he holds the course to and the skill it takes to play well there – officially opened for its first full season in April 2019.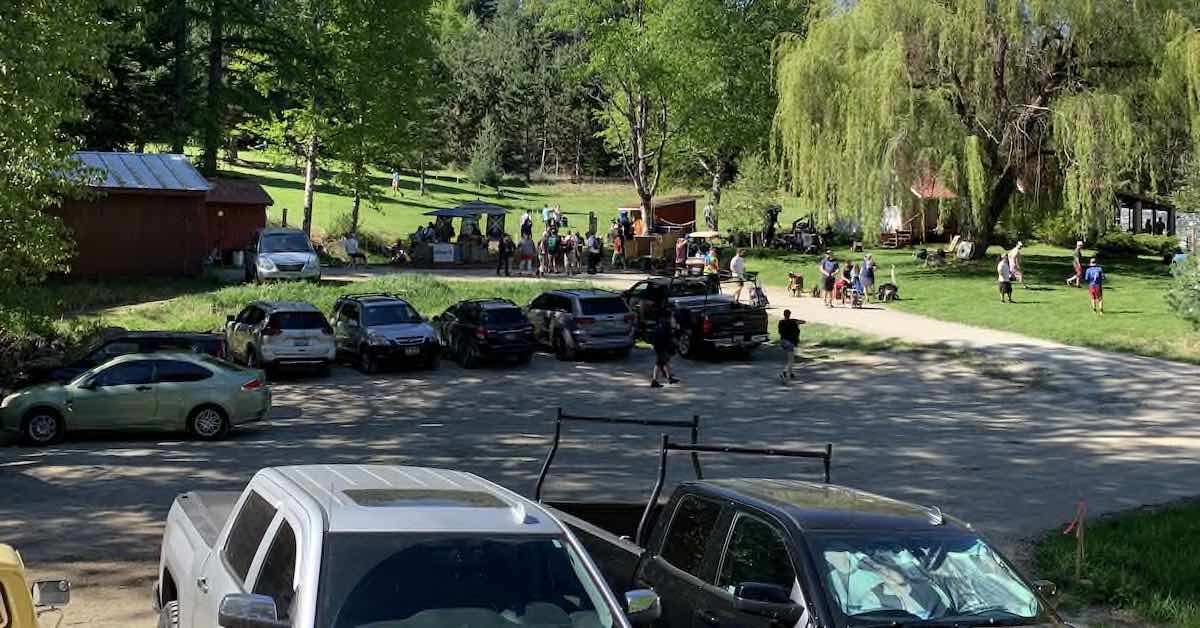 As its presence in the top 10 of the World's Best Disc Golf Courses suggests, Calber has enjoyed an enthusiastic reception. The secluded mountain setting and well-tended forest provide a magical atmosphere that thrills players. Additionally, Stiller's design seems to hit all the right notes. It's challenging but fair, and the two sets of tee pads allow disc golfers of various skill levels to have a good time.

Given that running Caliber is Stiller's full-time job, the course is likely to just keep improving, too.

And if you're not excited enough already, know that the Stillers bought a neighbor's land, and they're working on a second 18-hole course – Motherlode – that they're hoping to get a permit to add to their disc golf business in the coming year (fingers crossed!). The new course will be longer than Caliber, provide a different set of challenges, and give players a chance to see old-growth trees with trunks it would take several arm spans to reach around.

You would think with plans like that in motion that Caliber must be a runaway success. However, Stiller readily admits the course is no goldmine. Luckily, monetary success isn't his primary goal.
"Unless you're really well off from the get-go, it's a really hard thing to make a buck at," Stiller said. "I'm not sure if this could ever be our sole income, but I love it enough to go out there and do what I do. If I make a hundred bucks in a day, that's fine. It'll keep the lights on."
What's It Like to Play at Caliber Disc Golf Course?
Stiller said his motto when it comes to course design is "it's gotta be fun, fair, and challenging." So we'll break down Caliber's most prominent features into those three categories:
Fun: Caliber's setting on a wooded, mountain property that is reserved just for disc golf is all some people would need to have a good time. But Stiller has created a diverse course that gives players a chance to test their mettle against a wide variety of challenges (including 10 par 3s, five par 4s, and three par 5s). With a short and long set of tee pads, players of various skill levels can find a layout to enjoy. Admittedly, though, Caliber isn't likely to be "fun" for absolute beginners or those whose fitness level makes walking up and down hills extremely taxing.
Fair: This isn't the type of wooded course where luck is nearly as important as skill. Caliber has clear, well-defined fairways from every tee to every basket. Additionally, Stiller – a lefty who knows all-too-well how many designs favor right-handed backhand shots – has done his best to make sure Caliber doesn't call for any one shot shape more than another. Many holes even have split fairways so players can opt for various angles of attack. Finally, all of Caliber's tee pads are on areas that have been made level, so you'll never find yourself with an awkward run-up when you start a hole.
Challenging: Though Caliber's trees are lovely, they're also a menace to disc golfers, and players will need to be accurate if they want to avoid scrambling their way to bogeys and worse. Along with the plant life, players have to contend with constant elevation changes and many sloping fairways and greens that can make attack angles and footing tricky. Winds that tend to swirl rather than blow constantly from one direction add to the difficulty, too.
Other things worth knowing about Caliber are that its tees are made of the high quality turf used in DiscGolfPark courses, and its tee signs are hand painted by Stiller, who said it took six weeks for him to do them all in the detail he wanted. They are precisely to scale and the observant will notice that evergreen and deciduous trees are painted in different colors.
Caliber Disc Golf Course's Signature Hole
After taking a moment to think about it, Stiller named hole 11 Caliber's signature. It stretches 768 feet/234 meters from the long tee and around 100 feet/31 meters less from the short. From both tees, it plays as a par 5.
The hole offers the elevation changes, slopes, and lovely forest players are spoiled with throughout Caliber, but dedication to the split fairway concept is what truly separates this hole from the rest. Though many holes on the course have this feature, 11's left and right routes are entirely different journeys – so much so that either path would be a very respectable fairway by itself were it transferred to most other tracks.
A ton of work goes into making any playable fairway on wooded land, and it shows Stiller's dedication to excellence that he expended the effort to create two long, wide paths for players to take to just one basket.

You can take a look at the hole for yourself in a flyover of both routes below. The video is set to stop and start on hole 11 on your first view, but if you want to watch the whole video, it covers holes 1-14 at Caliber.


In 2023, hole 11 will have a pro tee added that will give players looking for a challenge (or who just want more time at Caliber) a chance to get it.
Recent & Planned Developments at Caliber Disc Golf Course
Along with regular maintenance to keep the course up to Stiller's high standards, Caliber's holes 3 and 16 had lengthier greens added that increase the holes' difficulty. The extended green on hole 3 will be used mostly during tournament play.

Throughout 2023, the gravel the turf tees sit on will be redressed to assure throwing surfaces stay even and safe. Additionally, basket areas with mulch around them will be re-mulched along with all areas around tee pads. Mulching helps reduce erosion and soil compaction.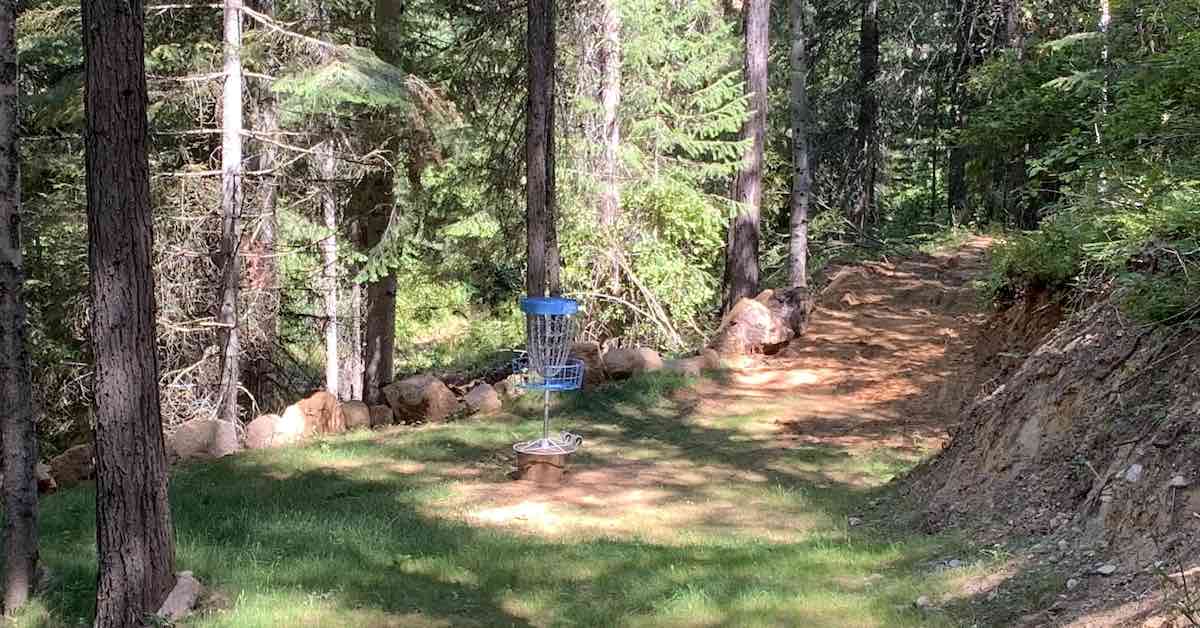 When he's not working on Caliber, Stiller will be finishing Motherlode. That's the second, 18-hole course he has almost completed on adjacent property that will be even longer than Caliber. Like we mentioned earlier, the Stillers are still in the process of getting a permit to add Motherlode to their business, so it's availability to the public is up-in-the-air at the moment. Stiller believes the permitting process will take most of the 2023 season.
More long term, Stiller and his wife plan to add a pro shop, expanded bathroom facilities, and shoe dryers for those who have a wet round. They'd also like to build an apartment that people visiting the area could rent out. There isn't a firm timeline for any of these additions.
Amenities at Caliber Disc Golf Course
A restroom and drinking water are available.
Three Real Five Star Reviews of Caliber Disc Golf Course
Three actual five star reviews of Caliber from disc golfers on UDisc:
I cant say enough good things about this place. With 6 holes left of my very first round I was calling it disc golf heaven. Every round I've played since then whether good or bad, it's still the perfect playground for the sport. Mr Paul is passionate, has a great eye for this, and the disc golf community is lucky to have him. The detail put into this course is top notch. Great variety of uphill par 3s and downhill par 3s. Par 4s and 5s really challenge you to stay in the fairways.

acaba24

Best course I've ever played. You can tell a lot of time, effort, and love went into this course. If you're ever within this part of the country, it'd be a shame to not stop by and play it. Loved the design of the course. Incredibly fair, but incredibly punishing if you shank your shots and don't take your medicine. Owners were super friendly, will be making a trip back out here again in the future. Destination disc golf for sure!

trickydick420
Absolutely stunning. An experience every disc golfer needs to have
borser