How To Get A Disc Golf Course In Your Area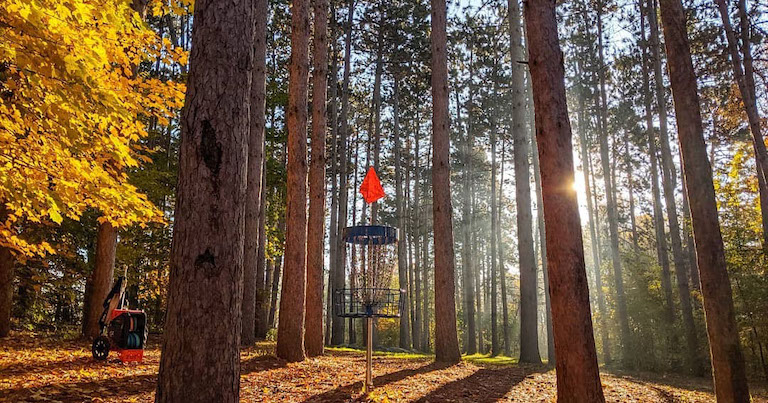 Blue Ribbon Pines
Bethel, MN
UDisc
Want to get a new disc golf course in your area? There are abundant resources about the financial, design, and equipment needs for building a new place to play disc golf, but that's not what we're here to talk about. Instead, we're here to teach you how to talk about disc golf to the people who have the power to help you get a course in the ground.
It's Not What You Know, But Who You Get To Know
When it comes to getting a new disc golf course in your area, we offer a twist on an old adage. After consulting several stakeholders both in disc golf and out, we found that one common theme emerged: Getting a new disc golf course is about finding the decision makers and figuring out what motivates them.
It's not what you know, but who you get to know. From there, it's your job to figure out how disc golf can meet their needs.
With that in mind, we'll take a look at who those key decision makers might be and how to convince them disc golf is the right choice for their community.
Almost 550 people can cycle through a disc golf course in one day.
How To Pitch Disc Golf To A Parks And Rec Director
"Validate" Disc Golf
When approaching a municipality with a disc golf project, the parks and recreation department staff is going to be a key cog in the works. Mike Sink, operations and program supervisor for sport and events in Cary, North Carolina, is one of those staff members and also happens to be a disc golfer. While having a player on the inside helps, Sink still had to plant the seeds of The Diavolo – currently ranked the #7 disc golf course in the world on UDisc – a decade ago.
His biggest tip? Figure out how to "validate" disc golf to the parks department. Show them that a new disc golf course is likely to be highly used and greatly valued by the community.
One of the best ways you can do that is by sharing the Disc Golf Growth Report, which demonstrates just how many rounds of disc golf are being played right now. You can also request specific course and city round counts collected on the UDisc app by connecting with us at hello@udisc.com.
"The Rotating Neighborhood Watch"
On the opposite coast, Bill Maertz, the director of community services for the city of Santee, California, noted how important disc golf has been to Mast Park. While the venue hosted a playground and drew some traffic, its open spaces used to attract vagrancy and vandalism.
Those problems have drastically decreased since the San Diego Aces Disc Golf Club helped to install a 9-hole course there in 2015. Nearly 10,000 rounds at the park were scored on UDisc in 2020, meaning the total play count was closer to 50,000 – yes, 1,000 rounds a week! The constant churn of players helps keep unsavory behavior to a minimum.
"We wanted to activate the space and make it more friendly to people and get more people in there," Maertz said. "It became very popular and it drove a lot of people to this area of the park that weren't there before."
Aces Club President Allen Risley, who has installed several courses in San Diego County, made the pitch more succinctly.
"I tout disc golf as the rotating neighborhood watch," he said.
Tell Them How Many People A Disc Golf Course Can Serve
According to UDisc's historical metrics, the average time it takes to complete an 18-hole round of disc golf is 1 hour and 40 minutes.
Upwards of 72 people can comfortably play on a disc golf course at any one time in traditional groups of four. At that rate, almost 550 people can cycle through a disc golf course in one day depending on the time of year and seasonal conditions.
Compared to more traditional (and more expensive to build) venues like tennis and basketball courts, disc golf is accessible to a far greater percentage of the community.
"It's a common thing you should have on your menu," Maertz said. "It's not anything weird or avant-garde anymore. It's like a playground: You should have one in your city."
And a disc golf course doesn't need to be installed at a typical park to thrive. One of the world's best disc golf courses, DeLaveaga Park in Santa Cruz, California, was originally infested with poison oak and used as a dumping ground for garbage and broken down vehicles. Now, it is one of the top-played courses in California and hosts professional tournaments.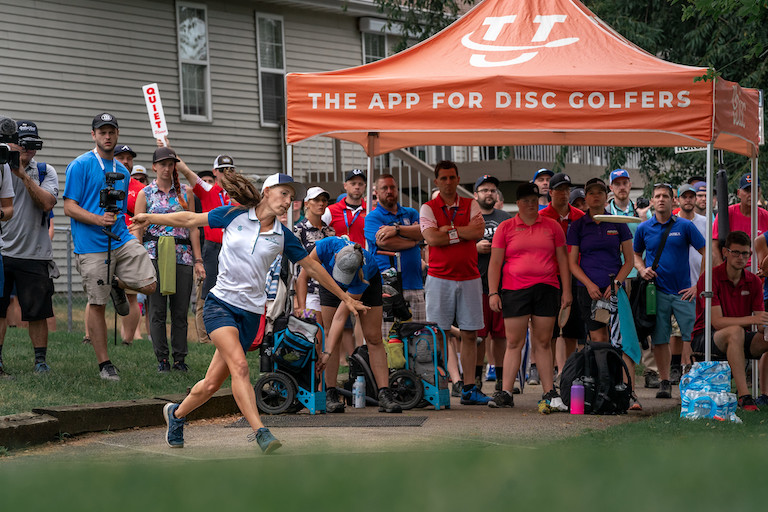 Alyssa Van Lanen
How To Pitch Disc Golf To The Tourism Department
Simply put, disc golf can bring revenue to your community.
Joni Staley, the director of sales for the Peoria Area Convention and Visitors' Bureau in Illinois, said the 2019 Ledgestone Insurance Open had a direct economic impact of $1,057,929 on the city. The PDGA Professional Disc Golf World Championships later that year brought in $3,240,312.
Staley emphasized the importance of highlighting that, while disc golfers might not stay at high-end hotels or spend $150 on a steak dinner, their impact can still be vast.
"They are spending $80-$100 on a hotel room (or campgrounds/ RV rental) and grabbing a pizza," Staley said. "And when you multiply that by hundreds of participants and then again hundreds of spectators, that adds up."
"Your biggest sell to the stakeholders and the decision makers is the potential economic impact it can have on your community."
Zach Franklin, sports sales supervisor for the Columbia, Missouri Convention and Visitors' Bureau, has seen this firsthand. Tournaments at Harmony Bends, the city's main attraction that ranks among the top 20 best disc golf courses in the world, have generated a total economic impact anywhere from $180,000 to $550,000.
"Your biggest sell to the stakeholders and the decision makers is the potential economic impact it can have on your community, especially smaller districts," Franklin said. "It can fit all markets, but especially those smaller markets that dont have huge multi-purpose facilities.
"Disc golf is something that can set their communities apart," he said. "It's growing rapidly."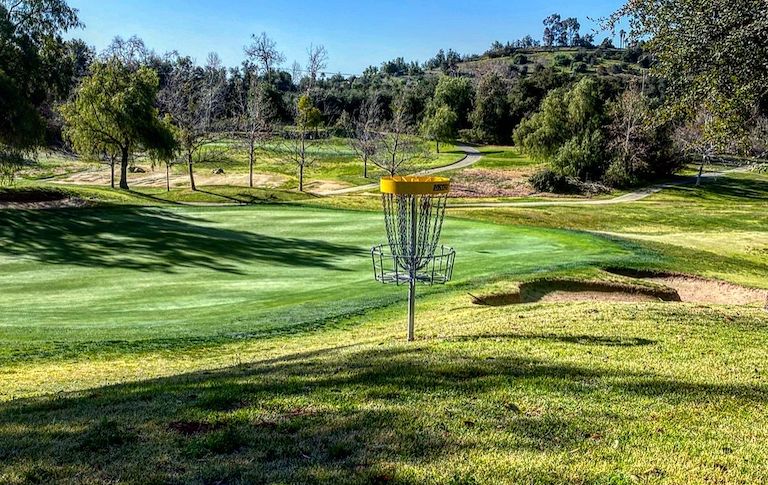 Reidy Creek Golf Course
Escondido, CA
1ramsfan
How To Pitch Disc Golf To A Golf Course Owner
There are nearly 200 disc golf courses in UDisc's online course directory that share space with traditional golf, a continuing trend in locations where public open space may be at a minimum.
If you're looking to the local executive 9-holer or municipal course as a potential venue for disc golf in your town, this one is simple: It's all about revenue.
Reidy Creek Golf Course, a bucolic muni in Escondido, California, that also has a footgolf course, saw a $2,000 increase in revenue from a single disc golf tournament on a temporary set-up in January 2019, head golf pro Steve Lyons said. The course then invested $9,000 in 18 disc golf baskets and associated equipment and made the layout permanent in May.
By June, they had paid off their investment, and now disc golf accounts for an additional 10-30% in revenue.
"To me now, it's every golf course that's a par-3 course – unless they are absolutely ripping busy – it doesnt make sense why you wouldn't have disc golf," Lyons said.
Here's one more stat, just as a bonus: Lyons said that disc golf brings in four times more revenue than footgolf.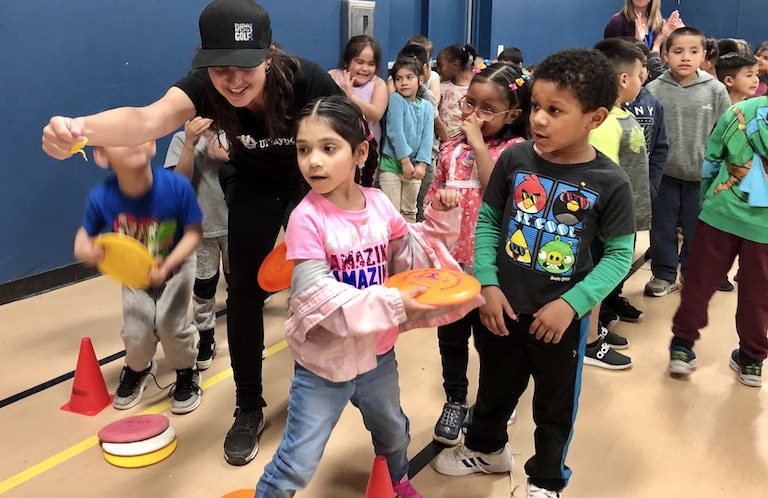 UPlay
How To Pitch Disc Golf To A School Or Athletic Department
Professional disc golfer Zoe AnDyke is also the founder and executive director of UPlay, a non-profit dedicated to promoting community health and well-being through educational disc golf programs. So we asked her to teach us a lesson about getting disc golf into schools.
"The first step of bringing disc golf to a school is to get the interest of the principal, physical educators, or athletic directors," AnDyke said.
From there, it's time to let the sport do the work. As soon as AnDyke is able to get on a school's schedule for a student demonstration, disc golf hooks the audience.
"Once those key staff members see how well it's accepted by the kids, it's zero to 100 percent," AnDyke said. "The kids want it, so then you start working with the principal and you want to show that funding is within reach."
AnDyke made similar points that one might make to a parks and recreation director: For the cost of equipment, disc golf is a better bang for a school's buck than traditional activities.
"The 30-year life of a disc golf course – that cost is typically anywhere from 10% to 30% of other types of recreation," AnDyke said.
Currently, of the courses in UDisc's online course directory are on school or university campuses. In addition to UPlay, the Educational Disc Golf Experience is an excellent resource for disc golf curriculum and affordable packages to bring the sport to a school near you.
Four More Tips For How To Get A Disc Golf Course In Your Area
Plan An Event As Proof Of Concept
The seeds for the aforementioned Diavolo Disc Golf Course at New Hope Park were planted 10 years ago and 10 miles away from the course's first tee in downtown Cary, North Carolina. That's where Mike Sink and Jay Pontier first held the Downtown Urban Open, an unorthodox disc golf tournament where players get to use their not-so-natural surroundings, like parking garages and alleys, as the course.
After three years of the tournament and several thousand dollars raised for the city parks' "Pay It Forward" fund, Sink and Pontier had proven that the need for another disc golf course in Cary was real, and they were rewarded for their efforts with the permission needed to start the Diavolo project.
"That was the first step in me trying to prove disc golf is worthy – 'let's do a tournament,'" Sink said.
On the other side of the United States, Allen Risley, Ryan Meagher and the San Diego Aces Disc Golf Club also succeeded with a proof-of-concept event – this time at the venue where they actually wanted to have the course. In January 2019 the club held an Ice Bowl tournament with temporary baskets at Reidy Creek, a municipal golf course in Escondido, California. The event drew more than 150 players and raised money for the North County Food Bank, and by May that temporary layout was permanent.
Reidy Creek now sees more than 5,000 disc golf rounds played per year and, according to course pro Steve Lyons, can account for a 10-30% revenue increase depending on the day.
"I think for disc golf to get into a [golf] course, the temporary basket idea is absolutely genius," Lyons said. "There's no cost really incurred by having it, if you can get the community to bring out 18 baskets – people that have them on their own property and stuff like that."
The through line for both of these events? Charity. Sink said that's an important component in validating disc golf's potential impact on a community.
"I'm tying it to, 'Disc golf is giving back to the community,'" Sink said. "And it has."
Designate A Single Point Of Contact For Your Area
There are more and more disc golfers finding the sport every day, which means more and more people who want disc golf courses. But that can also be overwhelming for decision makers on the municipal or regional level, who are often inundated with requests for new projects.
Combine that with the fact that many localities have more than one disc golf club vying for attention, and it's a recipe for confusion that can derail your community's goals.
With that in mind, Sink and Risley both pointed to the importance of having a single point of contact to represent the disc golfers in your region and communicate with local municipalities.
"Having a single, consistent voice that can be the point of contact [is powerful]," Sink said. "At the top level of parks and recreation departments and municipalities, if there's not consistency, then you can't build the credibility."
There is also some subtext from Sink that should be communicated: Clubs and players have to put aside ego and work together in order to get new courses. Settle the disagreements on the scorecard – after you've all worked together to get that new 18-holer in the ground.
"The more people from different walks of life that can show you support in the early stages, the more it looks like a robust project a municipality will key in on."
Connect With Other Community Organizations
Disc golf course designer Ben Smith has been instrumental in the sport's growth in the Canadian provinces of Prince Edward Island, Nova Scotia, and New Brunswick. And while he knows that anytime he gets the green light for a disc golf course that he is going to have the support of fellow disc golfers, he said it's the rest of the community where he focuses much of his attention.
"It's creating community in your community. Are there secondary clubs like Knights of Columbus or Kiwanis in the area?" Smith said. "You want to engage with as many of those people as you can to show them what you're doing. You want to have as many of those entities on our side as you can.
"The more people from different walks of life that can show you support in the early stages, the more it looks like a robust project a municipality will key in on," Smith said.
Those organizations can also be instrumental in helping fund new courses. According to course designer HB Clark, both the Kiwanis and Rotary clubs in Morristown, Tennessee – #4 on UDisc's list of top small towns for disc golf in the U.S. – helped support projects that have put the area on the map.
Think Beyond The Install
It can be easy to forget that there is more to getting a disc golf course in your area than raising funds, digging holes, and laying tee pads.
Even after your new course is in the ground, it is going to take plenty of effort to get people there and keep it playable. And you should be thinking about all of those challenges during the planning process, not after the fact.
"Public works has to be in the mix. It can't just be 'install it and forget it.'"
For Smith, that means planning grand opening events that draw community members to the course. He even goes so far as to make sure free discs are on hand so that new people can enjoy the sport just as much as committed disc golfers.
"Community opening and public engagement events for the course are huge, otherwise it's just disc golfers that are propagating that course," Smith said. "I don't find enough courses, new or otherwise, that give away free discs on a try-it day. If you demystify it for people and get them in the door and have them feel like they have a stake in it, then you're going to get more unique users and not just the disc golfers you would've gotten anyway."
After the play, though, comes maintenance. Whose responsibility that will be should be part of your early conversations, Sink said.
"Public works has to be in the mix," he said. "It can't just be 'install it and forget it.'"
Risley, who serves as the point of contact for most disc golf projects in San Diego County, echoed that sentiment. He said it is important to have trusted club members who can serve as ambassadors and supporters of each course once they are in the ground.
"We're usually able to find somebody to be a course rep who's willing to do some of the regular maintenance," Risley said. "We move the baskets. If necessary, we do cleanup of the tee signs – just all the little things. We don't empty the trash cans, but we pretty much do all the other stuff, but it's different city by city."
Being able to handle those day-to-day tasks shows that clubs can take ownership of their venues, and it leaves city resources for more important projects.
And don't forget to engage local businesses. Does the course have a nearby sporting goods or convenience store that could double as a disc golf shop? That model has been successful in Toronto, Canada, according to course designer Jeff MacKeigan, who worked with local surf shop Surf the Greats to start stocking discs.
Have your own tips and advice to share with fellow disc golfers? Drop us a line at feedback@udisc.com.