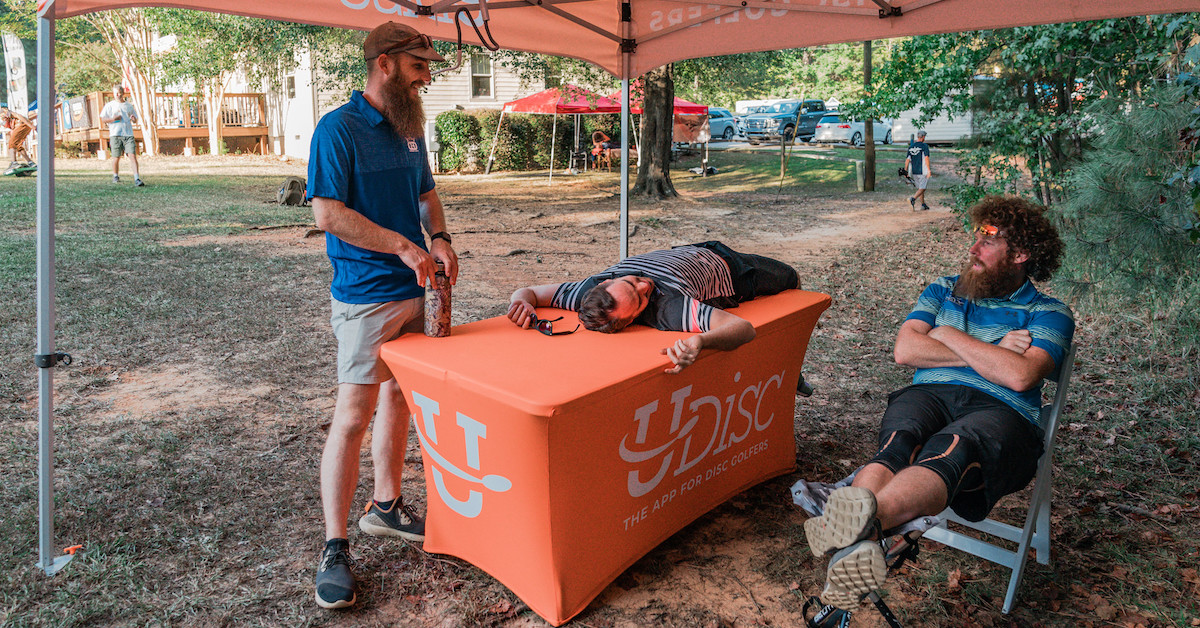 The 2019 professional disc golf touring season has come to an end, and UDisc Live was there for nearly every big competition, including all PDGA Major and National Tour events, as well as each leg of the Disc Golf Pro Tour. We helped the disc golf world keep track of 34 tournaments; 219,409 holes; and 785,012 throws, all the while compiling a ton of in-depth stats that fans, players, and tournament organizers can dig into throughout the offseason and beyond.
But those players whose performances in major stat categories topped the charts deserve more recognition than just an interested nod from diligent stat miners. Also, it's worthwhile to examine which holes, for better or worse, stood out from the rest. In the sections below, you'll find 18 stats filling you in on who did what best and which holes produced extraordinary numbers in 2019.
You're probably wondering, "Just 18? Doesn't the title say 19?". 

We wanted to start off with a stat we found pretty astonishing that wasn't directly about players or holes:

1. People spent over 1 billion seconds, or the equivalent of over 34 years, reviewing scores and stats on UDisc Live in 2019.
THE PLAYERS
Notes: 
Players had to compete in a minimum of seven UDisc Live events to be included in the stats below.
If you want clarification on the meaning of any of the stats, you can find it here.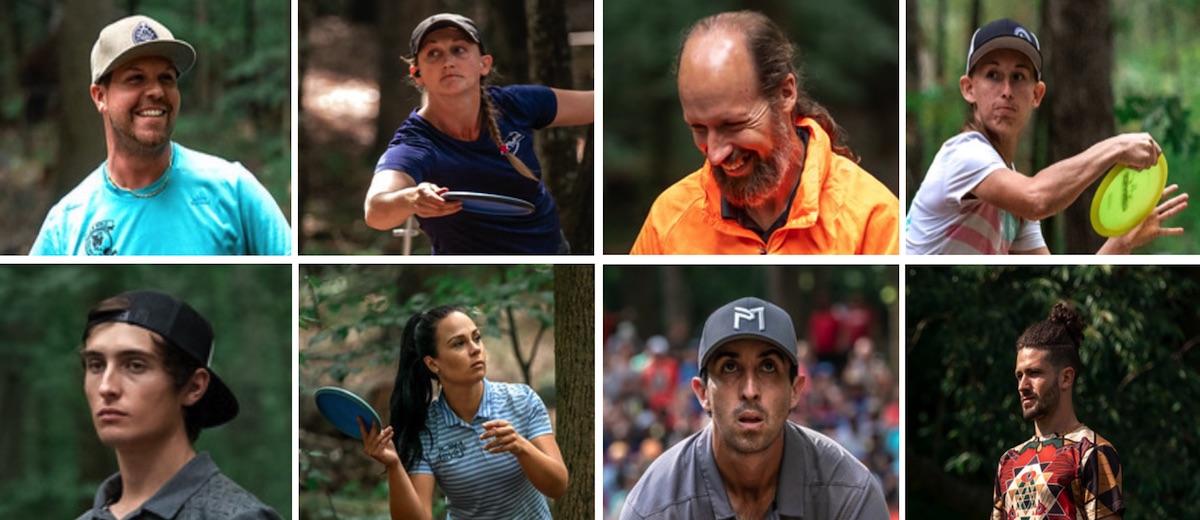 2. Aces 
We recorded 45 aces over 34 tournaments. The most made by any single player this season was two, a number achieved by both Brian Earhart and Colten Montgomery. Notably, Earhart's happened during the same event. He got two aces during the Glass Blown Open. 
3. Albatrosses
Nikko Locastro's albatross during the United States Disc Golf Championship on the famous 888 was not just the only albatross on UDisc Live in 2019, but the only one in our books for any season. We have a link to a video clip of it in our article on the best stats from the USDGC. 
4. Eagles
Bomber Garett Gurthie takes the crown for most UDisc Live eagles in 2019. He averaged over one eagle per tournament, carding 24 of them in 23 events!

Paige Pierce's 10 eagles led Open Women and also earned her fifth overall with Open and Open Women results combined. Like Gurthie, Pierce has standout distance within her division. More and more tee positions are catering to the current norms of power in the Open Women field, and in the eagle department, that appears to play to Pierce's advantage.
5. Birdies
Open Women: Paige Pierce led in total number of birdies and birdie percentage. She birdied 30% of the time, tallying 396 birdies over 23 events played.
Open: Who else? Paul McBeth's remarkable 56% birdie rate led the pack. It might be even more impressive that he also led the field in total number of birdies—670—despite playing fewer events than the likes of Simon Lizotte, Kevin Jones, and James Conrad.
6. C1X Putting
Open Women: Paige Pierce adds another feather in her cap here. Pierce's 72% C1X putting led her division. A name not quite as familiar wasn't far behind though. Missy Gannon took second with 71%.

Open: This time we're talking about an Eagle of the McMahon variety. His 88.43% very narrowly gave him top marks in this category for 2019. McMahon beat out Matt Dollar for the honor by a mere 0.22%.
7. C2 Putting

Open Women: It was a really good season for reigning World Champ Paige Pierce. She topped this category, too, at 21%.

Open: We have something of a surprise winner in this category: The 1015-rated Washingtonian Cameron Messerschmidt. Over his nine UDisc Live events, he hit 38% of his C2 putts. 
8. Longest throw-ins

If aces are throw-ins, Chris Dickerson and Matt Dollar tied in this category after their twin aces on the 420-foot/128-meter hole 11 at W.R. Jackson during the Hall of Fame Classic. Check out Dickerson's below in footage from Ace Run Productions:
But Locastro's albatross was the year's longest non-ace throw-in at roughly 400 feet/122 meters. However, it's likely a close call between that and Kevin Jones' eagle toss on 14 at Lake Eureka during round one of Worlds—also near 400 feet—which you can take a look at below:
9. Fairway Hits

Open Women: It was a really close race, but Estonian Kristin Tattar takes the crown in this category, making her the only European featured in this article. Her drives landed on the fairway 69.37% of the time over the nine UDisc Live events she played. Right behind her was Catrina Allen at 69.31% over 23 events. Hard to say what would have happened with that 0.06% if there was more Tattar data.
Open: It's the McBeast. Paul McBeth's drives landed safely on the fairway 81% of the time, 3% more often than second-place Josh Anton.
10. Scramble Rate
Open Women: If you wanted an Open Women player to try to save your par in alternate shot after you shanked one in the woods, Sarah Hokom would be the best statistical choice for the job. Her 68% scramble rate topped her division. Rebecca Cox's 64% came in second.
Open: We all know Michael Johansen is great in tight places, and this year he was the best at getting out of jams. He scrambled successfully 75% of the time over the 14 events he played, with Cale Leiviska just behind at 74% over seven events. Third place deserves a mention here too because he played significantly more UDisc Live tournaments than those just above him in this area. Over 21 events, Alex Russell scrambled to save his par or better 73% of the time.
11. OB Rate
Open Women: Elaine King played seven UDisc events and managed a division-lowest OB rate of 0.072. Sarah Hokom wasn't far off at 0.076, a rate she maintained over 21 events.
Open: Johansen gets another honor. His OB rate was just 0.070 this year, but admittedly he did avoid huge OB minefields like the extreme winds of GBO or Fox Run Meadows at the Green Mountain Championships, which had holes with some of the top OB rates for the year. 
12. Most Events Played
Paige Pierce, Jessica Weese, and Garrett Gurthie tied for participating in the most UDisc Live events this year: 23. 
THE HOLES

Note: Videos in this section come from JomezPro, Par Save Productions, the DGPT YouTube channel, Central Coast Disc Golf, GK Productions, and thediscgolfguy. These are directly embedded videos and watching them will help boost their play counts.
13. Longest and shortest
Longest: Fox Run Meadows #7. Green Mountain Championship. 1225 feet/373 meters. 


Shortest: Blue Ribbon Pines #7. The Majestic. 155 feet/47 meters. 
14. Easiest 
Open: Renegade's Trail #3 during the CCR Open. This 825-foot/151-meter par 5 played much more like a par 4. The field averaged 4.03 strokes on it, 0.97 strokes below par.
Open Women: Vista Del Camino #15, Open Women tee during the Memorial Championship. The ladies played an average of 0.54 strokes below par (3.46) on the 450-foot/137-meter par 4 .

15. Highest Birdie Rate

Open: Blue Lake #9 at the Portland Open was birdied an astounding 86% of the time by Open competitors. Commentators Ian Anderson and Nate Perkins even brought up the ease of the 515-foot/157-meter par 4 during final round coverage of the event.


Open Women: Hole #12 at Camden 2 at The Rumble was a 440-foot/134 meter par 4 that the women's field got the better of 60% of the time. Unfortunately, there's no video available for this one.
16. Highest Number of Eagles

Open: During the Waco Annual Charity Open, hole #18 was eagled 40 times—14 more times than the hole in second place. It seems a lot of people were willing to risk the water carry and take a short cut to the pin on the 492-foot/149-meter par 4. It's eaglability (sure, that's a word) actually helped fuel one of this season's most dramatic moments:


This hole is just another reason why McBeth's 18-under at the 2019 WACO was statistically way easier than his first one at the 2018 Great Lakes Open.
Open Women: #6 at Sunset Hills during Worlds was a 712-foot/217-meter par 5 that was eagled five times over the course of the event.
17. Hardest 

Open: The very long, wooded, uphill, yet widely admired 1050-foot/320-meter par 5 hole 12 at Northwood Park Gold from Worlds played a season-high 1.6 strokes above par. With some of the best players in the world there, it would have needed to be a par 7 to average below par.
Open Women: Hillcrest Farm #14 long tee during the Canadian Championships averaged +2.42 for the women's field. This was played twice during the tournament, and it was only parred one time by eventual winner Kristin Tattar in the final round. Every other score was a bogey or much, much worse. There was no Open Women coverage for the event, but here's a flyover from the Open:


18. Lowest Birdie Rate

There were quite a few holes with 0 recorded birdies on them, so we decided to feature the holes which were not birdied in the most tries.
Open: Spring Valley Golf & Disc Golf's Hole 15 is a par 3 that's 371 feet/113 meters long, and wasn't birdied in 188 tries during the Texas State Championship.
Open Women: Holes 3 (489-foot/149-meter par 3) and 9 (611-foot/186-meter par 4) at the Glass Blown Open were both attacked 130 times by Open Women competitors and never birdied. The clip below just shows hole 3, but if you want to see Hole 9, just click the video again after it stops playing and fast forward to it.
19. Highest OB Rate
Open: The most treacherous OB lines in 2019 could be found on the 969 feet/295 meters of hole 16 at the Idlewild Open. The entire Open field averaged 1.04 OB strokes there for the event. Just listen to Kevin Jones emphasize the danger of going OB in the commentary below.


Open Women: Hole 18 at Sibbe helped deal Kristin Tattar her first loss of the 2019 season during Tyyni in Finland. Its 394 feet/120 meters over water with only a narrow safe landing zone for those without that distance really did a number on the Open Women field. They averaged 1.3 OB strokes per competitor on the hole for the event. There's no flyover, but the commentary and Tattar's shot do a a great job of emphasizing OB's prevalence on the hole in the following clip:


Our Sincerest Thanks

Of course it takes a lot to gather all this information, and it wouldn't be possible without the many players and volunteers who entered shot-by-shot results throughout 2019, our partners, or the tournament staffs who are the lifeblood of the events we cover. A sincerest thanks from the bottom of our hearts to all those who made it possible for us to be a part of disc golf's journey in 2019. Great things are already in the works for our fifth season in 2020, and we couldn't be more excited to continue to help disc golf grow even more next year.
We'd love to hear your thoughts - email us at releasepoint@udisc.com.